Cardinals and Blues fans are desperate to improve their teams. In his weekly chat, Jeff Gordon runs through some scenarios proposed by readers. 
Q: Tyler O'Neill's long awaited breakout seems to have finally happened this season, though the fact that Tyler has hit nearly as many 450+foot home runs (4) this season as he has walks (5) is a little concerning. While it's unlikely O'Neil finishes the season hitting anywhere near .290, have you seen enough from Tyler to convince you that this type of performance is now more the norm and not just a long hot streak from a very streaky player?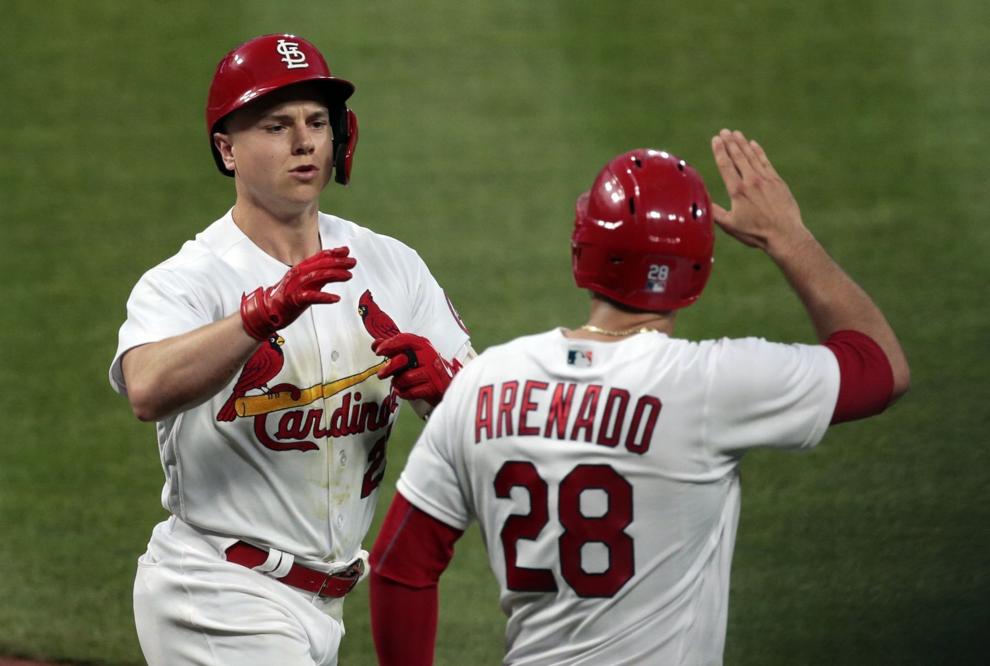 A: His speed is the element that gives him a chance to become a nucleus-caliber player. It allows him to beat out some dribblers here and there to boost his batting average. Yes, he needs to draw more walks -- but so far he is laying off enough bad pitches to consistently put balls in play. His speed on the bases is a plus, as is his fielding.
Add it all up and he could become a big long-term piece here along with Dylan Carlson.
Q: Please don't panic. I am in no way advocating for what my question is for you. Simply chat fodder. Tyler O'Neill and Tommy Edman have so far this year been the best Cardinals not named Arenado. In the interest of selling high what kind of return could you get for O'Neill? Tyler is clearly the poster boy for Mo's, let's see what we got, strategy.  I hope O'Neill is a Cardinal for a long time! 
A: You might get a good young pitcher for O'Neill . . .but the team traded a good young pitcher, Marco Gonzales, to get him in the first place. When the Cardinals traded outfielder Randy Arozarena to get a good young pitcher in Matthew Liberatore, that ended up sending the fan base into a rage. Since O'Neill fills a massive need in their post-Arozarena world -- and he is cost-controlled for years -- I can't imagine a scenario where the Cardinals deal him.
Q: In his chat, Tom Timmermann said he could see a scenario where the Blues would move Robert Thomas if the team remained committed to playing Brayden Schenn as its second line center. After excoriating Robert in the final Net Front as a empty minutes players, Would you be in favor of trading Thomas if the right deal came along?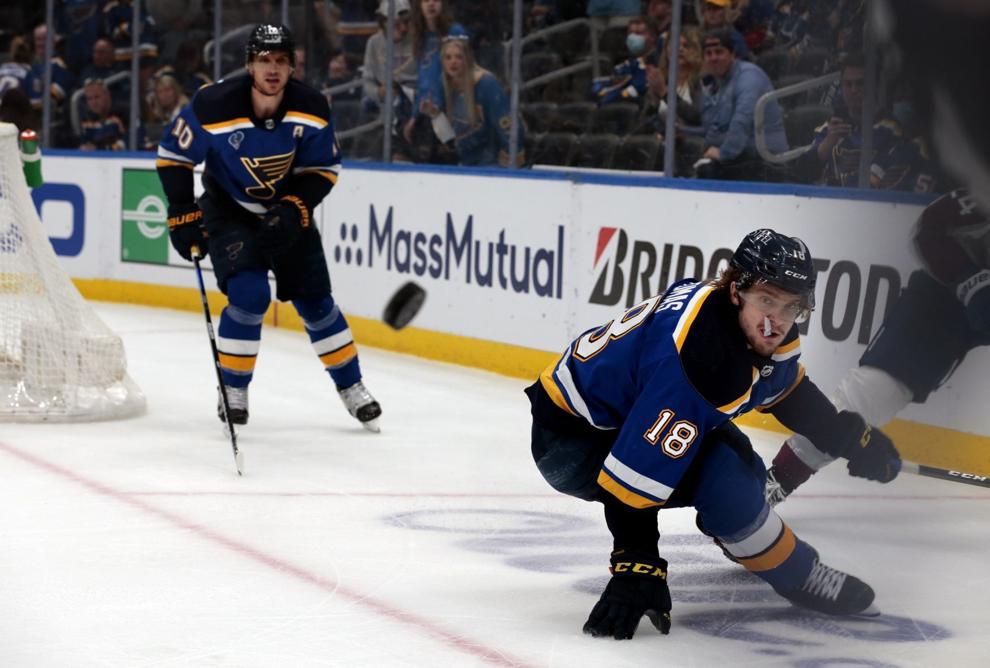 A: Thomas possesses massive upside at a low cap cost, so any deal moving him would need to yield a high-end player. I'm not saying Thomas could become another Mathew Barzal, but his edgework allows him to create space for himself and his playmaking skills are elite. But he needs to be more engaged, whether it's shooting the puck, finishing a check or denying the opponent a point shot.
Jordan Kyrou really started figuring it out last year. If Thomas can do the same, we'll all feel silly for suggesting his trade. Thomas has the sort of talent that could move the Blues up a notch if he fully applies himself.
Q: If the Blues were to put Thomas, Tarasenko, and Dunn into play, who do you think could be obtained?
A: I can't imagine Tarasenko having much trade value, if any. He carries a big cap hit, he has a troubling medical history and he is coming off a terrible regular season. As for Dunn and Thomas, they could be the start of a big package for a guy like Jack Eichel -- but Buffalo has depth on the blue line and they are likely to take a defenseman first overall. So the Sabres are likely be looking for more talent up front.
As I said earlier, if Thomas exits in a trade, a big-time talent better come in return. There is a lot of untapped promise there.
Trading Dunn in a stand-alone deal could fetch a good winger, if Armstrong wants to jostle his chemistry up front. Dunn has 40- to 50-point potential and defensemen always have value.
Q: Do you think the Cards will be able to extend or sign Jack Flaherty? He seems destined for the West Coast. He has 31 wins and 23 loses that's roughly 7 wins per year. Is Dewitt and MO ready to spend big money for somewhat limited success?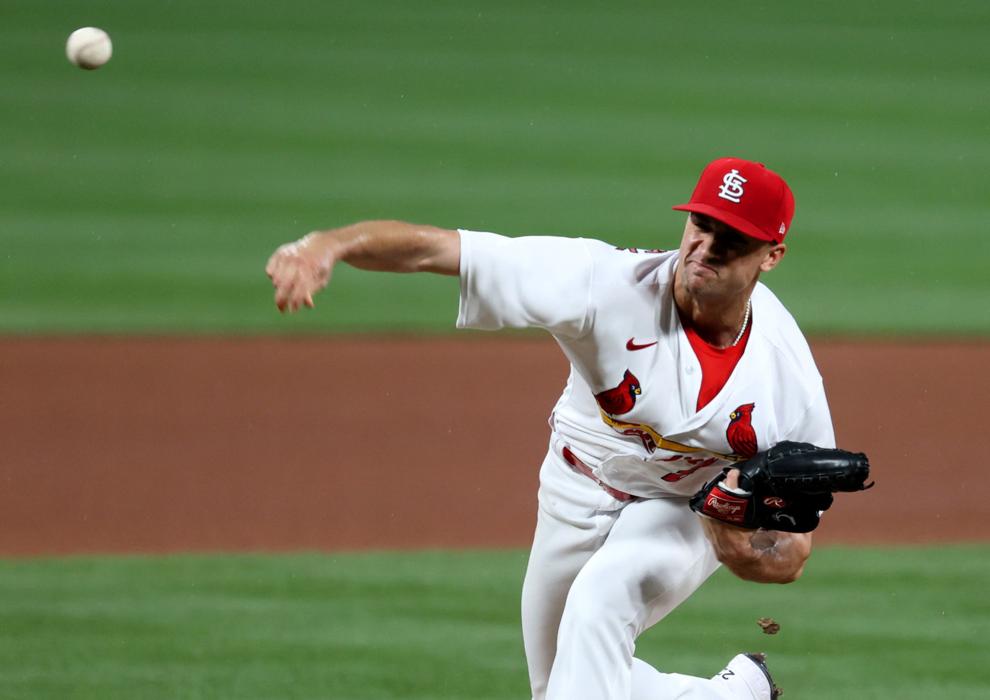 A: Jack Flaherty has huge talent. When healthy he has been one of the better pitchers in the sport. So he will get paid, regardless of the win total. Will the Cardinals try to extend him with big money? Yes, but I can see Flaherty betting on himself and aiming for a huge free-agent payday.
That's why there will be a lot of trade speculation around Flaherty if he doesn't sign a big deal this winter.
Q: Jeff is Luken Baker considered a legitimate prospect? If so, how far away could he be?
A: He is a mid-tier prospect. He is a massive human. He can hit the ball two miles, but his power hasn't played consistently in games. If he can get locked in as a hitter, he could be a DH candidate. He is just doing so-so at the Double-A level, so he may be at least a year away.
Q: We all know from history that the Cardinals never make big/all-in moves at the deadline...so they will be judged this All-Star trade deadline by being able to add solid veterans without giving up top prospects. I see where they are looking to add Shelby Miller. I would also look at Kyle Gibson as a starter and Corey Dickerson/Perralta as a 4th OF bench player. Relievers can be had as well without giving up top prospects. What's your take? i.e. is this a sound "strategy?"
A: I don't know that this Cardinals have much in the way of middling prospects. There are a few, like the previously mentioned Luken Baker. There are high-ceiling guys that should not be traded for rental help, as you noted.
So this is not an easy scenario for John Mozeliak. I do see the team strengthening the supporting cast with smaller moves, like you say, but I do not expect an Arenado-level trade before the deadline. It's not like this team is one star player short of being a World Series favorite. This team needs an infusion of youth.
In a year, a team with Dakota Hudson back in the rotation, Zack Thompson and Matthew Liberatore on the cusp of the rotation, Nolan Gorman in the DH slot, and perhaps Alec Burleson pushing for the fourth outfielder slot could give this group fresh legs.
Q: I think Doug Armstrong is one of the very best at what he does (ghost of Jori Letera) so I have faith in him making the right moves to improve his team. Not that he would announce his plans to fans or media but after evaluating all facets of the team and it's season how do you think he will try to change and improve? Thanks
A: The buzz around the league is that No. 91 could be shopped -- altough even a magician like Armstrong will have trouble making a productive move with a player whose trade value has bottomed out. I addressed that issue with Vladimir Tarasenko earlier.
I can see him striking a hard bargain with Jaden Schwartz, then seeking an offensive upgrade if Jaden can get more money elsewhere. I do see him changing the makeup of the defensive corps one way or another to add a more stout defender.
Doug expressed confidence in what he has in the bottom six mix of his forwards, but I believe a hard-nosed puck hunter could help the group.
If he hangs onto the Robert Thomas -- who should only be traded for a big-time talent -- then his progress will be key to the team's improvement.
 Q: Any word on why Shelby Miller is hesitant to sign with the Cards? After Mikolas went down, wouldn't that have been a good time for MO to go after one of the FA pitchers to see if they had anything left. I understand the relative lack of interest now. But, three weeks ago, the luxury of time was higher.
 A: From his Twitter response to Derrick Goold, it sounds like he is definitely interested. Based on what he did at Triple-A, it seems like Miller would be worth a chance. It would be interesting to see what Adam Wainwright and Yadier Molina could do with him.