Here are the highlights from our chat with Mizzou fans as we were on the road for SEC media days.
Q: If Oklahoma and Texas are admitted to the SEC could you see a realignment that results in an East Division of Florida, South Carolina, Georgia, Tennessee, Kentucky, Vanderbilt, Alabama, and Auburn. And a West Division of LSU, Texas A&M, Texas, Oklahoma, Ole Miss, Mississippi State, Missouri, and Arkansas.
A: The possibilities are endless if the SEC does in fact add Oklahoma and Texas. Back when the 12-team playoff concept was first introduced by the playoff committee, the prevailing thought was that conferences would ditch the divisions, which could be a possibility in a 16-team SEC. Or they could stick with two divisions and do some reshuffling to make more sense geographically. The idea of four-team pods has also been brought up in the last 48 hours. Imagine a pod of Mizzou, Oklahoma, Texas and Arkansas. You play the three teams in your pod every year and then play a rotation of teams from the other three pods. I like playing two teams from each of the other two pods for a nine-game conference schedule.
Q: I believe it requires 11 out of 14 teams to vote yes for Texas/OU to be admitted to the SEC, and reportedly A&M and Mizzou were hard no's. Assuming the reports are true, did the rest of the schools work this out behind their backs?
A: Don't believe what you've read about that "hard no" from Missouri. Drinkwitz made it clear yesterday he'd be open to welcoming OU and Texas to the SEC. The immediate sense I got from MU leadership was that it would be a positive move for the SEC - and Mizzou wants what's best for the SEC. Keep in mind, most of the powerbrokers from the 2011 split - not only at Mizzou but at Oklahoma and Texas - have either retired, changed schools or passed away. I don't believe Mizzou will let emotions get in the way of a move that benefits the conference for financial and competitive reasons. Mizzou doesn't have to love the move to understand that it's in the SEC's best interest to add OU and Texas, especially knowing that another conference would gladly poach those two programs.
Q: I too like the idea of four-teams pods. Then the four pod winners play in a mini playoff. I know it adds another game for those four schools, but think of the money, because that's what's driving ALL of this.
A: I'm not sure the league would be interested in adding SEC semifinal games, especially with the expanded 12-team playoff on the horizon. That could lead to an 18-game season for the teams that reach the national championship game. That's probably too many games for the league to stomach.
I really like the format PowerMizzou's Mitchell Forde proposed, so I'll give him all the credit. Four four-team pods:
Mizzou, OU, Texas, Arkansas
Ole Miss, Miss State, LSU, Texas A&M
Alabama, Auburn, Tennessee, Kentucky
Florida, South Carolina, Georgia, Vanderbilt
Forde proposed you play a nine-game SEC schedule with three games against your pod every year then play two teams from the other three pods, rotating those opponents and sites every year. You'd need some kind of tiebreaker to decide the division winners who would meet in the SEC championship game.
Q: Dave, what are the other media in the SEC,(outside of MIzzou media) saying about Coach Drink? Are they impressed?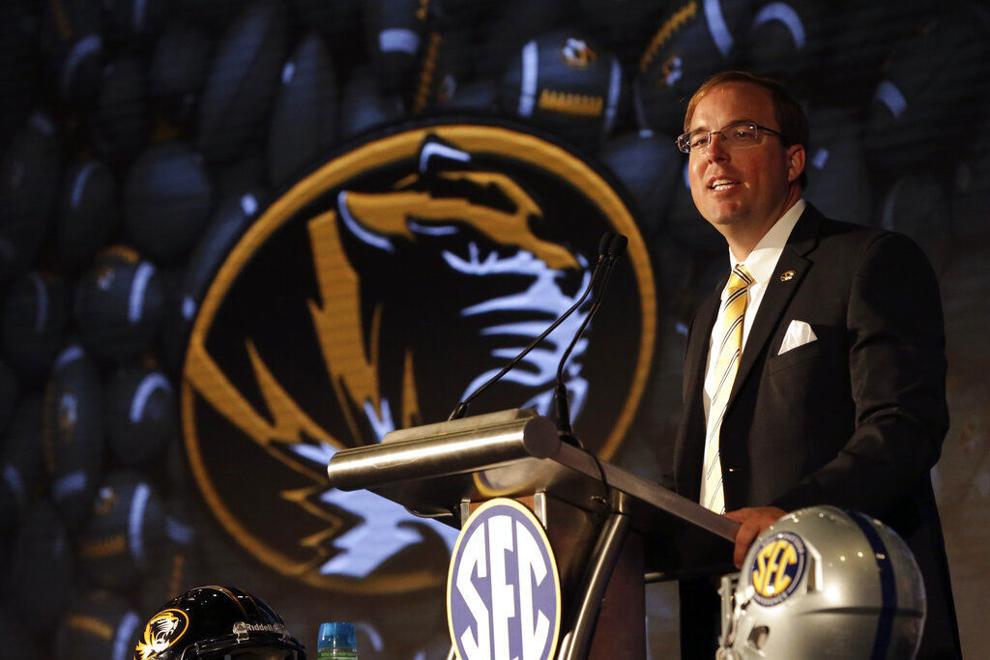 A: Most people I was around Thursday were impressed with his candor and personality. But they weren't surprised. That's who he is - and most have already realized that. He might have had a more captivated audience had he not appeared on the last day of the event - or before the OU/Texas news broke the day before. But he also shared some of the most candid and colorful comments on the situation. People noticed.
Q: What do you think can we expect from this year's basketball team? I cannot ever remember coming into a season knowing less than I do about his current roster.
A: Well, I hope you've kept up with your STLtoday coverage, because we've written a lot about the all the newcomers. I know it can be challenging for fans to keep up with all the moving parts after an offseason like this, but we'll have more coverage leading up to the start of the season in the fall.
It's hard to make any sound projections for a team that only returns two players from last year's rotation and will add so many new players to the mix. Martin believes it's a more athletic team, a more versatile team. They have to identify roles. They have to figure out who can shoot from outside. But defensively, this team should be an upgrade just based alone on athleticism.
Q: Where is Mizzou in the preseason SEC poll? Your ballot?
A: MU was picked fourth in the SEC East behind Georgia, Florida and Kentucky and ahead of Tennessee, South Carolina and Vanderbilt.
Here's how I filled out my picks:
Q: Dave, OU / UT announcing intent to leave the Broke 12 in "24-48" hours per CBS. Sooo. Give me your thoughts on where the rest of the teams go. KU thinks they are a diamond in the rough because its hoops program but this isn't about hoops. It's about the dollars & cents. Nobody wants Baylor's baggage. WVU could land in the Fun Belt. Iowa State maybe to Big Ten or MAC or American. Okie St & K-State to Pac 12. Texas Tech to American. TCU to MAC. TCU doesn't have much in terms of alumni.
A: Just spit-balling here, but it's going to be every man for himself if the Big 12 dissolves. Kansas will have appeal because of its basketball program, either to the Big Ten or ACC.
West Virginia would be a natural geographical fit in the ACC.
Oklahoma State, Baylor, Texas Tech and TCU could fit into the Pac-12 for a mega 16-team structure. Baylor just won the basketball national championship, so don't discount its value.
K-State and Iowa State? ISU has its football program going strong, but these are decisions based on a 50-year-plan, not knee-jerk moves based on a recent string of success. I'm not sure either of those programs have the academic cache for the Big Ten.
What might be more realistic is the Big 12 (Big Eight) tries to scoop up the most attractive four or eight Group of Five schools and try to make a go of it with the current core plus programs like BYU, Houston, Memphis, Cincinnati and UCF.
Q: Great to see Drinkwitz have some swagger. But I don't want to play Oklahoma and Texas every year. They're typically better than us.
A: But what if Missouri is playing Oklahoma and Texas every year instead of Georgia and Florida? Is there much of a difference?
In the last 10 seasons, Texas has averaged 7.3 wins. Missouri has averaged 7.1 wins. Maybe the Horns return to national prominence under Steve Sarkisian, but they've hardly been a superpower over the last decade.
Q: Would Kansas even be a good fit in the Big Ten? I know it is a good (albeit boring as hell) basketball conference, but football is still king and Kansas isn't bringing anything to the table there
A: Big Ten basketball is too boring? Compared to what? The NBA? Michigan's got a helluva program under Juwan Howard. Illinois, Michigan State, Ohio State, Maryland, Indiana. It's a great hoops league, in my opinion. The best in the nation in some years.
But would Kansas be appealing to the Big Ten because it has a woeful football program? Well, the Big Ten added Rutgers not too long ago.
If adding Kansas enhances the league's value then the Big Ten would have to consider adding KU. These are largely football decisions, but there are only a few basketball teams that would move the needle in terms of realignment - and KU would have to be one of them.