Just before the expansion draft, here was what was on the mind of Blues fans in our weekly chat.
Q: If reports are true, Vladimir Tarasenko will still be a Blue after the expansion draft. Would this event decrease his value in a trade? I understand a new franchise needs to start on the cheap while selecting value in Vince Dunn. Will Doug Armstrong's potential trading partners see it this way?
A: I don't think it changes the value of Tarasenko. Teams were reluctant to trade for him before the expansion draft because they would then have to protect him. So let the Blues keep him, and if they lose him to Seattle you can make a trade with the Kraken. I think there's a much better chance of the trade happening between the expansion draft and the entry draft. And what will keep the value of Tarasenko in a trade is if more than one team is trying to get him. You can tell a team, OK, these guys are offering a second and a third, can you top that?
Q: Doug Armstrong has indicated he has suitors lined up waiting to take Vladimir Tarasenko and his hefty contract. What do you realistically the Blues to get in return?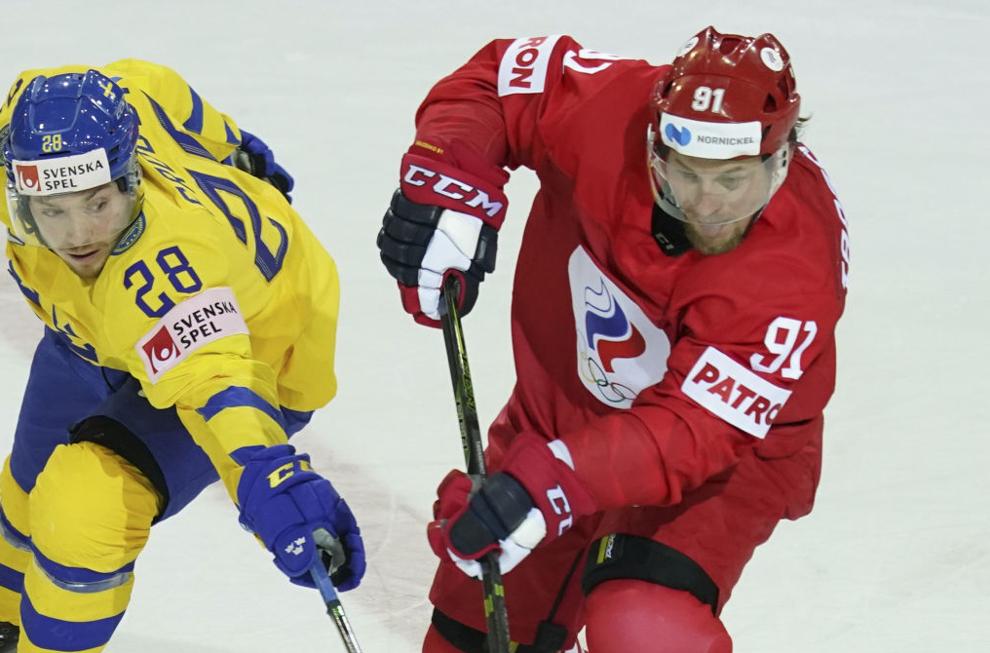 A: If players come back to the Blues in this trade, I doubt they would be anyone we've heard of. The best return for the Blues would be the $7.5 million in cap space, which would allow them to be more active in the free-agent market. I would think a couple draft picks would be coming the Blues' way, and maybe a prospect if there was someone in the other organization that the Blues were interested in that the other team felt was expendable.
Q: It appears from media reports that Jaden Schwartz will be moving on. Vladimir Tarasenko will be moved for whatever is offered, and Vince Dunn is Seattle-bound. Does Blues ownership want a full rebuild?
A: I found it interesting that only three teams had a protection list for this expansion draft that was totally different than the one for Vegas in 2017: Detroit, Ottawa and the Blues. There's been that much change. So it's a rebuild, but it's a talented rebuild. The Blues didn't strip down the team to load up on draft picks and youngsters. They've rebuilt on the fly with new, high-priced talent and an occasional youngster like Kyrou and Thomas. But even with losing Tarasenko and Schwartz, this team isn't being stripped down. The Blues may not be a Cup contender this season, but they'll be a playoff team. I don't think this ownership group is gung-ho on starting over from scratch.
Q: If the Blues lose Jaden Schwartz, Vladimir Tarasenko, Tyler Bozak, and Vince Dunn, do they have players internally that you'd expect to take on those prominent roles? Does management seem excited to put players like Niko Mikkola, Klim Kostin, and Jake Walman in bigger spots, or would you expect multiple veteran free agents to come in and take those bigger minutes?
A: Dunn's replacement will come from the Mikkola-Walman-Scott Perunovich crowd. The Blues could dip into free agency or the trade market if they feel they need some extra help. There aren't as many internal options at forward. Kostin will get playing time, but he's not going to produce, at least right now, like the others. That's where free agents will come in.
I don't know if I'd say the front office is excited about putting those guys in new roles, but they've brought some of these guys along for a long time and it's pretty much now or never on them. Another season in the AHL does nothing for Kostin. He needs to play, and the Blues need to see what they have. Same with Mikkola and Walman. Perunovich has been idle lately because of injuries, so he's going to need some time in the AHL to get back up to speed.
Q: Assuming the Blues lose Vince Dunn in the draft, and say they moved Vladimir Tarasenko and his $7.5 million cap hit. How much cap space does that leave the Blues?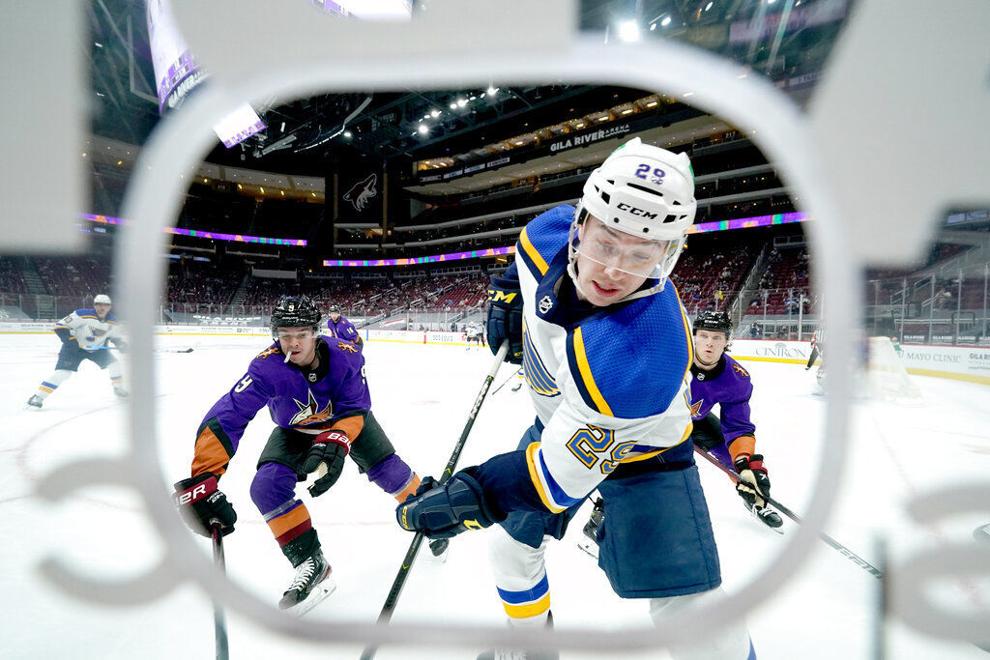 A: Right now, the Blues have 15 players signed who are likely to be on the team at about $64 million. Moving Tarasenko (and losing free agents) would give them about $25 million to work with, though they have to re-sign players like Ivan Barbashev, Zach Sanford, Jordan Kyrou and Robert Thomas. So after those players are signed, that should leave the Blues $16 million or so to spend on free agents. They would have room for a couple of players.
Q: For the sake of argument, let's say Vince Dunn, Vladimir Tarasenko, Jaden Schwartz, Mike Hoffman and Tyler Bozak are gone. Do you look for a top-six defenseman or a top-six forward first? At what point do you look at locking up Robert Thomas, Jordan Kyrou, or maybe Klim Kostin?
A: Right now, I'd say odds are those five are gone, so it's not much of an argument. At that point, I think you need a forward first because your top six are Ryan O'Reilly, Brayden Schenn, David Perron, Jordan Kyrou, Robert Thomas and, uh, well, Zach Sanford? Sammy Blais? Oskar Sundqvist? The Blues could probably do better on the open market.
On defense, you've got Justin Faulk, Torey Krug and Colton Parayko holding down three of the top spots, Question will be if they think Niko Mikkola or Jake Walman can step in, or do they need someone else?
Thomas and Kyrou are restricted free agents, without arbitration rights. Contract talks with Thomas will be interesting. Do they commit to him with a longer term deal or go for a bridge deal? Kyrou's in the same situation, but with less of an NHL track record to negotiate from. The other big question is how quickly do they get a deal done with Parayko? When free agency begins, he's in the last year of his current contract and they can start talking extension.
Q: I was reading about this prospect for Nashville, Luke Prokop, announcing that he's gay. Who cares? Since when is a person's sexual preference actually news? I've never understood why it was so important for someone to "come out."
A: Why is it important to come out? Because many feel the need to keep that part of their life hidden, which can take a toll. They should be able to live their life in the open like everybody else. Who cares? The LGBTQ community, for one, which can see someone like themselves doing things that up to now they hadn't seen people like them doing. Think of a youngster who is gay and loves to play hockey, but doesn't think the NHL is something he can pursue because no one has done it. Because who knows how that player who comes out will be received, how tough that will be? It matters a lot. I salute him.
Q: If you were Doug Armstrong, who would be your top free agent target? If cap space weren't a factor?
A: Cap space shouldn't be a factor. Gabriel Landeskog will be the plum candidate. Zach Hyman of Toronto warrants a look.
Q: The latest on Matthew Tkachuk (to the Blues) rumors?
A: Only that the Calgary general manager has said they don't want to move him. All indications are that if they did, the cost would be quite high. The Blues would have to give up so much to get Tkachuk that I don't know that the deal would be a net-plus.
Q: I think Mike Hoffman stays. His play on the first power-play unit at the end of last season makes him a bargain at $5 million. Your thoughts?
A: At the end of the season, I would have put the chance of getting Hoffman back at close to zero. Now, it's probably higher than that because the Blues figure to be more desperate for offense. The bigger question may be whether Hoffman wants to come back. Equivalent dollars may be available somewhere else.
This is a case where it's really hard for me to measure a situation because I have not once spoken face to face with Hoffman. I only saw him through Zoom calls so there was never an idea of how he fit in with the team. But given equivalent dollars, I would think he would go somewhere else.