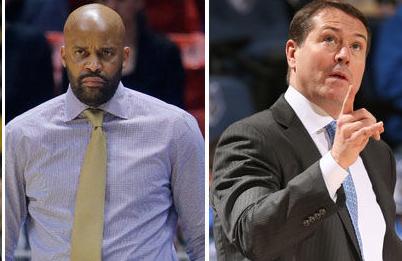 QUESTION: Who has been better so far: Travis Ford at SLU, or Cuonzo Martin at Mizzou?
BENFRED: The popular vote will say Ford, but let's take a closer look.
Ford was 52-50 after three seasons at SLU.
Martin is 50-46 after three seasons at MU.
Ford got better every year, which is encouraging, and he has had better bang for his buck in recruiting.
Martin, unlike Ford, has shown his teams can jump up and knock off Top-25 teams.
Both have been to one NCAA tournament, then lost the first game.
Both have had head-scratching bad losses, though Mizzou more than SLU.
The Billikens have a conference tournament championship in their bag.
One program (SLU) is benefiting from a positive, optimistic buzz more than the other (Mizzou), and that seems to have a lot to do with each fan base's expectations.
The linear growth of SLU bodes well, while a step back from Mizzou after the first season creates frustration.
People also forget the headaches Ford had to weather early in his tenure, when off-the-court problems generated a lot of stress for the program and the school.
People also seem to forget Ford has been at SLU a year longer than Martin has been at Mizzou. It's not really fair to compare three years to four. But if you do that comparison, and consider the current trend lines, the answer would be Ford.
Be the first to know
Get local news delivered to your inbox!