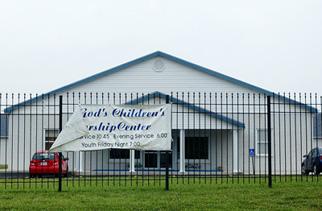 By a 2-1 vote of the Jefferson County Commission, the three-person village of Peaceful Village in the High Ridge area was incorporated last week.
However, the matter was a source of debate among the commissioners, with even those who voted for it saying they were concerned about what it will mean for public safety in the new entity.
Presiding Commissioner Chuck Banks voted against the measure, while First District Commissioner Ed Kemp and Second District Commissioner Pat Lamping cast the votes that allowed it to pass.
A state law allowing such village incorporations was repealed in June, but the request to incorporate Peaceful Village was submitted before the repeal took effect Aug. 28.
"Our counselor said that it clearly did not meet the state category requirement of five trustees for a village," Banks said. "They only have three people that live there. This is clearly unconstitutional. We are establishing a church village."
Kemp said the issue was not so clear cut and that he believes that Jack Walters, the man behind the Peaceful Village incorporation effort, had done what he needed to obtain incorporation
"I did not feel we had any choice," Kemp said. "In my opinion, it was the law. I thought we were required to go ahead with it."
Walters is the director of All of God's Children Camp in High Ridge. He sought incorporation for 78 acres of property he owns off of Antire Road. The property contains the camp and a nondenominational worship center, Walters' home and another home under construction.
Walters said his motivation for incorporating his property was to be able to make improvements to it without having to go through as many government channels.
"I'm happy with the way the vote went," he said. "Mr. Kemp and Mr. Lamping knew I did everything by the law. This will allow me to get around county red tape."
Walters has stated he had worked in construction for decades before deciding to open his nonprofit, nondenominational camp. The camp/worship center, which sits at 5919 Antire Road, provides week-long camps for Christian youth groups and adult organizations. It opened in 2003.
The main building, which is 26,400 square feet, was constructed in the shape of a cross. The camp also has an amphitheater and offers a number of recreational areas.
Walters plans to continue to add new features to the facility.
Kemp and Banks both indicated they have worries about future construction projects in Peaceful Village.
"My only concern is this allows the people of Peaceful Village to (get around) building laws," Kemp said. "I'm worried about public safety."
Banks added that while Walters may be a competent builder, after he is gone, the village designation will remain in place and those who follow him as owners might not be as capable.
"I think it's bad public policy," he said. "Jack may be a great person, but you never know who will come next."
Walters has acknowledged he will be regulating himself in regard to building projects, but that he will continue to need to undergo scrutiny from other government entities, such as fire department inspections. The camp is licensed through the state and regulated by the state, he said.
Walters' lawyer, Jack Stewart, said Peaceful Village will continue with its obligations and connections to the county government. It is now governed by the three members of Walters' household.
"Just because you incorporate an area doesn't mean it's still not in the county," he said. "He will still be served by the water district, the fire district - all the districts.
"What changes is, it's no longer unincorporated Jefferson County. It's now governed by a board of trustees. Generally speaking, they have ordinance authority over their (village)."
Walters said he wishes to incorporate some neighbors who have expressed an interest in joining Peaceful Village.
"This will help us in the fact we have these people who want to be annexed into it and be part of the village," he said.