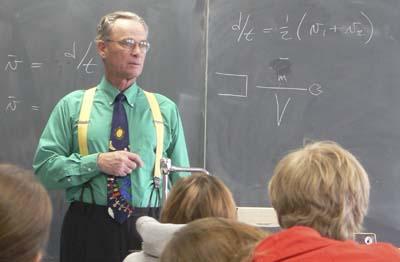 With a dart gun in one hand and a basket of matchbox cars in the other, 70-year-old Phil Wojak paced through his classroom, teaching in the energetic style that has made him a Webster Groves High School legend.
During his 40 years at the school, Wojak has become the energetic, brightly attired, singing, fast-talking champion of physics.
The teacher celebrated both his 40th year at Webster and his 70th birthday Dec. 5.
No one was nodding off to sleep in Wojak's class on a recent Thursday morning. There was no droning on from the chalkboard. Rather, there was constant, quick chatter and plastic toys to accompany the scales and meter sticks.
"Here's a bus full of freshmen," Wojak exclaimed to his class of juniors. He handed a table its small, plastic bus. He lowered his voice. "We're going to crash that."
Wojak had a student read the "secret set of instructions" explaining the class's mission.
The experiment involved calculating a dart's momentum by measuring how far the matchbox cars traveled across the table after being shot by the dart gun.
Soon, poor shots zoomed over the cars before bouncing off the wall.
"Is there unauthorized measuring going on over here?" Wojak asked a student as the teacher bounded down the aisle. "You like that meter stick, don't you?"
With a head full of slicked back gray hair, yellow suspenders over a bright green shirt and a tire showing children circling the world, Wojak's appearance matches his high-energy style.
In scrapbooks put together by his wife, Theresa, there are rows of photographs in which Wojak dons bright suspenders and wild ties. In his casual moments, he wears shirts that pay homage to his subject matter: "Obey gravity. It's the law."
He's an avid golfer and tries to play every day when the weather permits. Wojak also coached girls golf for years. Under his direction, the team won two state championships.
Wojak is enthusiastic about physics and about teaching. His colleagues keep him going, but mostly he draws energy from his students.
"You can't really fall asleep in the class," said 17-year-old Teshua Parker. "He's so alive."
When asked why he loved physics, Wojak quickly bounced the question to a nearby student.
"Ashley, why do I love physics so much?"
"Because physics is the world!" a well-trained Ashley Mueller answered on cue.
Wojak was born Dec. 5, 1936. He grew up in Memphis, Tenn., and attended college in St. Paul, Minn. After a couple years of teaching there, he came to St. Louis to attend graduate school at St. Louis University.
Wojak walked into a Webster classroom 40 years ago and never left. Nor does he plan on retiring.
"They'll carry me out," Wojak said.
Theresa says she and her husband joke about having to hang a banner at Wojak's funeral to congratulate him on his retirement.
Teaching is just too much fun for him.
A visitor to Wojak's classroom might be given the rare treat of hearing the famed Physics Carolers. Members of one class warmed their voices under the direction of junior Blair Romer and piped out songs such as "Frosty the Photon" and "Gravity," set to the tune of Jingle Bells.
"Gravity, gravity," the song goes. "It keeps us on the ground. An apple fell on Newton. He said: 'What goes up must come down.'"
The class sings, and rather enthusiastically. Wojak's rapport with his students amazes his wife, she said.
Wojak manages to call every class his favorite class, every student his favorite student and still comes off as fun and enthusiastic, never patronizing.
Staying in one school so long has given Wojak the chance to not only see students grow up, but often to see his alumni's children grow up as well.
Students have brought achievements back to him. One student's grandfather won a Nobel Prize, and she brought him a chocolate medallion from her table. Wojak framed it and shows it off.
Wojak made a lasting impression on a student, Dr. Daniel Schroeder, who is now a physics professor at Weber State University in Ogden, Utah. Schroeder penned "An Introduction to Thermal Physics," and Wojak was the first person he thanked in the acknowledgements.
More than anything, Schroeder remembers Wojak's "tremendous energy and his love for the subject.
"That really makes an impression on high school students, and it certainly made an impression on me," he said.
For the moment, Wojak's classes are thrilled to be his favorite students of the moment.
"Rachel, you have to go to your next class," he teased a student who lingered after the bell. "You can't have two physics classes in a row - even if I am your favorite teacher."