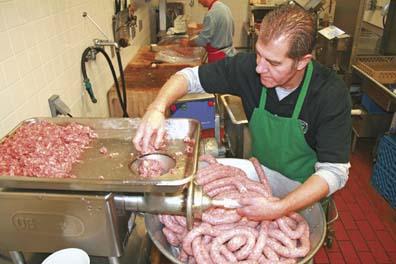 Food is a big part of family life on The Hill, especially for the Di Gregorio family.
The family runs an international market, food manufacturing facility and distribution center at three different spots in the neighborhood. Family members work at each site.
On a recent day, Dora Di Gregorio checked out customers at the market at 5200 Daggett Ave., while her daughter, Toni Ribaudo, put together gift baskets in the back room. One son, Frank, took time from working at the manufacturing plant at 5118 Shaw Ave. to make salsiccia at the market. Another son, John, visited those locations, while also working at the distribution center at 2232 Marconi Ave.
The late Salvatore "Sam" Di Gregorio, who was born in Sicily, started the corner market in June 1971. Salvatore and Dora Di Gregorio brought all four of their children into the business. In-laws and grandchildren have since come to work for the business.
In 1984, the family bought the building on Shaw Avenue for the plant. There it makes Italian sausage, meatballs, sauce and grated cheeses for sale to restaurants and distributors. In 1994, it bought the warehouse on Marconi Avenue for the company's offices and 120,000-square-foot distribution facility.
"We've reinvested in the area both financially and physically," John Di Gregorio said. "A lot of our roots are here. We haven't strayed too far. Everything we get we invest right back in the neighborhood."
John Di Gregorio said the retail store has changed over the years from a neighborhood market with common items to an international market, where customers may find foods imported from Italy, Greece and France. The family remodeled the store in 2004, expanding it from 1,500 square feet to 4,500 square feet.
Besides the gift baskets his sister was preparing, John Di Gregorio said customers might shop this time of year for other traditional Italian holiday items. These include torrone, an Italian nougat candy, panforte, a nougat cake, and panettone cakes. People also buy the ingredients for such treats.
"Everyone's making holiday cookies," he said.
People bustled about in the store, standing in line at the meat counter, browsing wines, olive oils and gifts, and asking about specialty items.
"It's always fairly steady, especially during the festive season," John Di Gregorio said.
One customer who waited in line midweek said the store had been even busier on Saturday.
 (Editor's note: This is part of a series of articles on small family businesses in South St. Louis that won Neighborhood Businesses of the Year awards at the 2006 City of St. Louis Business Celebration Luncheon. Merchants from each ward were selected because they are long-time business anchors that have enhanced the quality of life in the neighborhoods where they are located.)