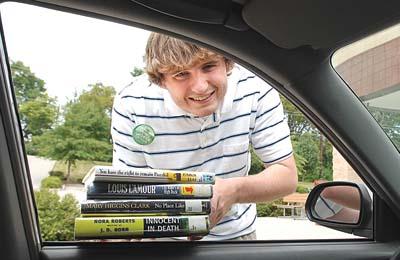 Can I have one Mc-Danielle Steele with no onions, uh, two orders of Tom Clancy with cheese, and one large "Fried Green Tomatoes"?
One library in St. Charles County has taken its service to the next level - curbside pickup.
"You call and we'll haul" is the new motto of the McClay Branch of the St. Charles City-County Library District. The library launched the new service last week.
Workers at the library at 2760 McClay Road in St. Charles were eager to accept orders Thursday afternoon, but they hadn't yet received any requests. Martha Radginski, manager for the branch, said the service had "started off slow."
"Occasionally, we've had customers who have called and needed help in getting their library materials out to the car, and we started thinking that this might be a good service to offer to all of our customers," she said. "Restaurants do it, so why not libraries?"
The branch is the first in the library district to offer the service.
Library cardholders should call the library about 30 minutes before arrival to request new or reserved books. Workers will check out the books for the customer and have them ready for curbside pickup.
"It will be very helpful for many people," said Sherry Henry, a library assistant. She was the first worker to fill a curbside order last week. "People who are not feeling well or have sleeping babies in the car can benefit."
When customers arrive, they need to show their library card or the card of the person they are picking up the materials for to the library worker for identification.
"It's not always the speediest, but it's a convenience for our patrons," Henry said.
The Kathryn Linnemann Branch Library, off Duchesne Drive in St. Charles, will have a drive-up window for the pickup service after remodeling is complete.
Both Henry and Radginski said they think the McClay Branch is the only library in Missouri to offer the service.
"The only one I've heard of that does it in my research is a small branch in Utah," Henry said. "I think it's a really new concept."
A television monitor is set up behind the library's counter to monitor cars pulling up to the reserved pickup space and also to keep watch on employees.
"We want to make sure our employees are safe," Radginski said.
The service is offered 10 a.m.-8 p.m. Monday through Thursday, and until 5 p.m. Friday and Saturday. The service is not available on Sundays.
Curbside service information
To place an order for curbside pickup, call the McClay Branch Library in St. Charles at 636-441-7577.