2019 Best of Southwest Illinois: Community
From preschools to first dates to retirement homes, here are some of the top community spots in Southwest Illinois, as chosen by our readers.
LOCAL EVENT/FESTIVAL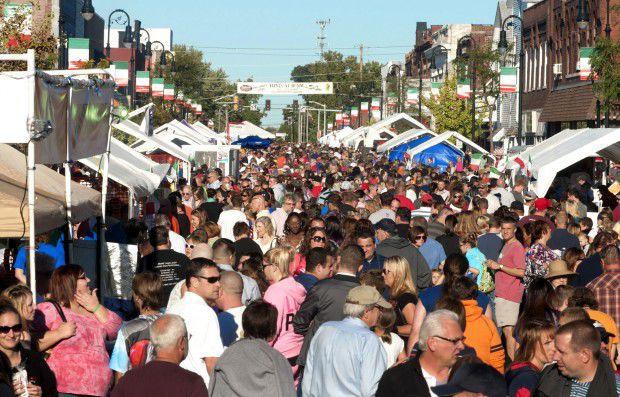 Italian Fest has been an annual celebration since 1984. The residents of Collinsville celebrates the Italian culture and heritage that their city was built on each September. The Fest is family friendly with something to do for everyone. Visit italianfest.net for more information.
Runners-up: Art on the Square- Belleville, Midwest Salute to the Arts, Porta Westfalica Festival in Waterloo, Taste of O'Fallon 
CHILD CARE
St. John's Lutheran Daycare provides a quality Christian-based daycare for children of the church and surrounding community. St. John's curriculum includes an emphasis on Christian instruction. In a warm and welcoming setting, St. John's hopes to help each child develop a positive attitude toward learning, responsibility and self-esteem. Visit their website: Stjohnsdaycare.com.
Runners-up: Caywood's Youth Center, Daytime Discoveries, Holy Cross Lutheran
CHURCH
Metro Community Church's vision is to be a place where people want to move closer to God, each other and the disconnected. Everyone is welcome to worship at Metro Community Church. Their services are Saturdays 6:00-7:15 p.m. and Sundays 9:00-10:15 a.m. and 10:45-12 p.m. Find out more online at metrocommunitychurch.com.
Runners-up: Enjoy Church, Immanuel Lutheran Church, Navigation Church, Restoration Church, St. Mark Lutheran Church  
DANCE/CHEER STUDIO
Studio L Dance Center - Dance Academy and Dance School's mission is to help the local community of O'Fallon discover the joy of dancing. The experienced instructors at Studio L help their students to experience the joy of living, build their confidence and encourage them to live their lives joyfully in body and spirit. Sign up for classes by dropping into the academy at 922 A Talon Dr. or calling (618) 433-3171. 
Runners-up: At the Barre Dance Academy Inc., Expressions Academy of Dance, Studio B Dance Company, The Creative Dance Studio at Nautilus
FAMILY ENTERTAINMENT
The Edge offers superior attractions, family-friendly environment and a friendly staff. The Edge is located in Belleville and the complex boasts laser tag, four virtual reality attractions, indoor go-karts, bumper cars, bowling, movie theatres, arcade and a complete restaurant and bar. The 82,000 square foot facility caters to adults and kids alike. Call The Edge at (618) 236-2101 for more information.
Runners-up: Edison's Entertainment Complex, Lincoln Theatre, Raging Rivers WaterPark
FIRE DEPARTMENT
The Red Bud Fire Department serves the city of Red Bud and its rural areas in Randolph and Monroe counties. Red Bud Fire Department also has a Volunteer Fire Department made up of 46 total members.
Runners-up: Collinsville Fire Department, Granite City Fire Department, O'Fallon Fire Department Headquarters, Waterloo Fire Department
FIRST DATE LOCATION
Fast Eddie's Bon Air is like no other. Over 4,000 half barrels of beer and thousands of cases of cans, bottles and liquor quench the thirst of their patrons every year. Some even say that Bon Air is the No. 1 volume bar in the world. Aside from drinks, Fast Eddie's Bon Air also has a food bar with an assortment of grilled burgers, shish-kabobs, bratwurst and boiled shrimp at a low price. Visit Fast Eddie's Bon Air at 1530 E 4th St, Alton or online at fasteddiesbonair.com.
Runners-up: 1818 Chophouse, Andria's Steakhouse, Valentine's restaurant
GOLF COURSE
Annbriar Golf Course proves that there is always a new reason to enjoy a day of golf and fun times with family and friends in Waterloo. Golf is the ideal way to enjoy the outdoors and the company of others. Reserve your next tee time with Annbriar by contacting the Pro Shop: (618) 939-4653 or by clicking on the "TEE TIMES" tab online at annbriar.com.
Runners-up: Arlington Greens Golf Course, Far Oaks Golf Club, Lockhaven Golf Club  
MUSICIAN/BAND
Dazed n Confused - Columbia packs a heavy punch with their high- energy selection of Rock 'n' Roll hits. Dazed n Confused's beautifully blended guitar work mixed with a steady rhythm section, complements front man Rusty Ezzell's iconic rock voice. Dazed n Confused delivers a rock experience you won't soon forget. Call (618) 779-8511 to find out more about one of this area's favorite bands. Runners-up: Ethan Jones, Matt Powell-Collinsville, The Vault 
PLACE FOR VISITORS (TIE)
Red Bud, Illinois is located in the northwest part of Randolph County (Where Illinois Begins). It is within easy commuter distance of metropolitan St. Louis. It is about seven miles west of the Kaskaskia River that provides a 36-mile long navigable artery for industry and recreation. Visit the City of Red Bud's website at cityofredbud.org.
Waterloo, Illinois is located in Monroe County. Waterloo has a population of nearly 10,000 and is filled with shops and charm. Visit the City of Waterloo's website at waterloo.il.us or call City Hall at (618) 9939-8600.
Runners-up: Alton, Illinois; Eckert's Belleville Country Store and Farms; Grafton, Illinois
POLICE DEPARTMENT
The Waterloo Police Department is dedicated to providing professional police services. They are committed to serving with integrity and compassion. The Police Department currently maintains a staff of 15 full-time police officers striving to improve the overall quality of life within the community of Waterloo.
Runners-up: Collinsville Police Department, Granite City Police Department, O'Fallon Police Department/ City Ambulance, Troy Police Department
PRESCHOOL
Daytime Discoveries is much more than a daycare. At Daytime Discoveries, each instructor has a year-round curriculum in every classroom. They strive to provide your child with the very best learning strategies available. The teachers are regularly trained in the latest education methods and techniques. Call (618) 935-2800 for more information.
Runners-up: Children First Learning Center, Hope Preschool - Hope Christian Church, Kids First Learning Center - First Baptist Church, Learning Tree Preschool, Together We Learn
PRIVATE SCHOOL
Holy Cross Lutheran School in Collinsville serves students attending preschool through eighth grade. Holy Cross offers one of the most extensive music programs in the area. Classes teach note reading, music history and appreciation and instrumentation. The school also offers athletic programs including baseball, basketball, volleyball, cross country and track and field. Visit holycross-collinsville.org or call (618) 344-3145 for more information.
Runners-up: Governor French Academy, Maryville Christian School, St John the Baptist Catholic School
PUBLIC PARK
Troy City Park has an activity center, sports fields, attractions, facility rentals for gatherings and much more. Reconnect with your family and nature at Troy City Park. Troy City Park is located in 410 Wickliffe Street.
Runners-up: O'Fallon Family Sports Park, Wilson Park, Woodland Park
PUBLIC SCHOOL DISTRICT
Waterloo Community Unit School District No. 5 is a school district featuring educational programming spanning grades pre-K through 12. The district supports high-quality teaching and learning through meaningful, differentiated curriculum and challenging learning experiences. Visit wcusd5.net or call (618) 939-3453 for more information.
Runners-up: Collinsville School District, Edwardsville School District, Jersey CUSD 100, Triad Community Unit School District #5
RETIREMENT HOME/SENIOR LIVING
Magnolia Terrace Senior Living Apartments offers privacy in the comfort of your own one-bedroom apartment with access to professional staff around the clock. The staff work with both residents and families to customize a plan of care to accommodate personal preferences and lifestyle choices. Magnolia Terrace is focused on promoting independence while still providing quality, hands-on care. Call Magnolia Terrace at 618-939-3488.
Runners-up: Cedarhurst of Shiloh, Meridian Village, Villa Rose Senior Living Community