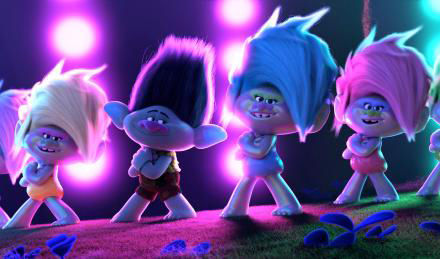 The entertainment industry, along with pretty much every single other industry, has been rocked by the COVID-19 pandemic.
With movie theaters closed indefinitely, most movie studios pushed back their new releases until the end of the year leaving America with limited entertainment options outside of streaming services. And let's be honest, a little "Tiger King" goes a long way.
There is one movie that has stuck to its original release date, skipping the theater and coming directly into your home via digital download.
"Trolls World Tour," the sequel to the hit family film "Trolls," will likely never see the inside of a theater and while the jury is still out on this being a financially sound decision, it is a welcome reprieve for families with little kids stuck inside the house over the past few weeks.
The real question is does the movie itself rise above being a mere quarantine distraction? Eh, not really.
Anna Kendrick and Justin Timberlake return as the voices of Poppy and Branch, two trolls living in a happy-go-lucky village of colorful, wild-haired trolls who break into choreographed renditions of pop songs at the drop of a hat.
The first time around, the trolls had to avoid being eaten by a race of joyless giants. This time, the trolls learn they are not alone in the world and other groups of trolls exist who celebrate other types of music like country, hard rock, funk, classical and techno.
Barb (Rachel Bloom), the leader of the Hard Rock Trolls, wants to conquer all the other troll villages and assimilate them all into hard rockers. This sets Poppy and Branch out into the wider world to put a stop to Barb and her heavy metal followers.
While there is a nice message of tolerance and embracing differences at the heart of "Trolls World Tour," there does feel like there are some missed opportunities, especially with such a broad musical palate to choose from.
But, there is still enough there to make this movie worth your time, especially if you live with little fans of the first film. And let's be honest, if there was ever a time for a light, fluffy colorful distraction, this is it.
"Trolls World Tour" is rated PG for some mild rude humor.
Be the first to know
Get local news delivered to your inbox!