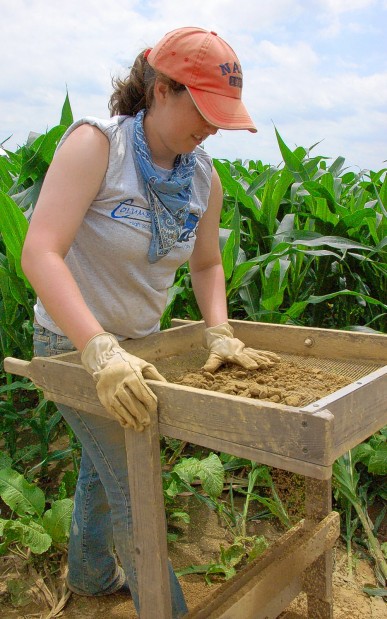 Working on a dig of a burial site in north central Spain made Columbia High School graduate Victoria Weaver more determined about her career path.
"It let me know that this is definitely what I want to do in my life," said Weaver, 21, a senior at Southern Illinois University Edwardsville studying anthropology with a focus on archaeology.
Weaver spent July on an archaeological dig at an Iron Age tomb site outside the Roman settlement of Pintia. The dig was organized by ArchaeoSpain, an archaeology and educational organization based in Madrid and Connecticut. It attracted students and archaeologists from Spain, the U.S., Singapore, Australia and New Zealand.
More than 200 burial sites have been unearthed at Pintia in the last 10 years. "You can dig anywhere, you can find something," Weaver said.
She found 15 marble-like bits of fired clay, from the size of a pea to a walnut.
Such experience provides a step up for students like Weaver, said Julie Holt, who chairs the SIUE Anthropology Department.
"When she graduates, she can say 'I'm an archaeologist. I've done archaeology,'" Holt said.
Weaver's experiences in Spain came more than two years after she discovered her interest in archeology.
"I took an anthropology class and just loved it. Of course, I'm an Indiana Jones fan," Weaver said. "There's just something about picking up an artifact."
Weaver recalled a project in which she worked at the school's field school archaeology site on campus. It contains a Mississippian village — the same as the people who lived around Cahokia Mounds — and an older village.
Weaver found an ancient nest of a mud dauber, a kind of a wasp, near the site of a home. That can help determine what season the home was occupied, Holt said.
More recently, Weaver learned about ArchaeoSpain and signed up for last's month's dig. Next year, she wants to go back to the site.
Yet ahead is the hard work of finding a job in her field. Among other things, archaeologists may teach, work for an archaeological firm or obtain a job checking construction sites before work begins.
Weaver acknowledges that many graduates in her field don't get archaeological jobs. But she said, "I love it. I can't imagine doing anything else."
Contact reporter Jim Merkel at 618-344-0264, ext. 138