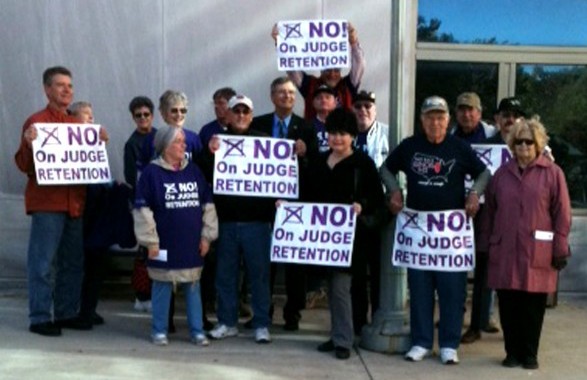 A grassroots group is hoping its anti-retention campaign for four Madison County judges will resonate with voters in November.
The Citizens for Judicial Integrity group wants voters to vote against the retention of Third Judicial Circuit Court Judges Ann Callis, Barbara Crowder, David Hylla and John Knight because of concerns that the court is influenced by large donations from asbestos lawyers, which has resulted in an increased number of asbestos-related court filings in Madison County.
Founder Phillip Chapman said the concern arose over recent allegations that Crowder gave the majority of asbestos trial weeks to three law firms that contributed to her political campaign. The findings prompted Callis, the chief judge, to remove Crowder from handling asbestos case dockets and County Board Chairman Alan Dunstan to call for an investigation.
Crowder said the campaign contributions and court docket decisions were not connected.
"Obviously it is absolutely legal for a campaign committee to accept contributions," Crowder said. "It is legal for attorneys to make contributions to anyone they want including judges. My campaign accepted contributions and when there was criticism of that, I instructed them to return the contributions."
The group believes that what the Illinois Chamber of Commerce calls a "cash for trials scandal" is related to the growing number of asbestos cases tried in the Madison County courts. According to Circuit Court Clerk Judy Nelson, there were 455 asbestos-related case filings in Madison County in 2007; that number more than doubled to 953 in 2011. The St. Louis Post-Dispatch reported in January that more than $1 billion in asbestos-related claims were resolved in Madison County and most of the plaintiffs were from outside of Madison County.
"Callis, Crowder, Hylla and Knight were elected in 2006 promising reform," Chapman said. "Among the factors leading to Madison County's poor reputation is the number of lawsuits and the contributions made by plaintiff's lawyers specializing in asbestos litigation to the judges' elections campaign."
Chapman, who is a retired Army and prison chaplain, said he believes the court's perceived reputation impacts both the business climate and health care availability in Madison County.
"Businesses don't want to come here because of the court climate," Chapman said. "And it's hurting our health care because since the malpractice insurance costs is so high, many doctors have left Madison County never to return again and other doctor's won't come here."
Chapman held a press conference in Edwardsville last week with about 25 supporters donning "No Retention" purple T-shirts and holding "No Retention" signs. Chapman said the Citizens for Judicial Integrity is a non-partisan group of about two dozen Madison County residents who have been involved in "independent campaigning for the community." He said many of those involved in the informal group, which has no membership dues or organizational structure, banded together over their work last year to turn down a county sales tax increase referendum.
On the November ballot, each of the judges must receive a 60 percent vote of yes to be retained. If voters deny retention, the Illinois Supreme Court will appoint a judge and the seat will be up for re-election in two years, according to Madison County Clerk Mark Von Nida.
Crowder said she has been an attorney for 31 years, a judge for 13 years and has been involved in both the Third Judicial Circuit's Family Violence Prevention Council and the Pro Bono Committee, which provides free legal services to low income county residents. She said she should be retained based on her record and her ability.
"My legal ability is not disputed," she said. "The Illinois State Bar Association advisory polls were just released and I was given an 96 percent in my legal ability, a 97 percent in courtroom management and I was recommended for retention by the lawyers, both sides that appear in front of me. That's what people should be looking at."
Knight, who has been an attorney for 31 years and a judge for 12 years, also referenced the bar association's recent recommendation that all four judges be retained. The Bond County judge said he would not directly address the allegations about asbestos-related filings.
"I don't believe the criticism that they have leveled at us are factually correct and I'm not going to into detail on that," Knight said. "But if you look at the attorneys who work with us day-to-day, they recommend that we should be retained and they are the ones that know."
Callis and Hylla could not be reached for comment.
Contact reporter Ramona C. Sanders at 618-344-0264, ext. 136