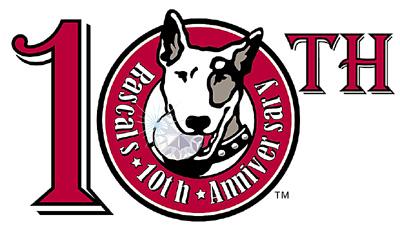 In light of the Rascals' 10th anniversary season, the two reporters who have covered the Rascals the most decided to post a few memories of working the Rascals' beat. Ryan Fagan, now writing for the Sporting News, covered the Rascals from their inception until the 2004 season, when Chris Gump took over. Beat writer, as colleague Dave Benson pointed out, can sometimes take on a whole new meaning. Sometimes you watch a four-hour Rascals game, they get beat, and you're beat when you get home at midnight. But the good in the job usually outweighs the bad. Whether the Rascals won or lost or how they played the game is pretty fleeting from day to day, but other memories remain.
When the Rascals first rolled into town, manager Jack Clark was about a hundred times more famous than anyone I'd ever interviewed. Heck, ever even met. I admit, I was a little starstruck to talk to the best Cardinals power hitter of my generation, so I really wanted to sound smart when I asked him questions after the game. Didn't quite happen that way. I had (OK, have) a tendency to speak in a rapid fashion when nervous, and I might have stumbled over my words a time or ten. Jack, I could tell by the pained look in his eyes and his furrowed brow, got a headache just from listening to my nonsensical ramblings. After the third game of the franchise-opening series in Cook County against the Cheetahs, I launched into my first question in the manager's room at Hawkinson Ford Field. Jack held up his hand to interrupt me and just said, "When we get back, you and I need to go have a beer or something, because you have got to calm down. Relax a bit. We're just talking baseball; this isn't life or death." Well, the beer never happened (though he did once ride back from the park in Evansville with me and we stopped for a bite at Steak 'n Shake), but it was good advice. We were just talking baseball.
From the first day I crammed myself into the press box at T.R. Hughes Ballpark, I was only slightly less than obsessed with the potential of catching a foul ball from my seat in the box. Everybody told me it couldn't be done, that the angle just wasn't right. All the press box folks-official scorers Dick Williams and Keith DeShurley and Post reporter Joe Lyons, to name a few-heard about it. Heck, I even told general manager Pat Daly how one day I'd grab the foul ball. But the games started churning by one after another and nothing really came close. Until one day, maybe in the second or third season.
Like the good shortstop I used to be, I saw the play developing before it ever happened and to this day, I remember it clearly. The fastball. The swing. The ball looping back, clearing the net behind the plate by about five feet before starting its descent. I jumped up, shoved my chair back, anchored my feet against the back wall and braced my thighs against the press-box counter top. This was finally my moment, and it was playing out almost exactly as I'd imagined. I reached out as far as I possibly could. But the ball, impossibly, slipped through my outstretched fingers. I was shocked.
My press box mates were delighted. They told me I'd never live that one down. I was hoping they'd forget. Well, I ran into Dick in Jupiter, Florida, this March for Cardinals spring training. Hadn't seen him in at least five years, since I'd left the Journal. He was eating lunch, and we chatted for a minute or two about life and what we were doing, when he introduced me to his buddy sitting across the table. He didn't introduce me as the guy who used to cover the Rascals, or the guy who's with the Sporting News now. Nope, it was: "Hey, this is Ryan. He's the guy who dropped the foul ball in the press box back when we were with the Rascals."
So, yeah, it hasn't been forgotten.
Matt Jones, the Rascals' second general manager, knew how to get folks to notice his team. His mind was always working, and he had a way of spinning even the simplest of transactions to gain a bit of attention. Take, for instance, the 2003 trade of right-handed pitcher Adam Sokoll to the Cheetahs. Basically, the idea was to sell Sokoll's rights to Cook County (Chicago), which was closer to his home in Michigan. But instead of just taking the appropriate amount of money in exchange, Jones asked for the corresponding amount in the form of hotel rooms the next time the Rascals traveled up to the Windy City. Brilliant. We reported it in the Journal, the Post picked it up and next thing you know, the Jim Rome show on ESPN is including the Rascals in a bit. Nobody would have ever noticed "River City RHP Adam Sokoll traded to Cook County for cash." But, you put "River City RHP Adam Sokoll traded to Cook County for hotel rooms" and you've got yourself a story. Frontier League commissioner Bill Lee officially voided the deal, but between you and me, I'll bet the Rascals' trips to Chicago that season cost much, much less than they had the year before.
In the Frontier League, there are good players, good rivalries and good people in general, but let's be honest - as professional sports leagues go, it's more the Super 8 than it is the Hilton. The Rascals (prior to last season) showered in trailers behind the right-field wall of their beautiful ballpark, and accommodations aren't necessarily swank on the road either. In fact, I remember a June 2006 conversation I had with then Rascals manager Randy Martz while the Rascals were slumping on a Michigan road trip. The Rascals left a home game on a Monday, which ended at 9:54 p.m., and traveled to Traverse City (great scheduling). Through bus-driver error, they took an indirect route and arrived at 6:15 p.m. Tuesday for a 7 p.m. start.
After they left Traverse City (with three losses) they traveled to Kalamazoo, where their opponent, the Kings, failed to provide them with proper lodging. Seems a United Kennel Club Premier Dog Show was the big show in town, and while those pooches were sitting poolside and living off room service, the Rascals were left out in the cold.
Or the heat, as it turned out.
"We're staying in a dorm if you can imagine that, because all the hotels are booked," Martz said then. "It's going to be a fiasco here too. No air conditioning, no TV, no nothing. But what are you going to do? It's the Frontier League."
Cover the Rascals enough and you can recite the antics and promotions - the Verlo Mattress Bed Race, the Krispy Kreme Donut Toss, etc. Some of them, like the Dizzy Bat Race, are entertaining no matter how many times you see them. Some, like the time last season when Buffy and Ruffy raked trash-can lids across the top of the visitor's dugout for half an inning and it sounded like a prolonged car crash, are ill-conceived.
Of all the gimmicks the team has ever tried, to me the most memorable (and most unfortunate) might have been one that died before it even started. In June of 2004, the team advertised "Sports Criminals Night" and fans were encouraged to dress as their favorite athlete who'd committed a crime in exchange for free admission. It was sure to create a run on Mike Danton and Leonard Little jerseys. Alas, the Rascals called it off after complaints from fans and negative publicity from national media.
Some of the happiest conversations you have are with players who are leaving the Rascals after signing with a Major League organization.
It seems like two or three players get the call most years and two former Rascals - Josh Kinney and Joe Thatcher - have gone on to pitch in the Big Leagues. Thatcher got his call in July of 2005. He rose rapidly in the Milwaukee Organization before he was traded to San Diego, and made his first appearance for the Padres last summer.
"I was in the clubhouse getting ready for a game just like any other day and Coach Martz comes in and asks me if I want to be a Brewer and I said, 'Of course. I've been waiting for that my whole life," Thatcher said when he signed.
I was happy for Thatcher, the one time Rascals "Nasty Boy" closer, when he signed with the Brewers and I was even happier when I watched the lefty pitch versus Colorado on ESPN in the one-game playoff last Oct. 1 that decided the National League Wild Card. Thatcher (who is now back at Triple-A Portland) fanned three of the four batters he faced in that game and was in line for the win before Trevor Hoffman blew the save in the bottom of the 13th.
- Prior to the addition of the awning that now fronts it, the press box at River City used to flood in any heavy rain. The last time this happened, we sopped up the water with rags, which I suppose acquired mildew from a previous flood.
- Funniest hearsay I was ever told in the Rascals' press box: In 2006, the Rascals had an outfielder named Leo Grullon who appeared to have the tools of Jose Canseco, but hit a little like Tony La Russa. Grullon hit .238 and fanned 34 times in 80 at-bats as a Rascal. At one point, as I was told, the Rascals were on the road and after a pit-stop, they had a lengthy wait for Grullon to get back on the team bus. When Grullon finally climbed aboard, his manager, Martz, quipped: "What's the matter Leo? Find a few sliders you just had to chase?"
Be the first to know
Get local news delivered to your inbox!