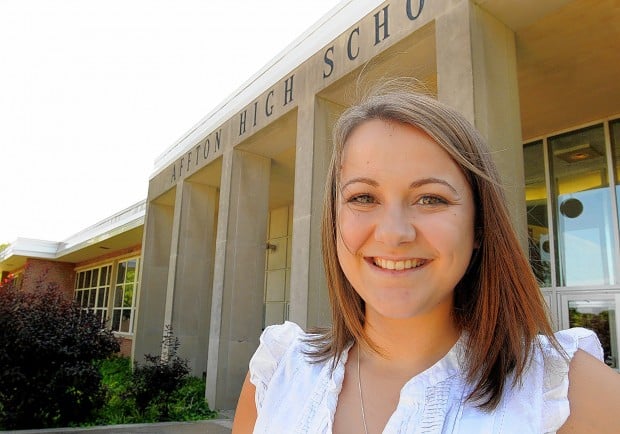 When Adela Cajic recently graduated from Affton High School, her mother became emotional remembering the past.
"This is something I wouldn't have believed would happen 15 years ago," Amira Cajic said.
That's when her family arrived in St. Louis after escaping religious persecution in Bosnia.
Amira, along with husband Nedzad and daughters Nadja and Belma, had joined thousands of other Bosnian Muslims in 1992, fleeing the "ethnic cleansing" campaign by Bosnian Serbs. The Cajics spent four years in Germany, where Adela was born. They arrived in 1997 in St. Louis to join other relatives in what was then a small, but growing Bosnian community.
Fifteen years later, her family watched Adela graduate as the class valedictorian and the recipient of a four-year, full-ride scholarship to Stanford University.
For Adela, 18, it means another move. This time, it will be to Palo Alto near San Francisco.
"Some days, it just hits me that I'm going to be living in California," she said. "I'm nervous, but also I'm excited."
For her parents, it will be hard to see their youngest daughter leave home. Nadja, 21, attends Webster University, while Belma, 20, goes to the University of Missouri—St. Louis.
Education is important to the Cajic family. "We always had our children work hard in school," Amira said.
Adela speaks fluent Bosnian and English, is proficient in French and "can get by" in German.
Academics seemed to come naturally to her. She was helped when the family came to St. Louis. Just 4 years old, she had a full year to become familiar with English before going into kindergarten. Sisters Nadja and Belma had a tougher time.
"They still were learning English, so it took them a while," Adela said. "Whenever they came back home from school, I'd talk to them about what happened."
In school, she was known as a talker. During a parent-teacher conference, a teacher said, "Adela was smart and likes to talk."
"She was always asking questions, then going off on tangents and asking more questions," Amira said with a laugh. "The rest of the class would go, 'Oh, boy.'"
Adela admits she always felt an affinity with adults and her teachers. Because of her experiences, she sometimes "feels older than my friends."
At Affton High, she won a slew of honors, including the President's Award for Education Excellence, National Honor Society membership, and first place in the 2011 National French Essay Contest. She also played in the pit orchestra and was a varsity swimmer for four years.
She applied to a number of colleges, including Yale, Saint Louis University, University of Missouri—Columbia, the University of Missouri—St. Louis and, of course, Stanford University. Stanford was her hope.
"I wanted to go to a high-achieving school and Stanford was my dream," she said. "When I heard I got in, I was home with a cold. My mom called me and told me to check my email. I looked and saw that I made it. I just flipped out."
Mary Carpenter, a college counselor at Affton High, was not surprised that Stanford accepted her.
"What's not to love?" Carpenter asked. "You've got a straight-A student. Stanford likes a diverse student body. Her maturity is beyond a typical teenager. She connects with her teachers in an extraordinary way."
Adela will study biological engineering and human biology. Ultimately, she wants to study DNA and try to find a cure for cancer.
However, she and her family will never be far apart.
"We're going to talk every day," Amira said with a laugh. "We're going to miss her, but we're also proud of her."
Be the first to know
Get local news delivered to your inbox!