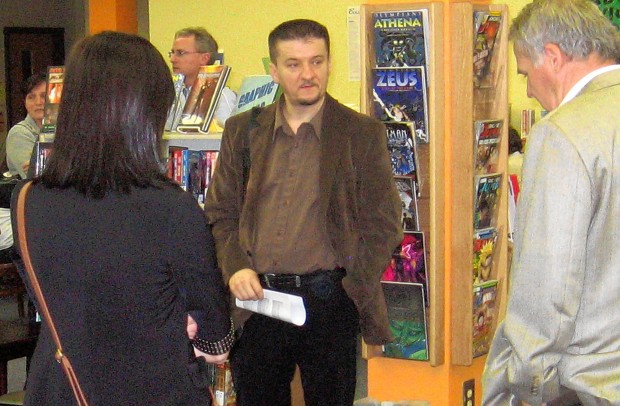 It began as a research project for Fontbonne University professor Ben Moore.
But it soon became something bigger.
"My colleague Jack Luzkow and I were interested in teaching a course about Bosnia," Moore said. "And we wanted students to interact with the Bosnian community."
St. Louis was a perfect place to get started.
"We have the largest Bosnian community here outside Bosnia," Moore said.
Many local Bosnian Muslims were directly affected by the war and genocide that wracked their home country from 1992-1995.
That conflict, which came about after the breakup of Yugoslavia, pitted Bosnian Serbs, Croats and Muslims against each other. Numerous atrocities and war crimes were committed.
Moore said he became interested in the Bosnian War after hearing "horror stories" in the media.
"I moved here in 1994 and began meeting survivors," he said. "As the community grew, I wanted to learn more."
Moore, a South City resident, began videotaping the stories of local Bosnians who survived attempts at ethnic cleansing in 2006.
The plan was to create an "enduring record" for future scholars and the descendants of war refugees. Those videotapes became the cornerstone of what is now the "Bosnian Memory Project."
Along with collecting video testimonials, Moore and his colleagues collect wartime artifacts such as clothes, photographs and letters.
The videos and collected items were used to create a traveling exhibit: "Prijedor: Lives from the Bosnian Genocide" that has appeared at the St. Louis Holocaust Museum and is currently on display at Fontbonne. More than 10,000 visitors have seen the exhibit.
Getting out in the community is another part of the project's mission.
On April 28, Moore hosted a community panel discussion at Mehlville High School, one of about a dozen events the group has sponsored.
Present was Edin Ramulic, a former Bosnian Army soldier and concentration camp survivor.
Ramulic said he lost eight family members in the Keraterm and Omarska camps. He was interned at the Trnopolje camp in 1992, but escaped after a handful of days by slipping in with a Red Cross convoy.
"It was inhuman," Ramulic said, speaking through an interpreter. "There was a lack of food, water and hygiene. There were a big number of women and children, some delivering babies without professional help."
There was no food or place to sleep.
"We slept outside on a soccer field."
At the war's end, Ramulic traded in his army fatigues for the suit of an advocate.
He's appeared before the International Criminal Tribunal on behalf of genocide victims, and founded a non-governmental agency to collect evidence of missing and murdered genocide victims.
While Ramulic's work is high-profile, Moore's local work has its own impact, particularly for those too young to have experienced the war first-hand.
"It's a profound part of the experience of a Bosnian family," Moore said. "It's something that's always there."
Be the first to know
Get local news delivered to your inbox!