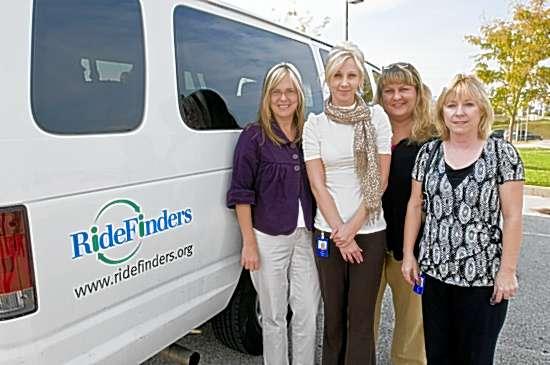 Each workday commute, Joan Askins and Marsha Aubuchon get to kick back while someone else drives them to and from their jobs.
The Arnold residents are among a group of Centene Corp. employees from Jefferson County who've formed a van pool to go to their Clayton office through RideFinders.
"It makes the ride more enjoyable," said Askins, 55, a medical review analyst. "Sometimes you talk. Sometimes you sleep."
RideFinders is a metro area ride-sharing program started in 1994 and operated by the Madison County (Ill.) Transit Agency with federal grant money. It matches riders who want to take part in a car or van pool.
The program covers St. Louis, St. Charles, Jefferson and Franklin counties in Missouri and Madison, St. Clair and Monroe counties in Illinois.
Ridefinders' mission is to improve air quality in the region and help participants save money. An added benefit is riders get to leave the driving to someone else.
Aubuchon, 37, who works in claims configuration/business analysis, estimates she is saving $30 a month on gas alone as a member of the van pool.
"Plus, you save on wear and tear on your vehicle," she said.
Approximately 9,800 people in the St. Louis metro area pool to work through the program, according to RideFinders Director Joe Wright. Of that figure, 971 are Jefferson County residents, he said.
Wright said Jefferson County has had solid participation in RideFinders over the years.
RideFinders participation jumped in 2008 when gas prices hit more than $4 a gallon and the Interstate 40 renovation project began, he said. He added that participation leveled off in 2009, but has increased again in 2010.
Participants may trade rides in their own vehicles or, if their group is large enough, rent a RideFinders van that can carry 15. The van rental price covers maintenance, administration and insurance costs on the vehicle.
People may participate through their companies or on an individual basis. Those in a pool need not work at the same business, although they must work in the same general area and live along a compatible route and have a similar work schedule.
The van pool Askins and Aubuchon belong to begins the day at a commuter lot in Herculaneum, stops at the commuter lot at Richardson Road in Arnold, then proceeds to the Centene Corporation building. The group, which learned of the program by searching the Internet after its members found their Festus office was closing, rents a RideFinders van.
For those that use RideFinders vans, one person is designated as a "primary driver." The primary driver does the bulk of the driving for the group, keeps it maintained and lines up secondary drivers to account for vacations and sick days. For this service, the primary driver rides for free.
Elizabeth Govero, 45, of Festus, took the wheel as the primary driver of Askins and Aubuchon's van pool when it was formed at the end of August.
Govero, a registered nurse for Centene, picks up her first riders on workdays at 5:45 a.m. at the Herculaneum commuter lot and drops them back at the same place around 4:30 p.m. Everyone in the pool works a 7 a.m. to 3:30 p.m. shift. At the moment, 11 Centene employees are in Govero's van pool, though its members would like to recruit up to the van capacity of 15 to spread the costs even further.
"The ride takes 45 minutes to an hour," she said. "It doesn't take much longer than if I were driving on my own."
People may join a travel pool for any amount of days a week they wish, Wright said.
"We ask that people do it at least twice a week, but there are people who do it just once a month," he said. "Every little bit helps."