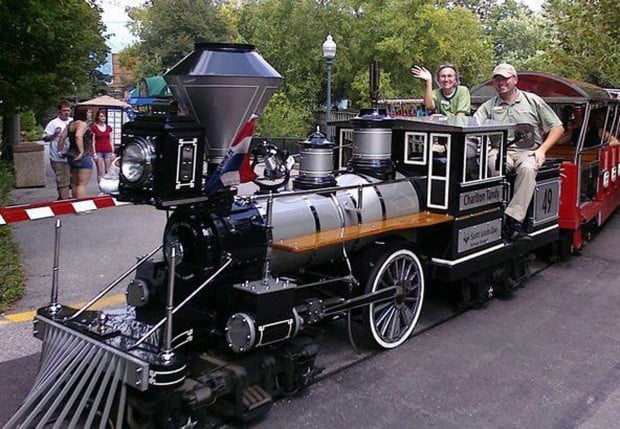 Ryan Jeffery never gets sidetracked at his job.
But then he works on the railroad all the livelong day.
Manager of guest services and attractions, he's responsible for managing ride operations and the Zooline Railroad, and for overseeing the Zoo's guest services operations and parking.
All that hard work is why the Saint Louis Zoo has awarded the Manchester resident with one of its four 2012 Hermann Foundation Outstanding Employee Awards.
"The efficiency and safety of the Zooline Railroad continues to be a model for railroad operators across the nation, thanks to Ryan," said Joan Sisco, director of guest services and attractions.
Sisco also complimented Jeffery for saving the Zoo money by sourcing local vendors, bringing some services in-house and negotiating competitive licensing fees. 
The Hermann Foundation Outstanding Employee Awards go to employees who have demonstrated, among other things, exemplary performance, behavior and/or service during the past year, attention to safety, productivity or cost-saving suggestions, initiative or originality, and accomplishments that advance the Zoo's mission.
"I was really surprised to get the award," Jeffery said.
"My boss had wanted to nominate me for several years, but I'm not a big personal recognition person," Jeffery said. "I like being a team player and would rather see my employees get awards than myself. So many people do such great things for the Zoo. Another award winner this year is with the hellbender breeding program, and I thought she was certainly more deserving than I was. The animal division does such great things, and I'm just part of the support structure."
After growing up in St. Louis Hills and graduating from Lutheran High School South in 2001, Jeffery, 30, began his career working part-time for the Zooline Railroad in 2000 as a conductor.
After earning his master's degree in communications management from Webster University, Jeffery was named to his current position in 2007.
He's active on Zoo projects, working on everything from organizing golf tournaments and employee parties to serving as a leader for various Explorer Scouts interested in learning about working in zoology or biology through the Zoo's Learning for Life Center.
Jeffery also plays on Zoo softball and kickball teams and is a member of a team focused on implementing sustainable practices at the Zoo.
And he is an advisor to the Zoo Museum District on visitor services.
An avid traveler and reader, Jeffery enjoys movies, bowling and spending time with his family, including mother Debbie Jeffery, father and stepmother Doug and Ellen Jeffery, and younger brothers Sam and Carter.
Jeffery recently talked about his experience with the Zoo and Zooline Railroad.
Question: Why did you originally want to work for the Saint Louis Zoo?
Answer: It's kind of a complicated story but, when I was growing up, I had wanted to work for Disney World, but, in high school, I decided I wanted something comparable here to Disney World, which is how I ended up with the Zoo. I fell in love with it and haven't left.
Q: How did you get involved with the Zooline Railroad and why?
A: To tell you the truth, I went to a Zoo job fair - I do them now myself - and was asked if I would be comfortable working in food service, being a face painter or being a conductor. At the time, I was not a good public speaking person, but this was the lesser of the three evils. It's hard for me to quantify what the experience did for me in growing my communications ability. There's such a wide and diverse range of people you interact with, not just visitors, but the railroad engineers I work with. These people have lived professional lives and now want to have a good time here. I learn a lot from those folks. It was hard not to become passionate about railroading when you work on any railroad, because it's such a part of the American culture.
Q: Tell us about the job you do.
A: I basically have a hand in making and developing training programs for guest services, parking, railroad and rides. I also make sure and oversee safety of all those areas. The Zooline Railroad is the largest miniature railroad operation in North America, and, after 50 years, we're still considered to be the model of doing it the right way. Chance Ride Manufacturing out of Wichita, which has made all the railroad cars we've ever used, regularly refers others thinking about building an operation or who have questions about one to us.
Q: What's the best part of your job?
A: Probably the thing I like the most is interaction with my staff or the public. I do know how to drive trains, and my best days are when I have a few minutes and can take a train around for a spin, or, on a rare occasion when we need more staff to help out on a busy weekend, I'll drive the train all day, and that's probably the very best part.
Q: What's the strangest incident you've ever had involving an animal at the Zoo?
A: I've had some really interesting animal experiences, but everybody at the Zoo knows I'm deathly afraid of snakes. Part of what we do on any Explorer Scout tour at the Zoo is to take kids for a tour of the Herpetarium. There's a room there with snakes off regular display, the really poisonous ones, so the kids really want to go there. I'm like, "Oh, boy, I don't know if I can handle this," but I go on the tour and in the room and just glide around with a little bit of fear.
Q: What's the strangest incident you've ever had involving a person at the Zoo?
A: A really great story I tell --  and this is going to sound weird -- but I had a family come, two girls of high school age or a little older, and they asked to rent a stroller from us. They had no small kids with them, but they said they'd use it to push around their dad. We asked them if a wheelchair would be better, but they said their dad had passed away, they had his ashes in an urn, and they wanted to put the urn in the stroller and walk their father around the Zoo one last time. We were so taken aback by what they said. But it's amazing, the range of requests and stories I've heard over the nearly 13 years I've been there.
Q: What does it mean to you, winning the Hermann Foundation award?
A: It means everything. I love the Zoo. It's been my world, my life, for 13 years. I don't want to leave. It's just a nice piece of my story there. It says so much, not just about me, but the people and staff who've been my mentors. 
Q: What makes the Saint Louis Zoo special for you?
A: I think it sounds kind of cheesy, but I can remember, my entire life, going to the  Zoo and riding the train. When you're born here and grow up here, there's just something about all this history. It's like family, part of who I am.