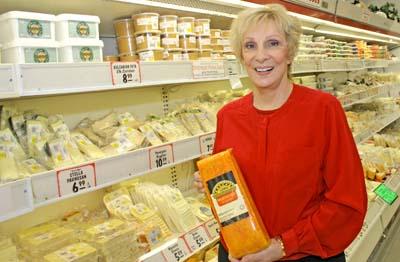 From potatoes in Pontoon Beach to Asiago cheese in Affton, Sappington Farmer's Market owner Tessa Greenspan has turned obstacles to opportunities.
Greenspan was honored recently as Progressive Grocer magazine's Woman Grocer of the Year. The recognition comes on the heels of many other such awards in the last several years.
Greenspan said it always took the assistance of others to help her achieve success in the retail grocery business, and she credits her husband, Stanley, long-time general manager Ken Byerly, children and her more than 80 employees with helping every step of her way.
"They've been my rock and a big, big help," Greenspan said. "Nobody ever does anything by themselves. It's always a team that does it and I can't take the credit."
Greenspan was chosen from a pool of thousands of nominees and said she has no idea who nominated her.
"I appreciate it very, very much," she said. "It really is great. Because I have gotten national publicity this year, somebody from Progressive Grocer could have nominated me so I'm not really sure."
Greenspan started her grocery career in the 1970s when, as the young mother of two, she noticed the number of men selling produce. She thought, "Well, I can do this."
She bought a big, red truck and even though she didn't know how to drive a clutch, drove forward and taught herself to operate it. She bought all the fresh produce she could and rented a gravel lot near Illinois routes 111 and 162 in Pontoon Beach. She then corralled some neighborhood kids to help her unload 100 pound bags of produce, and started her retailing career.
In 1981, she went looking for a larger location and entered into a silent partnership in the Sappington Market on Gravois Road, near Sunset Hills. Five years into the venture, the partners walked up to her one day, handed her the keys and said, "We're declaring bankruptcy, here's the keys."
"Well, that turned my life around," Greenspan said. "I thought, 'I can't do that, I can't declare bankruptcy.' So I gave it my all and little by little was able to pay off their $413,000 debt."
From there it was onto her location in the General Grant Shopping Center in Affton, where she now offers one of the largest selections of fresh cheeses in St. Louis.
She is now expanding even further by entering into a partnership with the Missouri Farmers Union to offer locally-grown, organic and fresh foods from Missouri growers.
"We're going to have natural beef, pork, chicken, lamb and goat," she said. "This is the trend and people want more and more fresh local products. It's a way for me to help the farmers and support them in many ways so we will have as much as I can possibly buy."
By bringing in local farmers from time to time to meet her customers "it helps them make more of a connection," she said.
The trademark toy train, which runs on an elevated track installed when she moved her business in the 1990s, continues to entertain young children who shop with their parents.
"The toy train is here because I wanted to attract families and wanted them to have a good experience, "she said. " I've noticed that children scream and cry, 'I want things.' But when they come here, they like to see the train going around and around and they don't do that."
She also gives annual tours of her store to the first-grade classes at Sappington Elementary School. The students get a lesson in how food is grown and how it ends up in their local grocery store.
Tarren Fritz, a first-grade teacher at Sappington Elementary, said the tour is always a much-anticipated event for her little learners, and she commends Greenspan for offering it.
"We go as part of our science curriculum about produce and how things grow and how they're stored so we can have fruit all year," Fritz said. "Tessa starts us out in the fruit section, has all the kids look at interesting fruits from around the world we don't usually see, such as star fruit or pomegranate. Then we go back into the freezer and see how they keep the fruits and vegetables fresh.
"Then we go into the dairy and test a gallon," Fitz said. "She asks us how much it weighs before we put it on scale and there's a little talking cow there who talks to the kids about how milk is made."
The kids also sample cheeses from the extensive cheese selection and learn about how cheese is made. They see peanuts crushed and made into peanut butter and tour the international aisle, where they see foods from other countries, Fitz said.
"It's a very good lesson and the kids love it, it's one of their favorite field trips," Fitz said. "They always get a farm-themed coloring book and coupons to take home. Usually some moms go with us and they do their shopping while they're there."
Greenspan helps build her customer base through the tours.
"I let them eat different things, and then I give them a coupon and ask them to bring their parents or grandparents back," Greenspan said. "And they always do, because they just love the experience."
Another feature of Sappington Farmer's Market is the Wishing Well, which sits in the front of her store close to the checkout stands.
"Each month we choose a different non-profit organization and whatever money is raised through the Wishing Well I match up to $400," Greenspan said. "I ask the organizations if they will come and hand out their literature so we're raising the awareness of different organizations."
September's Wishing Well beneficiary is the Liver Foundation, for which Greenspan is honorary chairperson for an upcoming fashion show. She is also serves with the Heart Association, Diabetes Foundation and the United Way's Women Initiative.
If that's not enough, she and her daughter, Terri Arscott are also teaming to be the exclusive distributor of Xango, a nutrition juice made of mangosteen.
"Energy is one of the things I have too," she said. "More energy than I ever had. It's just wonderful. "
That she has. Bushels full.
Be the first to know
Get local news delivered to your inbox!