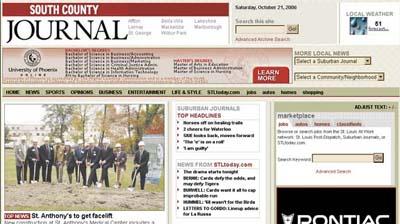 Regular updates on news and sports in your community are a key feature of the new Web site from the South County Journal.
No "www." — just type the address as shown above and the web browser will do the rest.
In addition to content changes timed with the release of our print publications, our reporters and editors will regularly post fresh news and updates to other stories. And you'll still find easy links to the latest regional and national news and sports from STLtoday.com.
Your site features local faces and places, high school sports, local calendars, classifieds and shopping information, local city and school news, plus all of the other great content you find in the Journal delivered to your home.
Also, we have new features, including more photos, and we give you the chance to interact with others by commenting on stories and voting in online polls.
The new South County Journal site is one of 34 launched by the Suburban Journals of Greater St. Louis. One site is dedicated to each print publication, plus we're collecting the best overall content on a portal site:
Suburban Journals Online - We're all about you!
Be the first to know
Get local news delivered to your inbox!