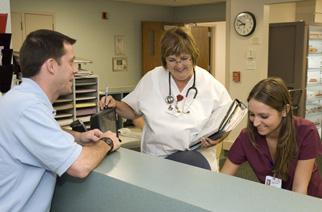 There's no confusion on the medical floors at St. Anthony's Medical Center.
Like U.S. postal workers and police officers, hospital administrators want patients and their families to be able to distinguish the various roles of employees, from nurses to housekeepers.
A new dress code was implemented on Aug. 1 and uniforms are color-coded by discipline and department.
Nurses can chose from navy and white. Aides and assistants are outfitted in dark blue. Housekeepers wear khaki and brown.
"It's really all about the patients and giving good patient care," said Sherry Nelson, vice president of patient care services. "Without a staff dress code, patients often are confused when attempting to identify their caregivers. We believe this change will impact patient safety and increase patient satisfaction."
Employees are fans of the new color-coded uniforms. They present a professional image and make identification easy for patients and colleagues.
Physicians also approve of the new look.
"A first professional impression is a lasting impression for patients," said Dr. Robert Griesbaum, vice president for patient care quality. "The new dress code provides patients with a sense of security and lets them know the medical center is looking out for them. Additionally, the color-coded uniforms help improve communication between the physicians and hospital staff - and they look great."