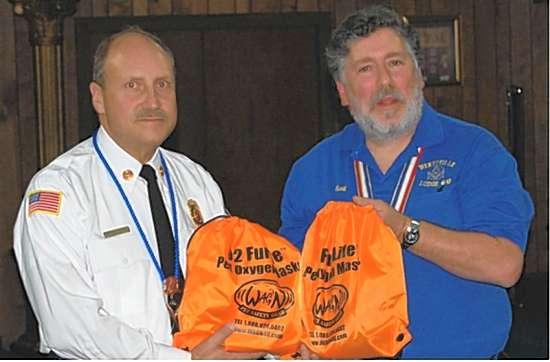 The Wentzville Fire Protection District recently received another donation of two sets of pet oxygen masks.
The donation came from Cindy and Scott Schultz of Wentzville and the Wentzville Masonic Lodge, of which Scott is a member. The pet oxygen kits were presented Sept. 15 to fire inspector Chris Newbold at the Wentzville Masonic Lodge.
The fire district now has three sets of these kits on its apparatus. The kits contain three different-sized masks - small, medium and large - that can be used on dogs, cats, ferrets, rabbits, guinea pigs and birds.
On July 1, Wentzville firefighters were able to use a pet oxygen mask kit that had been donated in early June. The masks were used on a number of pets that lived in an apartment building involved in a structure fire.
The masks supplied by the Schultzes are from Wag'N Pet Safety Gear Company as part of its Wag'N O2 Fur Life Program. For more information, visit www.wagn4u.com. The kits cost about $78 each.
The Wentzville Fire District covers 88 square miles of Western St. Charles County and includes the cities of Wentzville, Foristell, Flint Hill, and Josephville; as well as large portions of Lake St. Louis, Dardenne Prairie and O'Fallon.