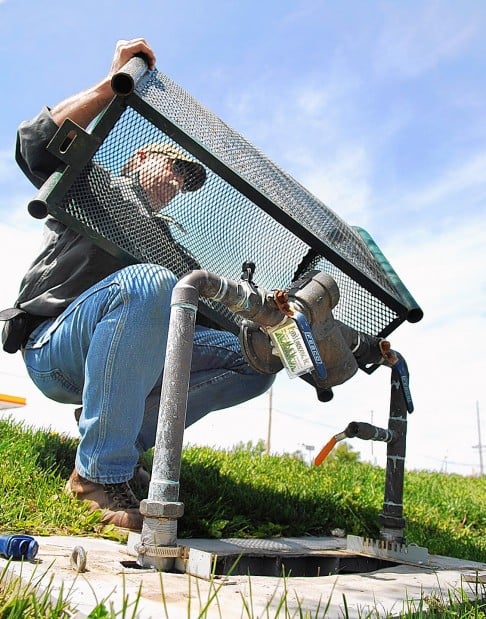 O'Fallon police have a suspect in a string of plumbing thefts.
Someone has been stealing backflow preventers from O'Fallon homes and businesses. The devices connect to underground lawn sprinkler systems, preventing soil contaminants from entering the public water supply.
Officer Diana Damke, O'Fallon Police Department spokeswoman, said Thursday said police identified a suspect they believe was involved in a majority of the thefts. They had not yet taken the suspect into custody. Police were waiting for the St. Charles County Prosecuting Attorney's office to issue charges, Damke said.
Thieves steal the backflow preventers to obtain the copper and brass parts, selling them to scrap metal buyers, Damke said. Detectives are talking to scrap metal and salvage business operators, trying to develop leads, she said.
The thefts are on the rise, with 28 reported so far this year, she said. Police investigated 16 reports in April alone. Only six such thefts were reported in all of 2010, Damke said.
Damke said copper thefts are more common in commercial areas and construction sites, but most of the backflow preventers stolen this year were from homes. The thefts probably occurred in the winter but are only being discovered now because spring has arrived and homeowners are checking their sprinkler systems, she said.
"We are asking the public to be our eyes and ears, watch out for strange people in the neighborhood," Damke said. "If you see something that does not look right, trust your gut instinct and contact law enforcement."
Businesses like Roden Landscaping Inc. in O'Fallon sell locked enclosures to protect backflow preventers. The metal cages cost $700-$800, including installation.
Robert Glasgow, irrigation division manager for the landscaping company, said the cost of replacing a backflow preventer could be much higher than buying a cage, especially if the preventer were stolen year after year.
Backflow preventers cost about $200-$500, Glasgow said. Additional copper fittings could run $200-$300. With installation fees from a licensed plumber, replacing a preventer could cost more than $1,000. Glasgow said his last customer spent $1,200 to replace a preventer.
The device prevents an accidental reverse flow from siphoning contaminants such as pesticides and fertilizer into the public water system. O'Fallon and Wentzville require property owners to register backflow preventers by serial number, obtain city permits before installation and have them inspected by code enforcement officers, Glasgow said.
A typical backflow preventer sticks 12 to 18 inches out of the ground, or off the side of a house, Glasgow said. The U-shaped assembly has copper pipes on either side, with a mechanical device in the middle. The intake pipe connects to the public water utility. The discharge pipe connects to the sprinkler system.
Thieves must hack through the pipes in order to steal the preventer, Glasgow said. They usually cut the pipes where they meet the ground and walk away with the entire assembly, he said. Scrap metal buyers pay top dollar for copper and brass, he said.