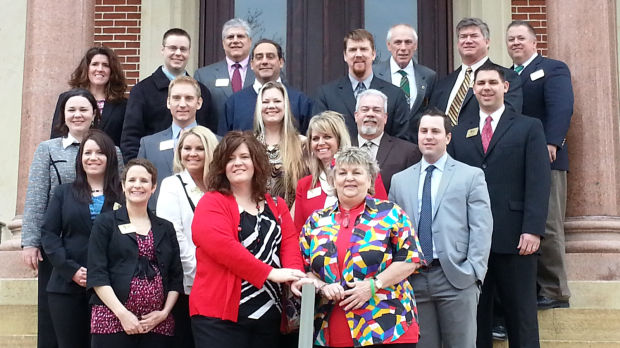 Realty group recognizes top producers
Coldwell Banker Gundaker announces the company's top performers for 2013. The top achievers were ranked based on sales volume, plus agents new to the business were also recognized.
Susie Johnson, sales associate with Coldwell Banker Gundaker's Highway 94 at Mid Rivers office in St. Charles, was ranked the second highest sales associate in the company. She had a remarkable year with over $42 million in sales and she closed 163 units. Johnson is a 17 year veteran of residential real estate sales who started her career with Coldwell Banker Gundaker in 1997. Susie consistently ranks in the top 5 of all Coldwell Banker Gundaker agents in the St. Louis Metro area since 2000.
Benjamin Giessman, with the St. Charles County office, was named one of the Rookies of the Year 2013.
Company hires real estate rep
Cullinan Properties Ltd. has hired Patty Kueneke as senior real estate representative at the Streets of St. Charles. Kueneke will be responsible for leasing and sales of existing and new development on behalf of Cullinan Properties including the Streets of St. Charles and the Shoppes at River Hill in Topeka, Kan.
General Motors receives EPA recognition
For the second consecutive year, the U.S. Environmental Protection Agency has recognized General Motors with an Energy Star Partner of the Year – Sustained Excellence Award for continued leadership in protecting the environment through superior energy management. One of the reasons the EPA recognized the company was its conversion of two coal-fired boilers to natural gas at its Wentzville, Mo., assembly plant, for carbon reduction of 57,000 tons. That's equivalent to the carbon sequestered by 1.5 million trees.
Vision program graduates leaders
Vision St. Charles County Leadership held their graduation ceremony for the class of 2013 on March 31, at Bemo's located in Cottleville. Alumni, business leaders and class graduates honored the 2014 Visionary of the Year, Nancy Cope with Habitat Humanity St. Charles County, the 2014 Mentor of the Year award to Rich Metz with Commerce Bank, and inducted the Class of 2014 into the alumni association.
Class members include: Ashley Fears, St. Charles County Government; Bev Moore, Community Living Inc.; Brandi Dewald, Willows Way; Brian Richardson, KFAV 99.9 FM; Chad Treacy, UMB Bank; Greg Neunuebel, SSM St. Joseph Health Center; Heather Deatz, Community News; Jennifer Donley, Claria Clean; Jim Fingerhut, St. Charles County Ambulance District; John Callahan, No Hunger Holiday; Josh Banes, Commerce Bank; Lori Kehoe, Habitat for Humanity ReStore; Mike Favazza, Favazza & Associates; Mike Hurlbert, City of O'Fallon; Missy Naumann, Sts. Joachim & Ann Care Center; Sonya DeMerchant, Developmental Disabilities Resource Board; Tony Bryan, Center for Autism Education; Tony Sneed, Alliance Water Resources/ PWSD #2 ; Vito Lucido, Delta Center; and Windy Spalding, United Services for Children.
Vision's mission is to educate community and business leaders by providing experiences that will increase awareness, develop leadership skills and motivate participants to be actively engaged in St. Charles County.