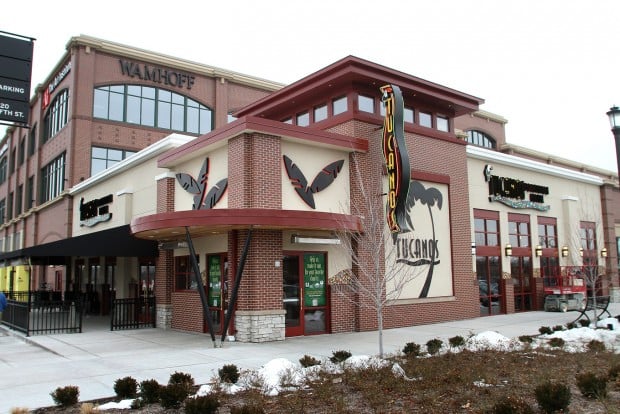 There is a delicious irony in that a restaurant unlike any other in St. Charles is now serving diners near the spot formerly occupied by Noah's Ark Restaurant, the area's most unusual eatery of its time.
Tucanos Brazilian Grill opened Feb. 28 as the newest business in the Streets of St. Charles, the $150 million mixed-use development being built in phases on 26 acres at the southeast corner of South Fifth Street and Interstate 70. Tucanos' bright and colorful signage helps illuminate the progress developer Cullinan Properties has made on this prime piece of commercial ground, which sat unproductive for too many years after Noah's Ark Restaurant and the adjacent Noah's Ark Hotel went out of business.
Opened by David Flavan in 1968, the restaurant shaped like an ark became an attraction known also for its fake animals outside (the giraffes, especially, stood out), stuffed animals inside and, of course, its clam chowder, which achieved legendary status locally. For many years, Noah's was one of St. Charles' classier restaurants, popular for dinner dates, business lunches, Sunday brunch after church, holiday meals and other special occasions. It drew customers from both sides of the Missouri River. Many local teens got their first jobs there.
Noah's tasted a generous helping of success well before much of St. Charles County's population growth arrived and at a time when not nearly as many restaurants competed in St. Charles or the rest of the county as do now. But in its later years the crowds diminished; and Flavan, who sank a small fortune into construction of his Spirit of St. Charles riverboat and its short-lived operation on the city's riverfront, eventually closed both his restaurant and hotel. Other restaurants followed in the ark but didn't last long. Both buildings fell into disrepair, sat dormant for several years and stood out like a sore thumb at the eastern entrance to St. Charles.
Noah's, however, did leave lasting memories, some of which were recalled on Aug. 29, 2007, when about 200 people showed up for a ceremony marking the ark's demolition and the promise that this highly visible site next to one of the busier stretches of highway in Missouri would become productive once again.
Peoria, Ill.-based Cullinan bought the property in January 2007 from Whittaker Homes, which had acquired the site for a project then called the Plaza at Noah's Ark. Cullinan renamed it and reached a new development agreement with the city, but the recession delayed construction. The City Council in January 2010 approved $40 million in bonds to help get it going, and in July 2011 approved a revised plan calling for more commercial square footage, less residential space and fewer buildings than Whittaker proposed.
City officials should be elated with how far the project has come in the past year and its contribution to the local economy. Tucanos, which initially hired 156 employees, joined the Art Institute of St. Louis, St. Charles Dental, MassageLuXe, Five Guys Burgers and Fries, Wamhoff Financial Planning, Cole and Associates Engineering and the Brown, Smith, Wallace accounting firm as tenants in the Streets of St. Charles' first completed building, referred to as Block 1000.
Block 4000, a five-story, 400,000-square-foot residential and commercial building, is under construction and expected to open in multiple phases from fall 2013 to summer 2014. A multistory parking garage with room for 1,250 cars also is being built. In 2014, work is expected to be completed on blocks 2000 and 5000. Cullinan expects the final building — Block 3000 — to be finished in mid-2015.
The artful exterior of Tucanos, though tastefully done, doesn't have the curious appearance of a roadside attraction like Noah's Ark; but the Brazilian-themed restaurant, the chain's first in the Midwest, does offer local customers a different kind of dining experience. Diners flip a wooden cue from one color to another to bring a cast of servers who slice portions of meats such as picanha, fraldinha, picalho, peru and assado, which can be augmented with hot and cold items, such as lobster bisque and peel-and-eat shrimp, from the salad bar. As reported by the Journal's Russell Korando, the owners spent $3.2 million on the restaurant, including an interior decor that gives the feel of a restaurant in the tropics.
Two days after Tucanos opened, general manager Tony Poole described the public's response as "really good." Whether Tucanos becomes a major player in the local culinary scene remains to be seen, but its success, and that of the Streets of St. Charles, would bring the property full circle from the heyday of Noah's Ark.
Cullinan and its tenants have brought new economic life to this important corner of St. Charles. And that's good to see.
Catch the latest in Opinion
Get opinion pieces, letters and editorials sent directly to your inbox weekly!