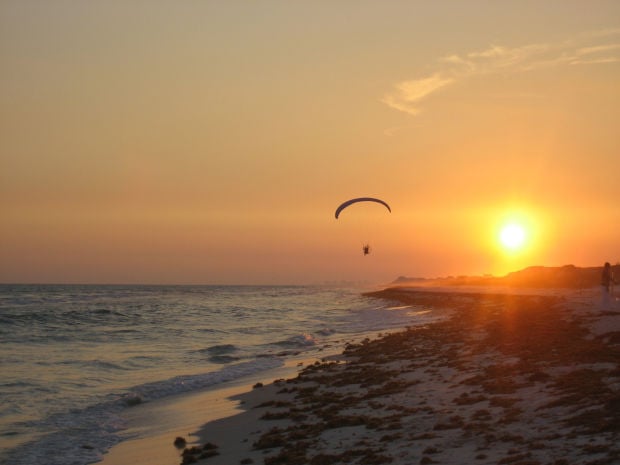 Without any books written on the subject, you could say "the sky was the limit" for first-time editor/publisher Cindy Moskovitz, whose photography book "Sunsets of 30A: The Magic of Light on the Emerald Coast" was recently published in May, according to a press release.
"In deciding whether to publish this book, of course, I had done some research, and I could not believe that there had not already been a book featuring sunset images from here," said Moskovitz, who is originally from St. Louis, but now lives in Seagrove Beach, Fla.
St. Charles resident Anne M. Keller was one of only 135 out of 700 whose photos were chosen to be published in Moskovitz's book, which features sunsets along Florida State Road 30A.
Keller's published photo was taken when a paraglider appeared during one a sunset walk along WaterColor beach.
Keller is not a professional photographer, but loves taking photographs on vacation in Florida, especially sunsets. This is the first time she has ever had a photograph published.
The 30A area of South Walton County in northwest Florida is known for its natural beauty. The area is named for the thoroughfare, a two-lane road that hugs about 20 miles of the Gulf Coast and connects a dozen or so quaint beach towns like a string of pearls. 
"Sunsets of 30A" celebrates the joy of stellar sunsets. The horizontal orientation of the 128-page, perfect bound softcover book showcases 168 stunning images contributed by a mix of 135 local and visiting photographers — some professional, but many amateur. The photographs depicted were selected from more than 700 submissions. Each is paired with an individual quote, which reveals still more about the photo, the photographer who shot it, and his/her connection to 30A.
"Every sunset for me is spectacular. The surprise, the edge of night, the flipping of activity to what's next," Moskovitz said. "But add to that the framework of the natural beauty of the coastal dune lakes, the beautiful and unique architecture of the beach towns, the state parks, the beach ... it is just the perfect storm for a gorgeous sunset most nights. And being near or on the beach to anticipate what will form on the canvas of the sky ... that is half the fun."