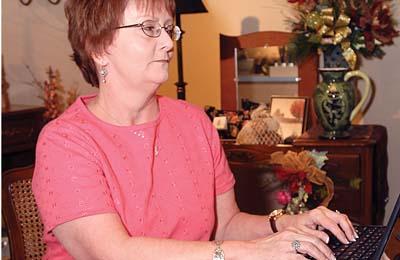 Becky Povich has resilience written all over her face.
That's because she was selected out of 150 writers from across the nation to contribute a chapter to the book, "Chicken Soup for the New Mom's Soul."
Thus began her literary journey.
"All my life I've been saying, 'I want to write or I'm going to,'" Povich, 54, of St. Peters, said. "(Being chosen for the book) really gave me encouragement that maybe I'm good enough to write."
Her story began 20 years ago when she found out she was pregnant, again.
"My older son was a teenager," she said. "Here I thought we were about to get rid of these teenagers and now we have another baby."
Picture this scene from April Fools Day, 1987: Povich arrived home from her doctor's appointment and found her husband Ron waiting.
"He was waiting in the driveway," she said. "We were both just shocked."
At the time of the pregnancy, the couple had been married for four years, she said. Both had sons from previous marriages. His son, Matt, was 16; her son, Scott, was 14.
"We called them down (to the living room) and said, 'We have something to tell you,'" she recalled. "Scott said, 'I thought you couldn't have any more kids.' Matt didn't say anything. He just kind of looked at us."
Povich said her husband was reading a newspaper in November 2002 when he saw an ad stating the creators of the Chicken Soup books were looking for people to contribute to a book about father-daughter relationships.
"That was what got me starting submitting stories to them," she said. "It took two years for them to get back to me. I didn't get chosen then, but they said I was one of 150 (finalists)."
Last year, Povich received an e-mail stating the authors needed stories for the new mom's book. She said she went through the list of chapters until she came upon one that dealt with surprise pregnancies.
"I thought my story would be perfect for this," she said.
Money was tight for the family and they could barely afford the basic necessities for the baby.
"We were really strapped for cash at that time," she said. "I remember going to garage sales to get some clothes and we had two baby showers."
Her youngest son Mark was born in October 1987. Povich said the infant was hospitalized for six days because he had fluid on his lungs.
"(When I was discharged from the hospital) they wheeled me out in the wheelchair and it was so sad," she said. "I didn't feel like I had a baby hardly because he was not with me."
Mark is now a 19-year-old, 6-foot-tall freshman at Washington University in St. Louis.
"We feel like he'll make some kind of difference in this world," she said. "I tell Mark he inherited his math brains from my father, who was an instructor at Parks College in Cahokia, Ill."
Povich, a former Opinion Shaper columnist for the Journal, is scheduled to participate in two book signings: from 2 to 4 p.m. May 5 at Leona's, 6119 Mid Rivers Mall Drive in Cottleville, and from 1 to 3 p.m. May 12 at Main Street Books, 307 S. Main St. in St. Charles.
Povich said she now is writing a memoir called "That Crowbar Changed Everything." She has written six chapters so far.
"It's about my experiences," she said. "Everyday experiences can be so interesting."