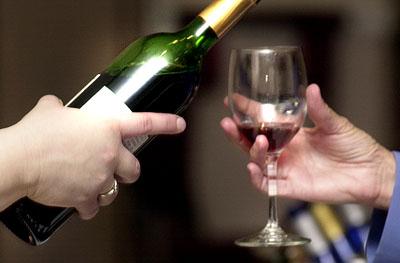 For some, the Midwest resembles a beer and hamburger kind of place.
Thursday night, it turned a page to a slightly different note, with Columbians sipping wine and dining on fancy entrees.
This was courtesy of Columbia's MarketPlace, which hosted its first ever Wine EXPO from 4:30-8:30 p.m. at The Falls banquet Center in Columbia.
Sprawled across the floor were more than 150 wines, tables of deli meats and entrees with floral arrangers and gift baskets.
From Pinot Noir to Cabernet, the wines were in full view of the $15 a ticket paying public, ready to be consumed so they wouldn't have to sit on a shelf and age for the next 100 years.
To help wash the wine down, gourmet cheeses and meats were provided, the kind that complemented the flavors of the wines. Interested parties also could buy flowers to take home to their sweethearts.
The gala event was a reminder to the public how long MarketPlace has been in the community, now holding fort for 17 years.
Since it opened in 1989, MarketPlace has seen the plaza around them develop into a full-fledged service center, featuring a bank, several eateries and a post office.
MarketPlace owner Joe Koppeis said he thinks the Wine EXPO was an excellent chance for people to enjoy themselves and the store at the same time.
"Our big thing is we try to be convenient and have good variety so people never have to wait," Koppeis said. "I think people appreciate this and why they continue to use our services."