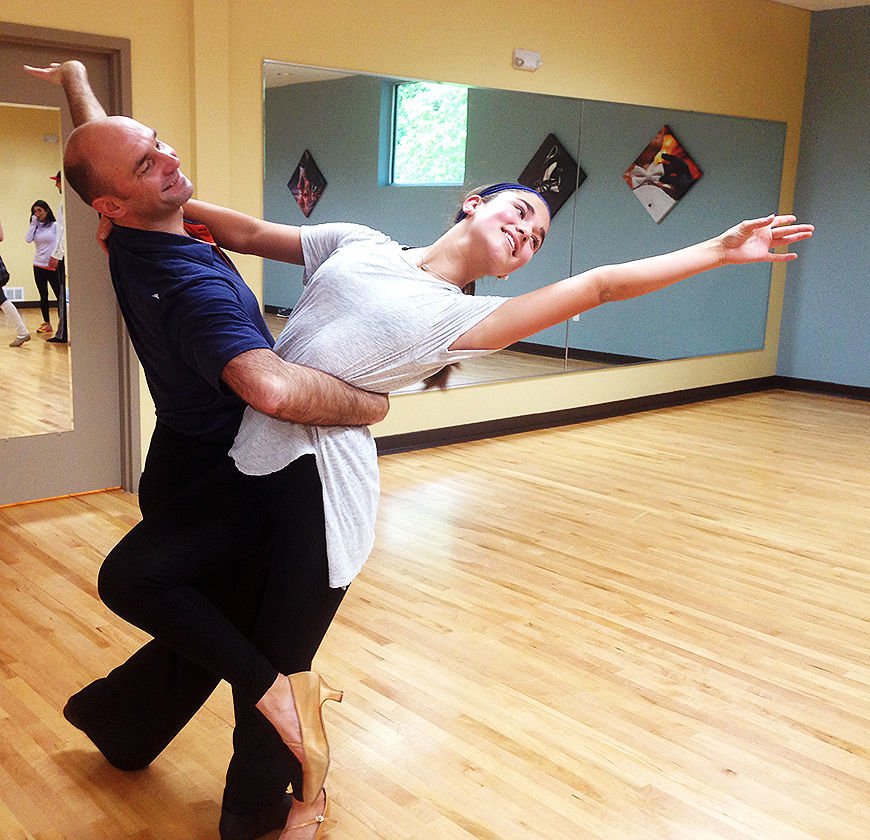 By Pam Wilson | Correspondent
Alex Borodko and his twin brother, Slava, took to ballroom dance as easily as they ran down the soccer field in Minsk, Belarus. They were not going to be sports stars, but even the soccer coach assured their parents that they could dance.
A dancer since he was 8 years old, Alex fast-forwards to Majestic Dance Studio in Frontenac which he built three years ago. His self-proclaimed mission: Bring ballroom dancing to the masses.
"There are shortcuts to happiness and ballroom dancing is one of them," he believes firmly.
The studio is light and airy with a dancer's life-feel of openness and comfort. It is big enough for three dance lessons and a private lesson in various studios simultaneously with an assortment of seven instructors, all of whom teach multiple styles. Dance backgrounds are extensive and varied.
Ballroom dancing encompasses International Style Latin and Standard as well as American Style Smooth and Rhythm. Numerous dances, some unnamed for people not on their twinkle-toes, are memorable: waltz, tango, foxtrot, Viennese waltz, quickstep, cha-cha-cha, samba, rumba, paso doble, jive, swing, salsa, mambo, bolero, West Coast swing and more.
The studio is uniquely geared to each student, whether a couple anticipates that first dance as newlyweds or a soccer mom has a glint in her eye claiming, "Watch me! I could compete on 'Dancing with the Stars.'"
"Majestic is a warm, welcoming place," instructor Kim Bolourtchi says. "It's not about what you can do. It's about taking students wherever they are and connecting with them so that they can feel good about themselves, have fun and enhance their genuine desire to dance."
Alex wants to brings dance to everyone for the sheer joy of movement. He says, "To lose yourself in the dance is that magic feeling. Anyone can dance. But. Can you enjoy it?"
This dancer wanted to experience magic.
Alex gently, expertly and confidently engaged me in tango for fun. He reminded me to keep my chest bone up, decidedly a different look than raised head and shoulders, for this slow and deliberate dance. Throughout our lessons, consummate instructor Alex demonstrated body positions, how to hold my hands, where my arms should go. 
He asks every prospective student: "What do you want to learn?" Only then does he create a lesson. Scenarios are numerous. Does someone want to be able to dance at the clubs? Is there a wedding in your future? Or does someone seriously want to take the hobby further?
Alex didn't blink an eye when I answered, "I want to dance like 'Dirty Dancing.'" He then proceeded to teach me swing which – without the lift – was pretty close to what I had daydreamed with a personal Patrick Swayze.
The second  week, Alex again played to my strengths, leading me through the waltz, foxtrot and salsa. During the beautiful waltz, there was a breakthrough. Perhaps I still envisioned him teach and dance earlier with 16-year-old Elsa Church, his student for four years.
He exuded brotherly confidence in my skills. After a few rounds, I stopped trying to lead. At that moment, he reminded me to relax, I took a deep breath and let go.
While nowhere as graceful, the magic came.
Without thinking, I just danced. I felt every movement my body made, every direction we danced. "Ah, there it is," he smiled knowingly.
His patience and training pay off with any dancer from beginner to competition level – including me. His love of dance and joy in teaching set the tone. If you want to learn it, Majestic's instructors can teach it. Basically, if you even think it up, Alex and his instructors will teach it.
Continuing his mission to make the world happy by dancing, his philosophy that anyone can learn includes classes in dancing fitness. He schedules Women's Power Hour with instructor Kim Bolourtchi, who teaches empowering dance to girlfriends as an attitude for life. 
Salsa Date Night is hosted by Kim and Alex teaching couples to salsa. On Dance Night, various instructors teach mini-lessons with a goal of helping people feel more comfortable on the dance floor. During free dance, students and guests dance with instructors to various music and refreshments follow (dates at www.majesticdancestudio.com)  
Of course, Alex and his instructors never will give up competitions. Debbie and Don Gerhardt from Columbia, Mo., have been competition partners with Alex and Angie Brooks for almost six years. For categorizing, Debbie says, "It's better than cardiac rehab and more fun than biking. You must pay attention to what you are doing and there is always something new to learn."
Alex echoes the effort. "Dancing is a sport. We make it look easy because we smile. It's much harder than it looks, but what isn't?"
Perhaps he can make the world smile more because it dances. 
Pam Wilson comments on life around St. Louis. Her son and daughter are college students. She earned bachelor's degree in family and child development and master's degree in social work. The author of "S.O.S. From Suburbia: a collection of humorous personal essays" can be contacted at news@stlmomsanddads.com.