"Did that sign read, 'Turn now to see the largest mailbox in the world?'"
Yes, if you are inquisitive enough and have a sense of adventure, unexpected roadside attractions (like a mailbox you can stand inside in Casey, Illinois,) are a fun way to break up a long drive. Chances are there is something worthwhile, or just perhaps a bit kitschy, to see along whatever route you take. Just be forewarned. Afterward you just may tilt your head and wonder, "Why?"
Many such discoveries are free, but all ensure an extra memory that will add to the enjoyment of a trip. Often the attraction will have a hard-to-believe story, such as the Jim the Wonder Dog Memorial Garden in Marshall, Missouri, or a heartwarming story like the grave of King Neptune the pig, in Anna, Illinois.
To heighten your curiosity as to the variety of places to see nearby, we have summarized a few of the hundreds of "under-the-radar" sites to visit in Missouri and Illinois, most of which you can catch a glimpse of from the comfort of your car — or observe in the outdoors. 
Black Madonna Shrine
When a small group of Franciscan Brothers arrived in rural Missouri in 1927, they were on a mission to establish a nursing home for men in a vacant convent in the foothills of the Ozarks near Pacific. Among the pioneering friars was 33-year-old Brother Bronislaus Luszcz. He arrived with cherished memories of the religious faithful passing through his Polish village of Czestochowa on pilgrimages to pay homage to the Shrine of the Black Madonna. An image of Mary with a dark skin pigment was the centerpiece.
After his arrival in Missouri, Brother Bronislaus decided on a personal mission. He wished to share his faith by creating a grotto and his own Black Madonna shrine.
After building his first grotto, Our Lady of Sorrows, he went on to build six more, each with a different theme. All were located around the perimeter of a grassy meadow. Each was constructed out of native Missouri tiff rock, or barite, from Old Mines, Missouri. Seldom did Brother Bronislaus use a rock larger than 6 inches in diameter.
In the same area he also created 14 Stations of the Cross, six additional small grottos, and a 30-foot rock footbridge.
All remain as they appeared when Brother Bronislaus died in 1960.
Stonehenge at Missouri S&T in Rolla
Missouri's version of England's prehistoric Stonehenge has only been standing 26 years, versus thousands of years for the original in Wiltshire, England.
Work began in 1982 when each granite stone was carved by water jets cutting at a pressure of 15,000 pounds per square inch, lopping off one-quarter inch per cut.
It was dedicated during the summer solstice on June 20, 1984, with a white-robed Druid Priest from England officiating at the ceremony.
Although only half the size of the real Stonehenge, the Missouri design is nonetheless equally efficient in observing the heavens. The trilithons (two vertical stones supporting a third stone set horizontally across the top) frame the winter and summer solstices. Other stones are placed to allow observation of the spring and autumnal equinox sunrises, and for taking other daily measurements of the sun.
"Rollahenge" is reportedly accurate to within 15 seconds when used as a clock. If you do not know how to read the rocks, all the intricacies of the monument are aptly described on displays at the site.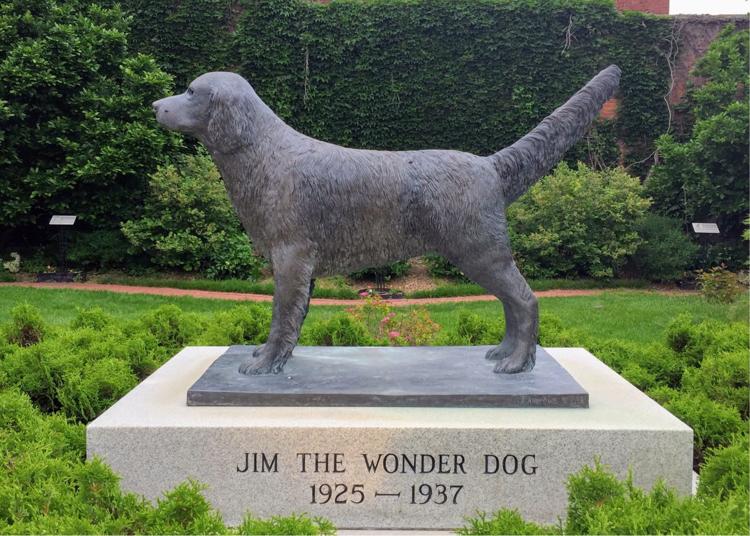 Jim the Wonder Dog
101-113 Lafayette Avenue, Marshall, Missouri; 1-660-886-8300; free 
Long before Rin Tin Tin and Lassie, America was enthralled with Missouri's own remarkable canine, Jim. Born March 10, 1925, in Louisiana along with six littermates, Jim was the runt of the litter. But when owner Sam VanArsdale took him to hunt, the dog seemed to sense what Sam was saying about resting under a hickory tree, and he trotted to the hickory. When Jim was asked to find a cedar tree, and then a tin can, he did both.
It was the beginning of a remarkable dog's life. Jim successfully predicted the winning horse in six Kentucky Derby races by placing a paw on the name of the horse that would go on to finish first. If instructed to find a woman wearing a red dress, Jim could pick one out in a crowd; he could also correctly find someone sitting in the Missouri Legislature whose location was tapped out in Morse code.
The story is told in detail on plaques in the ¼-acre Jim Wonder Dog Memorial Garden in Marshall, and the adjoining museum. A statue of Jim is the centerpiece of the nicely landscaped garden. A short drive from the garden leads to Jim's grave in the middle of the largest human cemetery in town.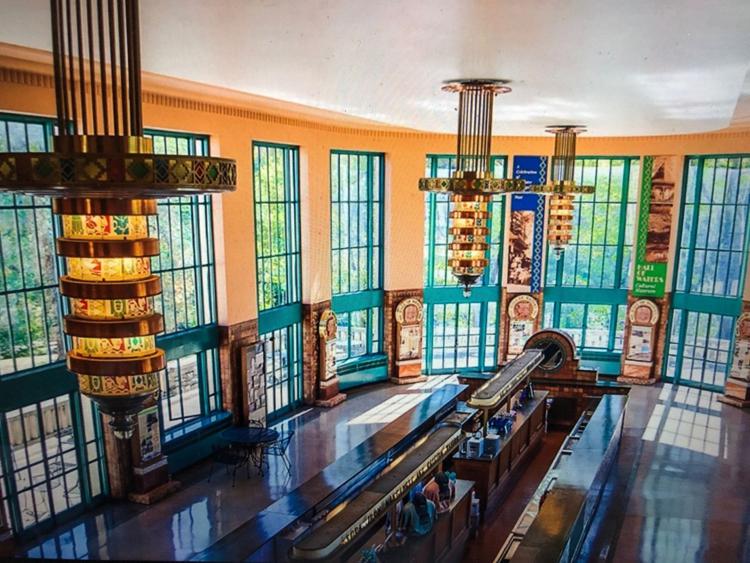 Hall of Waters
The concept behind this 1937 Works Project Administration project was to pipe the 10 varieties of water found in the area to one spot to be dispensed. "Flavors" on tap included calcium water, saline water and iron magnesium water.
The complex originally offered bath houses, a spa, therapy pools and the world's longest water bar, all built around the concept of water as medicine.
Inside, the soaring Hall of Waters features elaborate art deco chandeliers and polished terrazzo floors in an oblong hall illuminated by 35-foot windows. Decorating the outside of the art deco and Depression modern building are faux-Mayan Indian friezes relating to water and Water Gods.
The hall is open for visitors, but most of the building is occupied by local government offices.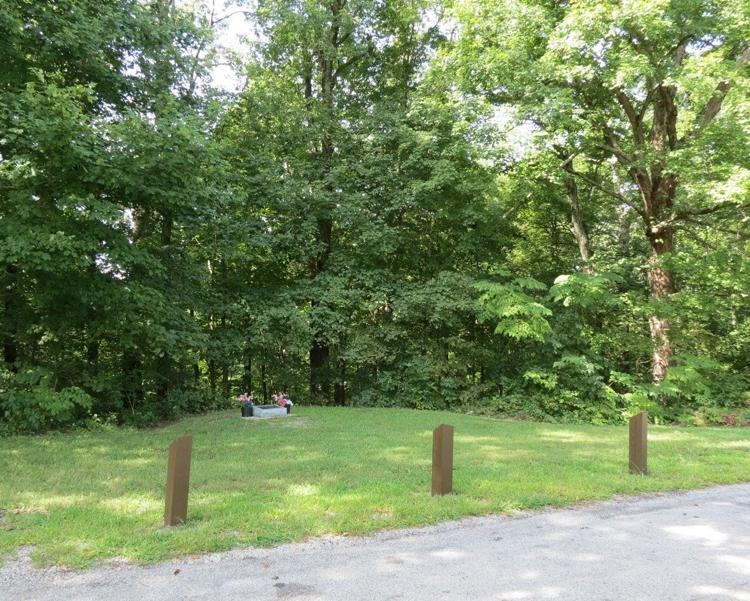 Grave of King Neptune
During World War II Navy recruiter Don Lingle was given a 700-pound hog named Parker Neptune. The donated swine was to be the food at a pig roast to raise money for the construction of the battleship Illinois that was being built.
Lingle reasoned the pig could be worth more to the military than ham, and he toured across the state with Neptune, outfitting the patriotic porker with a blue robe, golden crown, silver earrings and painted toenails. At each event he would auction off parts of the pig like his bristles or his squeal. Winning bidders always returned Neptune uneaten, ready for the next fund-raiser.
When the King died of natural causes, Neptune had raised $19 million, about $300 million today. Fittingly the pig was given a military burial in Anna, with a headstone honoring his service.
The grave is off Interstate 57 at exit 30. At the exit proceed east on Highway 147 for ¾ mile and look for the brown historical marker. The stone is in a well-maintained roadside stop known as King Neptune Park.
Superman's phone booth
Super Museum, 517 Market Street, Metropolis, Illinois; 618-524-5518; supermuseum.com; $5 admission but you can see the phone booth for free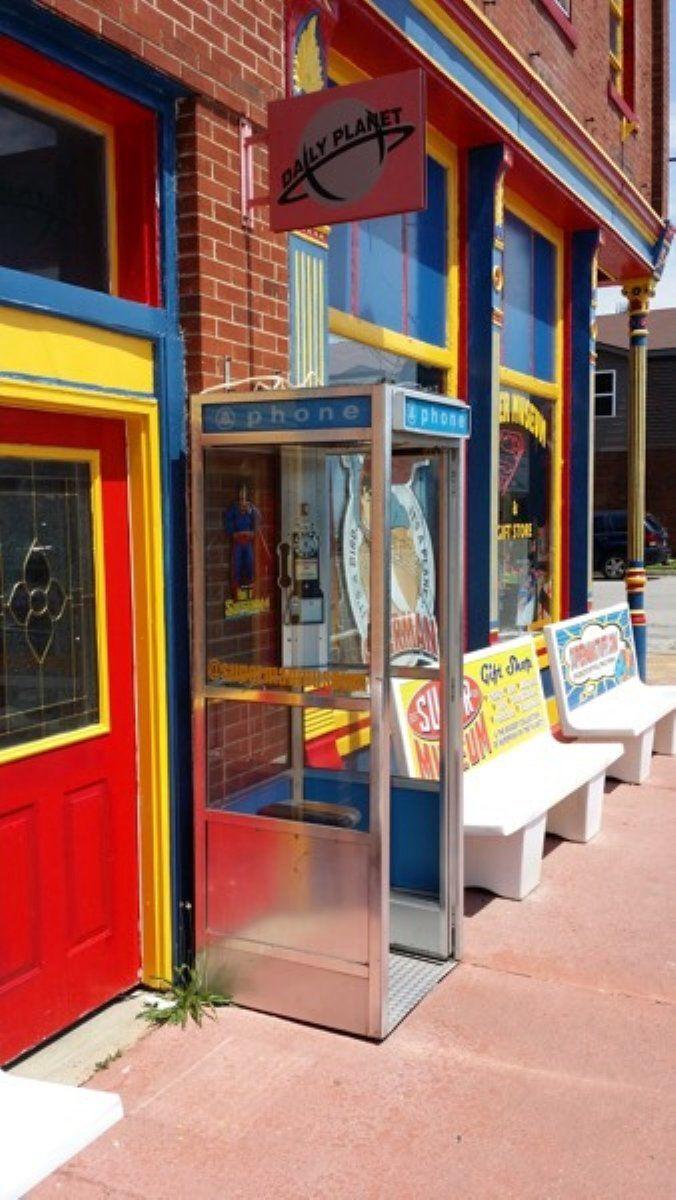 "This definitely isn't the most comfortable place in the world to switch garments, but I've got to change identities, and in a hurry!"
Those are the words uttered by Clark Kent in a Sunday newspaper comic strip in late 1942 after he had identified a job for Superman. He excused himself from Lois Lane, and the phone booth was the first place he found where he could change into his famous cape and outfit.
This phone booth, or a version of it, is located on Superman Square, a few steps from the door of the Superman Museum in the Man of Steel's official hometown of Metropolis, Illinois.
The museum, painted outside in Superman colors of yellow, blue and red, features over 70,000 items from longtime Superman enthusiast and collector Jim Hambrick, who has amassed one of the greatest collections of Superman memorabilia in the world. It is organized around particular eras of Superman spanning television, movies and comics.
Superman T-shirts are for sale in the gift shop, so you can return to the phone booth and take photos of your own metamorphosis into your version of the iconic American hero.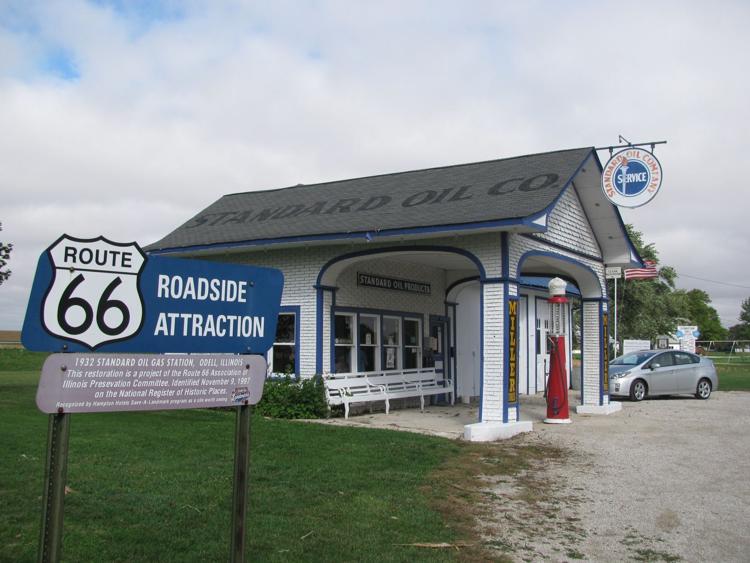 Standard Oil gas station 
400 South West Street, Odell, Illinois; nps.gov; 815-998-2133; free, donations appreciated 
When volunteers from this tiny town of 1,000 people began to restore the 1932 era gasoline station alongside historic Route 66, they joked that only the westerly wind was keeping it from toppling.
By 2004 the station was once again standing straight, and it had regained its original appearance, all based on a single surviving photo from 1939 when it opened.
Situated at a gentle curve in the road where it is visible a few blocks from either direction, it is one of few buildings that retain the original integrity of location, design, setting, materials and workmanship, and a genuine association with Route 66.
The style of architecture is a design developed in 1918 by the Standard Oil Co. known as a "house with canopy" gasoline station.
Today the Odell station is the site of many car rallies, bus and motorcycle tours and other yearly events, as well as a steady flow of Route 66 aficionados.
If the station is not open, passersby who push a button on a box near the front door are treated to several minutes of an oral history about the station.
The Gentle Giant Statue
Statue is at Alton Museum of History and Art, 2809 College Avenue, Alton; 618-462-2763; riversandroutes.com; free
Gravesite is at Upper Alton Cemetery, 2090 Oakwood Avenue; free
Look at your foot and think about your shoe size. Now imagine what a size 37 shoe would look like at the end of your leg. If it fit, you likely would be 9 feet tall, the same size as Robert Pershing Wadlow. He was Alton's Gentle Giant, remembered with a life-size statue so you can compare how you "measure up." Wadlow still holds the Guinness Book of World Records title as the tallest person in the world.
Weighing 8 pounds, 6 ounces at birth in 1918, a pituitary gland disorder resulted in a phenomenal growth rate. At age 8 he was already 6-foot-2-1/2 inches tall, and he never stopped growing. He accepted his unique status with dignity, despite his size being a daily challenge.
An infection caused by a leg brace resulted in his death in 1940, and 40,000 people attended his funeral. You can still pay your respects at his statue and gravesite, both in Alton.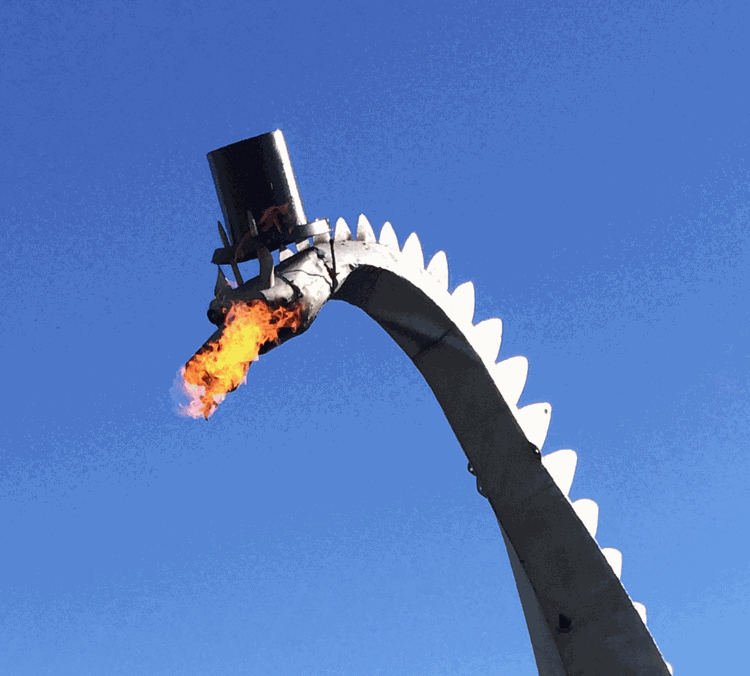 The Kaskaskia Dragon
Do not be confused. It is not a dinosaur. It is a dragon. That means it bellows fire if you get a token from the liquor store across the street. Then, drop the official "dragon coin" into (where else but) the slot labeled "Insert token-dragon breaths fire," and the 35-foot high metal monster spouts flame (propane) from its snout. Included at no extra charge, the eyes light up with an eerie red glow.
"We made a toy to play with," says Walt Barenfanger, who owns Kaskaskia Supply and Rental, a hardware store down the street and who debuted the monster in 1995 as a parade float.
So far about 20,000 tokens have been deposited, and Walt says no one has melted. Nor has the flame melted the human-size tin man statue standing in front of the dragon.
Statue of Abraham Lincoln in a covered wagon
It turns out that Abraham Lincoln's legacy is, in fact, larger than life. In the town of Lincoln, the 16-foot-tall likeness of America's 16th president sits atop a 24-foot-tall covered wagon.
David Bentley of nearby Pawnee, Illinois, built the wagon and statue. "I figured Abraham Lincoln was a pretty big guy, and so why not put him in the world's largest covered wagon?" he said. The wagon has been recognized by the Guinness Book of World Records as the largest in the world.
Officially the statue is known as the "Rail Splitter Covered Wagon," referring to the frontier days and the early period in Lincoln's life when he was a surveyor and helped split logs for property line fences.
Lincoln himself is fiberglass and weighs 350 pounds.
Friendship Shoe Fence
This might be the only town in America where you can shop for shoes on a fence. Aptly named the "Friendship Shoe Fence," the quirky "shoe store" was created in 2009 by Gale Donze when she tied 300 pairs of shoes to her farm fence. Donze and others have been adding more ever since.
Donze got the idea on a vacation in New Zealand when she happened upon a similar shoe fence several miles long.
The shoes are not for decoration, but for someone's feet who can use them. New shoes are constantly being added, and many of the newer shoes are usually gone within a few days.
If you visit, be a good sole and leave a pair.
---
To discover and plan for your own unexpected stops on an upcoming trip, or to chart out a day to visit several as a one-of-a-kind mini vacation, check out more unusual sites discovered by travelers nationwide on these websites:
GET OUT OF TOWN with our weekly newsletter full of tips, tales and reviews.