HOLLY RIDGE, N.C. • We pulled up to a picnic table on Skeeters Drive, emptied our minivan — known affectionately and accurately in our family as "Big Stinky" — and took stock of our camping gear.
Out came the 10-man tent — preposterously large for just me and my two sons.
Then, the camp cots, the sleeping bags, flashlights, inflatable kayak, clothes and food — so much food.
Finally, the objects of our little experiment: a free-standing air conditioner and a waist-high refrigerator.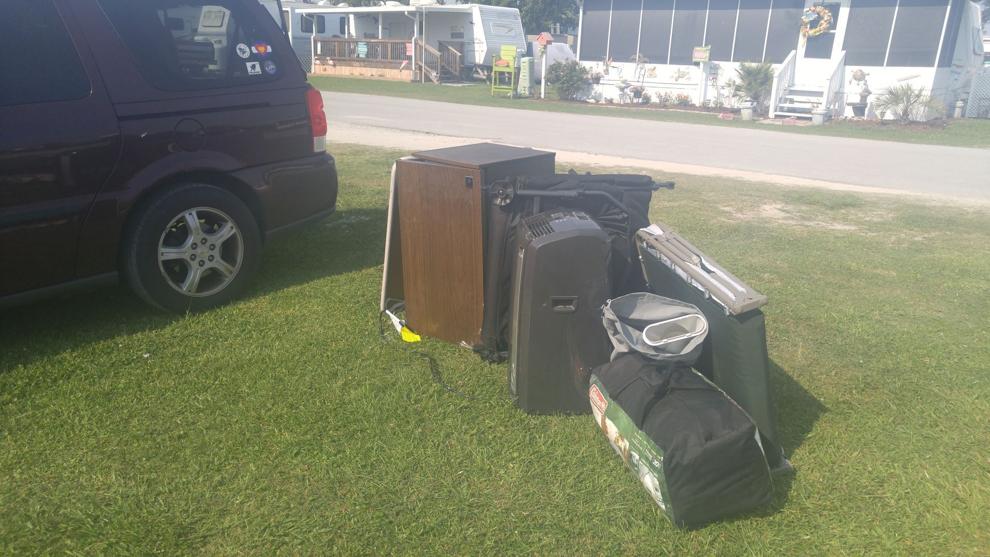 Standing in the humid swelter of eastern North Carolina, I immediately doubted the questions that plagued as I made the 1,000-mile road trip to get here.
Can you climate control a tent to any reasonable degree in the peak of coastal swamp summer?
Can a vacationing family in that lowly tent co-exist in an RV park filled mostly with resident retirees?
Is it really possible for three people to take a five-day trip to the beach for little more than $500, including gas, food, entertainment and something resembling lodging?
And most importantly, can all that be done while strengthening, rather than destroying, the bonds between a man and his sons, age 17 and 10?
The answer to all that is yes, yes, yes and surprisingly yes.
Or perhaps I should qualify that, because it really depends on your tolerance level for travel discomfort and your relationship with camping, RVing and some strange combination of the two.
Those accustomed to the pampering of concierge-class beachfront resorts may want to stop reading, or else continue on for the sheer pleasure of sneering at my squalid itinerary.
Nor is there much by way of useful travel advice here for those who camp only off-the-grid, with ultralight provisions packed neatly in a backpack no larger than a newborn.
Actually, I can relate to both groups.
I've done high-adventure backpacking with my oldest son, including an 80-mile, nine-day trek in New Mexico with just one shower. So I know how to rough it.
And while I'm cheap, I can splurge on travel. Our family's most typical vacation involves a beachfront condo, with pools, jacuzzis and tennis courts.
But this was another kind of trip, a spontaneous one that we hadn't saved for.
I had time off, but my wife didn't. Nor did my daughters — one who was at a summer term at college, and the other with a friend in Florida.
So we had all but called off prior plans to attend a family reunion near Jacksonville, N.C., a half-hour from the Atlantic coast.
But the beach kept calling me, and my two sons were itching to get out of town.
We knew oceanside hotels were out of our budget. So, too, were condos rented online. Even if we could find a last-minute deal, it would certainly be for a full week — time we didn't have.
So why not camp? It's was just the guys, after all.
But if you've ever tried to sleep in a humid, mid-summer tent, you know how miserable all this sounds.
Then I thought of my air conditioner.
Creature comforts
I bought my AC last year to cool a shed that I use as a work area. It's the standalone kind, the size of a dehumidifier, that's capable of cooling several hundred square feet. It vents hot air out of a flexible plastic duct, one that can easily be sent out of a zippered tent door.
This isn't a hair-brained concept. Or if it is, at least it's not my hair-brained concept. There are actually websites like that that cover all this.
So we packed the unit into the a minivan. With only three passengers, that left all kinds of room for creature comforts, including the fridge — because why not?
Our destination was the beaches of Topsail Island, N.C., or as close to the beach as we could reserve last-minute. We would attend the family reunion on the last day.
I picked an RV park, rather than a state park, because I needed access to electricity, lots of it.
I also opted for the kind of park with a pool, shower houses and laundry — three essentials for battling the sand, saltwater and sogginess of the beach.
We found all that at Lanier's Campground, 1161 Spot Lane, Holly Ridge, N.C., on the Intercoastal Waterway about a mile from the beach.
I paid the lean price of $100 for three nights combined. We saved even more by stopping by a friend's house in Hickory, N.C., on the way for a free night of lodging at their lakeside home — with water skiing thrown in.
Just before reaching our campground, we dropped by a Walmart, loading up on all the empty calories that a motherless trio of boys could desire.
So we were high spirits when we unpacked "Big Stinky" at Lanier's on a Thursday afternoon. We formed a small mountain of gear on the sandy seagrass of our 15-by-30-foot plot, complete with picnic table, water spigot and power pole.
Setup took about 15 minutes, with an additional 45 minutes arguing over tent pole configuration and the distribution of labor.
We were all proud of the fabric cabin we had erected.
There was plenty of room for our cots (the bulky kind, almost as nice as a bed), a kitchen area with card table, a fully stocked fridge, and lots of electronics like a two-screen portable DVD player.
Within 30 minutes or so, the AC was doing a decent job of battling the heat. It wasn't winning, of course. Tents lack virtually all insulation, so you can't expect chilly comfort under a blazing sun. But even so, the cool circulating air tames the misery. And at night it was downright wonderful, with the unit actually shutting down a few times because it reached the target temperature.
But spoiled is a relative term at Lanier's Campground, a place that really isn't a campground at all.
Ours was the only tent we could see among the dozens of plots on the compound that day.
We later came across one small tent across camp occupied by a particularly amorous couple, lovebirds too distracted by each other to know or care that they didn't have so much as a box fan to keep them cool.
A new ecosystem
Lanier's is better described as a mobile home park, especially on the weekdays. The trailers and RVs that fill most of its lots have not been on the road for months or even years.
Their wheels are covered with gardening lattice. Most have decks and three-season rooms attached, in some cases larger than the trailers themselves.
Setting up camp there is like visiting a new cultural ecosystem.
Several Confederate flags hung in our corner of camp, along Skeeters Drive. Even so, it was a fairly racially diverse group.
Throughout the day and into the evening, golf carts circled the complex, with teen and preteen drivers living out the one summer perk of being dropped off for weeks with the grandparents.
Together, these gangs of grandchildren formed a kind of summer camp, one swallowed by a retirement community, with all its camp counselors and rules spit out.
Then came the weekend, and with it a whole new dynamic.
By Friday afternoon, convoys of roadworthy RVs and popup trailers pulled in, filling most every vacant pad. Along with them came fellow tent campers, seeking a few days at the beach.
Soon our van-sized tent was hemmed by a canyon of big rigs. We were like the last two-bedroom ranch house in a neighborhood torn down for McMansions.
One beast parked immediately behind us had a flat-screen TV attached to its exterior side. The owner roasted hot dogs over a fire pit while "Law and Order" episodes played on satellite.
I hope I don't sound like I'm dissing the whole scene. In truth, the three of us found life at the RV park to be a kick, and often a refreshing one.
We soaked up every last one of its many features. The huge concrete pool dwarfed any found at a hotel or condo complex. The shower house was clean and private. The laundry room was essential.
And the air-conditioned clubhouse, with an arcade, Wi-Fi and a makeshift diner was a vital hangout. I lavished the boys in quarters and watched them dump them into the claw machine or the pool table, marveling at how well the two were getting along.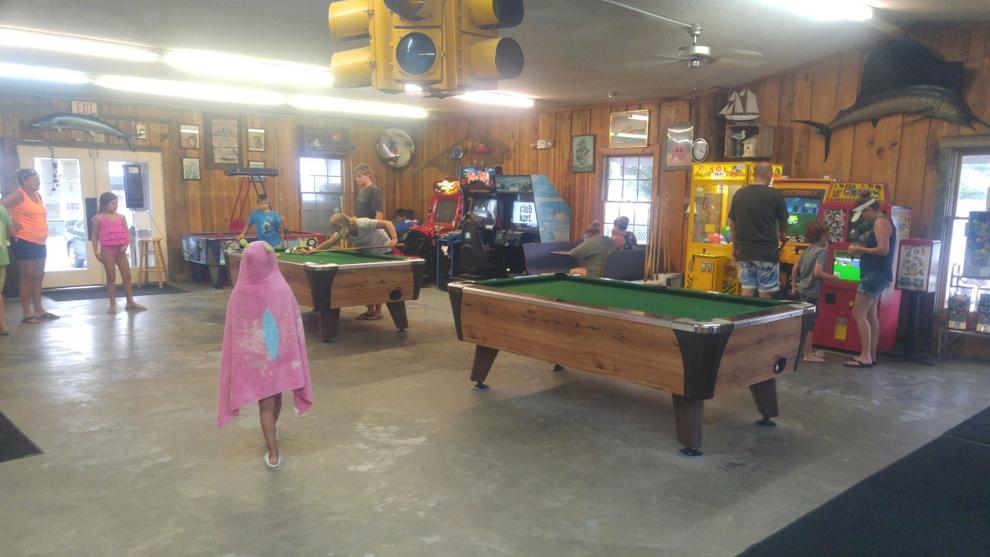 Later, I would drive by RV complexes nearby — some directly by the beach — and see none of extra amenities.
Setting up a tent at those more primitive places would be more comfort than I was willing to sacrifice.
Which really gets to the heart all travel decisions.
Each of us must decide what we are willing to give up as we chase adventure or natural beauty or leisure. Even on vacation, we do not entirely escape our budgets or our fixation with status and appearances.
But when we've finally settled into our lodging and hit the beach, none of that matters.
The ocean does not care where you roomed the last night. It offers the same waves and sunsets to residents of beachfront mansions and tent dwellers alike.
And so you dig your feet in the sand and soak it all in, satisfied that it was worth the cost and effort — and in some cases the deprivations.
You watch your two sons crash into wave after wave, seeing the seven years of age that divide them temporarily disappear in the sheer joy of each others' company.
And you store away as vividly as you can memories without price tags.