The tower of luggage art piece outside the entrance gives one clue that your stay at the Angad Arts Hotel will be, well, different.
The hotel in the Grand Center Arts District opened in November inside a 12-story building built in 1920 as offices for the Missouri Theatre. The building had been vacant for nearly 10 years, and line items in the $65 million renovation included rubber ducks, whoopee cushions and at least one banjo.
"This is the weirdest hotel I've ever been to," my 9-year-old daughter said the morning after our stay.
I had to shrug and agree, even though in our family, weird isn't necessarily bad.
Public spaces
The hotel lobby isn't where you'd expect: It's on the 12th floor. As you enter the first floor to catch the elevator, you'll pass through a gallery of local art, along with a cabinet wall of curiosities: Open one door, see a disco ball. Open another, a video of some clouds. The elevator ride offers another video screen of people — and birds? — appearing to peek in through a window.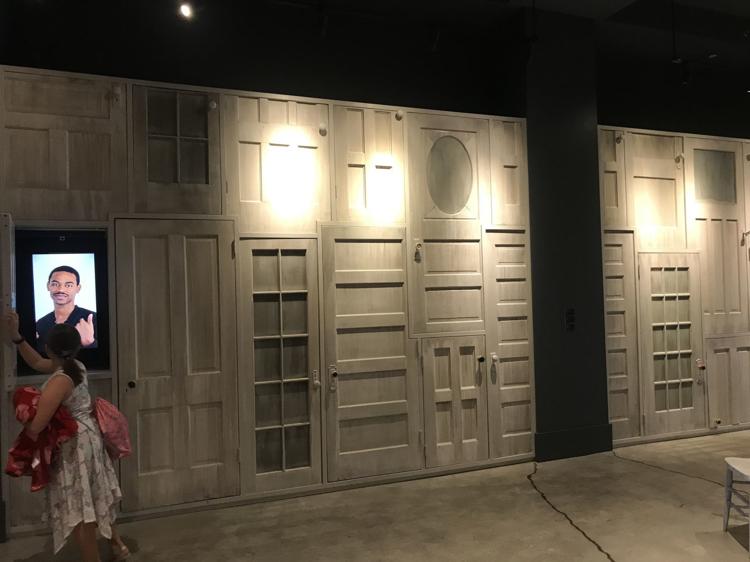 The posh and playful lobby area included labeled clocks set to times of interest to the discerning traveler: among them Batman, Turkey; Silly, Belgium; and Frankenstein, Mo. A drum-shaped video screen hangs above tables, chairs, couches and the occasional super-fluffy throw pillow in the Chameleon Lounge.
Around the corner, between the two restroom doors, sign your name or scribble on a giant chalkboard wall. Inside the Playroom, annoy and entertain your family with one of the musical instruments hanging on the wall. After your banjo and bongo concert, if your family still acknowledges your existence, sit down with them and play a game of Scrabble, Jenga or a handful of other games on the shelf.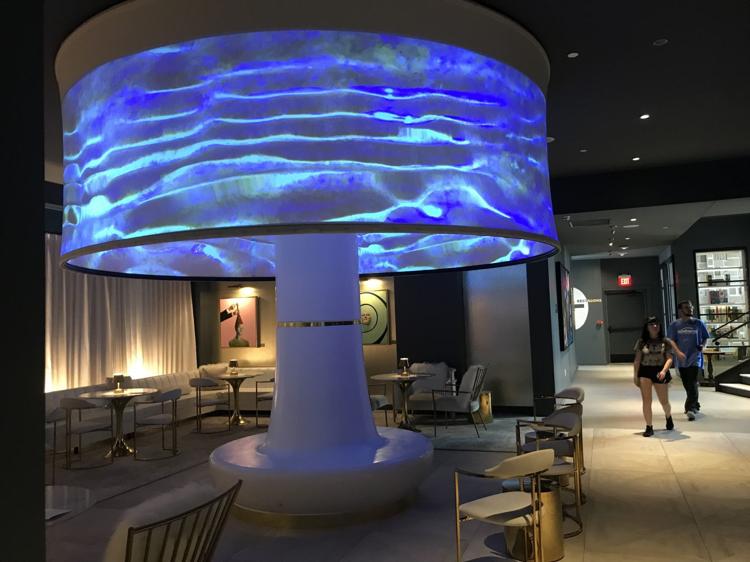 Guest rooms
The room experience begins as soon as you book: Choose your room by color based on your mood. A red room for passion includes a Kama Sutra candle, a yellow happiness room comes with a whoopee cushion, a tranquil blue room a Zen garden, and a green rejuvenation room a Himalayan salt lamp.
"I'll have the kids," I told the guy. "I'll choose green."
"Nice and safe," he said.
The double queen room was big enough and came with an armchair but could be a squeeze for a family of four staying a few nights. They didn't skimp on the emerald green paint: It covered the ceiling, walls and closet doors. A green umbrella on the closet shelf was available for purchase for $15, as well as a pair of green pillows with single, staring eyes on them for $200. We shoved the pillows in the closet.
The bed was very comfortable, the television and cable station selection more than sufficient, the minibar and snack selection deliciously local (Dad's Cookies for $9, a Kakao chocolate bar for $7), and a USB charging port in the headboard — everything we needed for a rejuvenating chill spot.
Bathroom
Oversized white hexagonal tiles and glass shelving trimmed the bathrooms, as well as a huge glass-doored shower furnished with full bottles of Molton Brown shampoo and conditioner (available for purchase for $20 each).
The green touches even extended to the toilet paper roll, where a round, green sticker taped the end of the folded flap shut. I made use of the floofy, white terry bathrobe (available for $80).
A green rubber duckie (available for $15) sat on a glass shelf, staring at the glass shower, perhaps wishing for a green tub to swim in.
Restaurant/bar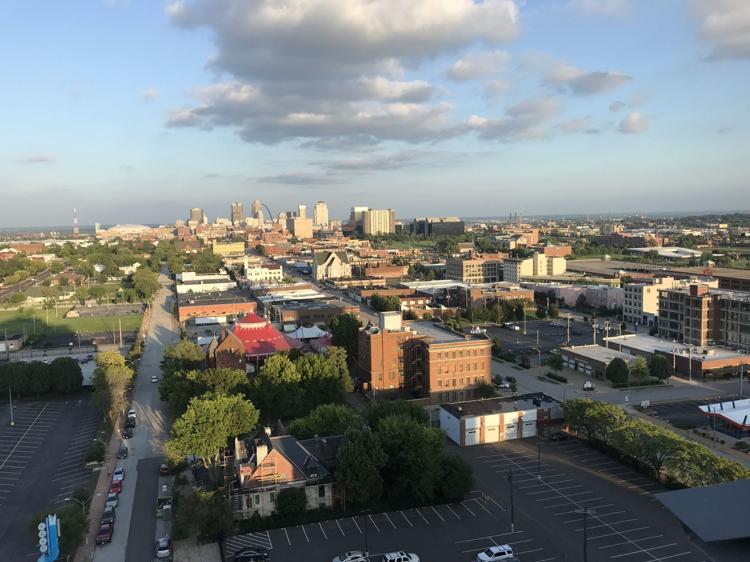 You might as well begin your meal at Grand Tavern by David Burke with the Clothesline Bacon. If the restaurant inside the new Angad Arts Hotel…
We didn't eat in the hotel's signature restaurant, Grand Tavern by David Burke, but we did visit the Angad Rainbow Terrace, or ART, just up the stairs from the lobby. A drink is worth the price of admission for the views alone, of the Gateway Arch, the Compton Water tower, Circus Flora's red Big Top circus tent and a surprising amount of trees. The terrace didn't wrap fully around the west side, so we had a limited view of Grand Avenue.
A band called Somba Bom played, and a few people danced in the Sunday evening light. We snagged a semi-private "living room" of cushioned outdoor chairs and ordered drinks: My husband got a Brick River Cider Co. Cornerstone ($8), I got a punchy and citrusy drink from the "blue" menu called Still Collections ($15) and the kids got Cokes, which the menu said were Mexican and made with real cane sugar, but we didn't notice a difference.
The local cheese board and "artisanal" meat board were not worth $15 each; the brie had a film on it that made us think it had been sitting out awhile, and the salami was more brown than pink. We didn't get a knife or napkins and wondered how to eat the blob of grainy mustard on the crackerless meat tray.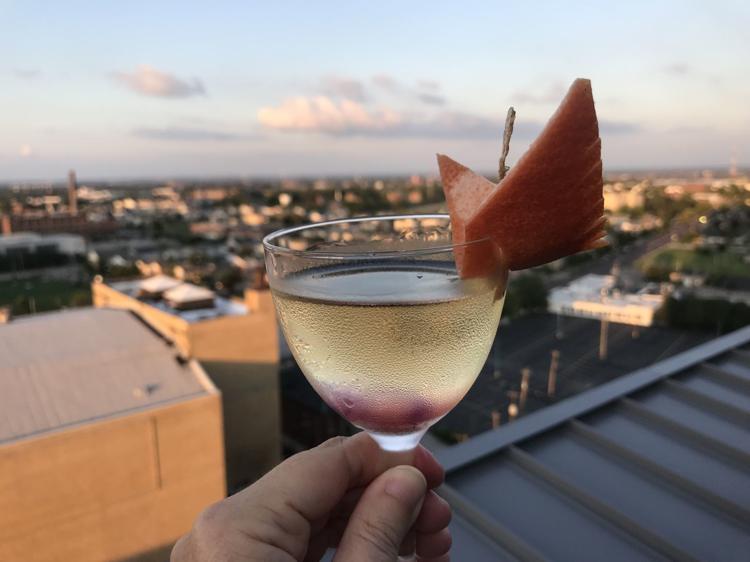 Location
If you're looking for dinner and a show in the district and want to end the night with a drink and a place to sleep, consider Angad Arts Hotel. If you're visiting your kid at nearby St. Louis University, consider Angad Arts Hotel. If you have a dog, consider Angad Arts Hotel — it charges a $75 cleaning fee, and there's a free dog park, the Ellen Clark Dog Park and Sculpture Park, just down the street. Our room faced Grand, and we only heard whispers of passing traffic and had a fantastic view of the Arts Academy Plaza across the street.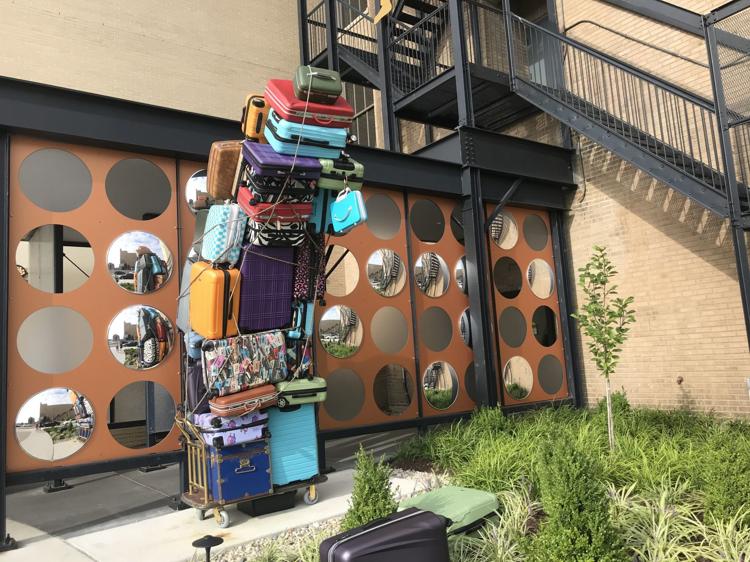 Complaints?
The small plates need smaller prices or better quality. And while I get that things like room service come with a price (seasonal berries and melon for $12 delivered to the door? Meh, OK, we're hungry), a $15 price tag on a rubber duck made us laugh, not consider actually buying the rubber duck.
Where Angad Arts Hotel, 3550 Samuel Shepard Drive • How much $189 (average) per night for a double room • More info 314-561-0033; angadartshotel.com