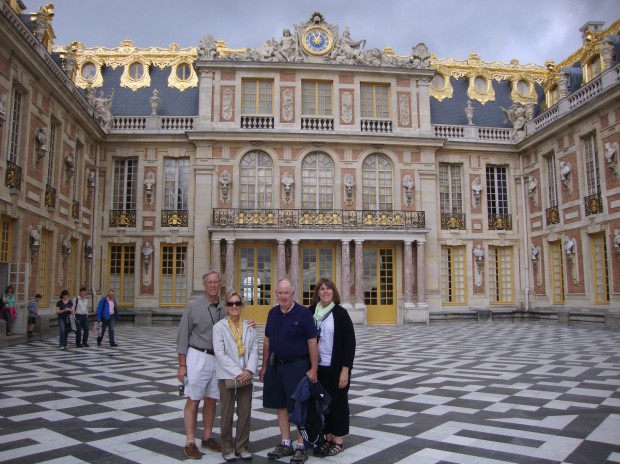 Who and where • Chuck and Ann Eveker of St. Louis, with Robert and Nancy Ray of St. Louis, pose in front of the Palace of Versailles in France.
The trip • They traveled by car to towns in northern France — Honfleur, Bayeux and Mont Saint-Michel — and took a guided tour along the Normandy beaches, visiting Utah Beach, Omaha Beach and the American Cemetery. They also spent a week in Paris exploring museums, and stayed on the Île St-Louis, the island next to Notre Dame Cathedral. Chuck and Ann also attended the French Open for two days.
Travel tip • If you visit Mont Saint-Michel, spend the night on the island. It's filled with tourists during the day, but at night you practically have the place to yourself. If you rent a car in Paris, rental return can be tricky. Get good directions. The metro system is very easy to use, so you really don't need a car at all in Paris. Eat lots of wonderful pastries. They're plentiful, and you'll miss them when you return home.
Contribute • Email your photo to stlpost@gmail.com. Include the full names of everyone in the photo, your address and phone number, and a travel tip. We're looking for interesting, well-composed, well-lighted photos.