HELENA, ARKANSAS — Happily, the ferocious storms of a day earlier had subsided, and the ones predicted for this September day didn't materialize. A handful of popcorn clouds hung in the sky, and although the sun shone hot, a gentle breeze wafted over the chocolate Mississippi River water that sloshed around our canoes — a sturdy 30-foot "voyageur" named Grasshopper and two smaller boats — as we paddled south (oddly, the current doesn't just carry you along; you must paddle).
After months of anticipation we were finally in eastern Arkansas for a Buck Island Adventure. The five-hour trips, led by longtime river guide John Ruskey of Quapaw Canoe Co., begin where the St. Francis River confluences with the "Old Man," nine sweeping river miles north of Helena, Arkansas (six miles by road).
The adventures roll south with a stop midway on Buck Island, which we'd been promised is a nature-lover's nirvana, then continue to Helena, ending at the city's historic (1833) harbor.
The trips are organized by Ruskey and the folks at Mississippi River State Park a dozen miles north of Helena; the park is the newest and one of the finest of Arkansas' 52 state parks. The park provides a naturalist/interpreter, Cara Curtis, to give a short program on Buck Island; she hinted it would be about the first survey of the Louisiana Purchase, which began nearby.
Our first trip, scheduled for June, was postponed due to extreme flooding (Ruskey said the Lower Mississippi had been flooded more than 200 days over the past 12 months). But by our September trip, the raging river had retreated to its banks, which nonetheless are a jaw-dropping mile apart here, and when not flooded, it's 140 feet deep. And Buck Island, which had disappeared beneath the waves, as it does when the Mississippi's in flood stage (this time topping 47 feet on the Helena gauge) had re-emerged.
Our party of 14 (including four guides) had met for the first time this morning in Helena, where Ruskey has a location (his headquarters, where he builds many of his own canoes, is in Clarksdale, Mississippi, across the river from Helena).
Before leaving for the launch site, Ruskey, 55, a quintessential river man with long grizzled beard and hair, and an easygoing, confident manner, teaches a little Canoeing 101. We'd paddle in the river's main channel, where the current is stronger, unless a tow of barges happens by, in which case we would "hug the Arkansas shore," he says. Life jackets, which he provides, along with all other necessary river gear and emergency gear, are required. He recommends bringing bug spray, sunscreen and a hat. And wear whatever shoes you don't mind getting wet and muddy.
Ruskey is intense about his love of the river but smiles when he says the adventures "offer a glimpse into big islands, big forests, big sandbars, a big river and big sky from the gunnels of a big canoe, much like what (explorers) Marquette and Joliet saw from their canoes more than three hundred years ago."
Then it's time to load up the canoes and get on our way. Guide Tanner Aljets drives the van, which tows a trailer holding the voyageur, which holds every one else on the trip. The other two canoes are strapped on top of the van. Aljets will return to Helena with the van, then meet us on Buck Island by kayak.
Slowly we inch along the levee, through the forest on Mississippi River State Park, stopping to let a box turtle cross, and again at Big Spring, which gurgles out of a hillside, to fill water bottles and get a tasty drink; Ruskey plucks some rough horsetail reeds growing nearby for straws and shapes green sycamore leaves into cups.
We unload the canoes, don life jackets and put in where the equally chocolate St. Francis (which begins in southeastern Missouri and winds some 475 miles south) pours into the Mississippi. An experienced guide is in the stern of each canoe.
Ruskey, originally from Colorado, has been a student of the river for a long time, since 1982, when he came to the South and never left, he says. That year, just out of high school, he and a friend, intrigued by the stories they'd read about Tom Sawyer and Huckleberry Finn, built a 288-square foot raft, then spent five months poling it down the Mississippi, Minnesota to the Gulf of Mexico.
He later studied canoe building with a master builder, and in 1998 founded Quapaw Canoe Co., the first wilderness outfitter on the Lower Mississippi, and has offered custom canoe trips nearly year-round ever since. His Lower Mississippi River Foundation, headquartered in Helena, "promotes" and "protects" the river. Writer, painter, poet and photographer Ruskey also recently completed "Rivergator Paddler's Guide to the Lower Mississippi River Water Trail," a million-word guide, which is available for free online (rivergator.org).
Just south of the confluence, one of the guides steers the voyageur into a giant eddy he knows well, to illustrate how churning water near the shore can propel boats back upstream. "At ease," he calls out; we lift our paddles, and fascinatingly, the water tows us back north. We have only to begin paddling again to pull out of the eddy and be on our way. Towboats and others traveling north often "run the eddy line along the shore to save fuel," he says.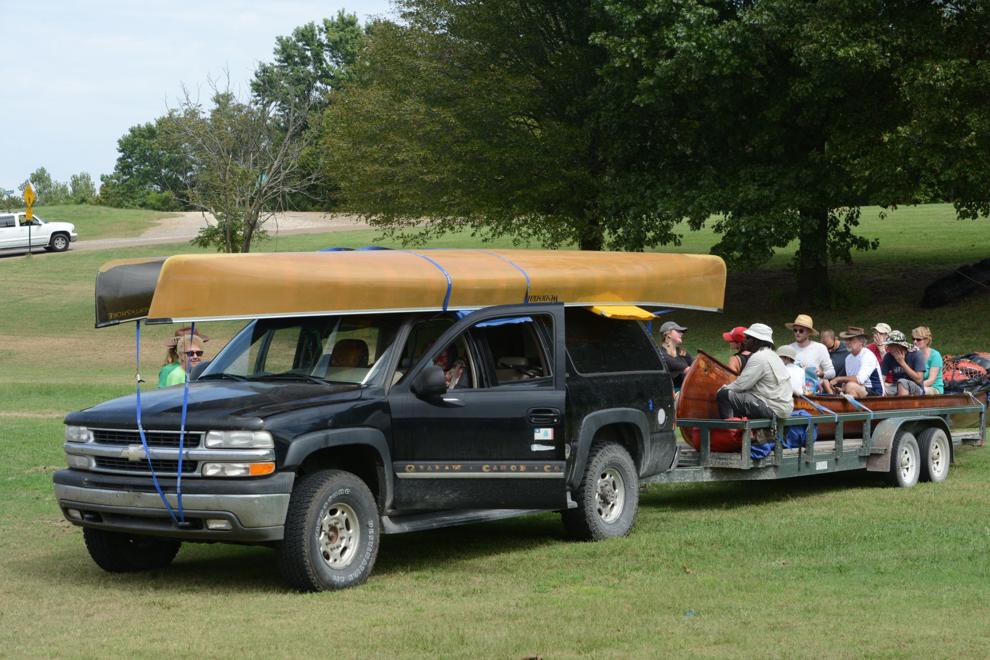 Along this stretch of river there is little evidence that we weren't passing pristine wilderness. Trees and a tangle of vines and other brush grow clear to the river banks on both sides, Mississippi and Arkansas. The only signs of human activity we saw — other than in our canoes — were the few men visible on board the occasional tow boats muscling multi-barge tows north, that sloshed past with a huge roaring. No buildings were visible through the thick hedgerows of trees for most of our miles.
Buck Island is one of hundreds of islands dotting the 954 river miles between Cairo, Illinois, and the Gulf of Mexico, Ruskey says. But it's one of just five that are publicly owned and is protected by the Arkansas Department of Game and Fish. It's a critical stopover for hundreds of species of migratory birds and a winter refuge for many types of waterfowl and wading birds. Seventy species of reptiles and amphibians live here, as do 44 mammal species, among them deer, armadillos and squirrels.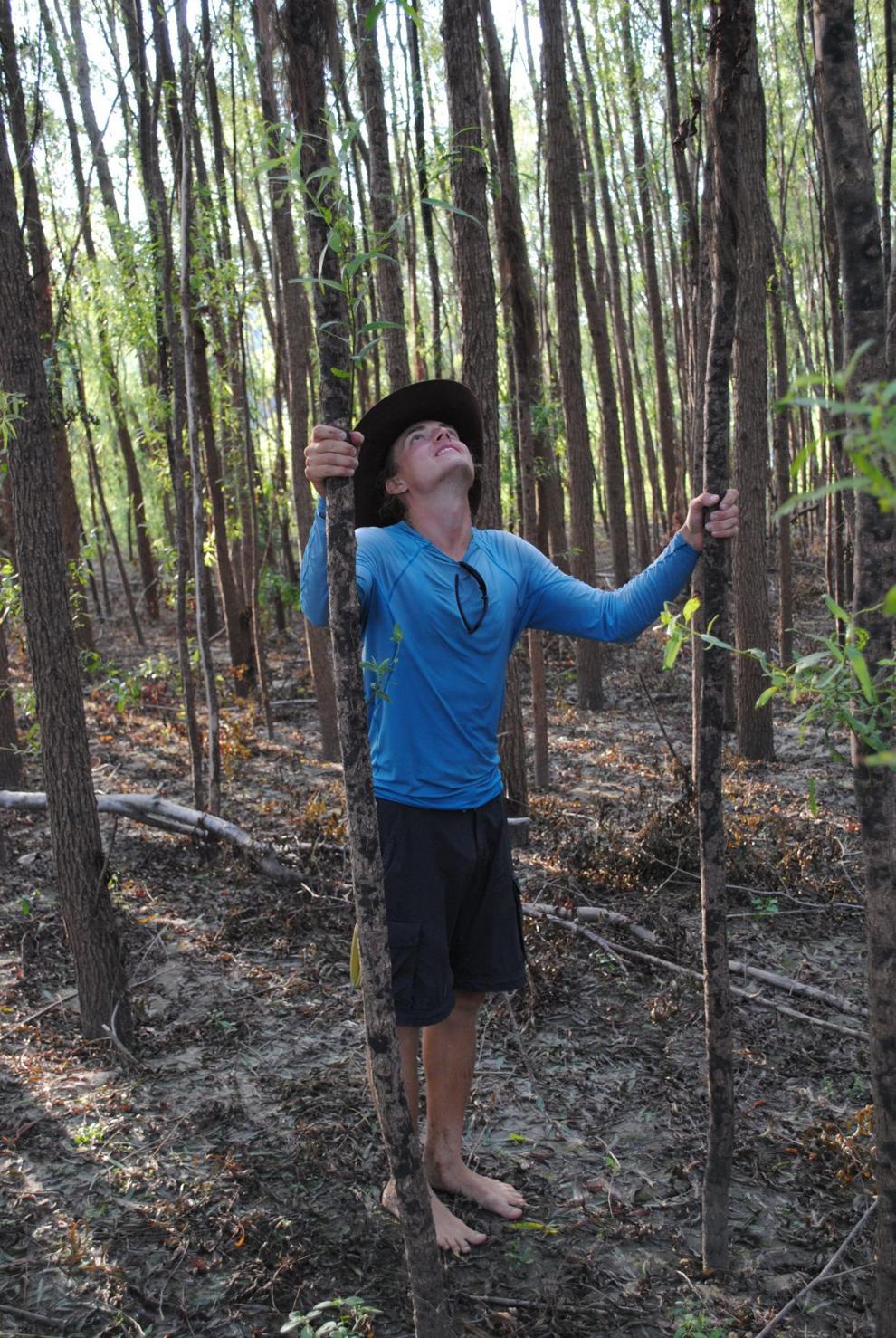 We pulled in on one of Buck Island's gravel bars. Those who wanted to could swim, but you can also fish, camp, picnic and best, to me, beachcomb. That's because if you're lucky — and most visitors seem to be — you can find small pieces of "lithiated" mud, which look like shimmery antique black-glazed pottery. It's actually mud that's gone through a chemical process similar to fossilization, but of nonliving things, Ruskey explains. Hematite, incorporated into the mud, accounts for the luster.
Over decades of travel, I've collected dozens of "treasures from the road." But my favorite so far is the weighty, fat-cucumber size, ocarina-look-alike hollow piece of lithiated mud I plucked from the gravel on Buck Island.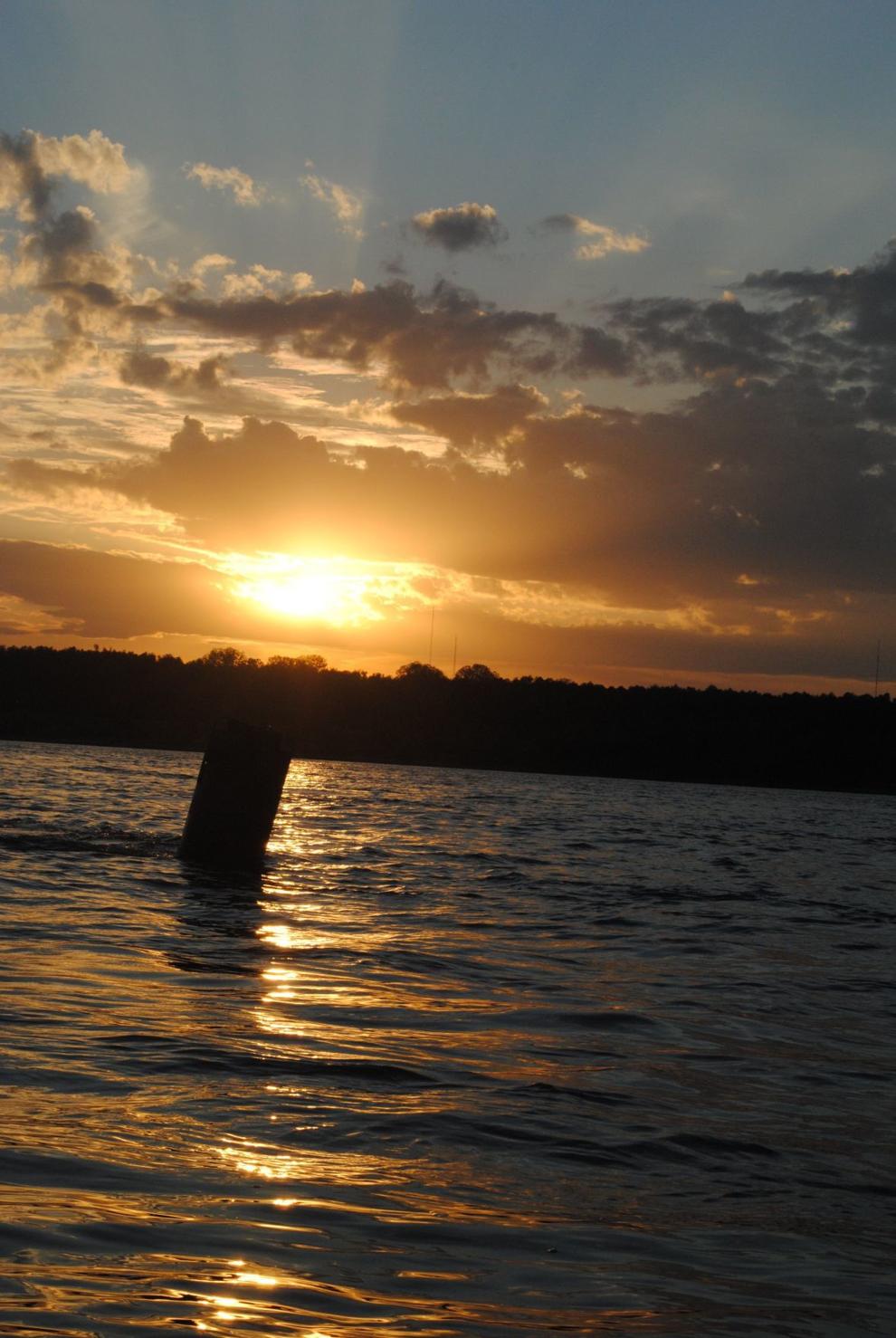 We continued south, made another stop on Buck Island, this time on a sandbar for a "nature walk," a trek through the trees following a trail deer had made. We saw tracks of herons, a doe and her tiny fawn, and evidence that woodpeckers, beavers and others had been at work, but the only animal we saw was a little spotted toad that blended so perfectly with the sand he was barely visible.
Before pushing off for Helena, Curtis gave her short program, "Brown and Robbins." The Louisiana Purchase of 1803 more than doubled the size of the United States, she says. In 1815, President James Madison ordered a survey so he could establish a system for distributing land to veterans of the War of 1812.
On November 10, 1815, Prospect Robbins was surveying a north-south line that would become known as the fifth principal meridian, when he crossed an east-west baseline that had been surveyed by Joseph Brown (both surveyors using only a compass and a chain), she said. The two lines crossed in a swamp in east Arkansas, becoming the initial point of the first survey of the American West. The area was designated a National Historic Landmark in April 1993.
The survey was a key to the growth of the country, and the division of the Louisiana Purchase into parcels for private ownership a significant event in the history of the world, she said. "And it all began here!" she added with a grin.
The sun was low in the sky, veiled by a smoke-gray cloud, and the river silver-blue as we paddled on for Helena. Suddenly, the sun popped out below the cloud, and a bright gold furrow glittered jaggedly across the water. Then, the western sky a lovely mosaic of sunset hues, we pulled in at the harbor, where Aljets had parked the truck near the boat ramp.
Ruskey, who has spent more time on the Mississippi than anyone else we know of, says "Every day on the river is good." And if our Buck Island Adventure was a typical day on the river, we would have to agree.
---
Quapaw Canoe Co. offers a variety of custom canoe trips in addition to the day trips: overnights, multi-days, week long trips. They cost $85 per person per day based on groups of six or more.
Accommodations in Helena include:
Edwardian Inn; 1-870-338-9155
The Best Western: 1-870-572-2592