Have you been outdoors on a moonless night when the twinkling stars and the Milky Way appeared so brilliant, you were taken aback by just how vibrant a dark sky can appear?
If you have not experienced an inky black night sky, you are not alone. While the pollution of land, air and water garners daily attention, light pollution of the night sky has not received as much publicity. Yet, it is estimated that 80% of the world's population lives under "skyglow," the excess light generated by mankind, which obliterates a dark sky. In the United States and Europe, 99% of the population has their view of the night sky diminished.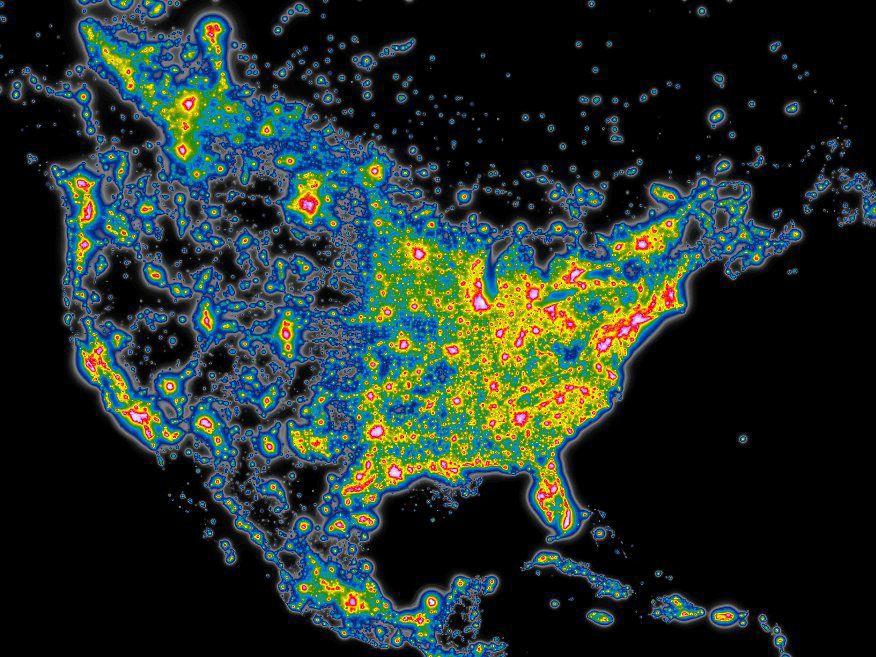 When Vincent Van Gogh painted his famous "The Starry Night" in Saint Remy, France, in 1889, it was the night sky that led him to state: "For my part I know nothing with any certainty, but the sight of the stars makes me dream." Today, the Milky Way can no longer be seen from Saint Remy.
Recognition of this diminished natural resource has cast a new light on America's National Parks, which exist to preserve the natural earthly landscapes within their boundaries. Inadvertently they have also become foremost for protecting the purity of the night sky above because they offer some of the darkest skies accessible to millions of visitors from around the world.
The National Park Service has established a Night Sounds and Night Skies Division (nps.gov/orgs/1050/index.htm), which is studying the effects of light pollution on our natural environment. The organization is also promoting the opportunity for park visitors to consider the night sky as an integral part of a visit, and to experience the wonder of a natural night sky after the sun sets.
Most national parks now conduct "star parties" and ranger lectures about the night sky throughout the year when amateur astronomers are invited to bring their telescopes. During a full moon, some parks offer night hikes, and there is a Junior Ranger Night Explorer program.
Tyler Nordgren, an astronomer, professor of physics and artist, has helped document the parks' night skies with his photography and art. In conjunction with the National Park Service he has developed a series of posters to "See the Milky Way" in America's parks where "Half the Park is After Dark."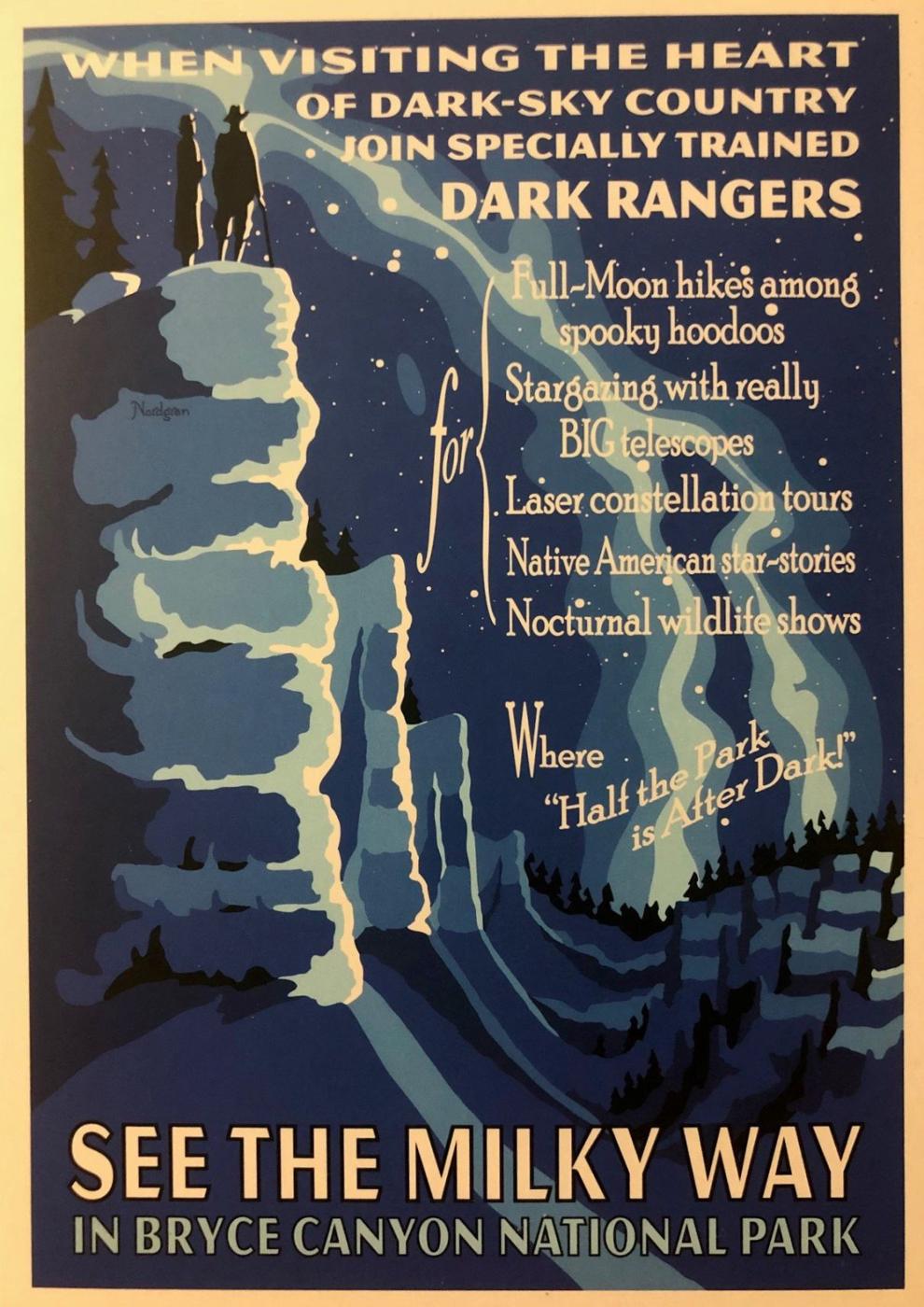 Nordgren's Natural Bridges National Monument poster, for example, uses a stylized image of two people looking up into the night sky from beneath one of the three natural bridges in the park, with the words "Visit the world's first dark sky park and see the Milky Way" superimposed over the image.
International Dark-Sky Association
Founded in 1988, the IDA has been dedicated to protecting the night skies for current and future generations for 32 years. Today, the nonprofit organization is the recognized authority for night sky protection internationally and has taken the lead in identifying and publicizing the negative impacts of artificial light at night on human health, wildlife and climate change.
Included in the associations' public outreach efforts is the International Dark Sky Places program. Established in 2001, it offers six types of dark sky designations for communities, parks and a variety of outdoor areas throughout the world. To earn the designation, a community or park must meet stringent outdoor lighting standards and offer community outreach programs educating the public about the importance of dark skies.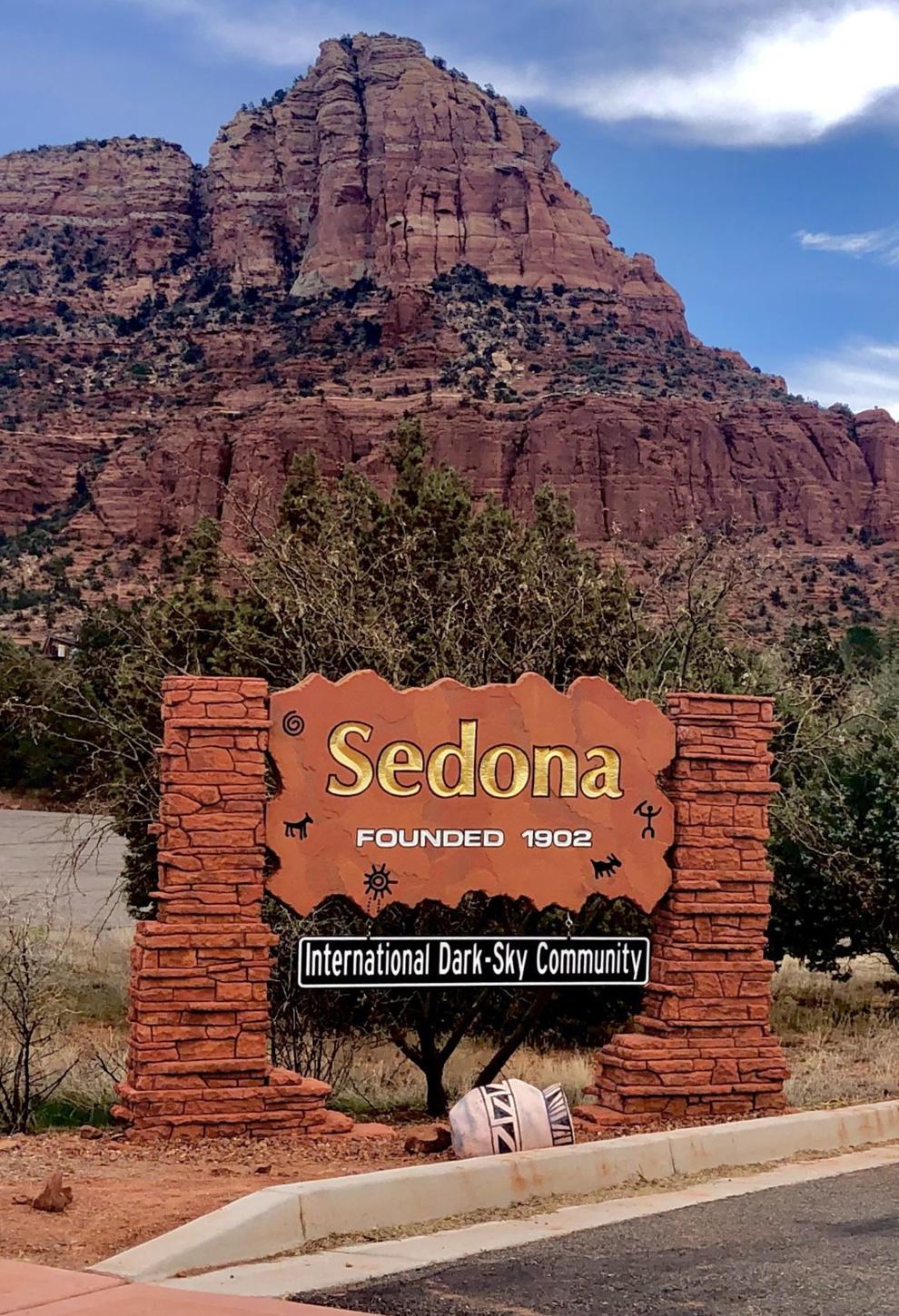 Sedona, Arizona, known for its spectacular outdoor scenery of towering red rock formations, has been a certified Dark Sky Community since 2014. Joanne Kendrick is chairman of the Sedona Dark Sky committee and says the designation has had a positive impact on tourists, as well as residents.
"Astro-tourism is on the increase, and Sedona's nearby state park and ranger station both have star gazing parties throughout the year," Kendrick says. "The larger resorts invite astronomers in almost every week to set up their telescopes for guests. A new hotel named Ambiente will have rooftop patios for night sky viewing.
"To keep our designation as a dark sky community we have to submit a yearly report describing how we continue to educate the residents, what new light ordinances have been implemented, how many star parties take place, and we have to measure how dark our sky is."
Frequent visitors Peggy and Alan Schaffer of Chesterfield remark that the "Sedona night sky is almost pitch black, even if you are only a block from a major retail area."
Missouri chapter
Currently, the International Dark-Sky Association has 50 chapters operating in 18 countries. Although Illinois does not have a state IDA chapter, the community of Homer Glen southwest of Chicago has been certified as an IDA International Dark Sky Community
Missouri has a chapter based in St. Louis, which works throughout the state. "Several Missouri communities have inquired what is needed to become dark sky certified, but at present there are no dark sky designated parks or communities in the state," reports Don Ficken, president of the Missouri Chapter of the International Dark-Sky Association.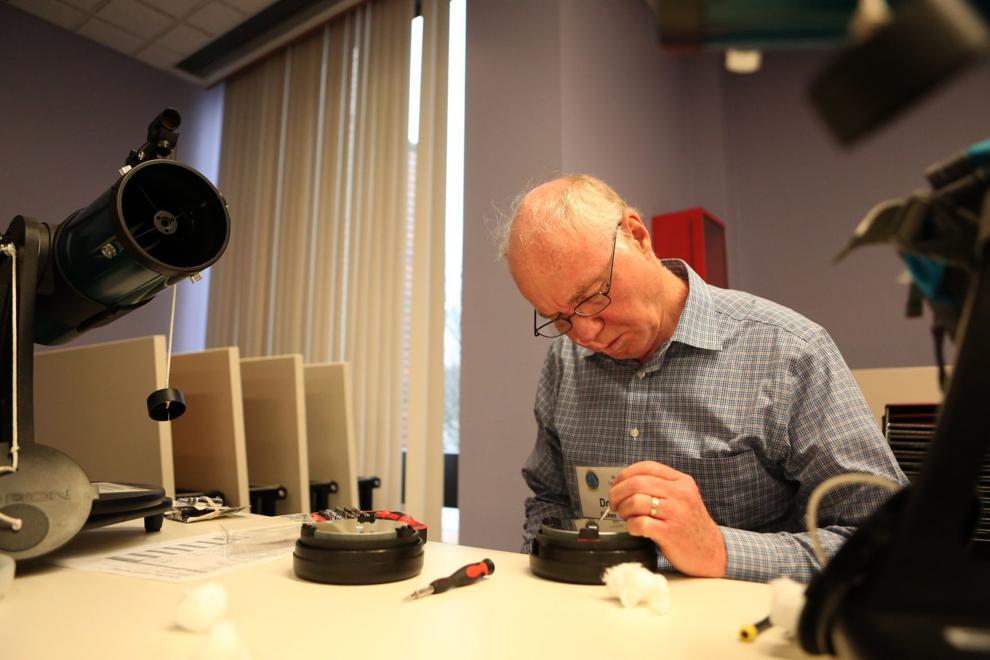 To build a map of the darkest state and national parks in Missouri, Ficken says IDA-Missouri used the 2015 World Atlas of light pollution. The map, which is posted on the chapter's website, reveals a surprising number of dark places remaining in several rural areas in Missouri. "One couple used the map to find Missouri's darkest places to plan their honeymoon," Ficken says.
However, he cautions that scientists are finding that light pollution is increasing at a worldwide rate of 2.2% per year. "Missouri could lose its dark places if we don't take action," he says.
The chapter has partnered with Truman State University in Kirksville to place "sky quality meters" throughout Missouri to gather updated measurements of sky brightness. A citizen science program designed by the chapter encourages patrons of public libraries to submit data to scientists on sky brightness and the health of wildlife and ecosystems in the state.
"Last year our chapter interacted with over 5,000 people statewide in outreach programs and found the public very interested in finding the darkest skies in Missouri," Ficken reports. "We are also looking into the tourism potential of dark skies for the state."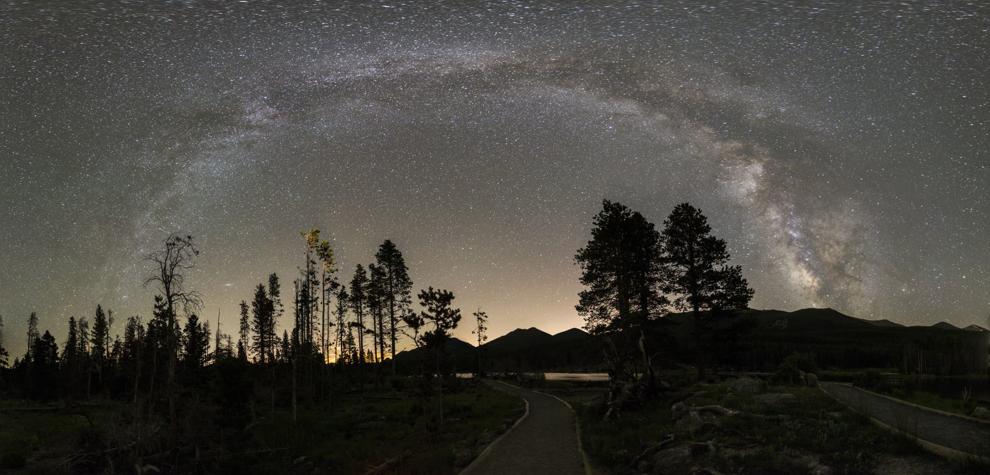 IDA Missouri's extensive website includes a list of events associated with dark sky education, links to Missouri astronomy clubs, a section describing how anyone can get involved to monitor light pollution, and a page on which to view and share photos of Missouri's night skies.
Now until mid-June the chapter is supporting a "Silent Skies/Lights Out" initiative sponsored by the St. Louis Arts Chamber of Commerce. The program encourages building owners and the general public to turn off or to reduce the use of outdoor lighting to help birds safely pass through St. Louis during their spring migration. For more information visit: darkskymissouri.org/programs/lightsout
"An estimated 600 million birds in the U.S. die each year from collisions when the lights of tall buildings confuse their navigational abilities, causing fatal disorientation," Ficken says. To commemorate the event, Nordgren created a poster illustrating the Gateway Arch National Park at night, featuring constellations with names associated with birds visible in the night sky above the Arch.
In September, the chapter is planning a statewide educational conference on light pollution.
---
International Dark Sky Week
Bringing back the night is the objective of Dark Sky Week April 19-26. Two Missouri-specific webinars will be held in association with Dark Sky Week.
On April 22 a webinar titled "Exploring the Universe Through Apps" will be presented. For registration, see darkskymissouri.org/programs/conferences-talks/webinar-2020-0422. On April 28, a webinar titled "Vanishing Night" for the Astronomy Society of Kansas City will be conducted. For this webinar consult the website of the Missouri Chapter of the International Dark Sky Association (darkskymissouri.org) for registration information. which is currently being arranged.
For future local activities of the Missouri chapter of the International Dark-Sky Association throughout the year consult the Missouri website.
For more information on Dark Sky Week and the International Dark-Sky Association: darksky.org
"Stars Above, Earth Below: A Guide to Astronomy in the National Parks" by Tyler Nordgren (Springer Praxis Books / Popular Astronomy)
"Night Sky: A Guide to Our Galaxy" by Tyler Nordgren
---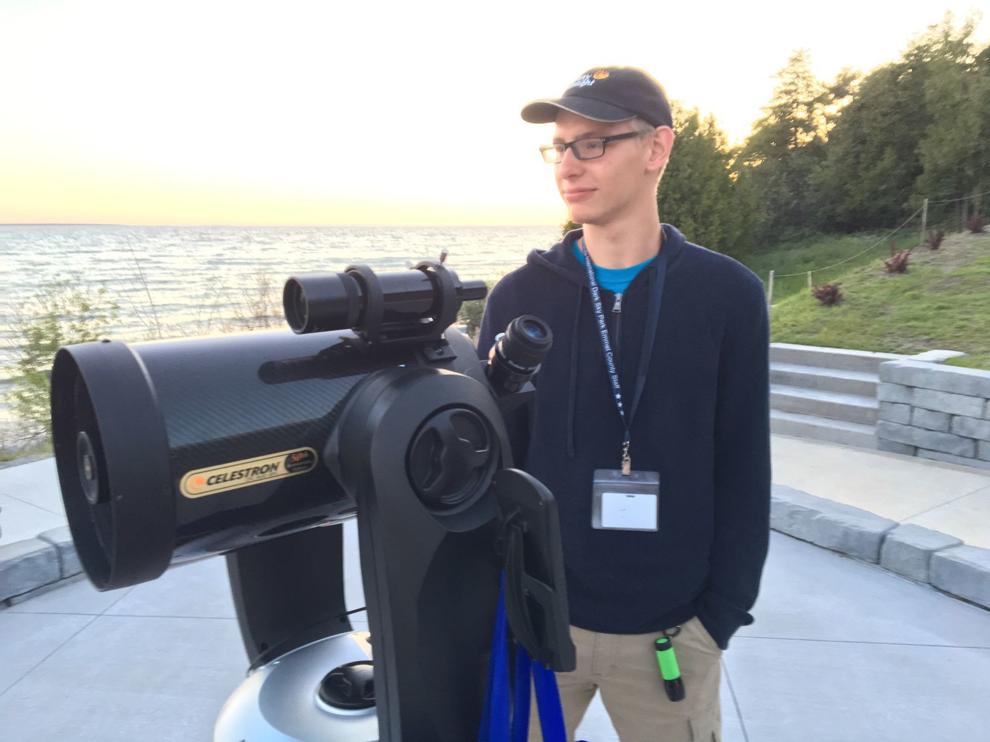 The National Park Service lists these parks as having some of the best year-round night sky viewing in the United States:
● Natural Bridges National Monument (Utah)
● Big Bend National Park (Texas)
● Capitol Reef National Park (Utah)
● Great Basin National Park (Nevada)
● Death Valley National Park (California)
● John Day Fossil Beds National Monument (Oregon)
To see a list of more dark sky designated places throughout the world, visit:
---
How you can help restore the night


The International Dark-Sky Association encourages everyone to take these actions:
2. Light only where needed using light shields that direct light downward.
3. Light only when needed.
4. Use only energy-efficient lights.