Living in Georgia in 2003, John Mulhouse was going through a bumpy stretch in his life when he had an impulse to take photographs of abandoned buildings in the community. He identified with their broken windows and vanished occupants and realized they hinted at a multitude of hidden stories. "I had a desire to give every building the affection and respect it deserved before they vanished," he recalls. "Even the utterly abandoned was once important to somebody."
Mulhouse picked up a disposable 35 mm film camera and began to capture what he saw. He was still shooting neglected structures in 2009 when he moved to Albuquerque, New Mexico, and realized the surrounding landscape was a treasure of not only vacant buildings but also entirely abandoned towns; his hobby of visiting ghost towns commenced.
So far, Mulhouse has been to more than 100 ghost towns scattered across the states of New Mexico, Colorado, Texas, Oklahoma, California and Nevada. A majority have been in New Mexico and are the topic of his book "Abandoned New Mexico: Ghost Towns, Endangered Architecture and Hidden History."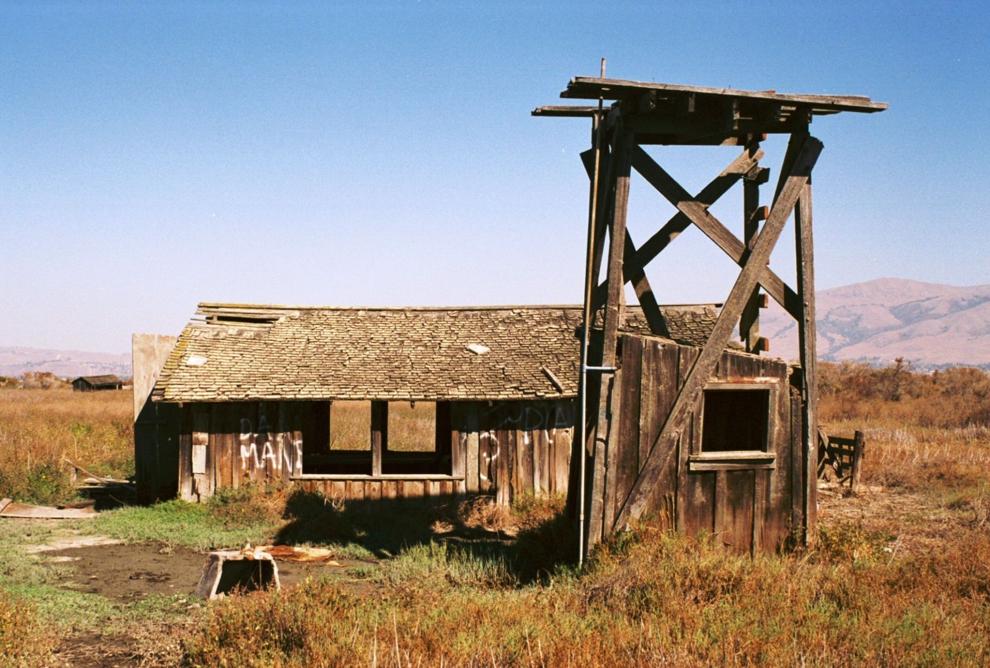 "I think one of the most unusual ghost towns is Drawbridge, California, at the south end of San Francisco Bay," Mulhouse says. "It is located on what was once fairly solid ground in the midst of a salt marsh. Today it is inside the Don Edwards San Francisco Bay National Wildlife Refuge."
Drawbridge originated almost by chance in 1876 when the South Pacific Coast Railroad built a cabin for a gentleman manning two railroad drawbridges in the marsh. The train would stop at his cabin, and passengers noticed a large population of ducks in the area. Soon duck hunters were building their own cabins on pilings alongside the railroad tracks, all connected by walkways over the water.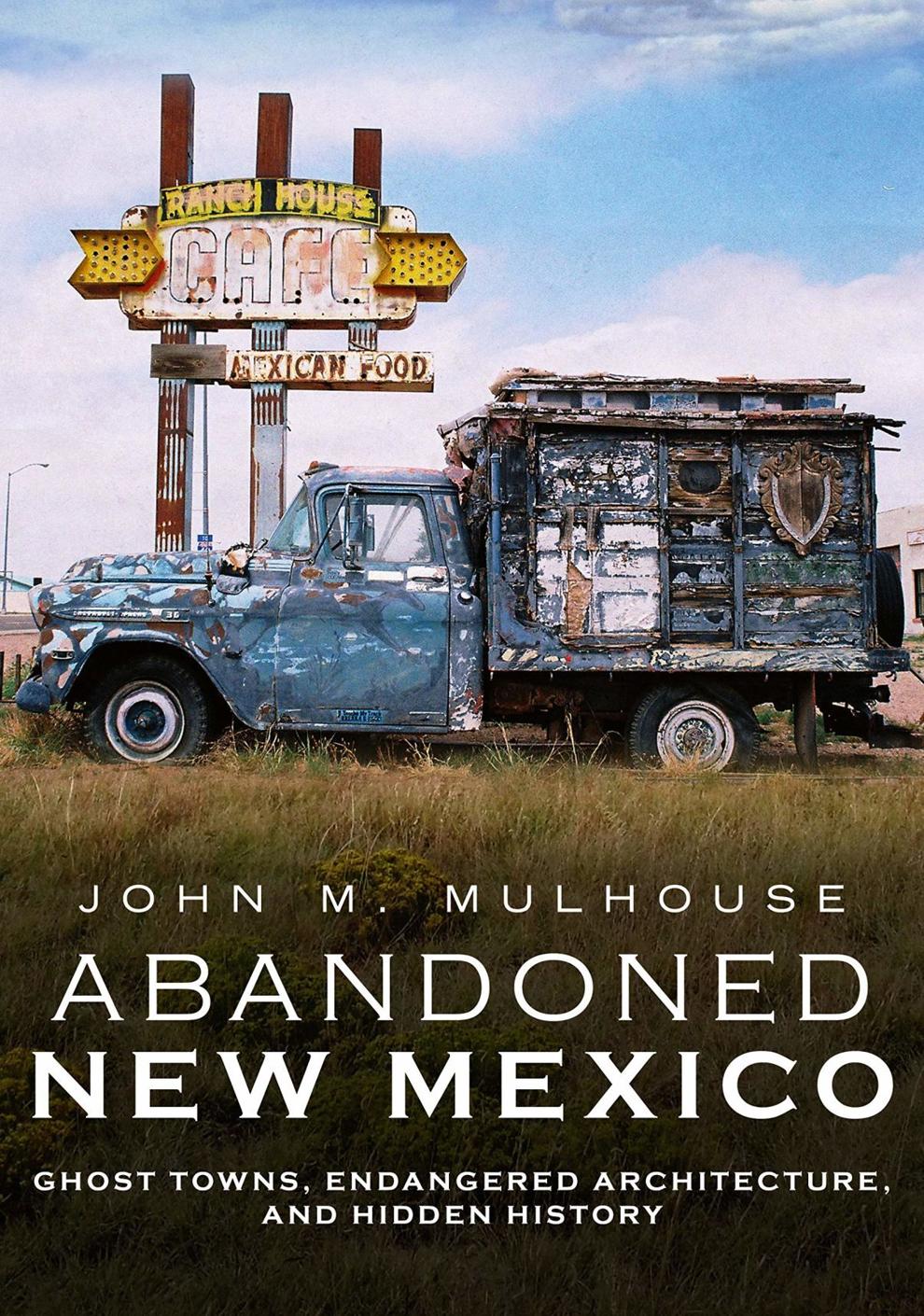 "By 1926 at the peak of Drawbridges' population, there were 90 cabins and five passenger trains coming through each day," Mulhouse says. "Then Drawbridge began to sink as the surrounding sloughs were cut off by dikes, or drained. By 1940 the ducks and the hunters had left town. It is still there, abandoned, and a little wetter."
Mulhouse says it is a fascinating ghost town to visit, but permission is required.
Mulhouse says there are many other reasons a village "goes ghost." Foremost was in the late 1800s when gold, silver and other minerals attracted people to the western frontier. At the same time, cattle ranches on the western plains needed to reach railheads to turn their steers into cash. Also steam locomotives needed to stop to take on water, and railroad stops became the excuse for a town.
But, once the mines played out and cattle were no longer moved by rail, and the railroads switched to diesel fuel, the towns were deserted.
Sometimes the decline was immediate. The Dust Bowl and the Depression of the 1930s decimated many of the farming communities in the plains states, with families often abandoning their homes in the middle of the night, escaping a burden of debt.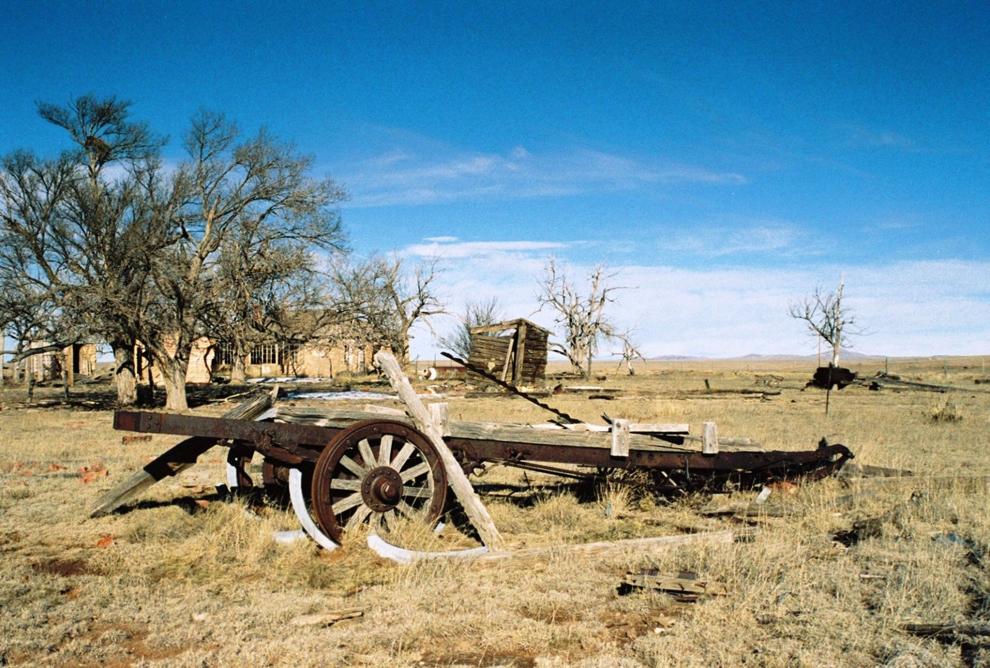 Mulhouse says when he is visiting a ghost town such as Negra, New Mexico, he has a feeling of peace. "The wind might be blowing through an old homestead with rusted farm implements scattered around, and you can imagine what a particular kind of fairly simple, if rugged life, was like many decades ago," he says. "Other places, often those closer to cities, can be more chaotic and disturbing. These are often filled with trash and covered in graffiti."
Even in their state of abandonment, Mulhouse says he has favorite buildings. "Yeso, New Mexico, is quite intact even after being founded more than 115 years ago. Many empty houses still line the streets, and the Hotel Mesa remains standing, even if gutted," he recalls.
Most ghost towns do have a cemetery and sometimes that is all that remains, according to Mulhouse. "Many are very evocative," he says. "It is not uncommon to see entire families buried together, often dying within a short time of one another. It makes you wonder what sad story will never be told again and, of course, it makes you think about pandemics."
Sometime the ghost town name is interesting by itself. "The pairing of Two Guns, Arizona, and Twin Arrows, Arizona, just a few miles apart on what was once Route 66, is pretty great," he says.
His favorite building is in Taiban, New Mexico. "I absolutely love the First Presbyterian Church there," he says. "Although it is of fairly basic construction, the design and location on a small rise on the eastern plains is stunning. Visiting it is like seeing an old friend, even as I sadly track its decay year after year."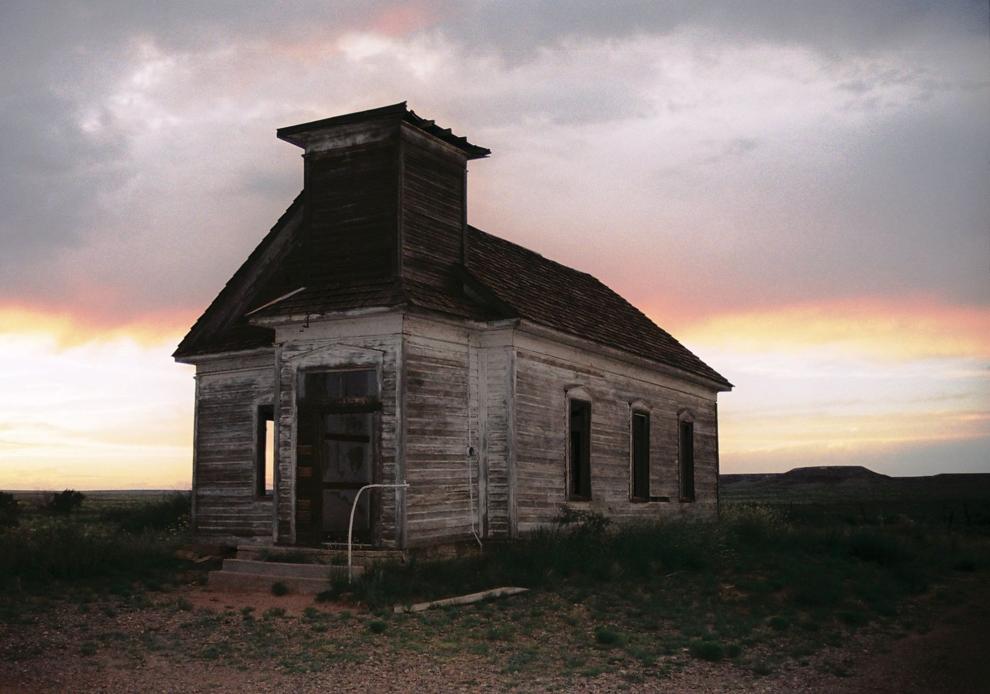 According to Mulhouse a common definition of a ghost town is any town that has substantially fewer people than when its population was at its peak, and has largely lost the reason it was established.
So, there still may be residents and Mulhouse warns some can resent having their town classified as a ghost town and that it is important to get permission to visit and photograph beyond public spaces.
"I find some people that are enthusiastic about having a conversation about their memories of the town and how their family came to be there. But there are also people not so happy to see someone walking around uninvited. They may well tell you to go elsewhere in no uncertain terms. Remote towns can be especially unnerving because you're clearly an outsider," Mulhouse says.
Some ghost towns are now popular tourist destinations. Perched on a mountain hillside in Arizona not far from the towns of Sedona and Cottonwood, Jerome was once a copper mining town home to more than 10,000 people in the 1920s. Now about 450 people live there, amid a myriad of art galleries, boutique gift shops and restaurants intermingled with abandoned buildings and foundations.
According to the website ghosttowns.com every state has its share of deserted towns. Missouri is listed as having 49 with forgotten names like Melva, Jollification and Phenix. Illinois has 48 towns listed including Challacombe, Enos and Vishnu.
West of St. Louis, Times Beach makes the ghost town list, having been abandoned when the roads and soil were found to be contaminated in the 1980s. The community was purchased by the federal government and the site is now a state park.
In Illinois, the town of Valmeyer became a ghost town when the Mississippi flooded in 1993. Unlike the demise of most ghost towns, residents relocated close by but on higher ground two miles to the east, and took the Valmeyer name along.
Even in the already unusual world of ghost towns, for Mulhouse the town of Cuervo, New Mexico, stands apart. It became a ghost town three times. Far from being off the beaten path, the abandoned village sits only a few hundred feet off Interstate 40 in full view of thousands of cars and trucks passing daily.
Founded when the Chicago, Rock Island and Gulf Railroad reached the location in 1901, the tracks attracted cattle ranchers who settled the area. Then the railroad siding was abandoned in 1910, and an expected economy based on the railroad was lost before it could become firmly established.
Offered a lifeline when historic Route 66 was aligned through the center of town in 1926, Cuervo rallied. Gas stations and stores were built to cater to the newly arriving travelers, and the town grew to include two churches and two hotels as the population peaked at 300 people. But, by 1946 the Depression and World War II had devastated tourism and only 150 people remained.
Another opportunity for rebirth arrived in the 1960s when Interstate 40 reached Cuervo and an exit ramp was added. Instead, the four lane limited access slab of concrete sliced through the middle of the community as if it were a knife inflicting the mortal wound. This time Cuervo never recovered.
"I have been to Cuervo several times, and it is the creepiest ghost town I have visited," Mulhouse, says. "It is different because it is relatively intact, and the railroad, Route 66, and Interstate 40 remain in daily use. But several years ago there are also reports of unsavory activity in a couple of the remaining buildings. Things have settled down, but I still caution people they should not stop there. The few locals left make it clear they want people to move along."
Yet, almost as if it were a ghost itself, standing proudly among the deserted buildings in Cuervo, a small red sandstone church continues to be maintained and remains in occasional use, courtesy of the Catholic community 18 miles west in Santa Rosa.
A concrete stone above the entry indicates it was commissioned in 1915 and built by P. Martinez, Vic. Segura, P. Martinez and Max Salas. The names add an eerie reminder that the town is certainly not a mirage, and that people once lived there.
---