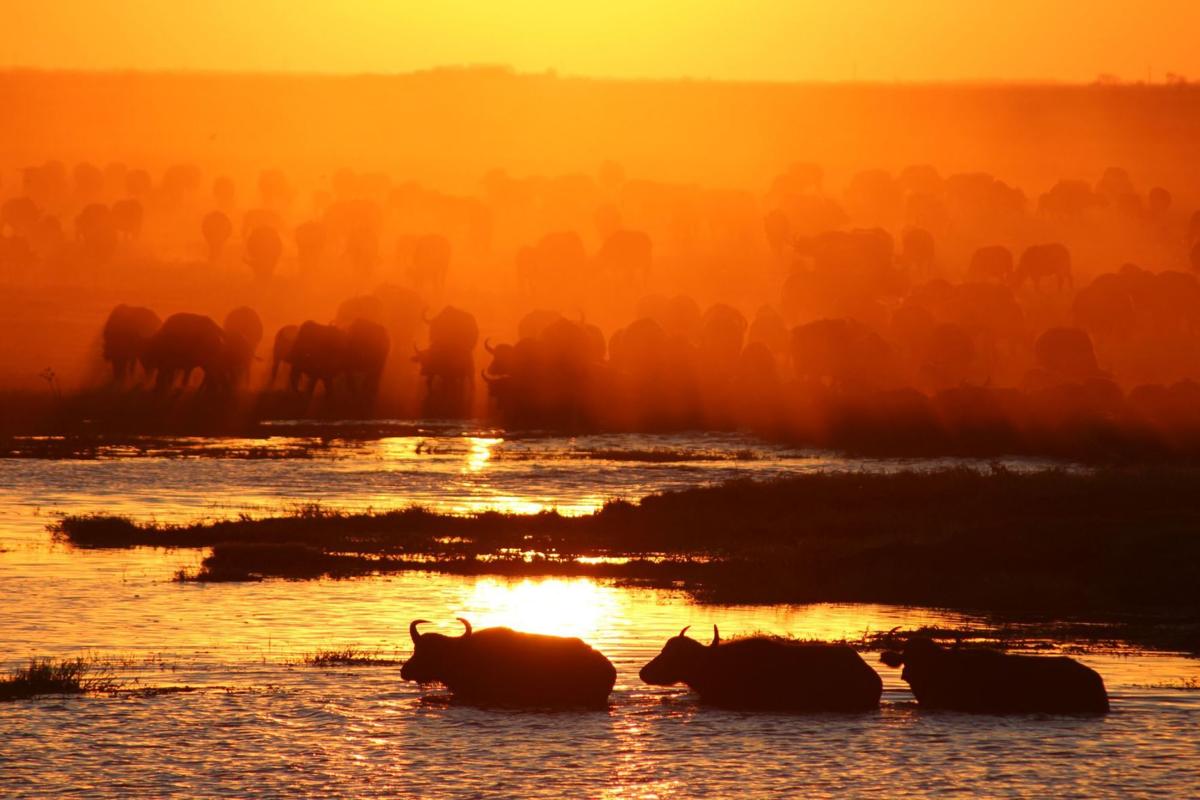 Lisa Ross, of Clayton, and her husband planned the trip of a lifetime for their 30th wedding anniversary. But it wasn't an extravagant cruise or a trip to Europe or even a plain old safari.
"We went on a mobile tent safari to four different parks, just in Botswana, and lived with the animals for 10 days." They hired a guide who took them to all the best places to see the animals.
"The animals would come in and out of the campsite," Ross says. "We would just go out every day and see what the universe brought ... It was incredibly peaceful. We had no cellphones or internet access."
One evening at Chobe National Park, as they returned to camp in their jeep, they came upon the Chobe River at sunset. Right in front of them, elephant and Cape buffalo were crossing over to a grazing area with gorgeous light behind them. "So we just pulled over and sat and watched and took pictures." Of course.
Ross, 65, says that though she was very interested in photography in her 20s, she has pretty much just used her cellphone camera lately. For the trip, she borrowed her daughter's Canon EOS Rebel with a 100-300 mm zoom lens. "But I basically used it as a point and shoot," she says, laughing. "I just got lucky."
That lucky shot earned her first place in our annual Travel Photo Contest. We had nearly 500 entries this year. Winners earn fame and glory for their compositions.
Judge Beth O'Malley, online content coordinator at the Post-Dispatch, loved Ross' photo. "The image has a great depth to it, with the herd in the background lost in the dust. And the light is great."
Second place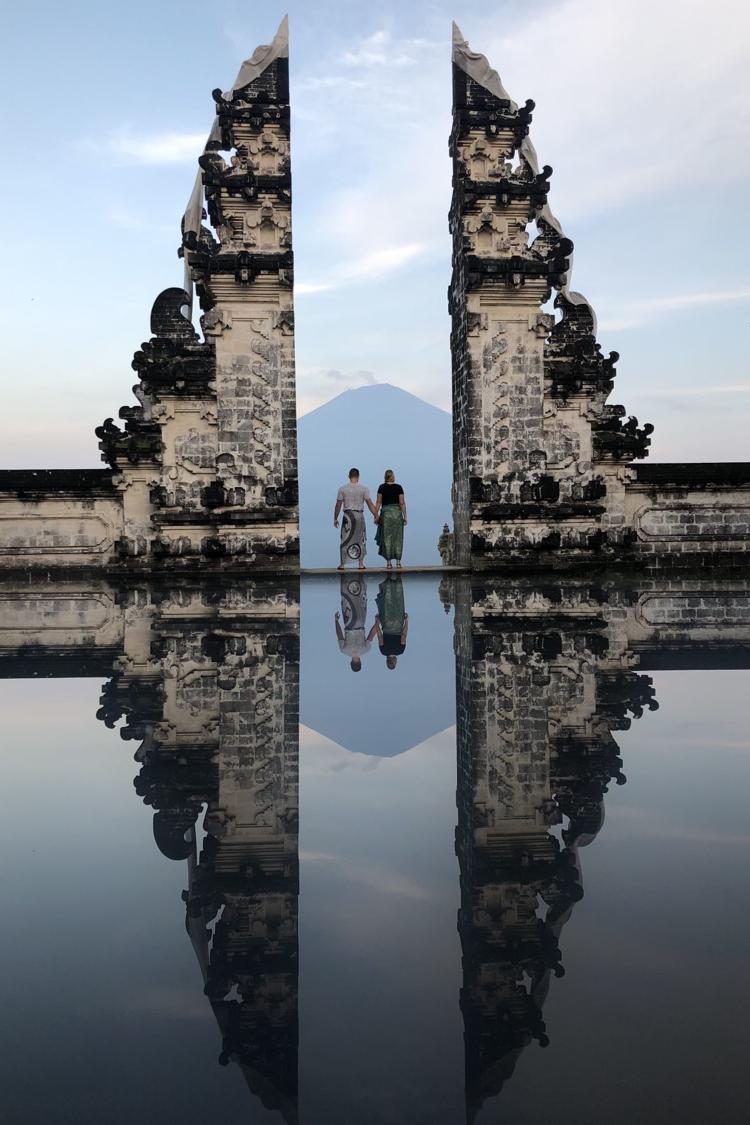 Olivia Lovelace, 29, of Webster Groves, didn't rely on luck for her award-winning shot. She set it up on a tripod and posed for it.
She and her husband went to Bali in April for their honeymoon. "I like to travel a lot, and my husband didn't really get the whole travel thing at first ... he jokes with me that I choose the farthest places away to travel." They spent 27 hours getting to their honeymoon destination.
The photo was taken at a temple in east Bali, Pura Penataran Agung Lempuyang. "We know that it gets fairly busy, and we were staying an hour away, so we woke up really early so we could catch sunrise there. We waited a bit to get the picture to make sure we could see the mountain in the background."
That's her and her husband in the photo; she used an iPhone on a timer set up on a tripod to get the shot.
"The symmetry of the composition mirrored in the still water really draws your eye to the center of the photo," said contest judge Andrew Nguyen of the Post-Dispatch.
Third place (tie)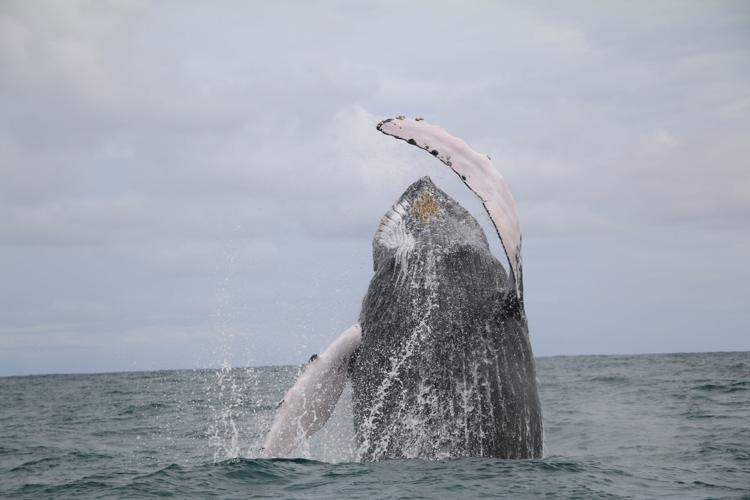 Sandy Benyo, 57, of Waterloo was on a Caribbean cruise with her husband in January when she was hoping to mark something off her bucket list. At a stop at the Dominican Republic, they booked a whale-watching excursion in hopes of seeing just one magnificent whale.
"But all we saw were spouts and fins and maybe a little hump," she says. "We were out there fairly long and the boat started its engine and was about to head back to shore when we saw more than one start to jump up and everyone was like, This is what we wanted to see!' ... There were maybe three of them, and they put on quite a show for us."
She grabbed her camera, a Canon 70D, and put it on continuous shooting, "like you do for sports."
Post-Dispatch photographer Cristina M. Fletes championed this photo. "This photograph captures a moment few of us will see with our own eyes. The body positioning of the whale is graceful, almost dancer-like. It is transportive — which is what a great travel photo should be."
Third place (tie)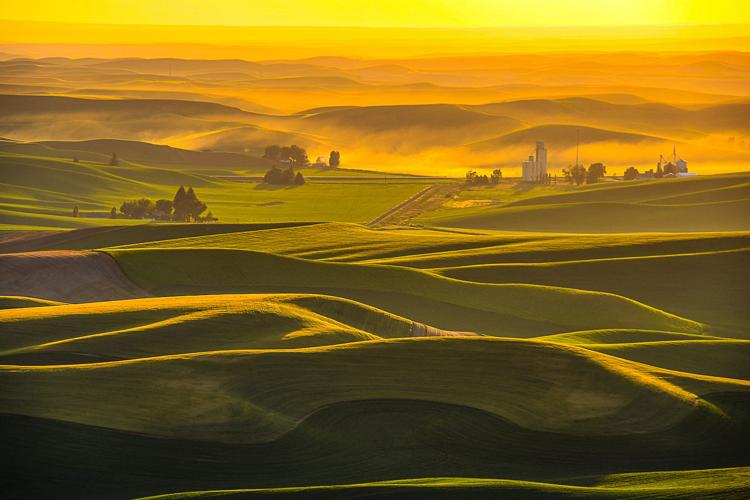 This year, Courtney, 71, of University City, took third place for his photo of Steptoe Butte in Washington state. It was another trip with his brother and nephew; their goal was to see the Palouse and its amazing wheat and canola fields.
"With dusk upon us, and a truck just having stirred up dust on a dirt road, an inviting landscape was there for the taking," he wrote in his entry. "Wonderfully manicured fields, dappled light and rolling hills were all aglow in the golden light of the setting sun. Timing is everything!"
Post-Dispatch assistant multimedia director Jon Naso had this to say about the photo: "A magical edge light ... highlighted the soft rolling hills creating a sea of green against a retreating sun. The photographer maximized that light by using a telephoto lens that allowed them to angle into the light without flare capturing a heavenly landscape with a compressed perspective."