Think of Missouri State Parks as art museums, said parks naturalist Roxie Campbell. "Each has a special piece."
The Louvre has the "Mona Lisa," the Museum of Modern Art boasts Van Gogh's "The Starry Night" and Grant Wood's stern pitchfork-toting couple in "American Gothic" stare back at visitors to the Art Institute of Chicago.
Missouri has 56 state parks drawing more than 18 million visitors a year. Last year, I set out to find the "special piece" in a few of them.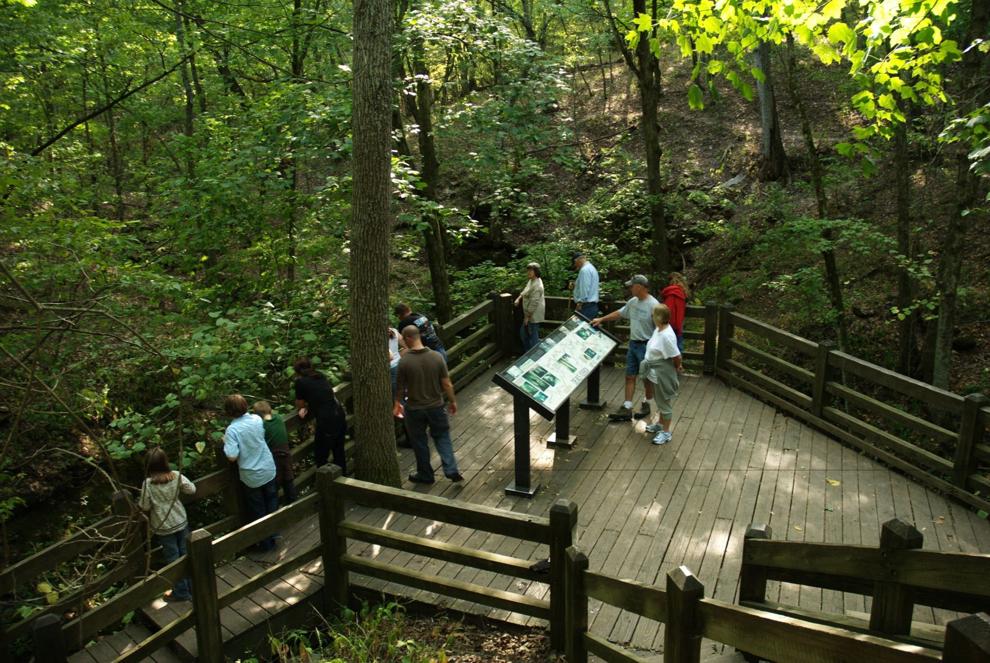 Rock Bridge Memorial State Park
Campbell led me along the Devil's Icebox Trail to her park's signature piece, its namesake Rock Bridge. The half-mile trail, mostly boardwalks, travels above and below the 63-foot-high stone tunnel left standing after the roof of a cave collapsed. The trail also leads to the Devil's Icebox, a double sinkhole where the air is cool even on a sweltering summer day, hence its name.
A hangout for students from the University of Missouri a few miles away in downtown Columbia, the Rock Bridge has been a gathering spot since the 1800s. A mill, whiskey distillery and blacksmith shop operated here in the town of Rockbridge Mills. In the early 1900s, the land was privately owned but open for public events from country dances to political rallies. After a car accident killed a university professor's daughter in 1961, a grassroots fundraising effort sought to turn the area into a place where kids could play safely. It became a state park in 1967.
As we walked, Campbell schools me on the characteristics of karst topography, not just rock bridges and sinkholes, but underground streams and caves, two on this trail. Devil's Icebox Cave is closed to protect endangered gray bats roosting inside, but the 166-foot-long Connor's Cave can be explored. Helmets, waterproof shoes and flashlights come highly recommended. The rare Pink Planarian Troglodyte lives in these dark recesses, said Campbell. The odd, inch-long creatures have both male and female sex organs and eat amphipods and isopods — tiny crustaceans — by squeezing them, boa constrictor-style. Something to chew on during my picnic lunch.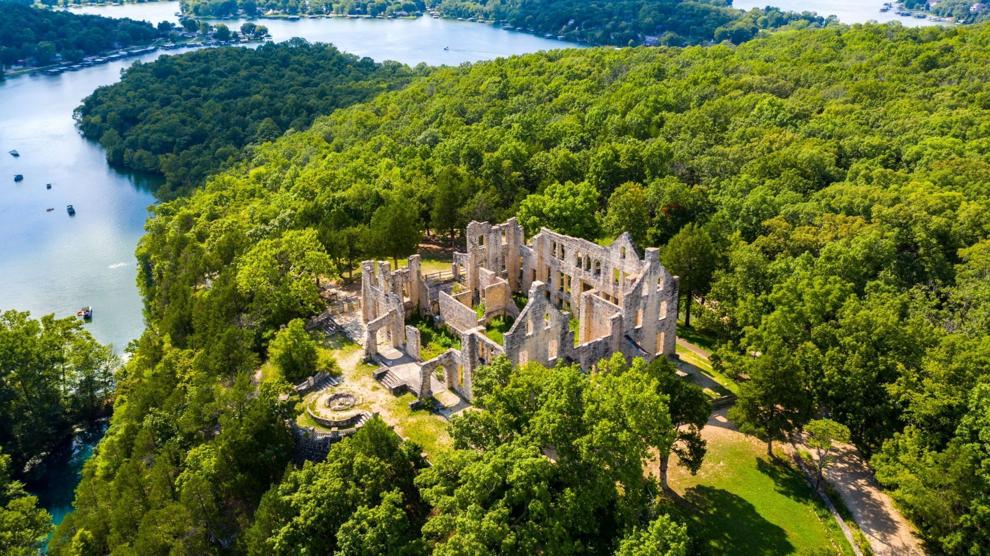 Ha Ha Tonka State Park
More karst geology awaited me farther south in the Ozarks at Ha Ha Tonka, an Osage Indian phrase roughly translated as "laughing waters" for the gushing spring there. While such natural features certainly appeal, a manmade one sets this state park apart: the ruins of a castle.
In 1905, Kansas City businessman Robert M. Snyder started building a European-style, 60-room castle using sandstone from a nearby quarry. Work stopped when he died in one of Missouri's first automobile accidents. His sons took up the project, completing a scaled-down version of their father's dream residence in 1922. Twenty years later it caught fire. I took the Castle Trail to the blufftop ruins, stopping at three scenic overlooks for views of meandering Ha Ha Tonka Spring and the Niangua Arm of Lake of the Ozarks below. The stone shell of the castle, framed by trees with blue sky above, hinted at its former grandeur.
I found both manmade and natural features along the Spring Trail. The grinding stone from an old gristmill stands along the paved and boardwalk trail following the lakeshore and the spring's millpond. Two boulders, remnants of a collapsed chasm, nearly block the path. "That's Fat Man's Squeeze," a fellow hiker told me, adding how she played here as a child. From the spring lying just ahead, the trail climbs 200 feet up 316 wooden steps. I looked up at the castle on the opposite bluff and took a pass, feeling at the moment more like a pampered princess than a hardy hiker.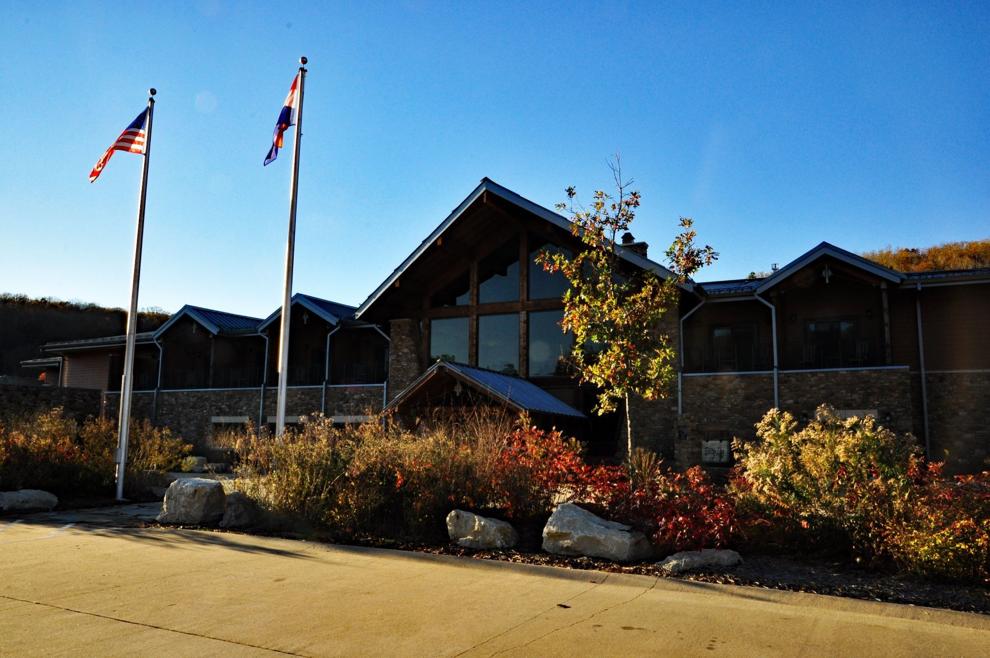 Echo Bluff State Park
Another manmade structure, this time a contemporary lodge, takes center stage at one of Missouri's newest state parks. Echo Bluff opened in 2016 on the grounds of Camp Zoe, a youth camp established in 1929 to give city kids summer fun in the Ozarks. Today the park serves the same purpose, but year-round and for all ages, with modern amenities at Betty Lea Lodge. Twenty guest rooms have king-size beds and fireplaces. A full-service restaurant, spacious deck and two-story lounge overlook the namesake Echo Bluff.
But the lodge's best asset might be its location. It, along with the park's cabins, two-story duplexes and campground serve as a base for exploring the adjacent Ozark National Scenic Riverways, part of the U.S. National Parks system. The Current River a half-mile away and the Jacks Fork running through Eminence, Missouri, 20 minutes away, form 134 miles of rivers protected from damming when Congress designated this first national scenic riverway in 1964.
I picked up a bright red canoe in Eminence from Windy's Canoe Rental, a three-generation family outfitter, for an easy float down the Jacks. With eyes trained on rapids just ahead, I looked up just in time to see a bald eagle crossing in front of me, flying from an oak-lined bank to the top of a dolomite cliff.
Springs feed most waterways in the Ozark Scenic National Riverways. Alley Spring sends an average of 81 million gallons a day pouring into the Jacks Fork. My float over, I doubled back by car to find the source. Alley Spring's blue-green pond reflected a red gristmill dating from 1894, a landmark from an era when water power turned wheat into flour.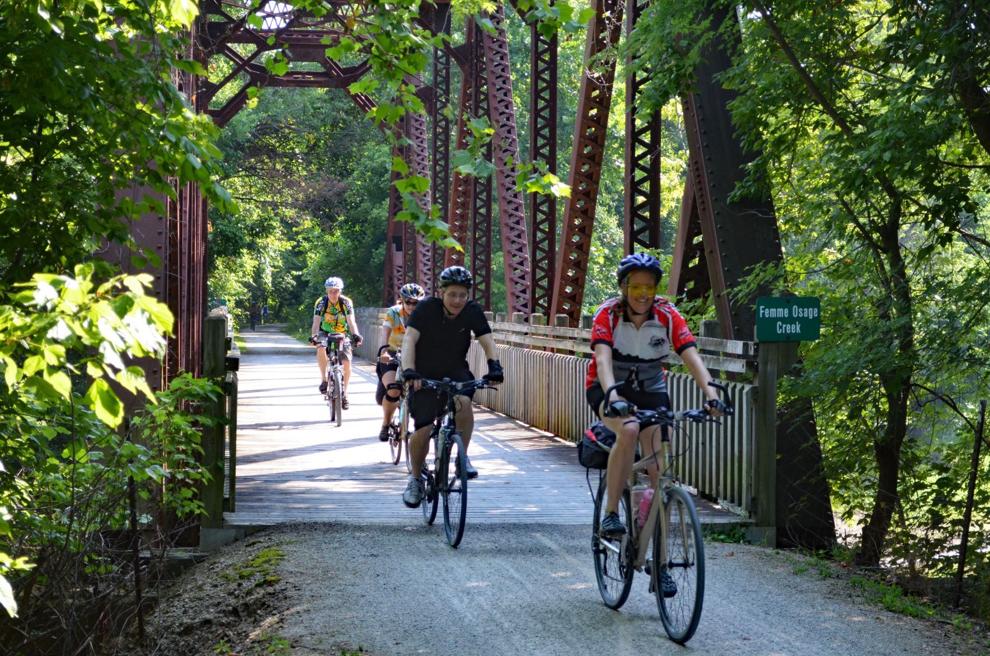 11 more parks to explore 
So many parks, so little time.
Now that I've sampled some of Missouri's many and varied state parks, I've made a list of those to visit next with notes about their special features.
Taum Sauk Mountain State Park, Ironton: I can knock two superlatives off my list here: Missouri's highest point and highest waterfall. The namesake mountain rises 1,772 feet, but it's an easy walk from the parking lot to the top for spectacular views. Mina Sauk Falls Trail leads to a cascade dropping 132 feet down a series of rock ledges. mostateparks.com/park/taum-sauk-mountain-state-park
Onondaga Cave State Park, Leasburg: Missouri is called "The Cave State" for good reason. The stalagmites, stalactites, rimstone dams, soda straws and flowstones make Onondaga Cave a National Natural Landmark. Guided tours, enjoyed by visitors for more than 100 years, are scheduled to resume in mid-May with a new lighting system. mostateparks.com/park/onondaga-cave-state-park
Wakonda State Park, La Grange: Six lakes make this one of the best places to view waterfowl by the thousands, including geese, mallards, lesser scaups, northern shovelers, great blue herons and snowy egrets. Birdwatching opportunities peak during annual migrations, usually November to January and mid-February to April. Anglers fish for largemouth bass, bluegill, crappie and catfish. mostateparks.com/park/wakonda-state-park
Graham Cave State Park, Danville: Artifacts found in Graham Cave show people have occupied it 8,000 to 10,000 years ago and earned the park a listing on the National Register of Historic Places. Visitors can peer into the mouth of the cave and walk an interpretive trail to learn about the life of hunter-gatherers from the Dalton and Archaic periods. Some archaeological finds are displayed in the visitor center. mostateparks.com/park/graham-cave-state-park
Grand Gulf State Park, Thayer: Missouri's version of the Grand Canyon, the result of a collapsed cave system, runs through the Ozarks between walls 130 feet high. View the Grand Gulf from trails along the top or bottom passing through a 75-foot-high natural bridge spanning 250 feet. mostateparks.com/park/grand-gulf-state-park
Elephant Rocks State Park, Belleview: A popular — and crowded — park best experienced on a weekday is known for huge elephant-shaped boulders. Shutterbugs love to photograph them, geologists love to study them, kids love to climb on and between them. Technically a "tor," this stack of weathered granite sits atop bedrock. mostateparks.com/park/elephant-rocks-state-park
Trail of Tears State Park, Jackson: History buffs learn about this sad chapter in our nation's past through a documentary and exhibits in the visitor center. Cherokee Indians being relocated to Oklahoma passed through on a forced march during the winter of 1838-39. Thousands died on what came to be called the "Trail of Tears." mostateparks.com/park/trail-tears-state-park
Bennett Spring State Park, Lebanon: Trout. For fishermen, I need say no more. Bennett Spring pours out more than 100 million gallons of water a day creating a spring branch where rainbows are stocked during fishing season March 1 through Oct. 31. The park store sells bait and trout tags. Fly-fishing lessons are currently suspended due to COVID-19. mostateparks.com/park/bennett-spring-state-park
Prairie State Park, Mindenmines: I'll be transported to pioneer days at Missouri's largest tract of tallgrass prairie, a remnant of one that covered more than a third of the state. The prairie isn't just a sea of grass but also a habitat for birds, reptiles and mammals, especially the park's own bison herd. mostateparks.com/park/prairie-state-park
Lake of the Ozarks State Park, Kaiser: One of the state's largest lakes provides opportunities to experience this state park from the water. Boat-owners can launch from paved ramps, but I'll rent a boat to follow the Aquatic Trail for views of woodlands, glades and cliffs where swallows perch. Back on shore, I'll hike to a blufftop view of the lake, then head down to the beach, scheduled to reopen in May, to cool off with a swim. mostateparks.com/park/lake-ozarks-state-park
Katy Trail State Park, between Machens and Clinton: OK, I confess. I have done the Katy Trail, but only a tiny portion of its 240 miles so it hardly counts. I'll return to the nation's longest rails-to-trails path to bike between its string of small towns — arguably its best feature — overnighting at bed-and-breakfasts and investigating four restored depots on this former corridor of the Missouri-Kansas-Texas Railroad. mostateparks.com/park/katy-trail-state-park
Explore these waterfalls in parks near St. Louis