To paraphrase the legendary 1946 Bobby Troup song, we suggest you get your kicks on Route 36.
This "route" is Missouri's 200-mile stretch of U.S. Highway 36, which spans the state like a belt, linking St. Joseph and Hannibal. Along the way, it runs over gently rolling hills, wide-open countryside and more than a dozen quaint towns. It's a divided highway, fine as an interstate, but without all the traffic.
The area known as the Highway 36 corridor extends 36 miles to the north and south of the road and includes more than a dozen additional towns. Attractions are numerous: lakes, parks, wildlife refuges, museums, wineries, cafes, casinos, a dairy that gives tours, a historic covered bridge and more.
But what the corridor is mainly known for is the large number of innovators and famous folks who have lived there, and for the sites of significant innovations, hence the nickname "The Way of American Genius." Locals have included Jesse James, J.C. Penney, Walt Disney, Gen. John "Black Jack" Pershing, Dr. A.T. Still, Mark Twain and others. And among the innovations are the Pony Express, sliced bread, the Lear jet and osteopathic medicine. An excellent visitor guide is available from the Missouri Highway 36 Heritage Alliance.
Laid out in 1914, and originally intended to be a transcontinental route connecting New York and San Francisco, the highway went by a variety of names. Inside Missouri it was "The Old Hound Dog," after an earlier stagecoach trail it followed.
But multiple highways with multiple names around the country created confusion, so in 1925, the government began assigning numbers instead. Route 36 never did make it to either coast, and today runs 1,414 miles from eastern Ohio to Colorado's Rocky Mountain National Park. Other numbered highways connect the historic highway to the coasts.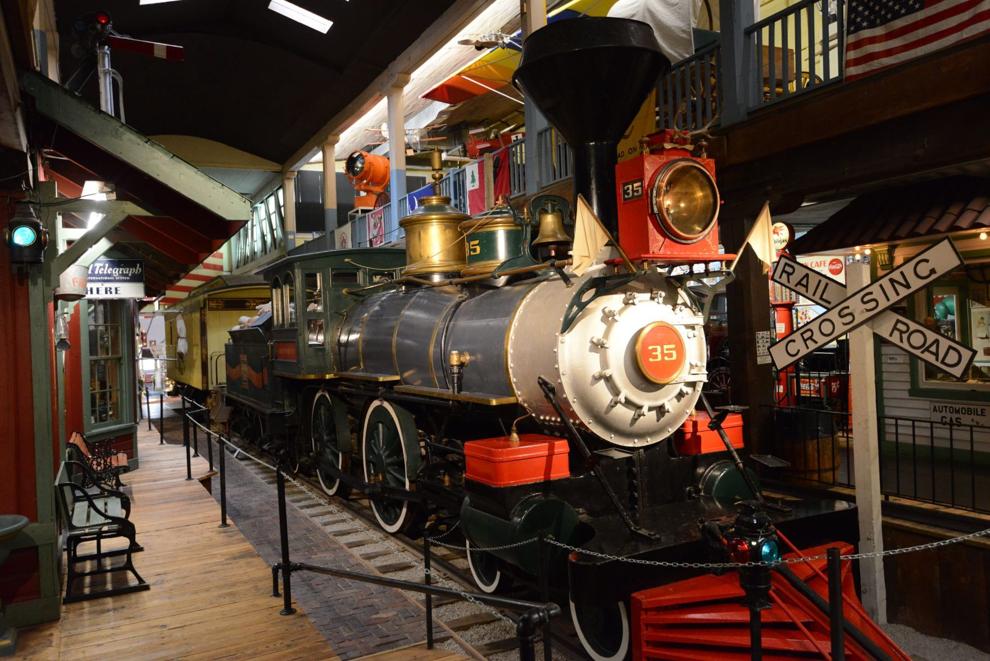 We drove the Missouri stretch recently, starting in St. Joseph, famous as the place where the Pony Express began and Jesse James' life ended. The Pony Express National Museum (ponyexpress.org) here tells the story of the 19-month venture (ended by the telegraph and railroad), with the first rider galloping west on April 3, 1860. Riders braved extreme weather conditions, harsh terrain, wild animals, even American Indian attacks to deliver mail between Missouri and California in just 10 days.
Nearby is the Patee House (ponyexpressjessejames.com), originally a luxury hotel built in 1858, now a national historic landmark and museum. Next door is the house, moved here in 1977, where outlaw Jesse James lived briefly with his family, and was shot dead by the "coward" Robert Ford, a member of the James gang, on April 3, 1882. The house is filled with portraits of James and artifacts.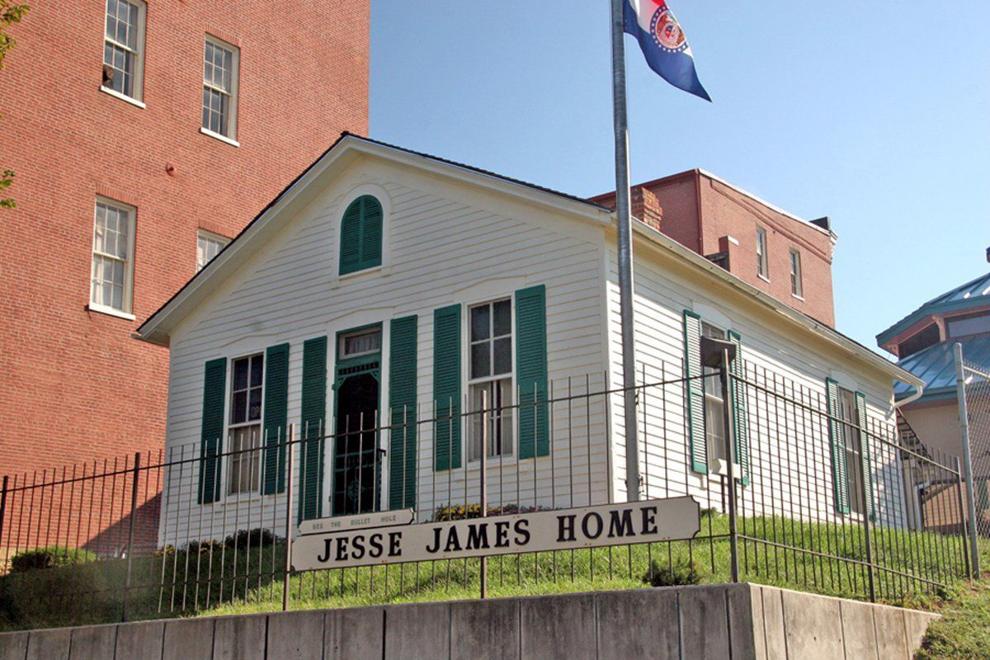 Head east on Route 36 and at Missouri Route 33 turn right for a 4-mile side trip to Shatto Milk Co. (shattomilk.com). On the day we visited, owner Leroy Shatto was just wrapping up a tour of the dairy he'd led for 80 visitors; tours are Tuesday through Saturday at 10:30 a.m.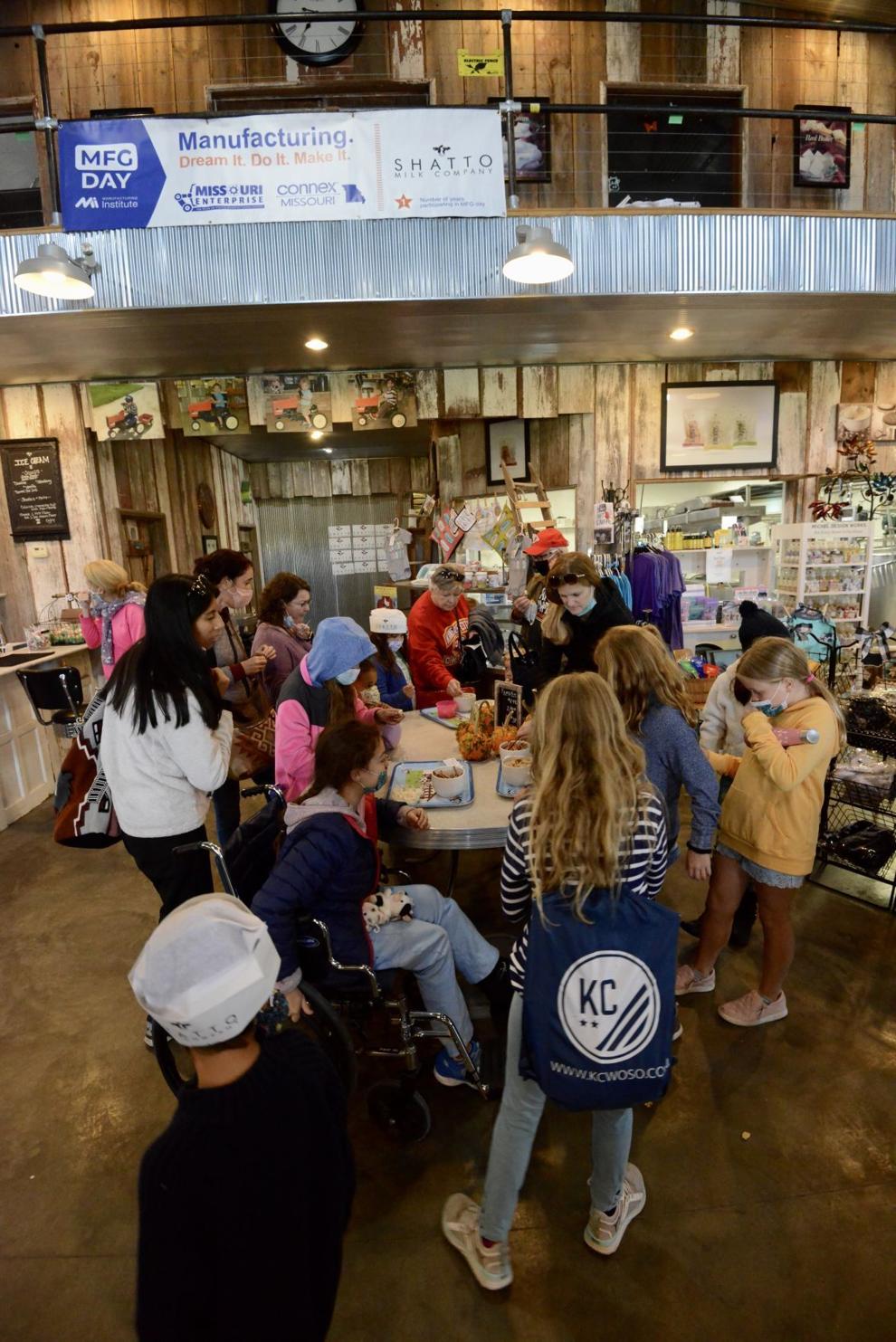 Shatto came to work at the farm 48 years ago, he says, and after marrying the boss's daughter, Barb, he "bought the cows." The Shattos began bottling milk about 20 years ago — they currently have 300 cows that produce 2,200 gallons of milk a day — and have won numerous awards at the annual World Dairy Expos in Wisconsin. Their products include flavored milks, cheese and cheese curds, butter and ice cream.
These products plus T-shirts and other gifts are available at the dairy's Country Store, where you can also sample the various milks and curds. Lucy, the Shattos' elegant collie, is on hand to greet visitors.
Return to Route 36 and turn left on Route 13 to Hamilton, home of James Cash Penney. A life-size wax statue of him stands at the counter of the J.C. Penney Museum and Library, so startlingly realistic you expect him to speak. Hundreds of photos and artifacts chronicle the story of the retailer, who in 1902 founded the JCPenney chain of stores. His four-room boyhood home is nearby (cityofhamiltonmo.com).
Hamilton, aka Quilt Town, USA, is also home to the Missouri Quilt Museum and Missouri Star Quilt Co., with 12 themed fabric shops. Quilt shops in more than a dozen corridor towns participate in a Quilt Trail.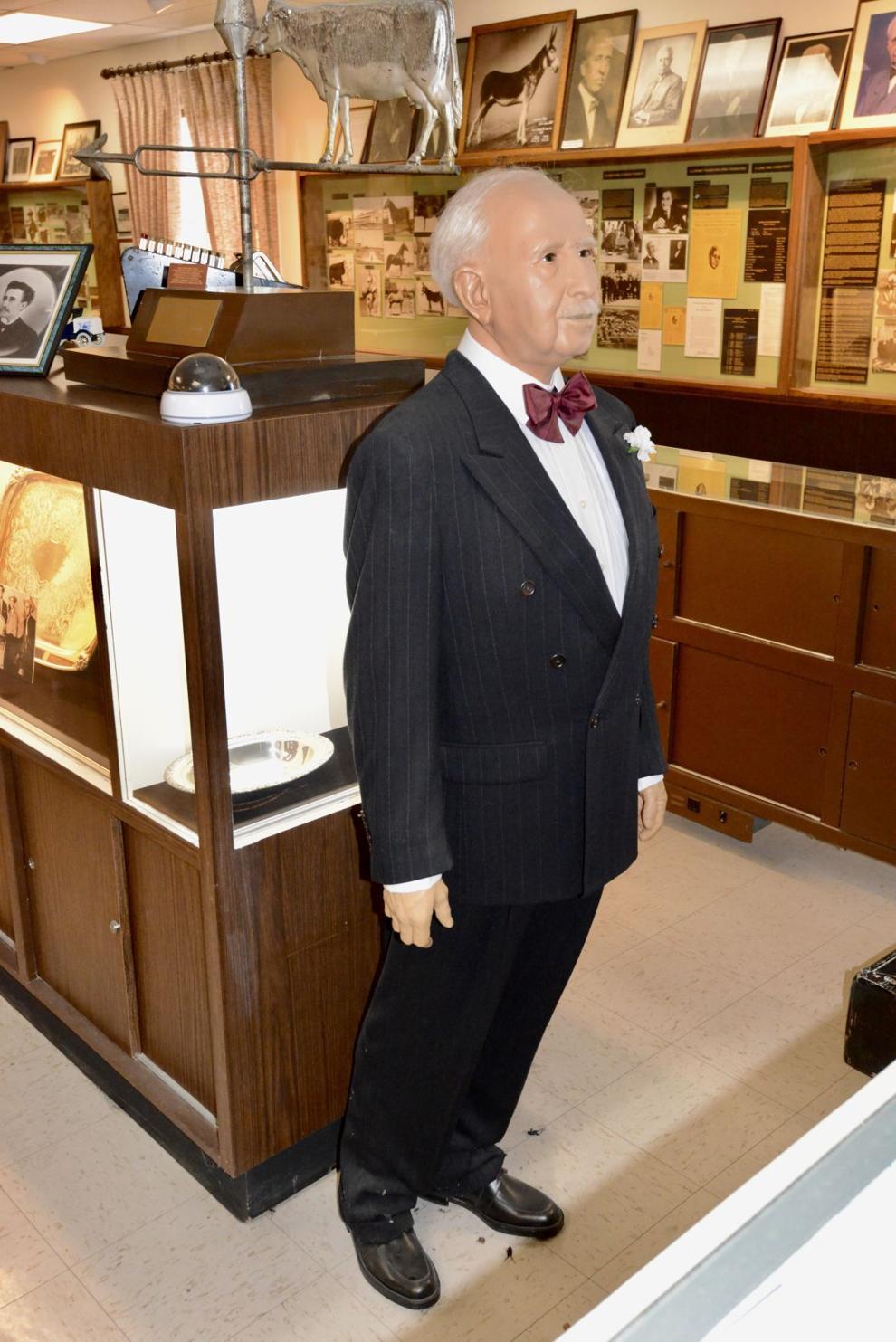 Continue east and turn left to Chillicothe, famous as the Home of Sliced Bread, and more recently for the 25 exquisite murals of important area sites by local artist Kelly Poling, that decorate the downtown brick buildings.
A plaque at the sliced bread mural (Washington Street) explains that Chillicothe's "slice of history" arrived in 1928, when local inventor Otto Rohwedder and baker Frank Bench produced the first automatically sliced loaf. An original Rohwedder Bread Slicing machine on loan from the Smithsonian is on display at the Grand River Museum in town (downtownchilli.com).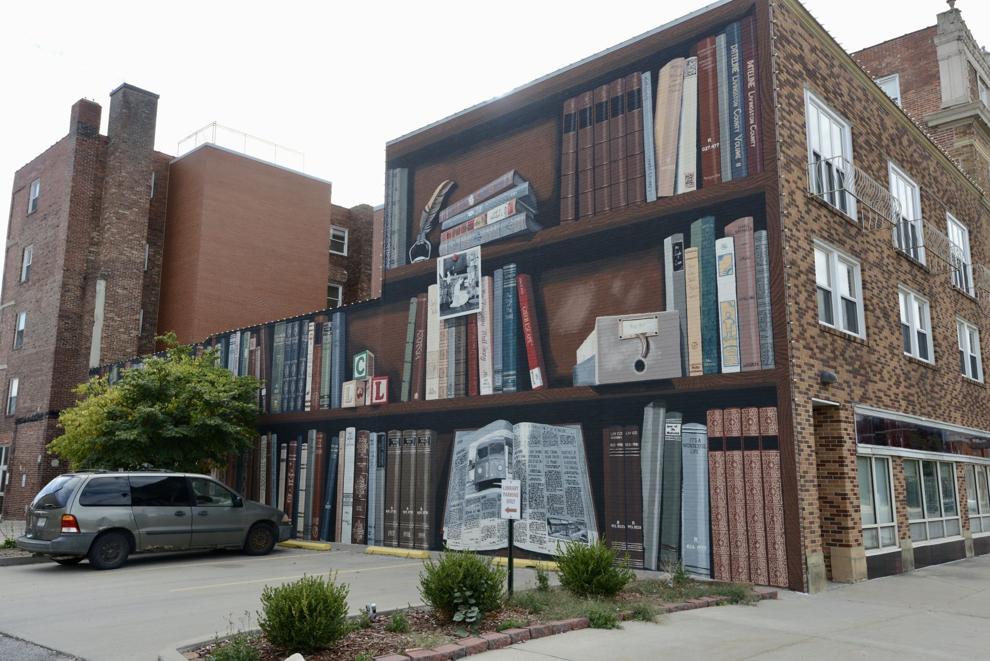 Twenty miles east of Chillicothe watch for a sign for Locust Creek Covered Bridge. Turn left on gravel Danube Road, then follow signs for 1 ½ miles to parking for the state historic site. It's an easy quarter-mile walk to the 151-foot-long bridge, which once carried "transcontinental" Highway 8. New in 1868, it's been a state park since 1967.
One of just four remaining covered bridges in Missouri (down from more than 30 decades ago), the bridge now spans grass. A sign explains that due to frequent flooding, the channel was straightened "sometime after 1945."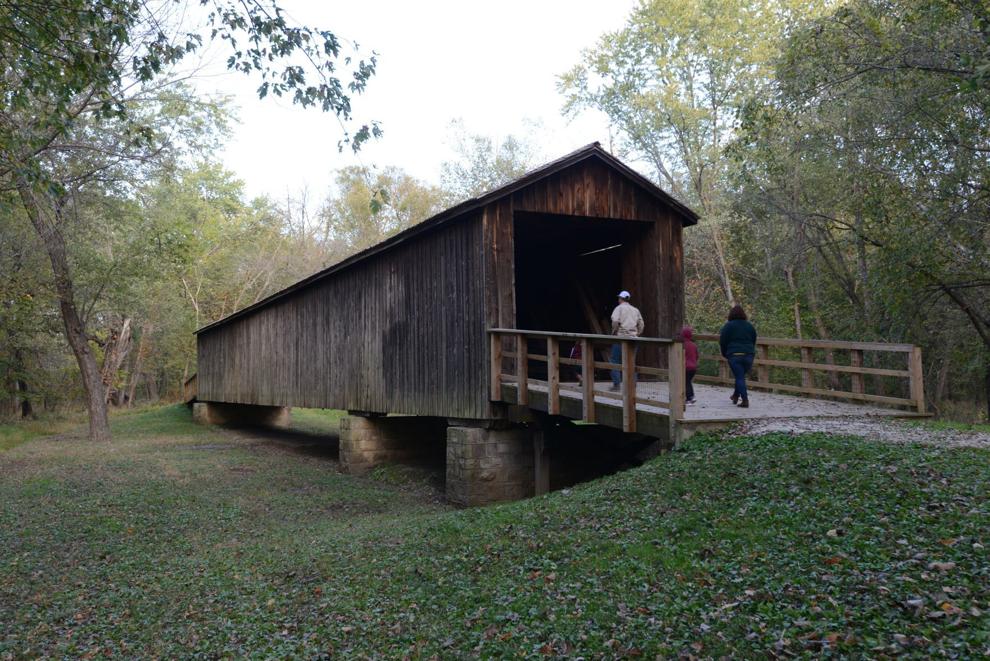 Across Route 36, a sign points to 10,795-acre Swan Lake National Wildlife Refuge about eight miles south. Established in 1937 near the confluence of the Grand and Missouri rivers, it's an excellent spot for bird-watching, especially waterfowl and shore birds. Some 241 species live here or migrate through.
Laclede, the boyhood home of Gen. John "Black Jack" Pershing, a state historic site, is just ahead at Route 36 (mostateparks.com/park/gen-john-j-pershing-boyhood-home-state-historic-site). The site interprets the life of the highest ranking U.S. general in World War I. Prairie Mound School, where Pershing taught before entering West Point, is here, as is a heroic-size bronze statue of the general.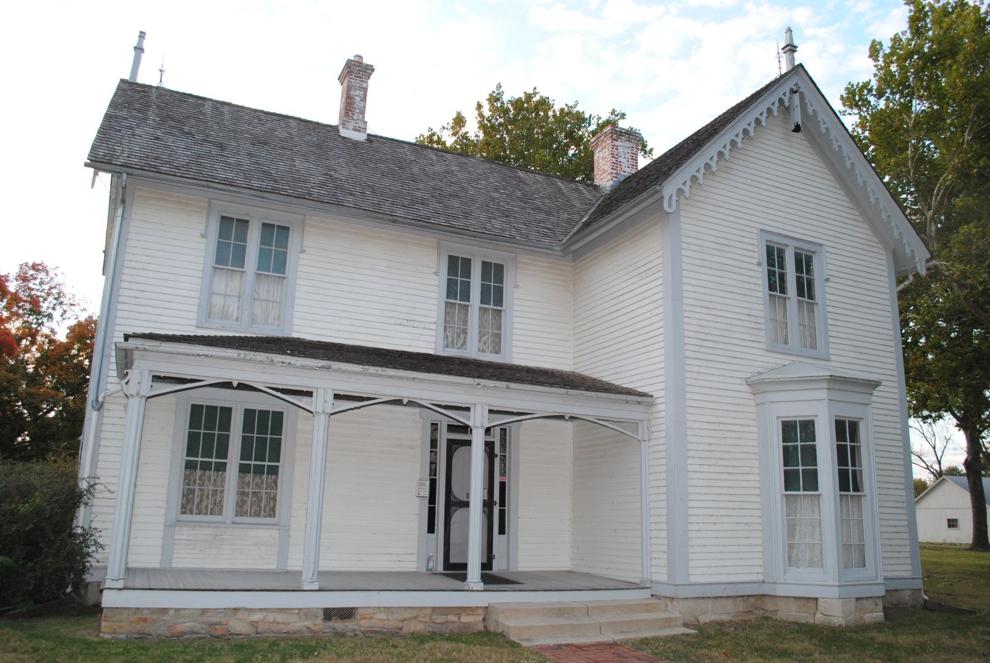 Marceline, "Where Walt Found the Magic," is just ahead at Missouri Highway 5. Driving into town is like entering a Walt Disney world. Disney-inspired attractions are everywhere: the old-fashioned Uptown Theater where in 1956 Disney held the Midwest premier of "The Great Locomotive Chase"; Walt Disney Post Office (a commemorative stamp was issued in 1968, two years after Disney's death); Walt Disney Hometown Museum in a cavernous restored 1913 Santa Fe Railroad Depot, where dozens of photos, artifacts, placards and the two-hour film "The Man Behind the Myth" tell his story.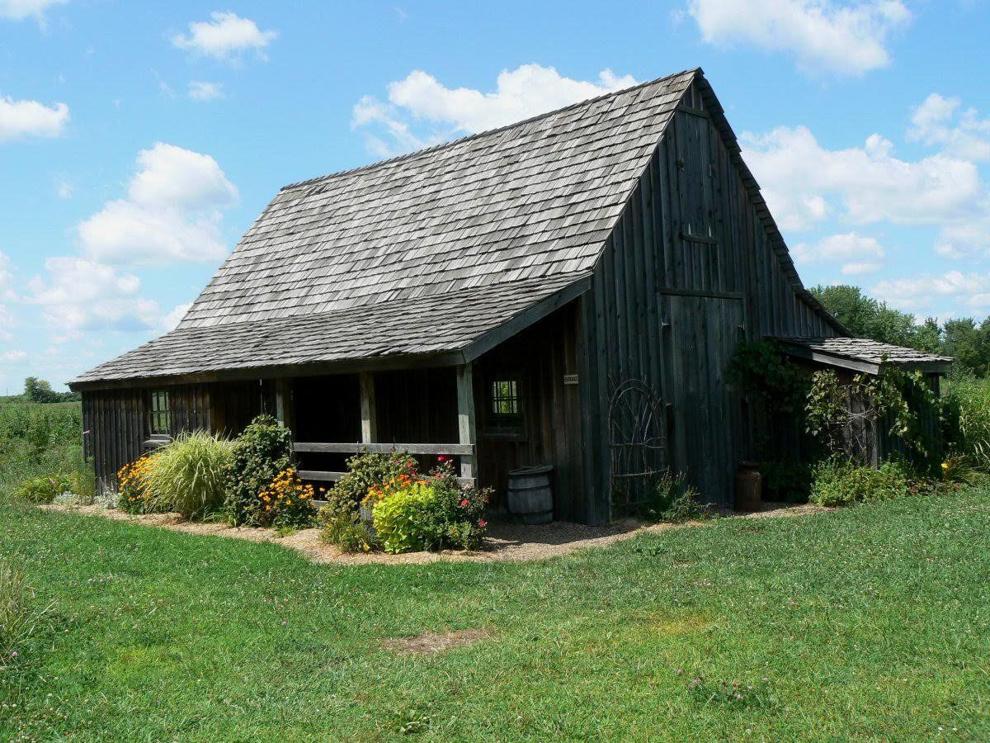 Elias and Flora Disney and their five children moved from Chicago to a 45-acre farm outside town in 1906, when Walt was 4. The family moved to Kansas City when he was 10, but the years at Marceline had a profound influence on his life and career. Under his "dreaming tree," an enormous cottonwood, Disney "learned to draw, write and dream." The tree fell in 2015, but its "son," planted as a sapling grown from a dreaming tree seed, stands nearby.
On the walls of the barn, a replica of Disney's California studio, itself a replica of the Disneys' barn, visitors leave signatures, tributes and sketches (waltdisneymuseum.org). A placard outside reads: "To tell the truth, more things of importance happened to me in Marceline than ever happened since or are likely to in the future — Walt Disney."
Continue to Macon, home of Theodore Gary, first chairman of the Missouri State Highway Commission, who also held a patent on a dial telephone. In 1905 he paid to have one placed in every Macon residence for a year. After that, the phones could be rented for $1 a year. The project was a success — most families kept the phones.
A half-hour side trip up U.S. Highway 63 leads to Kirksville, home of Andrew Taylor Still and the Museum of Osteopathic Medicine (atsu.edu/museum-of-osteopathic-medicine/). There you learn about the physician, surgeon and author, and his "revolutionary" philosophy. Developed in 1874, it emphasizes treating illness in the context of the entire body.
Back on Highway 36 continue to Hannibal, birthplace of William Lear, creator of the Lear F-5 Autopilot, which enables pilots to land in zero visibility. The "Unsinkable" Molly Brown grew up in Hannibal, as, of course, did Samuel Clemens, aka Mark Twain. Attractions include the Mark Twain Boyhood Home and Museum, Mark Twain Cave and many others (visithannibal.com).
From Hannibal Highway 36 crosses the Mississippi and continues through Illinois. But for us it was the end of the line, the last stop on the "Way of American Genius."
More info • MOHwy36.com. For a print copy write Missouri Highway 36 Heritage Alliance, P.O. Box 445, St. Joseph, Mo. 64502.