COLUMBUS, OHIO — One man, wearing a navy polo shirt emblazoned with the name of Seneca County Veterans Council, held his hand over his heart as he stood in front of a tattered American flag.
A woman wiped tears from her eyes as she watched the video "Coming Home," which featured some soldiers who did not. She looked around and saw a couple of other people, also wiping tears.
A toddler asked a grandpa, "Was this your war?" He smiled slightly and looked away as a woman scooped up the child.
Emotions — good and bad — but full and sometimes all-consuming were as much a part of the new National Veterans Memorial and Museum as the award-winning architecture and first-class exhibits.
"This is not a collection museum," said Shelly Hoffman, associate director of external affairs for the museum. "This is a storytelling museum."
The museum opened about a year ago in an effort spearheaded by former astronaut and U.S. Sen. John Glenn, who was a Marine fighter pilot during World War II and the Korean War.
"He used to live across the way," Hoffman said pointing across the street from the museum and beyond the Center of Science and Industry, which sits along the Scioto River in a burgeoning area of the city.
As she tells it, Glenn would look at the spot where the museum now sits. It was then the older Franklin County Veterans Memorial auditorium. He declared that veterans needed something better. So Glenn (who died in 2016 at age 95) began a discussion several years before with area veterans who told him they did not consider themselves Ohio veterans but U.S. veterans. That evolved into a larger discussion as they learned there was no national veterans museum. Yes, there were conflict-specific museums and branch-specific museums, but no national veterans museum.
Next, they began to seek funding.
They got private funding, $82 million from individual members and corporate sponsors, (including land from the county and capital funding from the state). They sought designers and artists who would create a masterpiece in the middle of Columbus, in the middle of the country, so as many as possible of the 20 million living U.S. veterans would be able to visit.
Brad Cloepfil's Allied Works won the competition to design the museum. He designed the Contemporary Art Museum St. Louis. As he describes the veterans building in literature, it's an "act of structure, where a series of concentric arches rise from the earth to hold the sanctuary above. These bands of interwoven concrete hold and protect the museum and its occupants within, creating a journey of exhibitions that illuminate ideas of service, duty and remembrance." Architectural Digest named it one of the best designed buildings of 2018.
Ralph Appelbaum Associates created the exhibits; the firm also designed the exhibits at the United States Holocaust Memorial Museum and the Newseum.
The veterans museum itself is 53,000 square feet. Outside is a 2.5 acre memorial garden.
You spot the white, circular, almost spiraling building from several blocks away. It's made of reinforced concrete with no interior support beams. "It's made to look like it's rising from the earth and taking you on a circular journey, of a veteran's path," Hoffman says.
As you walk in the doors, the words "Honor, connect, inspire and educate" greet you above the welcome desk. To the right, begin the journey — the story of a veteran's path through service, through history. Ahead, a giant cube screen has quotes from some of the 25 veterans whose stories are woven throughout the exhibit as well as some famous Americans. It also overlooks a hall for changing exhibits below. That's also where you'll find the accessible entrance. In fact, with wide, open hallways, the entire museum is very accessible. "That was very important to us," Hoffman says.
To the left, the Veterans Portrait Project takes your breath away. Giant photos hang from rafters, portraits by Stacy Pearsall of men and women as they entered various branches of service. Take a few steps and look at the other side, and the same veterans are shown as they look today.
As you follow the main path of the museum, try to get in on a tour. They are scheduled at 11 a.m. and 1 p.m., but if there are enough big groups and enough volunteers, tours can happen almost any time. The museum follows a historical journey of American vets. You'll see the story of a few over the course of your walk thorough it.
These aren't necessarily the big generals but sometimes regular people, from the Revolutionary War until now.
In one exhibit, open a crate to see old photographs and hear stories with audio of veterans from different points in time.
"We tell a story here that is sometimes subtle," Hoffman says. In one exhibit, a photograph shows a segregated Army. It morphs into a current photo of the Army, very much integrated. "It's a social history of our country," she says.
"This museum is meant to spur discussion, to spur questions. It's about coming home, the transitions." It's why the museum also hosts job fairs and other outreach programs.
There's a dress-up station for kids, a few weapons on display and a cool interactive map that tells where U.S. military have been stationed over the years. A wall (much like the one at the Newseum in Washington) with 4-by-6-inch digital photographs that change to tell the story of the servicemen and women's lives.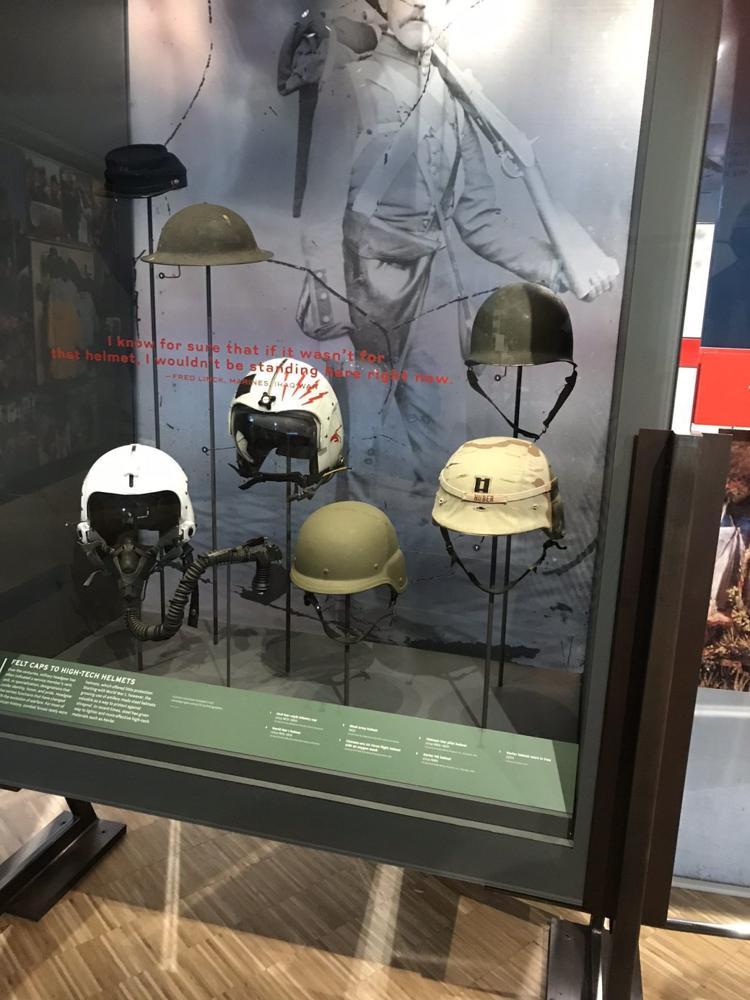 You can even enter your (or a loved one's) name, home and service corps to have his or her name appear on a star in the museum for a bit.
On the upper level, you'll find a sanctuary for reflection as well as a remembrance gallery with the infinity flag flown over the tomb of the unknown soldier and stained glass installation inspired by military campaign ribbons. "Taps" plays every 15 minutes.
Walk out the doors on that level and you'll find an amphitheater event space. It's up high, on the roof, with great views of the city, river and Memorial Grove below, but you are surrounded by a prairie. Remember, the architects wanted it to look like it was rising from the ground, so at certain points, the ground was raised up to meet it.
Look out at the Memorial Grove, "for people to take a few moments and reflect," says Hoffman of the green space created by OLIN landscaping with benches and a 350-foot locally sourced limestone wall that creates a beautiful waterfall.
One of its main features is a grove of elm trees. Elms have signified hallowed ground throughout military history.
Corwin Kuhn is a volunteer tour guide at the museum. "This place is an architectural marvel," he said.
"I get to meet the most incredible people from all over the world," he says. "This place means so much to so many people. It's a special place."
---
National Veterans Memorial and Museum
Where: 300 West Broad Street, Columbus, Ohio
Getting there: Columbus is a little more than 400 miles from St. Louis, about a 6-hour drive.
How much: The museum is free for veterans, Gold Star families and active-duty military. $17 for adults; $15 seniors; $12 college students; $10 youth; under 5 is free
Hours: 10 a.m. to 5 p.m Wednesday to Sunday (holiday hours may change)
GET OUT OF TOWN with our weekly newsletter full of tips, tales and reviews.