Over 43,000 pigs await discovery in Missouri.
"Pigs are really not my favorite farm animal," says Cindy Brenneke, 51, who owns thousands of manufactured porkers and 150 live pigs including Grunt, who weighs just under 1,000 pounds. Most are displayed at her Where Pigs Fly Farm and Pigs Aloft Museum in Linn, Mo., a small town not too far from Jefferson City.
How this collection began and continues to grow is an interesting tale with some unexpected twists.
Brenneke grew up on a farm in Taos, Mo., but she left at age 17 vowing to never return to farm life. "I'll move back when pigs fly," she often told her brother. So, in 2013 when she relented and purchased a farm outside of Linn to open a sanctuary for rescued animals, she named it the "Where Pigs Fly Farm."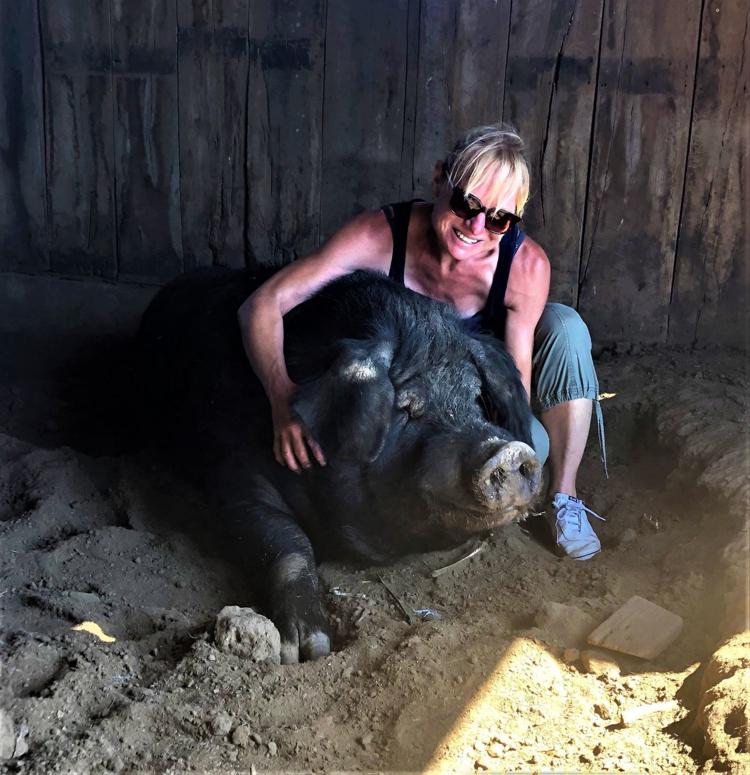 Then, in 2015 she received a call from the disc jockeys at radio station KEZ 99.1 in Phoenix, whose on-air tradition was to throw a dart at a map and call someone where the dart landed. When the dart plopped down on Linn, the jockeys were intrigued when their research found a listing for the Where Pigs Fly Farm, and they called Brenneke. Over the airwaves she explained to their listeners how her farm got its name, and that she was stepmother to a menagerie of rescued horses, donkeys, pigs, sheep, goats, fowl, llamas, emus, dogs and cats.
She also assured them that the Where Pigs Fly Farm name did not mean she was breeding supernatural pigs or joking about the "swine flu."
Soon Susi Honsa in Wisconsin received a call from her sister in Phoenix who had been listening to the radio station. Honsa's husband, Ross, had recently died leaving his collection of 7,000 pigs without a proper home. "I found where Ross' pigs need to go," Susi's sister told her, and they called Brenneke.
"When Susi called I thought 'this could be interesting,'" Brenneke recalls. "I remember thinking that the pigs might make a fun farm museum." Along with a friend she drove to Wisconsin and loaded the collection in a U-Haul trailer and brought it back to Missouri. Brenneke renovated a section of one of many barns on the farm, displayed the pigs, and opened the Pigs Aloft Museum. But that is not the end of the tale.
Word of Brenneke's good deed spread among the members of the Happy Pig Collectors Club in Macomb, Ill., which touts the motto "When I see a pig, I think of you."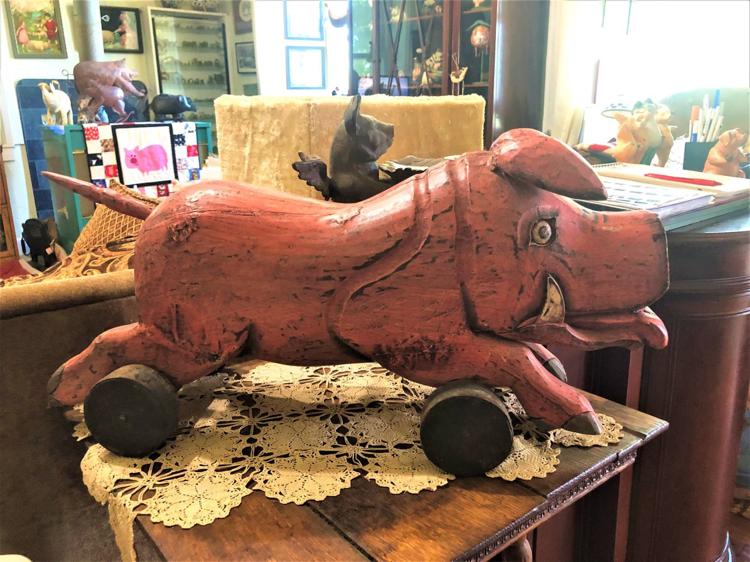 As club members and pig collectors across the country died, their relatives also began to contact Brenneke. "I think Ross is in heaven telling pig collectors who join him there just where their collections should go," she says, "but I will drive anywhere to get a collection of 1,000 pigs or more." So far, "pigcations" have included Louisiana, Texas, Indiana, Arizona, Kansas and Wisconsin.
"Now we have the largest collection in the United States, and second only to a museum in Germany that claims 50,000 pigs," Brenneke says. "The only other pig museum is in South Korea, which also has a display on how to make sausage, which seems odd."
Brenneke's pigs take up every inch of wall space in the 1882 stone farmhouse, where the porkers are categorized by type. The upstairs three bedrooms (which can be rented for $40 a night,) all contain thousands of piggy banks. The downstairs kitchen has salt shaker pig couples, tea kettle pigs, coffee mug pigs and, of course, plenty of pink pig cookie jars. The bathrooms have pig toothbrush holders, shower curtains and soap dishes.
"I used to live in the house, but the pigs shooed me out," Cindy says. "Now I live in a room in Oinkin' Hall, a barn behind the house."
Pig wall art (pigtures,) pig pillows, curtains, bedspreads, stuffed pig toys, books, games and signs are everywhere. A sheet hung in Oinkin' Hall serves as a screen for movies that feature swine. It is also where seven pig-themed Christmas trees are decorated with more than 1,000 different pig ornaments. Nearby is a section devoted to famous pigs like Miss Piggy, Porky Pig and the Three Little Pigs.
"Out of all the pigs in our museum collection, we have only received about 1,000 duplicates," Cindy says. But she has more donated pigs than display space, so thousands are in "pigatory" in the milk barn. She is working to transfer more barn space into display to be able to showcase more of the collection.
The mission of the original farm to be an animal sanctuary continues, and currently Brenneke is caring for nearly 500 rescued animals. "We probably have the largest petting zoo in Missouri," she says with a laugh and an ever-present smile.
All the animals mingle nicely in the barnyard, and as testimony to the kind treatment they receive, they are extraordinarily friendly and gentle toward humans. If you feed a cracker to Pee Wee the blind horse, you might turn around to find yourself the object of affection of Garfunkel the alpaca. Feed crackers to Leroy the camel, and there is likely a pig standing underneath him contentedly grunting in camel shade.
"We've had families and people visit from all over the world," Brenneke says. "A lot more people Google 'pigs' than you would think, and they end up here."
---
IF YOU GO
Where • 2810 Highway 50 East, Linn, Mo.
Hours • 9 a.m. to 6 p.m. Friday, Saturday and Sunday; other days by appointment
How much • Adults $5, kids 2 to 12 $3. Bedrooms inside the museum rent for $40 a night.
Family Fall Festival • The farm will host a fall festival from 10 a.m .to 4 p.m. Sept. 28. Admission, hot dogs and chili, lemonade and popcorn will be free but donations are encouraged. Activities will include free face painting, games and craft activities, hayrides, pony rides, chicken poop bingo, craft and food vendors and more.
---
Gettysburg museum is dedicated to all things elephant
Another museum with an unusual animal theme is Mr. Ed's Elephant Museum in Gettysburg, Pa. The museum opened in 1975, but the collection started when Ed Gotwalt was given a small statue of an elephant as a good luck charm before leaving on his honeymoon in 1967. By the time he returned he had purchased two more elephants, and his collection of pachyderms had started.
Today the herd has increased to 12,000 statues, toys and other elephantabilia on display, such as the "elepotty," a potty seat for children, and a collection of cutlery with an elephant design once owned by Lana Turner.
There are also more than 25,000 elephants in the (storage) room. "At least once a week we receive one or more donated elephants," says owner Isaac Bucher. He purchased the museum from Gotwait five years ago with his wife, Nicole, who is Gotwait's granddaughter. "Sometimes we have been bequeathed a collection from an estate we knew nothing about until the elephants arrive."
That is one reason the museum is "now and forever free." "It does not feel right to charge when so many people have donated so much," Bucher says, noting that 125,000 people a year visit.
Five life-size elephants include Miss Elle who guards the entrance and is the delight of schoolchildren. Through her trunk Miss Elle discusses the squirrels who sit on her head, the "trunk waves" she receives from other elephants passing by in circus trucks, and how she loves the smell of fresh peanuts.
Sales from the Candy Emporium inside the museum provide operating revenue. More than 700 varieties of old fashioned "penny" candy are sold, candies that have disappeared from most store shelves long ago such as SenSens, wax bottles and root beer barrels.
There are also 70 flavors of homemade fudge for sale, including bananas foster and chocolate walnut.
The emporium also sells nine varieties of ... wait for it .... peanuts. Roasted on site in a 1903 antique roaster in the Peanut Roastery outside the museum, varieties include butter-toasted peanuts, as well as butter-roasted almonds, cashews and pecans.
Where • 6019 Chambersburg Road, Orrtanna, Pa.
Hours • Open 9 a.m. to 8 p.m. every day