The Last Hotel and I are neighbors. And like any nosy neighbor, I had been dying to get a look inside to see what the new owner — Tim Dixon of Fe Equus Development — had done with the place.
In short, it's very cool — the kind of place where you'd want to spend time when you're not sleeping, which cannot be said of all hotels. Locals will feel right at home there, too.
The 142-room hotel opened in June after a $54 million renovation that took about 18 months. The property is managed by Trust Hospitality.
Originally the headquarters for the International Shoe Co. and most recently home to a charter school, the 10-story building was designed by Union Station architect Theodore C. Link and constructed in 1909.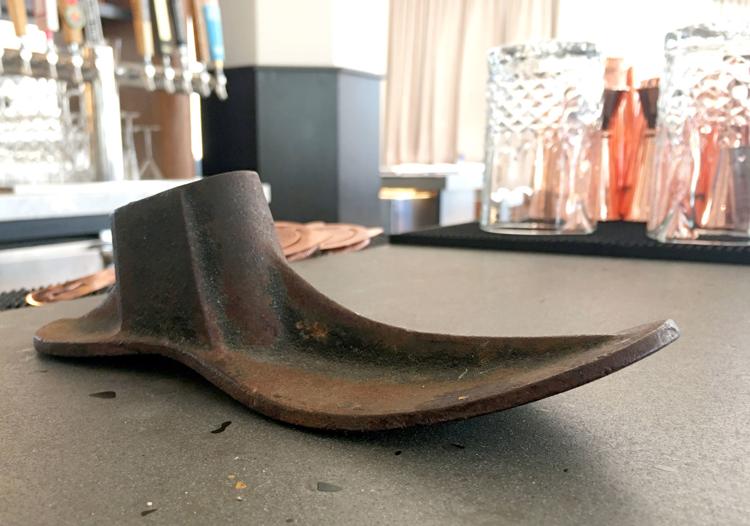 The Last Hotel draws inspiration from the building's roots. A "last" is a shoemaker's metal, foot-shaped tool; you'll see a few on display. At the bar, leather "heel" coasters are placed under drinks. And the hotel's logo includes a line drawing of a shoemaker, adapted from original details on the building's exterior.
All staff members we encountered — bellhops, managers, bartenders, servers, housekeepers — were friendly and attentive.
Public spaces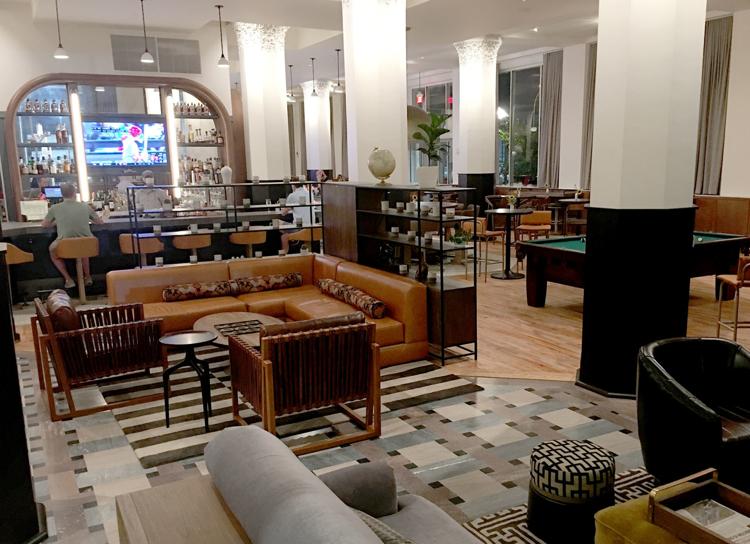 In the lobby, contemporary artwork, bold patterns and rich textures blend seamlessly with original Corinthian columns and well-worn hardwood, marble and terrazzo floors. Get comfy and sip a cocktail on one of the leather sofas, or assemble your group in one of several intimate seating areas or at the vintage pool table. A row of shoe-shine chairs sits in a nook between the bar and restaurant.
On the rooftop, where you needn't be a hotel guest, but you do need to be 21 or older, a 12-by-60-foot pool (heated to 77 degrees) is flanked by lounge chairs and tables. An adjacent, enclosed bar provides cocktail service and selections from an abbreviated food menu. The roof is open year-round.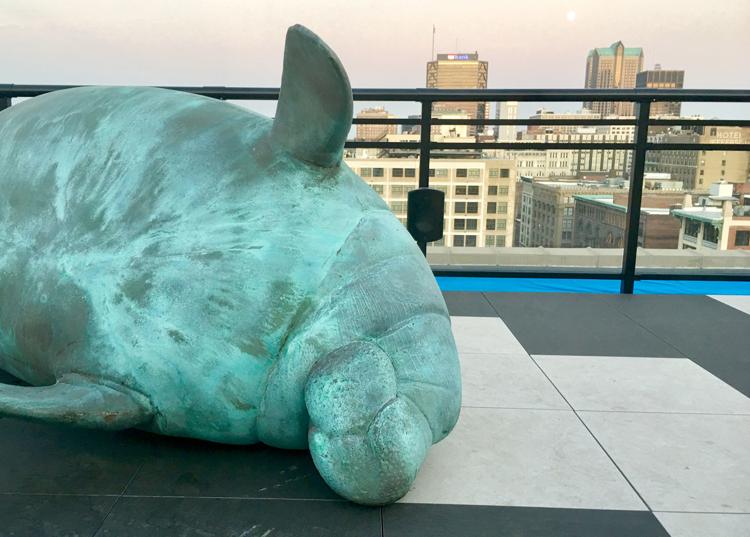 While you're taking in the view, be sure to snap selfies with the resident hippo (which previously peered over the roof's edge) and manatee (which once hung in the lobby). In the space between the deck and rooftop edge, you'll notice a bright-blue reservoir; that's a "blue roof," designed to minimize stormwater runoff.
A large fitness center on the eighth floor is equipped with weights, treadmills, elliptical machines and high-tech Peloton stationary bikes.
Guest rooms
Our junior suite at the Last Hotel was overwhelming — in the best way. Its juxtaposition of raw textures (concrete, brick, peeling paint) with posh textiles and finishes (leather, velour, wood) creates a warm, luxurious environment.
All the comforts of home are there: a big-screen TV with plenty of channels and casting capabilities, a bedside Bluetooth stereo, a seating area with books and magazines, a desk with plenty of USB charging ports and floor-to-ceiling windows with views of Washington Avenue.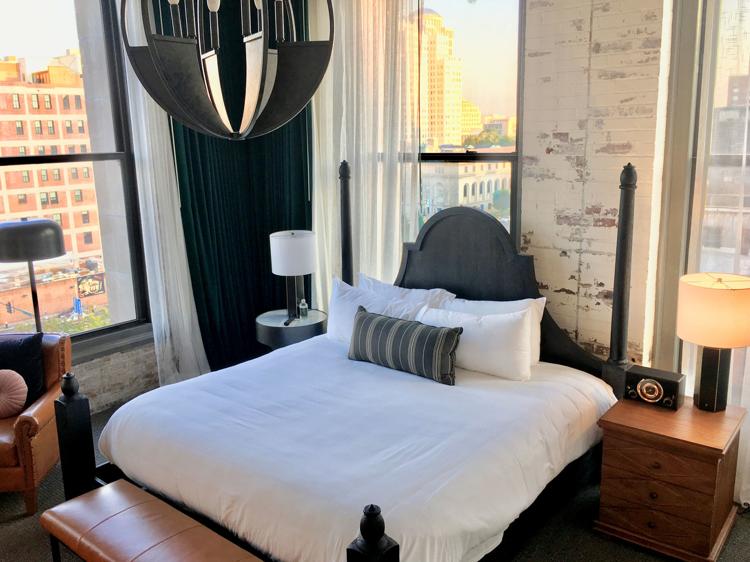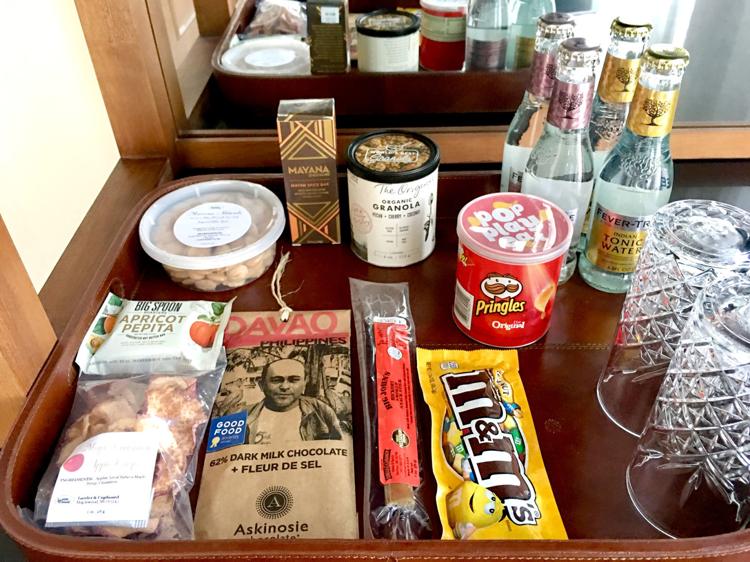 There's also a well-stocked minibar filled with things you can buy, such as an exclusive Still 630 Two-Step Gin ($34), wine ($25), soda and tonic ($3), and some locally made snacks. The tiny fridge was so well stocked with items for sale that it took some maneuvering to wedge our dinner leftovers in there.
A bar shaker, jigger and other drink-making accouterments were also there, available for purchase. A bottle of water was complimentary.
The king-size bed's pillowtop Serta mattress, comforter and pillows were fluffy and relaxing, providing a restful night's sleep.
Bathroom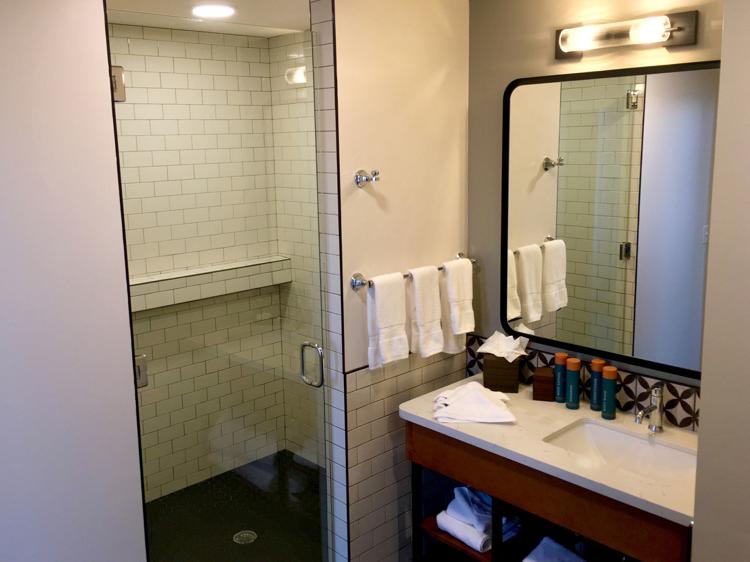 The spacious bathroom has all the basics, including full-size bottles of body wash, shampoo, conditioner and lotion. They're free to use and can be taken home for $20 each. But the highlight is a roomy shower featuring white subway tile. Comfy terry-cloth robes await in the closet.
Less elegant, though, was the toilet paper. While folded to a crisp point, it was not particularly soft. (But above the toilet, a big, framed photo of a pair of stockinged legs made me laugh.)
Restaurant/bar
Sometimes, as a restaurant critic, I am a befuddled every-diner, wondering why anyone lacking an expense account and the abdominal constitutio…
The dinner menu includes "chef's plates" — a roasted half-chicken, a 14-ounce sirloin, salmon or a duck breast — along with soups, salads and starters.
From the bar menu, we enjoyed a Power Bowl with farro, quinoa, zucchini, corn, giardiniera, goat cheese, sweet corn dressing and chicken ($20; $13 without chicken) and a Fire Grilled Chicken sandwich topped with honey mustard and Provel and served with fries ($12).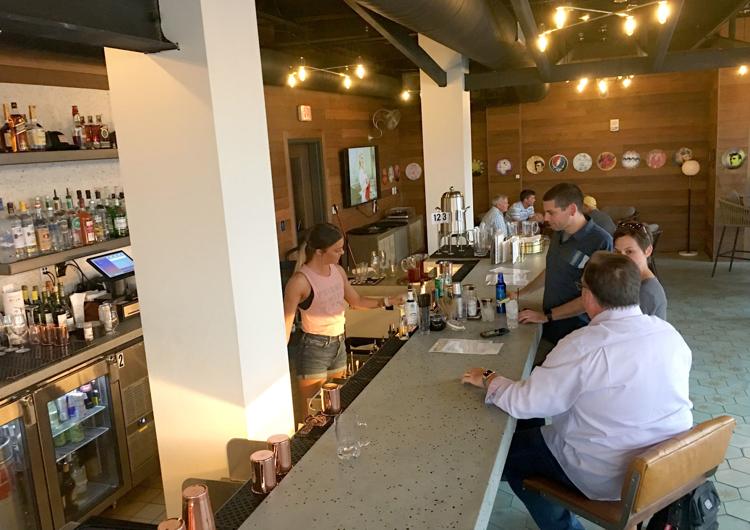 Frozen cocktails such as Frosé (served with a biodegradable agave drinking straw) are among the rooftop drink offerings. In the lobby, the bartenders serve up well-made classic cocktails (I recommend the whiskey-based, beautifully garnished Weatherbird) as well as wine and beer.
Location
The Last Hotel is in downtown west, just off the beaten path of downtown's main attractions. But there's plenty to see and do nearby — just venture outside and take a walk. City Museum is right behind the hotel, and bustling Washington Avenue is lined with restaurants and bars, most to the east. The new Fields Foods supermarket is just two blocks west, and new attractions at Union Station are a short walk southwest.
Complaints?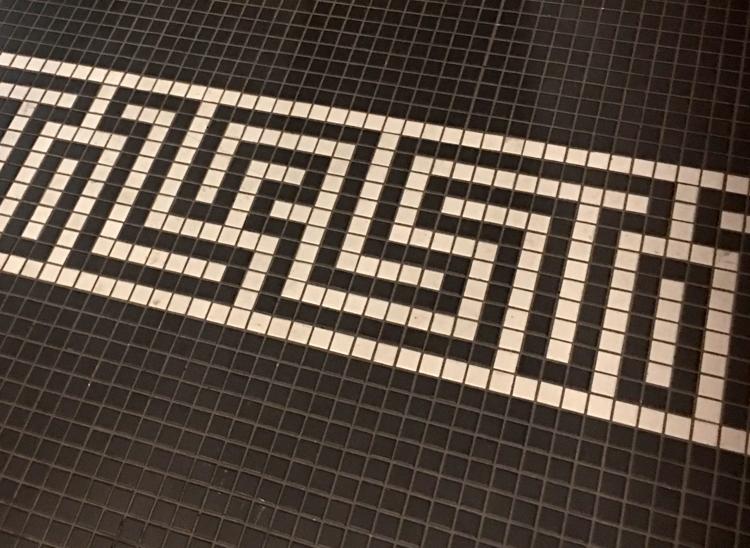 On the bottom shelf of the minibar, there's a hotel-standard single-cup coffee maker. I only realized it wasn't actually plugged in when, after several minutes, it failed to produce coffee.
And our room didn't include a "do not disturb" sign; thankfully, there was no early wake-up call from the housekeeping staff.
Where The Last Hotel, 1501 Washington Avenue • How much Rooms start at $159 per night • More info 314-390-2500; thelasthotelstl.com