It's the type of streamlined practicality that could make you cry.
 Teardrop trailers, which got their start in the 1930s when do-it-yourself magazines published floor plans and then peaked in popularity among post World War II families, are making a comeback.
Young families looking for a practical, fun way to travel like them. Singles traveling alone who need something to easily maneuver like them, too. And older couples or families weary of navigating a behemoth family RV around the country's twists and curves like the idea of downsizing.
The National RV Dealers Association, which doesn't keep specific information on teardrops, says travel trailer shipments are up as a whole since 2009.
"It's just a simple lifestyle," said Dana Parsons, owner of Missouri Teardrop Trailers in Centerview, Mo., about 50 miles southeast of Kansas City. Parsons ditched his plumbing career 12 years ago after he saw teardrops for sale on eBay, went to a trade show in Cleveland to buy one and ended up coming home with six.
WHAT ARE THEY?
He liked the teardrops because loved to camp, something he doesn't have much time for nowadays since he sells and rents them. "I kinda like the theory that it beats a tent, and it's still an outdoorsy-type camping experience. It's a comfortable place to sleep, and it's more like real camping than the big trailers."
He said retail value is excellent, and interest in buying used ones is high. "People who have teardrops usually have a list in their pocket of offers to buy them," he said. "You don't want anything to do with these unless you like meeting and talking to people. It's every gasoline stop, to tell you the truth. They're a lot of fun."
You can buy a used trailer for a few thousand dollars, or splurge for something new and bigger, which includes an indoor shower and toilet, for about $22,000.
There are several manufacturers of teardrop trailers, and some models have a throwback vibe that appeals to the young and old. Smaller models, like the MyPod, are a simple cabin for sleeping and storage. Other models, like versions of the Tab, have beds that become benches, tiny indoor dining tables, a shower/toilet stall, and indoor kitchen. Used teardrops can be cheaper, as well as new, bigger trailers, but those trailers may have wood-frame construction instead of aluminum, which can be easier to maintain.
Most models in between have an outside kitchen that you access by opening a back hatch. The hatch door serves as an awning, and you can spread your prep, cooking and eating area outside.
Most newer models have televisions inside, and some have them outside over the kitchenette.
"This is a great tailgating trailer as well," says Jesse Martin, a sales representative for Middleton's RV in Festus, as he walked around a Tab, one of the dealer's bigger teardrop trailer models. This particular one sells for $22,500. "You can take it to the game, you have a bathroom for the ladies, you have the TV outside," he said.
Tim Middleton, owner of the dealership, said that 10 years ago, people seemed to have more disposable income. Customers might come in and buy a larger trailer or fifth wheel and then buy a larger truck or SUV to pull it.
Now, they're looking for something smaller that they can pull with the vehicles they already have. Some teardrops can be pulled with a motorcycle.
"I've seen more people downsize in the past year than I've seen in my life," he said. "Now we see people going back to basics, from big to small."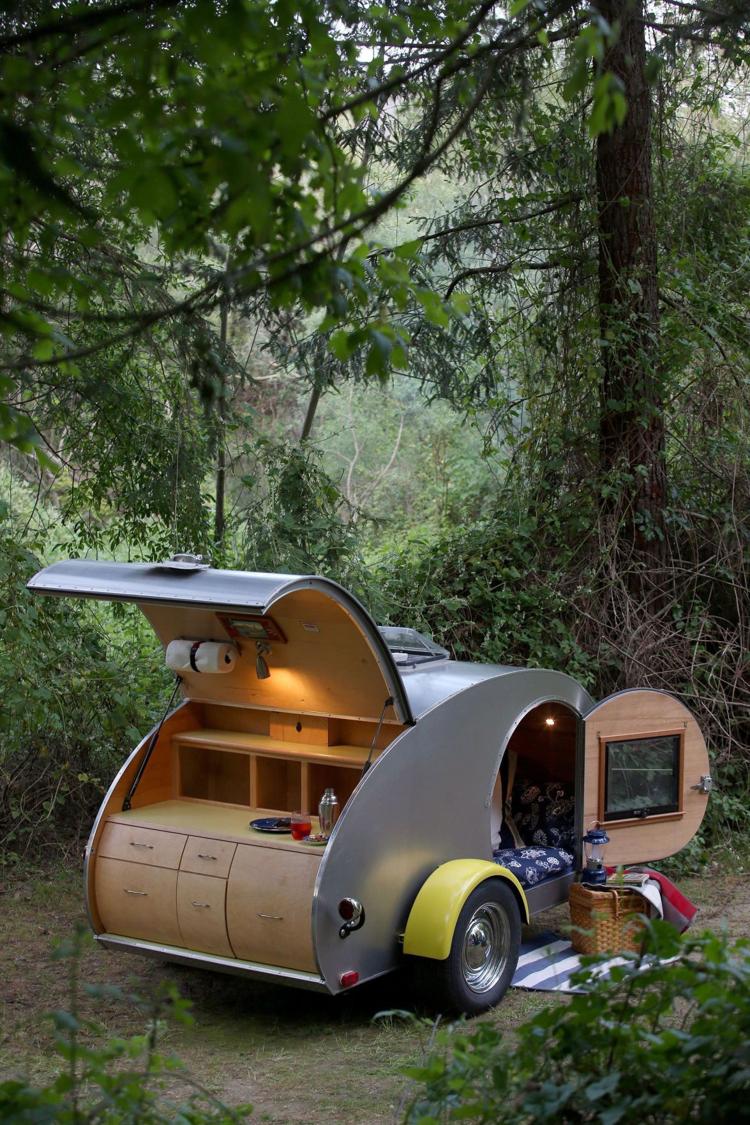 The outdoor women's social group Sisters on the Fly maintains an online trailer gallery and a buy and sell trailer page. Some of the trailers are vintage, rehabbed and decorated with kitschy themes and colors. Most have names like "The Flamingo Hilton" and "ChromeHome." Sisters on the Fly president founder Maurrie Sussman, of Phoenix, says that while teardrops aren't as popular with the group as smaller trailers are, she sees great vintage ones or homemade ones, and sees how newer teardrops with bathrooms would appeal to members.
Members love to decorate them, and Sussman compares it to the thrill of decorating a dollhouse as a kid. "Those are the memories a lot of girls have, about the dollhouses, or the playhouses they'd have, the forts they've had, where you can go and be, where it's your spot," she said. "You put the things in it that you love and make you happy. It's a thrill."
Kenny and Hope Lucas of Webster Groves bought a new Tab teardrop trailer last year because they enjoyed tent camping but liked the idea of something they could easily tow that had a bathroom and provided shelter from the rain. They can maneuver it easily, and it takes minutes to set up.
The couple keep the trailer in their driveway, and when company comes or their grandkids visit, they have extra room in the trailer. Sometimes, during nice evenings, they sit in the driveway, open the hatch and watch television.
Kenny Lucas loves the attention the teardrop gets. "It's funny, we've had it at campgrounds, truck stops, gas stations ... everywhere you go you get someone coming over and saying, what is that and how does it work? People come out of giant motor homes and they say, what is that?"
Since their model is a bit bigger and the Lucases are on the short side, it's comfortable for them and they can invite new friends to sit at the table to play cards, or sit outside and play music: she plays the fiddle, and he plays the guitar and mandolin.
"We have been all over," said Hope Lucas, ticking off a list of places they've been: Colorado, Ohio, Kansas, Wisconsin, a teardrop festival in Ohio, and, later this year, a trip to Yellowstone. "We absolutely love it."
GET OUT OF TOWN with our weekly newsletter full of tips, tales and reviews.