I used to say the best way to see a city was to stay downtown and go for a run. You get in a workout, and you are able to see what a city has to offer (always tell the concierge your route). I don't run as much as I used to, but on a stay in Des Moines recently I got caught up in a downtown 5K, which proved to be a perfect introduction to the Iowa state capital.
I began my fall morning setting out from the downtown Marriott, hoping to see the famed Pappajohn Sculpture Park. It was only about a half-mile away, so I decided to walk to it.
The free 4.4-acre park sits at what may be considered the entrance to downtown Des Moines. More than two dozen works of art grace the setting. Some, such as the giant torso of steel letters by Spanish artist Jaume Plensa, tower over the park; others, such as a white tree by Ugo Rondinone, offer a surprise around a hedge. The park opened in 2009 and features artwork by many of the world's most celebrated artists: Keith Haring and Richard Serra (of St. Louis' Serra Sculpture Park) among others. You can take guided tours to learn more or dial in for a free audio tour.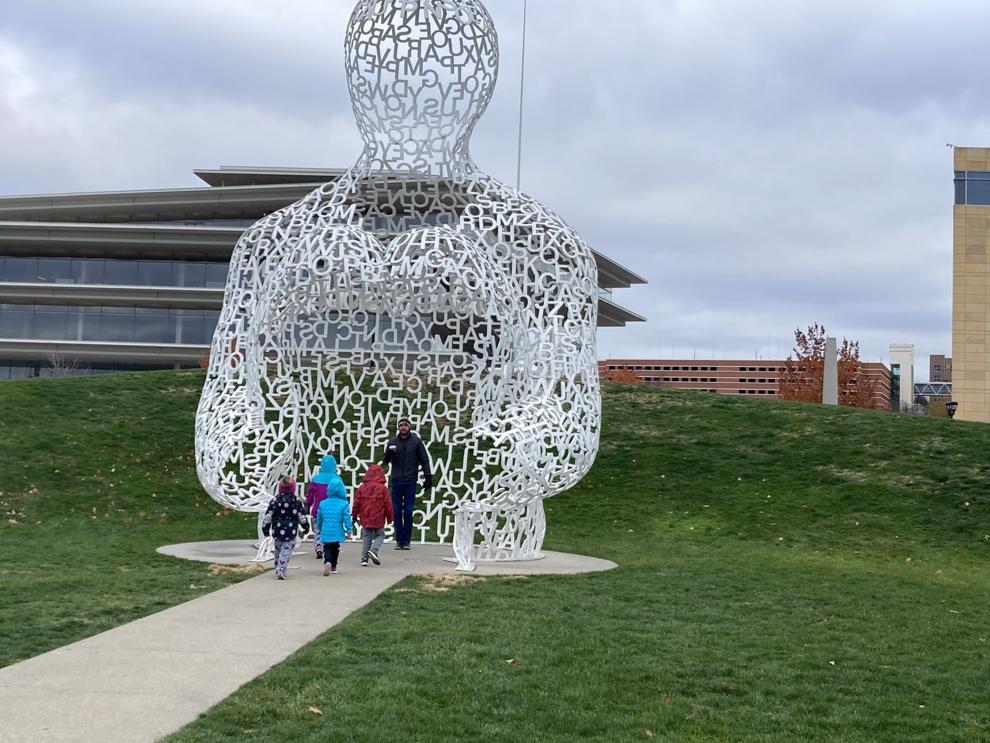 I roamed around the park for about an hour, appreciating pieces like a casting of Barry Flanagan's Thinker on a Rock, which has a twin on the Washington University campus. As I got to the far end of the park, I could hear a low, booming voice on a sound system, and as I crossed the street, I looked down to a herd of runners setting off from the start of a race. I quickly hopped to the sidewalk and followed their path down Locust Street. I later learned this was the Capital Pursuit 5K.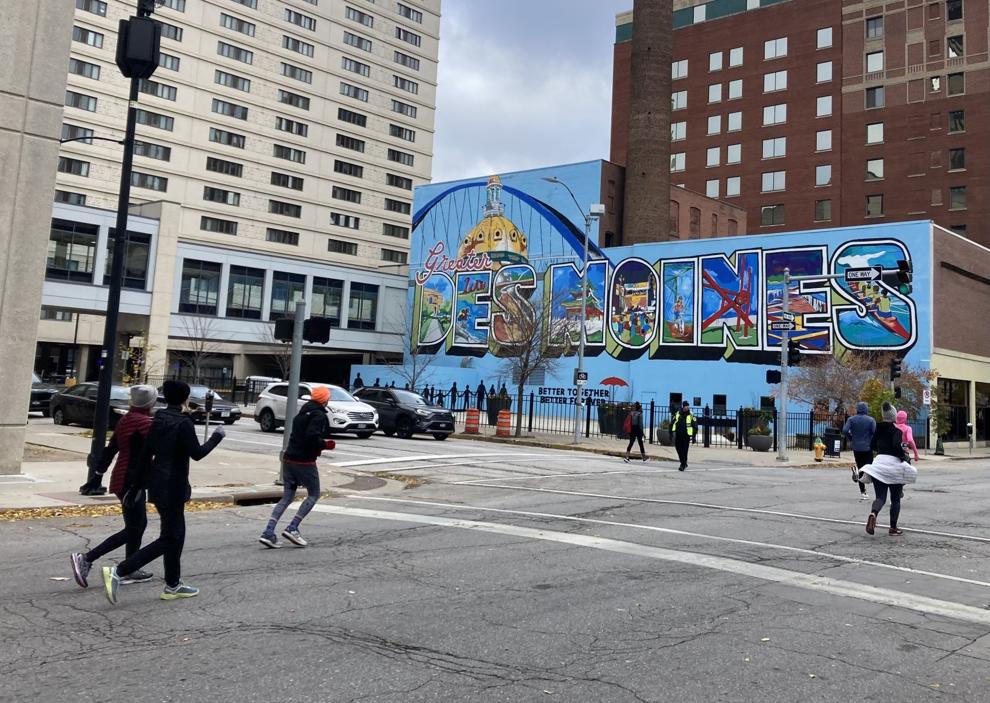 I traveled with the pack down Locust, with the huge state Capitol dome seeming closer than it was. I passed my hotel, more than a few murals, a sign behind bars advertising the Slaughterhouse Haunted Attraction (note to self: check this one out next Halloween) and by the time I passed Cowles Commons, the runners had passed me by and I was hanging with the walkers (them in the street, me on the sidewalk). I stopped for a minute to read about the park. The gathering space was designed in 2015 and contains a huge sculpture called Crusoe Umbrella by Claes Oldenburg and an LED light sculpture Swirl by Jim Campbell. In warmer months, a zero-depth fountain is the highlight.
Cowles Commons sits in front of the Des Moines Performing Arts building, where upcoming shows include the Tedeschi Trucks Band and Chelsea Handler.
At this point, the racers veered off, presumably to run along the riverfront. Des Moines is another city whose riverfront makes you wonder why St. Louis' riverfront is not more vibrant. With more artwork, well-groomed greenspaces and the Principal Riverwalk trail, the Des Moines River area is a great place to hang out on an afternoon.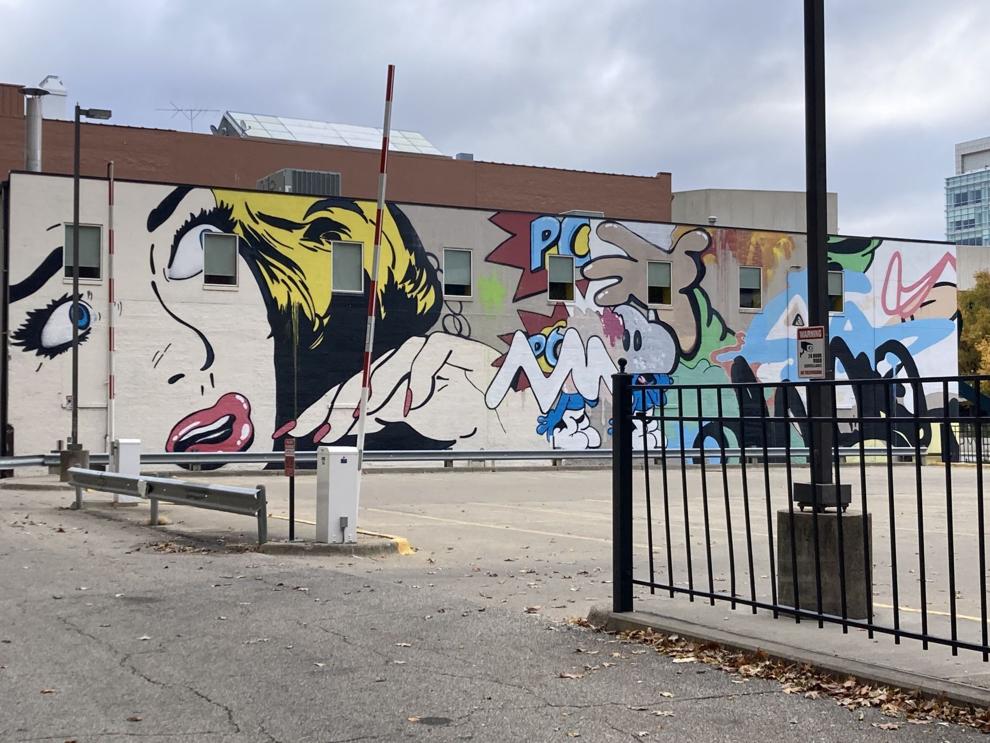 I headed back up Grand Avenue. I had seen the race's leaders going that direction. Along Grand, I spotted more murals and the famed Travelers sign. The red neon sign with the huge umbrella has been a local institution since 1963. It sits atop the 10-story Insurance Exchange Building.
The 5K ended back at the sculpture park, just past the block-long Central Library.
After my morning "race," I was ready to explore more of Des Moines. Here are some highlights.
Science Center of Iowa: In the heart of the city, within walking distance of downtown hotels and restaurants, is the science center. Filled with educational exhibits and interactive games, kids could conceivably spend a full day here. The Makers Studio (where you can create a stop animation movie or build things out of blocks), the When Things Get Moving room (where you can make a rocket or play with a wall of gears), and the Lego room Brick by Brick seemed to be the most popular on my visit. Included with an $11 admission is the 50-foot tall, 360-degree Planetarium. sciowa.org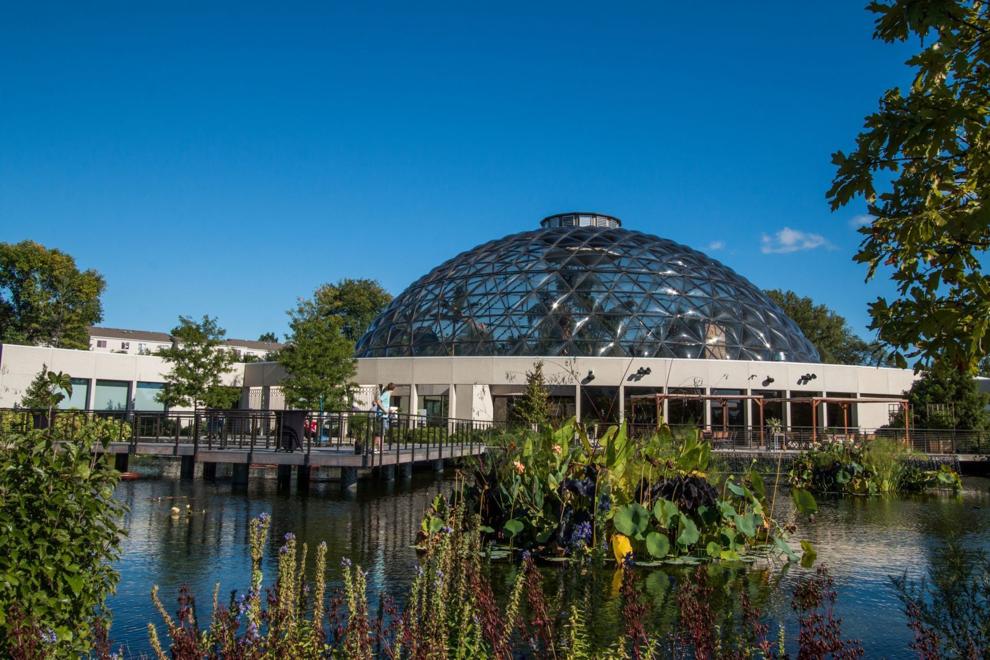 Des Moines Botanical Garden: The Des Moines Botanical Garden is a small slice of horticulture heaven in downtown. It's small compared to ours (14 acres vs. 79), but it packs a lot into that space, with sculptures amid the rose garden, savanna, water gardens and more. There are also a handful of indoor areas, including a geodesic dome. $10 dmbotanicalgarden.com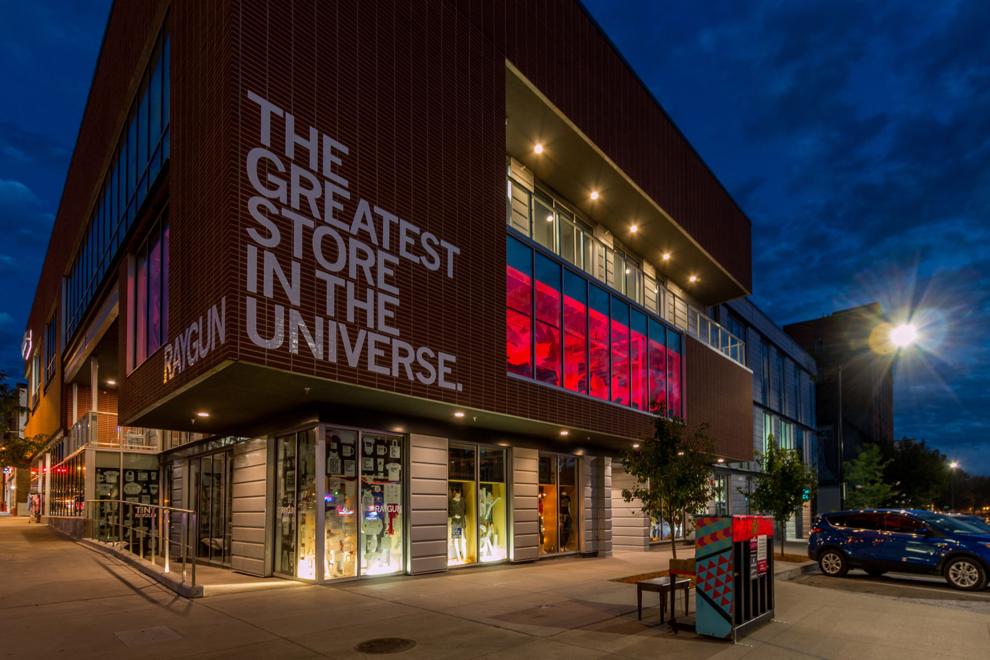 East Village neighborhood: Just across the river, you'll find the hip and trendy East Village neighborhood of Des Moines. Along the river are an ice rink and the Simon Estes Amphitheater, where musical artists perform in warmer months. The streets are filled with boutiques, none more cool or famous than Raygun, whose pithy T-shirt quotes have made it a phenomena. It bills itself as "the greatest store in the universe," and it may be. Nightclubs and trendy restaurants round out the area. Try brunch at the Breakfast Club. A great '80s soundtrack pulses as guests sip on bloody marys and mimosa flights while waiting for their meals in the decidedly too-cool-for-the-actual-'80s kitschy diner with sass. I'm pretty sure I had the best breakfast of my life here: the Notorious B&G: a cheddar jalapeno biscuit, the most unusual gravy, a fried egg and bacon.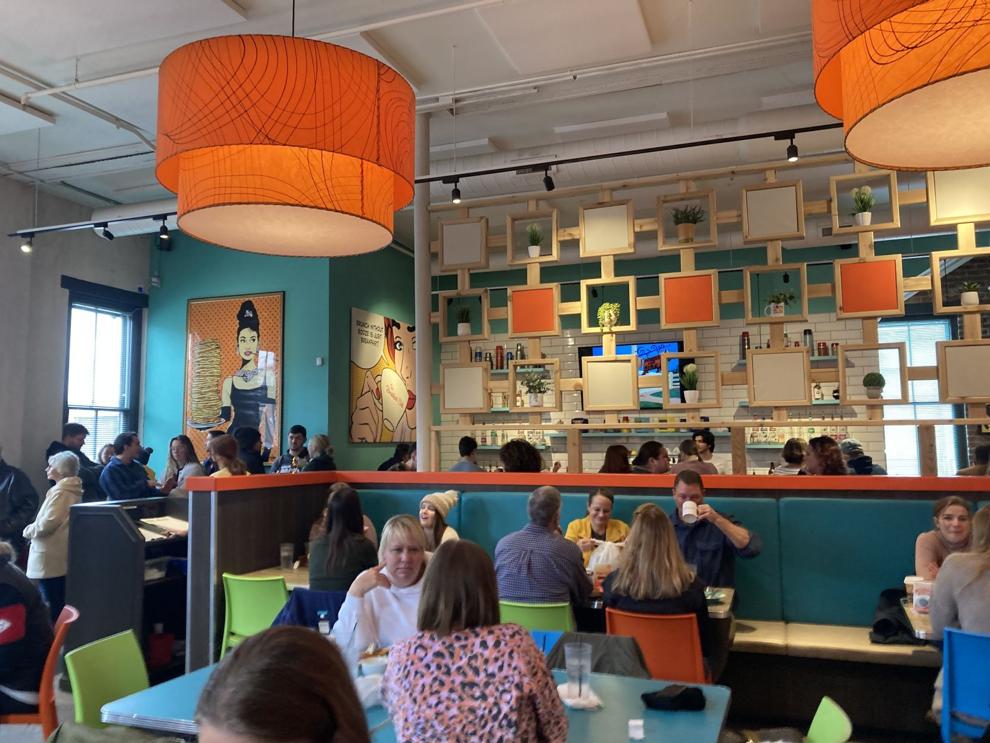 State Capitol: Towering over the East Village (really the whole city) is the shiny 23-carat gold dome of the Capitol. Free tours, given six days a week, explain Iowa's history and show off some pretty impressive art and architecture. Don't miss the giant mural "Westward" at the top of the grand stairs. Painted by Edwin H. Blashfield, it covers almost the whole east wall. Even if you can't secure a tour reservation, take some time to walk around the grounds, which are dotted with monuments and statues. legis.iowa.gov/resources/tourCapitol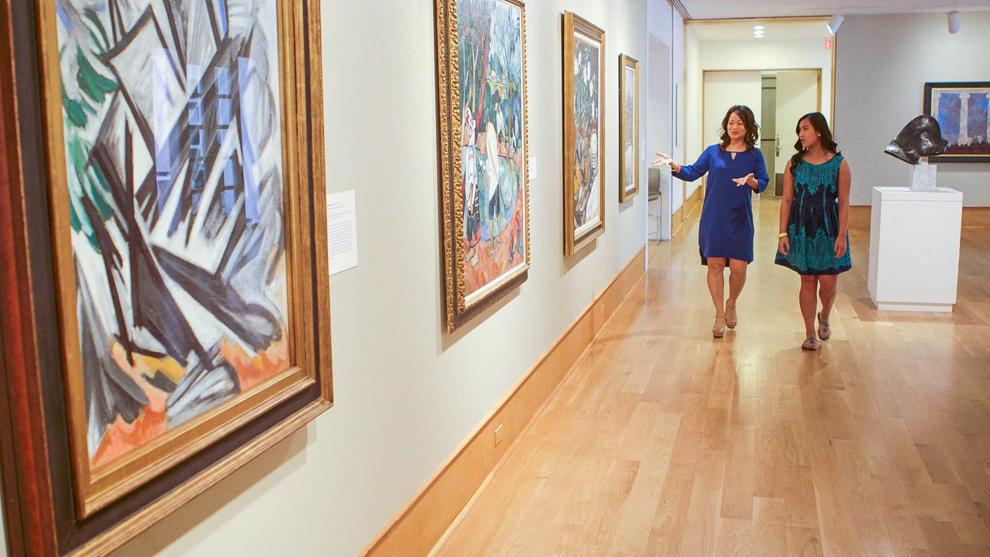 Des Moines Art Center: If the Pappajohn garden was any indication, I knew I had to see the related art center, which focuses on contemporary and modern art. Inside the art deco building you will find works by Monet, Matisse and Rodin, plus Georgia O'Keefe and Ai Weiwei. For me, the Pei Galleries had the most interesting mix of paintings, prints and sculptures. Bonus: It's free. desmoinesartcenter.org
Salisbury House: One thing on my list of things to see in Des Moines that I missed was the Salisbury House and its ornate gardens. Styled to resemble the famous 15th-century King's House in Salisbury, England, the Des Moines residence was built in the 1920s for cosmetics magnate Carl Weeks and his wife, Edith Van Slyke Weeks. Much of the original furnishings and art remain. It's open for guided ($20) and unguided ($15) tours. salisburyhouse.org
Getting there • Des Moines is a little over 5 hours away by car.