DESTIN, Fla. Family trips help you bond as a group. Solo vacations can soothe the soul. Couples trips can rekindle a romance. But a friends trip, a girlfriend getaway, can recharge you with laughter, adventures and relaxation.
I traveled with five friends in May to Destin. We are all busy, working moms of tween boys, some have older or younger kids also.
Destin sits on the Gulf of Mexico, in Florida's panhandle, in an area known for its white sand beaches and emerald green waters. Parts of it, including the Crystal Beach area where we stayed, have sort of a small beach town vibe. Other parts have a touristy feel as visitors have discovered Destin and descend on it all times of the year but especially in the summer. "St. Louis is one of the top 10 cities where our guests live, and we're finding that more and more St. Louis residents are discovering the beaches of Destin and South Walton," says Tracy Louthain, director of marketing and communications at Newman-Dailey resort properties.
We started planning our trip by finding a place to stay. We wanted a house with its own pool (some of my friends are not big fans of sand). I've had great success on other trips booking a house or condo with a real-estate company that specializes in vacation rentals. Newman-Dailey is one of the biggest in the Destin area, so I started there, searching its website, destinvacation.com. That's when we came across a house called Blue Starfish.
It was perfect. A private pool with a hot tub; an outside seating area with a TV, mini kitchen and outdoor bathroom; a block or two from the beach; four bedrooms; a huge kitchen and even a small putting green in the back. After booking it and talking to the folks at Newman-Dailey, we learned the house was owned by people from St. Louis.
And when I got there, I think I would have figured it out anyway. Budweiser and Dilly Dilly signs in the liquor cabinet, wine glasses from Mount Pleasant and a fabulous coffee table made of railroad ties with the Cotton Belt (officially known as the St. Louis Southwestern Railway) name on them.
Marcy and Seth Anderson of Clayton built the home in 2014. "It's part of Seth's future retirement plan," Marcy says, "to own four rental properties that we can rent out."
The Andersons have three children, 11-year-old twin girls and a 12-year-old son, and when I talked to Marcy, she had just gotten back from a girls trip at Blue Starfish.
"It's a great place for a girls trip," she says. "It's just really chill." She says her house is most often used for multi-generational families. She knows that because a guest book she keeps in the house tells stories of guests using the board games, cooking together and swimming in the pool.
When we arrived, the house was as promised. Maybe even better than promised. It was pristine, with towels, dishes, board games, sheets and comfy beds. The only thing we needed was food — and alcohol.
How we got there
Two years ago Allegiant Airlines started offering flights from Belleville's MidAmerica Airport to the Destin-Fort Walton Beach airport. It's a budget airline, which means no snacks or free beverages. You have to pay for your seat, your checked bag and your carry-on. So the cheap price you see at first does add up a bit. But the bonus is you don't have to pay exorbitant parking fees (it's $5 a day) and you pretty much walk right from the parking lot to check-in. I had heard from many people how easy and quick it is. But we must have gotten there on a bad day. We waited in line nearly an hour to check in, then an additional 20 minutes for security, but it was a direct flight that took less than two hours.
Things to do in Destin
You go to Destin for the beach, right? So plan to spend at least one day lounging around in the sand, wading in the water, possibly even catching a few waves on a boogie board or stand-up paddleboard. But it's even more fun to get on the water. We did it in two ways.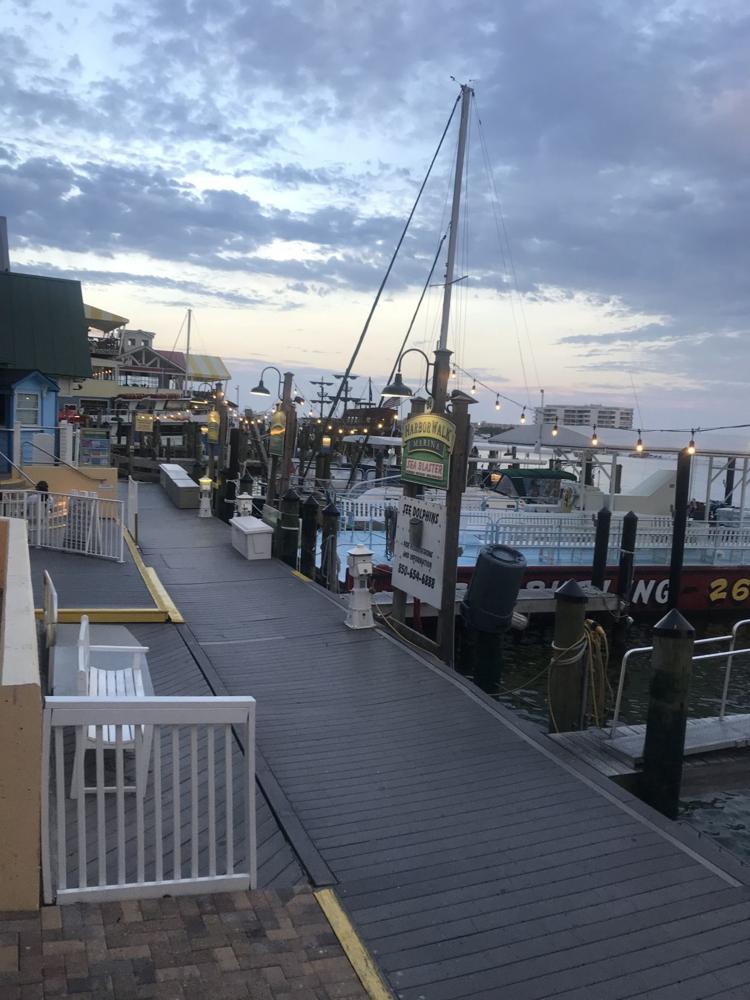 With a rental from Newman-Dailey, you get one pass to a variety of attractions (minigolf, snorkeling, water park and more). They call it the Be Free Bundle. One of the attractions is the Sea Blaster dolphin cruise, a 73-foot, 119-passenger speed boat that takes you on a tour through the harbor before you speed into open waters. It also offers beer and wine and a party atmosphere. Oh and dolphins. We saw plenty of dolphins.
As beautiful as they were on that sunset cruise (which runs $28; destinseablaster.com), the mammals were even more magnificent to behold a few days later when we rented a pontoon boat from Destin Boat Rentals ($275 for half a day in the offseason at destinvacationboatrentals.com). My friend Andrea piloted us out into quiet waters, and we watched as the dolphins crested and dived back down right in front of us. We could hear the water blow like a swimmer coming up for air before we saw them. We probably could have stayed there all day, but we had a goal: Crab Island.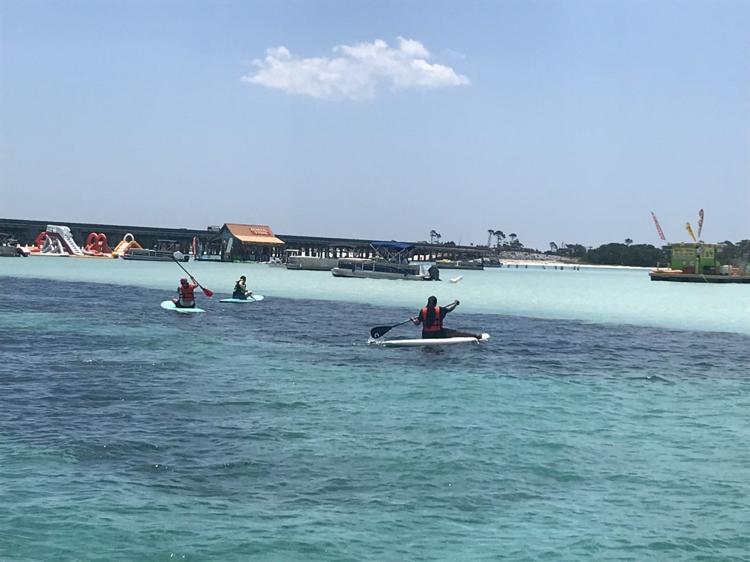 Sitting just off Destin Harbor at the entrance to Choctowatchee Bay, Crab Island isn't really an island at all (though it used to be) but an underwater sandbar where the water is about waist deep and crystal clear. There are about a half-dozen semi-permanent structures: restaurants and shops and an inflatable obstacle course known as Crab Island Waterpark. In addition, several food boats (like a food truck) come by to serve margaritas, burgers and more. In the busy times, bands play on a floating stage.
We anchored right in the middle of it. It was a Monday in early May, but there were still a good handful of boats with partying people around us. But there's plenty of room to spread out if you want. We cranked up the music on our pontoon, anchored and I jumped in the water. It was chilly, but gorgeous. Until a jellyfish swam by me. I scrambled up the back steps like I was being chased by sharks, not a gorgeous, translucent floating creature. Yes, jellyfish can sting, but this was a lone moon jelly, a less potent kind. I saw it again a few times, once I eventually got back in the water. But it stayed clear of us.
A girls trip wouldn't be complete without a spa day. The Henderson Beach Resort, a relatively new and needed addition to the area, is a luxury resort next to the beach and Henderson State Park. Salamander Spa is everything you'd expect from a luxury spa: cucumber water (actually they even offer a complimentary Prosecco), lush robes, a gorgeous lounge, a steam room with an infusion of lavender, private whirlpools and more. Services range from the balancing facial I had to a Neroli Blossom Sensory Experience with meditative massage and essential oils. Each treatment room I saw had windows overlooking the park.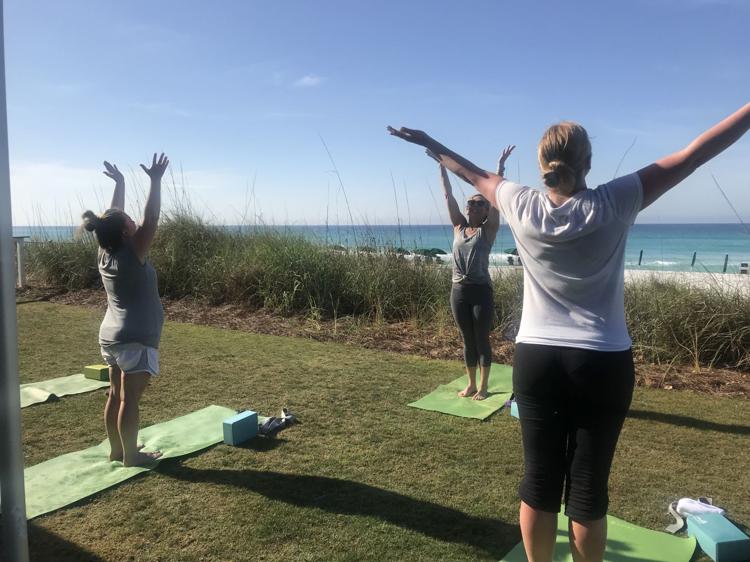 Henderson Beach Resort also offers fitness classes (and not just for guests). We took a beach yoga class. For $15, you take a short walk to the beach, actually a patch of grass that sits just back from the beach, which is perfect (no sand!), and work through a series of floor and standing postures great for beginners or more advanced students, all while staring at the waves coming into those white sand beaches. Reservations recommended.
Places to eat
You can't go wrong heading to the HarborWalk Village for some food. Even those who would scoff at a chain such as Margaritaville shouldn't. The food selection is great, the portions are huge and the view (and the breeze at the top) is fantastic.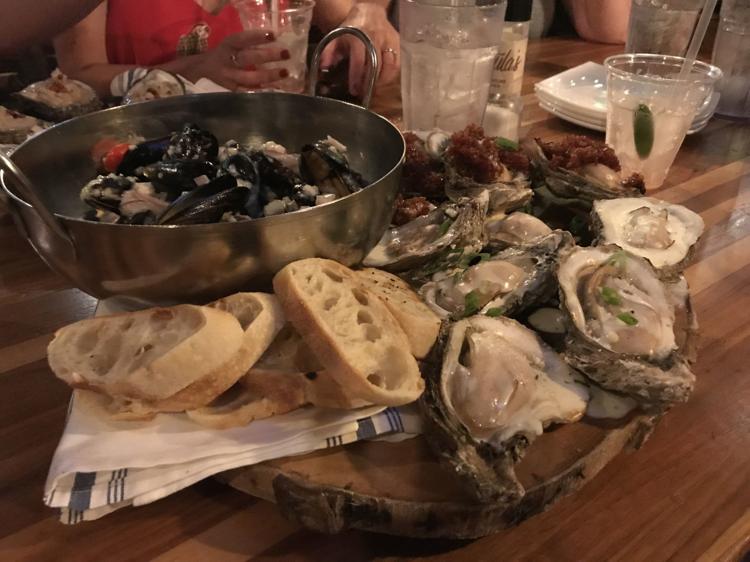 But head to a locally owned place for a more authentic Destin experience. We stopped in at Brotula's Seafood House and Steamer, just down the boardwalk from Margaritaville on our first night. My friends and I loved it so much we wanted to go back every night. Chef Tommy LeMaster, a young, affable guy whose bubbly sister was our server, focuses on local seafood and produce to create platters and traditional boils with a new Southern twist. The fish is so fresh it often comes with a QR code, which you can scan to see when and where it was caught. Maybe it's because we were sitting by the water, but the snapper and the grouper really did taste like some of the freshest fish I've ever had. Yet there's another reason to come back again and again: the sauteed mussels ($15.95), a bowl of them in creamy white wine sauce perfect for sopping up the crusty bread that comes with it (brotulas.com).
Just down the boardwalk is Brotula's sister restaurant, Jackacuda's Seafood + Sushi. It has a little bit more of a party atmosphere, with a bar out front along the boardwalk. I especially liked the Thai Fighter sushi roll (spicy tuna, cucumber, avocado, crunchies, yellowtail, jalapeño, green onion and ponzu), again offering that fresh fish taste we don't often get in sushi at home (jackacudas.com).
For brunch, we headed just down the street from our house to 790 Gulf Place, located in the Inn at Crystal Beach. The menu has a Louisiana feel with omelets, beignets and an amazing crab cakes eggs Benedict. Sit outside right next to the sand dunes and order the bottomless mimosas, but beware the winds, which knocked an umbrella into diners on our visit (eatmoregumbo.com).
Also just down the road (and perfect if you are staying in the Crystal Beach neighborhood) is a corner shop named Camille's. It sits across the beach, so beachgoers can grab a sandwich for lunch or a daiquiri in a to-go cup for chilling in the sand. You'll find live music there at times, too. We especially loved the avocado toast and bloody Marys for breakfast (camillesatcrystalbeach.com).
For a fancy night out, we headed to Cuvee Kitchen + Wine Bar, a recently renovated space along the Emerald Coast Highway. It also happens to be run by Tyler Jarvis, whose Savory restaurant group runs Brotula's and Jackacudas. I was sensing a trend here for us, and Cuvee did not disappoint, with its extensive wine list and genius sommelier, craft cocktails and inventive food. But for all the fresh seafood and duck fat fries, I fell in love with the organic fried chicken ($19) served with the best macaroni and cheese I've had in my entire life (cuveekitchen.com).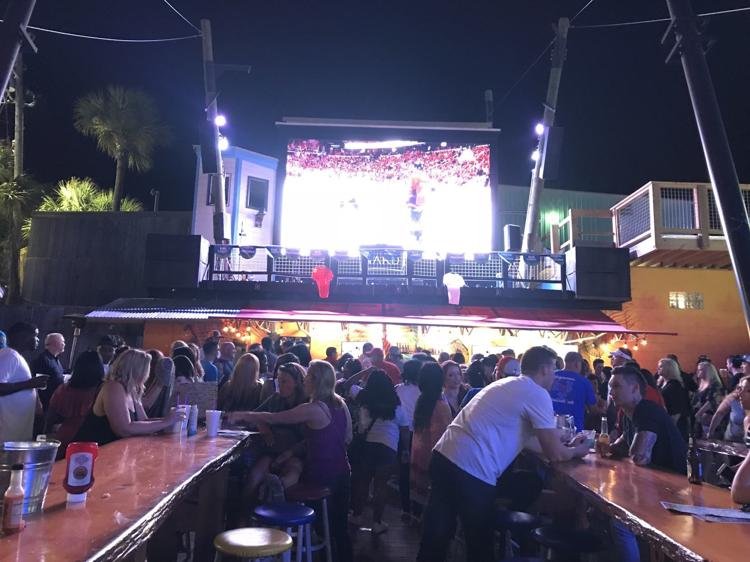 When drinking, not eating, is on your mind, three bars shouldn't be missed. The touristy AJ's on the HarborWalk may be full of partygoing tourists, but the giant, elevated screen showing sports, and the live band that plays in front of it are pretty cool. The Whale's Tale Beach Bar & Grill, a few miles down Scenic Gulf Drive, sits on the beach and has the feel (and the bathrooms) of a chill neighborhood bar. In the middle, Pompano Joe's is more of a restaurant on the beach, but it has a large bar and a family party feel.
With its balance of fresh seafood, waterside relaxation and fun outings, Destin offers a perfect excuse to grab some friends and head for the beach.