Indianapolis • How do you make one of the best children's museums in the world even better? Add a 7.5-acre, $38.5 million mostly outdoor expansion that introduces kids to the world of sports. And what better city to make that happen than Indianapolis: home of the NCAA Hall of Fame, the Indianapolis Motor Speedway, the Pacers, the Colts and more.
The Children's Museum of Indianapolis is set to open its biggest expansion ever on March 17. The Riley Children's Health Sports Legends Experience will feature 12 outdoor exhibits and three indoor. But don't think of them in the museum exhibit way; they are more fun than that. We're talking about the chance to shoot hoops, learn from a tennis instructor, race cars and play golf.
The centerpiece of the expansion is the Tree of Sports. It's a 60-foot-tall sculpture that doubles as a playground and an overlook for the rest of the park.
"It's kind of the like the Tree of Life at Disney," says Kimberly Harms, director of public relations for the museum. She's referring to the giant tree at Disney's Animal Kingdom covered in sculptures of animals. "Only instead of animals, we have sports." There's a giant football helmet, a hockey stick, baseballs and basketballs.
Inside, stairs climb 25 feet to different lookout points (it's also ADA compliant), where you can spot the other treasures of the expansion. Then slide down one of three slides to join the fun at the rest of the place.
"We really see this as being for everyone," Harms says. "You'll see that in nearly all of our sections, everything is miniaturized for the little ones." So the littlest people can play, but there are also real challenges for adults and athletic kids.
Here's a look at the "exhibits":
• Soccer, baseball, basketball, tennis. Try your hand at these sports on varying-sized fields of play. "We have different size nets or courts because we want everyone to have something they can realistically practice on and have success." Success yes, but also safety. Everything is "kidified," Harms says. The baseball, for example, is not a hard one. "We don't want anyone to get hurt, so we've taken that into consideration for everything."
• For hockey, the designers went with street hockey (easier than keeping ice cold in summer months), but they offer a number of stick sizes and nets to shoot on.
• Golf is represented by four 9-hole courses (one is even designed for toddlers). Two of the courses were designed by Indiana natives Pete and Alice Dye, and all the holes are replicas of their most-famous designs from around the world.
• On the football field, which is a mini version of the real thing with hashmarks and goal posts, you can learn to pass or play tackle with stand-up figures. There's also a pad to practice your diving catches on.
• Race on a drag strip or an oval track with sleek pedal cars designed just for the museum. Choose your pedal car model: Stock, Funny, Indy or Top Fuel.
• The Avenue of Champions features life-size bronze statutes of famous athletes with ties to Indiana. There's Wayne Gretzky, who scored his first professional hockey goal here; Hank Aaron, who played for a Negro League team here; basketball greats Larry Bird and Oscar Robertson; and Indiana Fever hoops legend Tamika Catchings.
• A fitness path encircling the exhibits is perfect for strollers or for parents teaching their kids fitness. The 2/5-mile track features fitness stations , one in a grown-up size and the other a kid-size version.
• Indoors you'll find the National Art Museum of Sports, the World of Sports gallery/exhibit where you can call a game as a broadcaster while sitting at a news desk or take the Pit Stop Challenge and a History of Sports exhibit, which currently features basketball.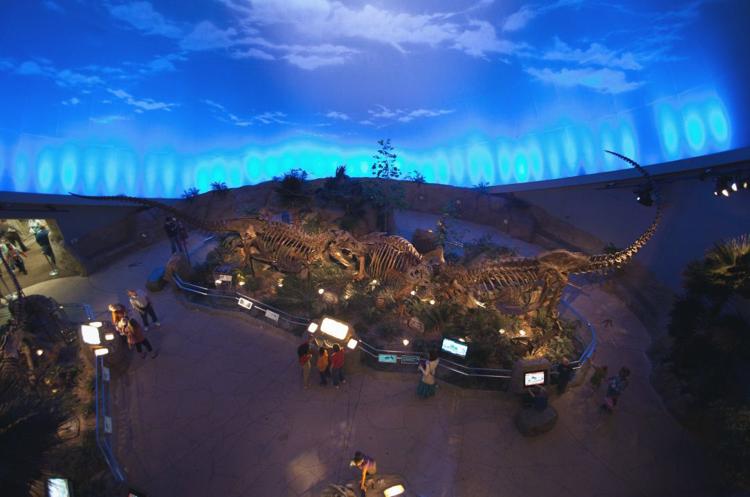 The cost of getting into the new expansion will be included in the museum admission. It will be open from March 17 to November. While you are at the museum don't miss visiting the Dinosphere (where every few minutes you might encounter a "storm"), with its life-size dinosaur replicas, dino dig and working lab.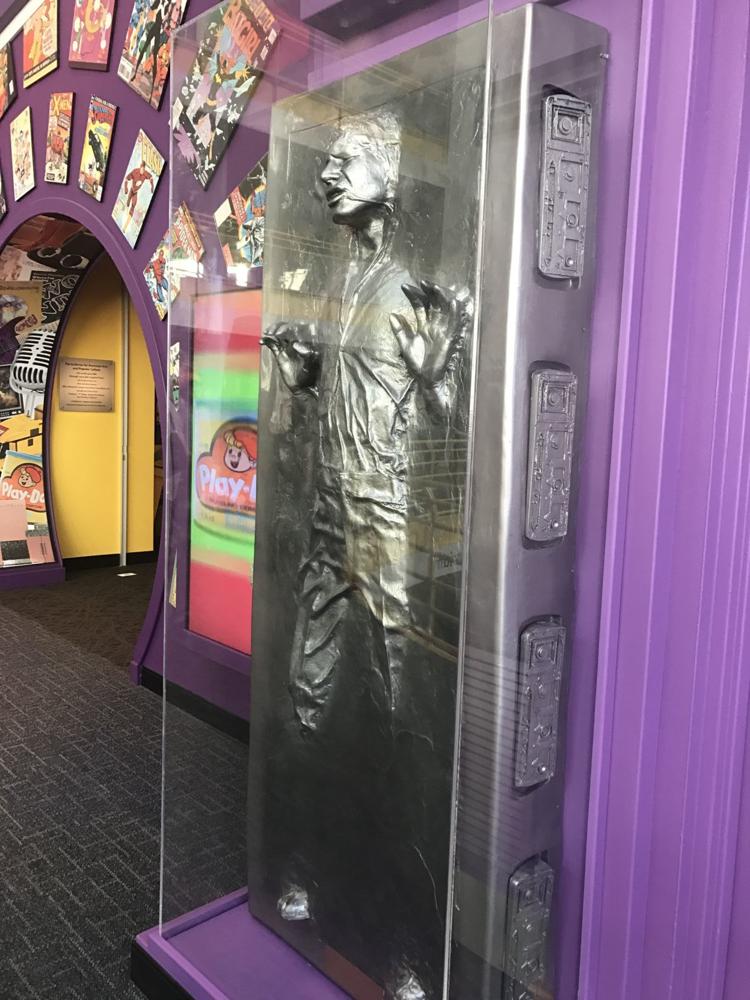 The permanent American Pop exhibit has artifacts — from Lady Gaga''s shoes to a golden ticket from "Willy Wonka" — that have shaped pop culture. You'll also find a chocolate slide and a Chihuly glass masterpiece as well as exhibits on science, life in China and archaeology. The fantastic Beyond Spaceship Earth exhibit shows what life is like on the International Space Station and displays Liberty Bell 7, the capsule behind America's second manned space flight.
---
Getting there: Indy is an easy 3 ½- to 4-hour drive from St. Louis.
Museum info: Tickets are $12-$35 (depending on time of year, age, and whether you buy online). Find reduced pricing the first Thursday of the month and four free days a year. childrensmuseum.org
More to do: Be sure to visit the Indianapolis Motor Speedway, take a paddleboat along the urban White River State Park, step back in time at Conner Prairie, visit the NCAA Hall of Fame and the Eiteljorg Museum of American Indians and Western Art among many other fun venues. For more info: visitindy.com
Where to stay
One of the best things about Indianapolis is how easy it is to get around town. Traffic has never been horrible any time I've visited, parking is a breeze and the streets are laid out in a clear numbered pattern. For that reason, you can stay about anywhere as far as locations go. For this trip, I stayed in the north part of town at the Ironworks Hotel.
Ironworks is a new luxury boutique hotel that feels bigger than its 120 rooms. That's mainly due to the shopping center it's a part of: a little square with restaurants, coffee shops and condos.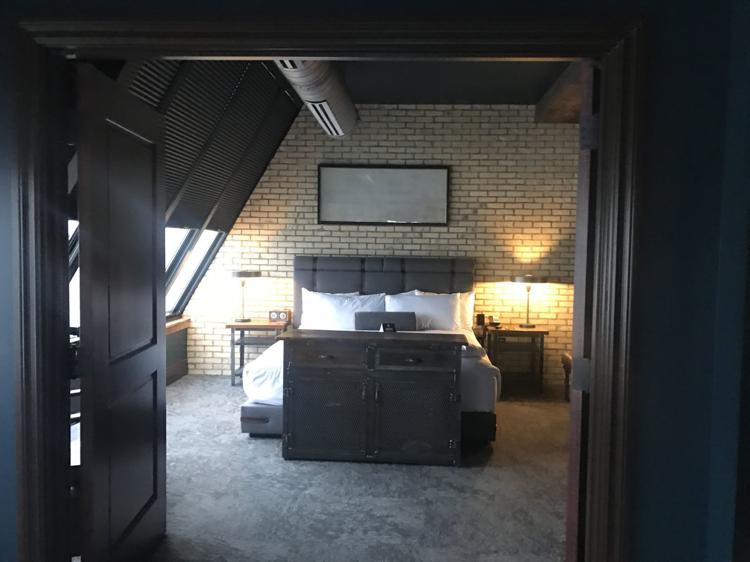 The hotel was built in a five-story building, and it's made to look 19th-century industrial but with modern amenities. Our room had brick walls with exposed duct work and beams. A wall near the front desk was filled with old locks and keys, and the lobby features a flag-draped, three-dimensional representation of the United States by artist Jim Spelman and made of old paper mill molds scavenged from a closed foundry.
All guest rooms have giant 60-inch (or bigger) TVs. We were in a gorgeous suite that featured a TV that rose out of a stand at the foot of the bed. Amenities include a fitness center, complimentary wireless internet, coffee service, pet-friendly rooms with an additional fee, in-room dining, valet parking, concierge services and business services.