BRANSON, MISSOURI — Kirk Elmquist wants Missouri golfers to know how lucky they are.
"I think the world has recognized Big Cedar as one of the top resorts to play golf, and it's right here in your back yard," says Elmquist, the executive director for the Branson/Lakes Area Tourism Community Enhancement District and an avid golfer himself. "When you have a Rolls-Royce development and resort like the Big Cedar Lodge, it's a wonderful story to be told. I don't know where else you can find courses designed by Tom Fazio, Ben Crenshaw, Gary Player, Tiger Woods all in the same spot."
And to make it even more enticing, in addition to the five Big Cedar courses, Branson has five more golf courses open for tourists. "You've got a world-class destination for any golfer — we can hit any skill range, and it's affordable," Elmquist says.
From 2014 to 2019, the PGA Tour Legends of Golf was played at Big Cedar, which may have begun putting the courses on the worldwide radar. It was the first time a tour event used a par-3 course: Top of the Rock at Big Cedar Lodge. The three-day event was played on all the courses at Big Cedar at various times.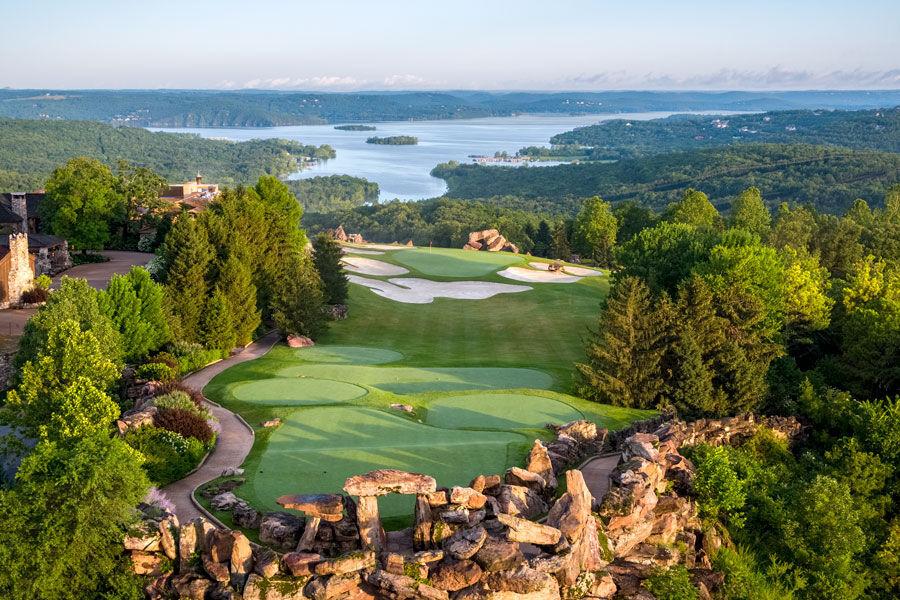 But for those, like me, who aren't exactly great golfers, Elmquist, who used to run the Legends of Golf tournament, recommends starting out at Gary Player's Mountain Top course. It's a par-3, 13-hole walking course. And the views are nothing short of everything you'd hope for from Mother Nature in the Ozarks. The courses themselves are tourist attractions, for golfers and nongolfers alike. At many, a nongolfer can ride along with golfers and enjoy the scenery. After, nongolfers are welcome for a drink at the clubhouses.
My sons recently played Top of the Rock, and I got to tag along. The beauty of the course was breathtaking, from the waterfalls, bridges and stone work surrounding them to the views of Table Rock Lake around every turn.
"And you should see it in spring, when all the flowers are blooming," a pro shop worker told me.
All five of Big Cedar Lodge's golf courses now are certified as Audubon International Signature Sanctuary locations, a testament to Big Cedar and founder Johnny Morris' devotion to conservation. The designation is given to wildlife conservation and habitat enhancement, water quality monitoring and management, integrated pest management, water conservation, energy efficiency, waste reduction and management, and green building products and procedures.
Here is a guide to the courses in Branson, with information provided by Dan Shepherd, former editor of Golf Inc. Magazine as well as golf course websites and Elmquist. For more information on a golf vacation, go to explorebranson.com.
The Big Cedar courses
Payne's Valley (18 holes; bigcedar.com/golf/paynes-valley-course/; rates start at $165): The newest course to debut may be the most exciting yet. Named Payne's Valley, it's an 18-hole championship course paying homage to golf legend Payne Stewart, who grew up in Springfield, Missouri. It's the first public-access course designed by Tiger Woods. After the 18th hole, you cross a bridge with a waterfall for a bonus 19th hole. "We call it the settle-up hole," says Elmquist, in case any bets need to be settled from the course before you leave through a cave trail tour and head into the clubhouse.
Buffalo Ridge Springs (18 holes; bigcedar.com/golf/buffalo-ridge-springs-course/; rates start at $165): With buffalo grazing in a big pen visible from several holes, this course comes by its name quite literally. It's the oldest course but redesigned by Morris and renowned golf course architect Tom Fazio. It's a thrilling course with several unforgettable holes — from brawny, long ones to subtle and tricky shorter ones.
Ozarks National (18 holes; bigcedar.com/golf/ozarks-national-course/; rates start at $165): This course debuted in May 2019 and its design embraces the hills and valleys of the natural Ozarks terrain. Designed by architect duo Bill Coore and Ben Crenshaw, no two holes are alike and one could play it dozens of times and continue finding new wrinkles to appreciate.
Mountain Top (18 holes; bigcedar.com/golf/mountain-top-course/; rates start at $165): A walking only, 13-hole short course, Mountain Top was designed by golf legend Gary Player and Morris. Intertwined through unforgettable rock formations, Mountain Top includes some of the most dramatic views in the Ozarks. During excavations to build it, 300-million-year-old limestone formations were revealed and have become part of the course. Elmquist says it is the least busy of the five Big Cedar courses.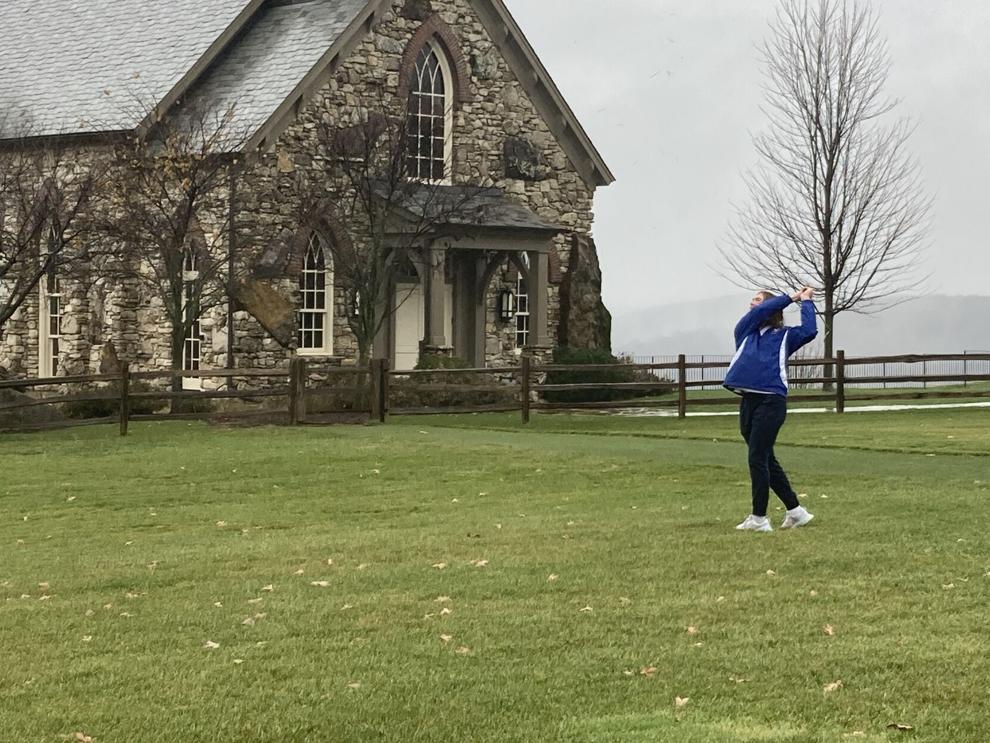 Top of the Rock (9 holes; rates start at $75): With a par of 27 (9 holes, each par 3), you may be fooled into thinking this is an easy course. It's not. In fact, World Golf Hall of Fame member Gary Player calls this Jack-Nicklaus-designed creation the best he's ever played. Be sure to stop and have a drink at Arnie's Barn, a 150-year-old barn relocated from Arnold Palmer's backyard in Pennsylvania and now a casual bar and restaurant. It's connected to a building with the wonderfully curated Ancient Ozarks Natural History Museum and the upscale Osage Restaurant.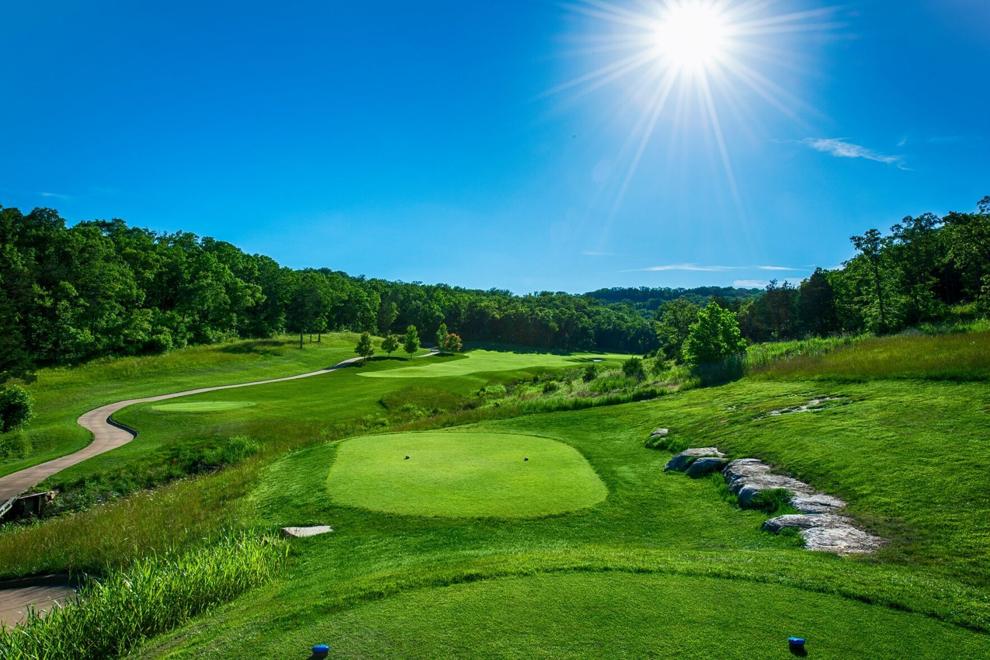 Other Branson courses
Branson Hills (18 holes, bransonhillsgolfclub.com; rates start at $109): Golfers know they're in for a treat as they step to the first tee box at Branson Hills, designed by Chuck Smith and Bobby Clampett. Elevated, it looks down on a serpentine-like hole that winds down to a devilish green that slopes hard from back to front. Make sure to stay below the hole on your approach shot or say hello to 3 or 4 putts.
LedgeStone (18 holes, ledgestonegolf.com; rates start at $69): The public is welcome at this country club once described by Golf Digest as a "masterpiece of mountain golf architecture." The Tom Clark-designed course is known for its highly undulating terrain. Each hole is named: Temptation, Deception and Tough Love among them.
Thousand Hills (18 holes; thousandhills.com; rates start at $59): If you are staying and playing along the Strip in Branson, this course is super convenient. It's a relatively short, player-friendly resort course that has more bite than its yardage may imply.
The Pointe (18 holes; pointeroyalegolf.net; $64.99 anytime): The Pointe is in a residential neighborhood where many of Branson's pioneer entertainers moved when they began performing in the town, for example singer Andy Williams and banjoist extraordinaire Buck Trent.
Holiday Hills (18 holes; holidayhills.com; rates start at $32): Holiday Hills was the first course to open in Branson, in the 1960s. It shows its age, but it's an ideal course for those who want to play fun golf on vacation at a reasonable rate.