The words "family vacation" can conjure up many images. Kids fighting in the back seat over who is on whose side. Refrains of "Are we there yet?" Stops at seedy gas stations.
Or maybe families laughing together over shared experiences.
That's how I look at family vacations, but I know a long road trip can start to impede on those good vibrations. So how about a short trip? We took a trip over five days down Interstate 44. The route between St. Louis and Springfield is a storied path. What began as the "Osage Indian Trail" morphed into the most famed highway ever, Route 66. Today, Interstate 44 covers much of that ground. We followed it to Springfield on a pocketbook-friendly trip filled with playgrounds, nature, a beach, a castle, a couple of caves and lots of laughs along the way.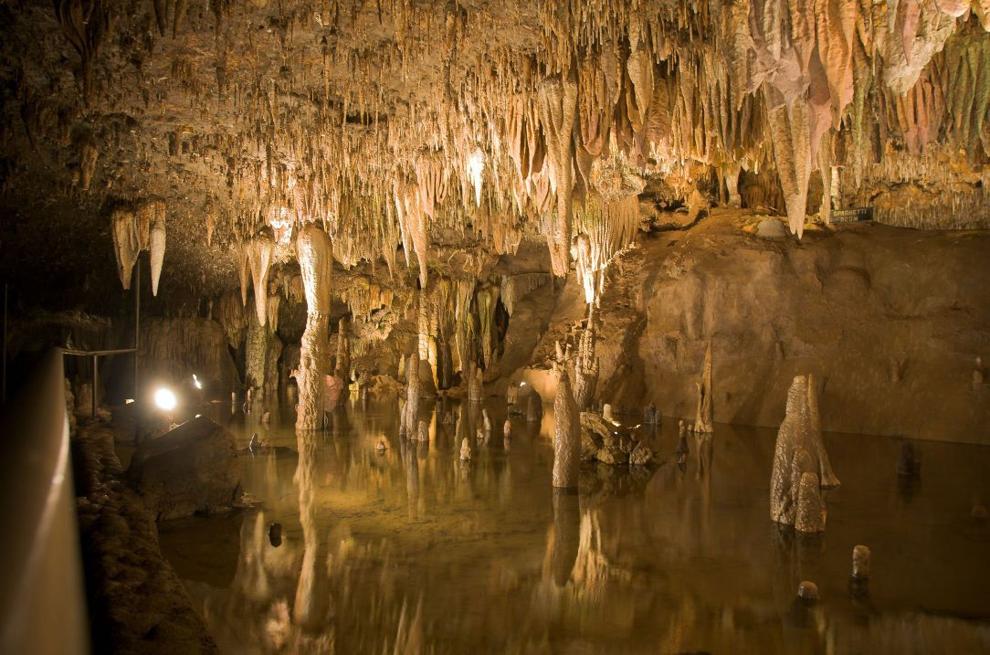 STOP 1: MERAMEC CAVERNS IN STANTON, MO.
If you've ever spent any time on I-44, you've seen the billboards and barn roofs touting Meramec Caverns. They tout with good reason.
Beneath the rolling hills of the Meramec Valley, lies a series of caves and caverns so beautiful, you won't believe you are still in Missouri. That is, until you learn that Missouri is known as the cave state with more than 6,000 surveyed caves.
Guided tours are available along lighted, smoothed pathways and through five of the seven levels of the cave. The guides will teach you all about stalagmites, stalagtites, columns and even a bit about Jesse James, whom they say hid out in these caverns.
For the past 60 years, the tour had ended with a short video shown in the magnificent Theatre Room. This year, that video has gotten an upgrade with new LED lights and sound. "It's very moving," says Lester Turilli, manager of Meramec Caverns. "It is just a patriotic celebration for all the men and women who have served in the armed forces."
In recent years Meramec Caverns has become its own tourist destination, with more than 100,000 visitors a year. The site features a nearby campground, riverboat rides and canoe floats along the Meramec River and, added in 2010, the Caveman zip line, which zips across the hills and the river.
The area also has a gift shop, a candy store (try the homemade fudge), and an area my kids loved where you can pan for fool's gold, fossils and other gemstones in a 19th century setting.
Cavern admission: $21, adults; $11, kids 5-11; 4 and under are free.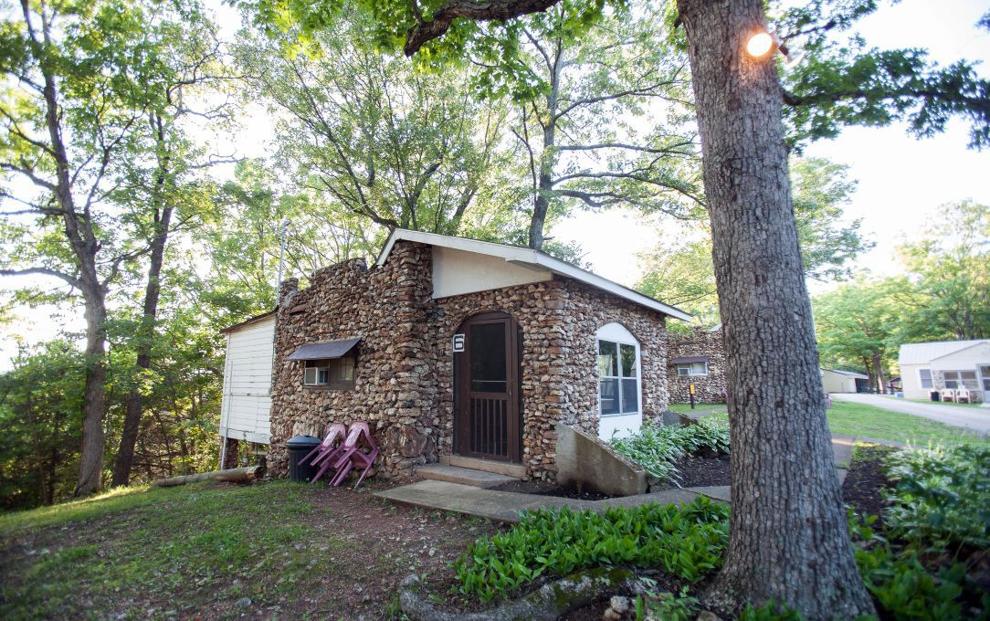 STOP 2: COBBLESTONE LODGE AND FLOATING IN STEELVILLE
Steelville likes to call itself the "Floating Capital of Missouri." That's because you'll find three rivers navigable by small watercraft there: the Meramec, the Huzzah and the Courtois.
Lee Layton Sr., owner of Cobblestone Lodge, says on a weekend day in the summer, the Meramec "will look like I-44, with so much traffic."
We stayed a couple of nights at Cobblestone. One of the few remaining "American Plan" resorts, these vacation spots, popular in the 1940s and 1950s were all-inclusive: all meals, lodging and entertainment for one price.
"Long ago when I was young, there were many American Plan resorts like us within 150 miles of St. Louis," says Layton, 81. "Before campgrounds and RV parks, this kind of place like ours was where people went when they ventured out into the wilderness. Now, there are only two or three of these old-fashioned American Plan resorts like us still operating."
For about $500 a family of four (with older kids) can stay for two nights in a private cottage (these are a bit dated but clean and air-conditioned), have all of their meals cooked for them and have all of their entertainment paid for.
A dry-erase board in the lodge announces times for activities throughout the day: bean bag toss, shuffleboard, crafts, bingo, board games, horse races, outdoor movies, hayrides, a luau and more.
You can also participate on your own in other activities: mini-golf, basketball, horseshoes, trampoline, sand volleyball, archery and more. But the real draw for us was the included float trips. You can sign up for a morning or afternoon (or both) canoe, raft or inner tube float. The crew drives you to the drop spot and picks you up two or three hours later at a designated location. My husband, two sons and I chose a morning raft trip. Despite it being a Saturday, we didn't see another single boat as we paddled down the Meramec. Just a heron, some fish and a squirrel or two. We pulled out a couple of times to explore a sandbar and pick up shells.
Cobblestone rates: $93.50 per adult per day (kids 4-10 are half) for two days, includes food, lodging and entertainment, including floats.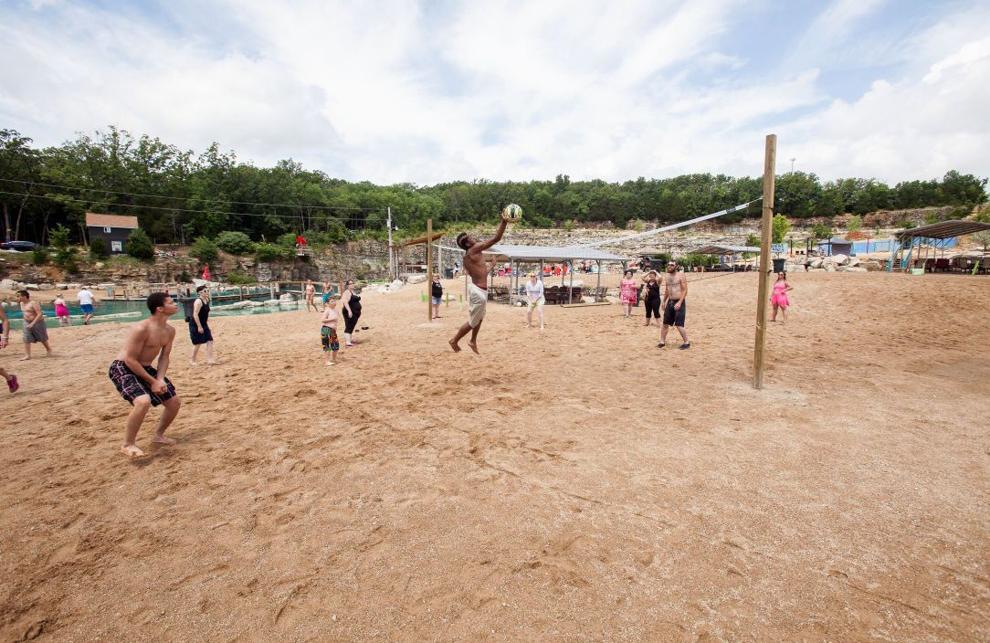 STOP 3: ROLLA AND THE FUGITIVE BEACH
Abandoned rock quarries have long been playgrounds for kids growing up in the country. But Mark Kearse has taken the quarry at the Fugitive Beach to a whole new level. Close your eyes for a minute, then open them, blocking out the pickups, empty barrrels and plywood signs on the hill. Look at the bright blue water, the tiki bar, the sand beaches.
The Fugitive Beach opened last year when former police chief Kearse decided to turn it into a tourist stop, not to mention a perfect getaway for locals. Over winter, they drained the quarry, removing all fish and pointed rocks. For the most part, the bottom of the quarry feels like sand, though swim shoes are recommended. The huge beach features a kiddie slide and shallow kids play area, a 60-foot slide for bigger kids and two diving platforms of 15 and 20 feet. A rental place offers life jackets (everyone 10 and under must wear one), kayaks, floating devices and toys. Ricky Bobby's Bar serves beverages and burgers. This area is also supposed to be the smokers' area, though I'll admit we saw lots of people smoking on the beach.
If you are planning to stay a while, rent a covered cabana with cushioned chairs ($50). They are quite large and worth it to avoid crowding and sunburns.
Most quarries I've seen aren't sea blue. This one isn't naturally so. They have added a safe pond dye to make it look pretty. Don't worry, it doesn't turn your suits or skin blue. Also, though no lifeguards are on duty, plenty of workers can assist and answer questions.
I would recommend staying the night in Rolla, if for no other reason than to clean up all the sand and muck from the day at the beach. We stayed along I-44 at the Holiday Inn Express, which offered spacious rooms and a great breakfast.
Fugitive Beach cost: $6 per person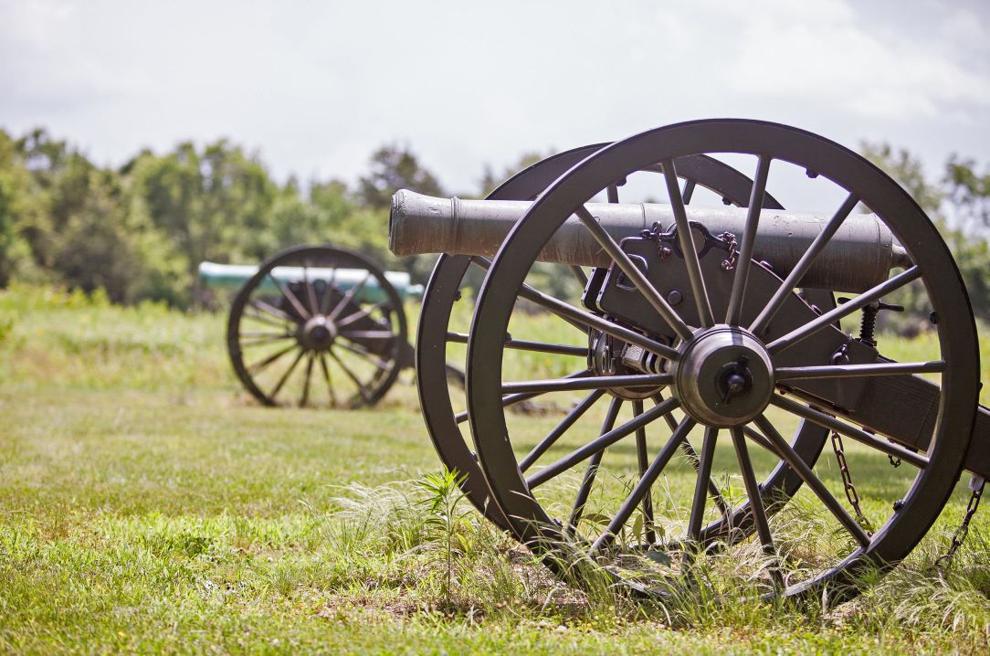 The third-largest city in Missouri, Springfield has a lot more to offer than the rural stops along the way.
For starters, you can stay in the lovely Doubletree by Hilton, with its glass elevators, 10-story lobby, room service, free cookies upon check-in and friendly staff. We stayed there for two nights while we explored the town (doubletree3.hilton.com).
Our first stop, actually on the way into town, was the Wild Animal Safari Park, which is just outside of Springfield in Strafford. The drive-thru park lets you travel either in your own car or on a guided bus tour for the same price ($19.95 per adult; $16.95 kids and seniors). We opted to drive our own car along the five-mile road. Of the 70 different species (750 animals), we saw everything from bears (in cages) to wild pigs, zebras, wildebeest, camels. Some pesky emus blocked our road and pecked (gently) at our car.
The site also features an included reptile house, and walk-thru park where you'll spot ligers (tiger/lion mix), Siberian tigers and more. animalsafari.com/MO
Springfield is also home to several museums you won't want to miss. There's the Missouri Sports Hall of Fame (mosportshalloffame.com) with more than 4,000 pieces of sports memorabilia. Or get your kicks at the Route 66 Springfield Visitors Center (springfieldmo.org). You can grab maps, brochures or even an old-fashioned Coca-Cola in a bottle while browsing a replica diner and gas station décor.
Kids will love Andy B's (andybspringfield.com), a bowling, laser-tag, arcade place similar to a Brunswick XL but with a more extensive bar menu. For cheaper entertainment, try the Bass Pro Superstore (basspro.com), where you can browse 500,000 square feet complete with waterfalls, aquariums, a firing range, cafe and more.
We found history in three more stops: Fantastic Caverns, the Wilson's Creek Civil War Battlefield and the Pythian Castle.
At Fantastic Caverns, you take a one-hour tram ride through the caves, as opposed to walking as at Meramec. These formations aren't quite as breathtaking as Meramec, but if you have any mobility issues, or young kids, it's a great option. The history, as you learn in a video at the far end of the cave is also very rich, from a group of 12 women who were its first explorers to its use as a speakeasy during prohibition to concerts by Buck Owens and others. ($23.50 adults; $15.50 kids; fantasticcaverns.com)
At Wilson's Creek Civil War Battlefield, part of the National Park Service, you can almost feel the history come alive. Like in Gettysburg and other sites of Civil War battles, there is something about the open fields and fences that takes you back to that point in our country's history. Wilson's Creek was the first major Civil War battle fought west of the Mississippi River. It's also where Union Gen. Nathaniel Lyon was killed in the Southern victory in August 1861. We drove the five-mile loop with a map we picked up in the visitors center explaining all the stops along the way. Five walking trails branch off from the main road, as does a 7-mile trail system for horses. On summer weekends you can also tour the Ray House, which served as a temporary field hospital for Southern soldiers following the battle. ($5, 16 and up, nps.gov/wicr)
The Pythian Castle, which sits pretty much in the middle of town, is not exactly the kind of castle you are thinking of. There are no tales of princesses, or drawbridges or really many extravagances of any kind. We took a one-hour (which went quite a bit longer) history tour with current owner MJ Page. She told of its start as a home for widows and orphans of knights of the Pythian order. Thus, it's not exactly opulent inside. The most interesting tales came in the basement, where during World War II, we were told, prisoners of war may have been held. In one basement cell, a Japanese man had drawn murals of his homeland. Ghost tours are also offered. ($7.50, pythiancastle.com)
We ate on the cheap most of the time in Springfield, but we did allow ourselves one indulgence: a dinner at the Metropolitan Farmer, known for using local ingredients (metropolitanfarmer.com). We sat outdoors amid planters filled with herbs and vegetables and dined on a perfectly pan-seared duck with beets and orange fennel pesto ($23) and mushroom stroganoff ($15) with cast-iron fried cornbread with maple syrup and bacon drippings ($5).
That taste of Missouri was a perfect end to our Missouri vacation.
* An earlier story had an incorrect price for the stay at Cobblestone Lodge.