Most of us head to Chicago for a long weekend and check out the usuals: the Shedd Aquarium, the Museum of Science and Technology, Navy Pier, the theater, Lake Michigan, and of course, Chicago-style pizza.
Recently, thanks to the convenience of Uber and Lyft, I decided to explore some other regions of the Windy City. If you look closely enough, you'll find dozens of neighborhoods that are like little cities themselves, each with its own personality.
Choose Chicago (choosechicago.com) offers a greeter program where a volunteer will take you, for free, on a walking tour of any area of the city you choose.
Kathleen Dragan, author of "Rickshaw Reggie" a children's book about Chicago neighborhoods, is one of those volunteers and loves introducing tourists to parts of the city they may not be familiar with.
"I recommend people explore the neighborhoods because you get to see pieces of history that you otherwise wouldn't and see how people really live in the city," Dragan said in a phone interview. "It's really exciting.
"Plus, I think part of the beauty of Chicago's story is that we are a city of immigrants and many neighborhoods have retained the character of the immigrants — so in a way you are getting a taste of a foreign culture without going abroad."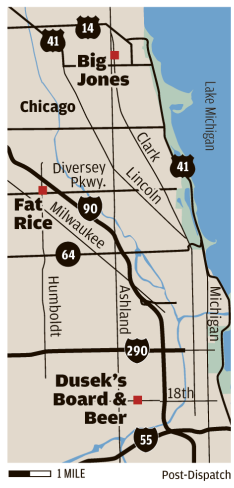 ANDERSONVILLE
Chicago's Andersonville neighborhood has something for every interest. According to Dragan, "it has a great cohesive neighborhood vibe."
The restaurant Big Jones may very well be at the center of that vibe. Known for its traditional Southern cooking by chef and co-owner Paul Fehribach, Big Jones is within walking distance (a long walk) to the popular Foster Street Beach, so diners can grab a bite before a day on the water. Big Jones makes some of the best fried chicken I've ever had, and what's better for a picnic either at the beach or nearby Winnemac Park than fried chicken?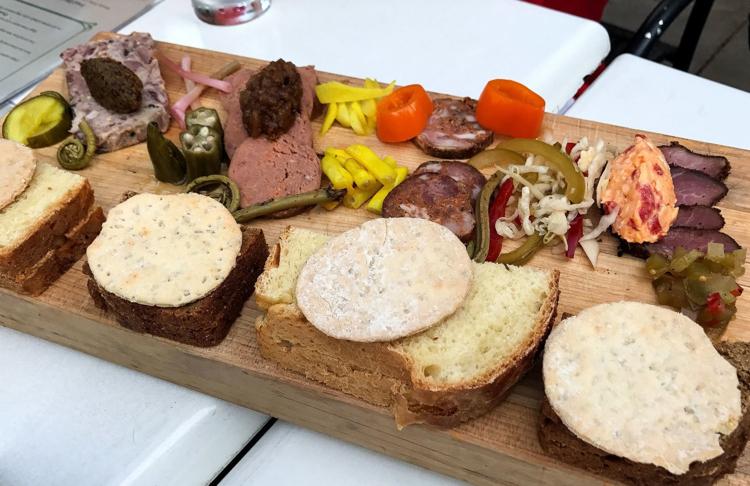 The restaurant, a staple in the area for 10 years, has a menu filled with favorites from the American South, from a twist on the mint julep, the refreshing rhubarb julep, to shrimp and grits ($17). But it's also a restaurant with an emphasis on local ingredients and making everything from scratch. Don't miss the Boucherie Board ($22), where everything from the charcuterie to the pickles to the preserves to the crackers is made in-house. (bigjoneschicago.com)
So Andersonville is a bit of the old south then, right? No, today it's a mix of ethnicities and backgrounds, but its roots are Swedish. In fact, its Midsommarfest, one of Chicago's largest street festivals (held in June), still honors the Swedish tradition of celebrating the summer solstice. Locally owned, mom-and-pop type stores seem to dot the commercial district. You'll find a Middle Eastern bakery, a hip record store, antiques shops, clothing boutiques and the Gethsemane Garden Center, a destination Chicagoans travel to from all over the city.
Fehribach, an ambassador for the area, touts its many attributes, particularly the Hopleaf Bar down the road. "It's the original beer bar," he says. "Make sure you go there."
The Swedish American Museum, with its iconic blue and yellow water tower, contains artifacts of all types, including archival material, photographs, domestic items, textiles, decorative and fine art. It also has a children's museum, which tells the story of immigration, including a 20-foot immigrant steamship will take you on a journey to America. ($4, swedishamericanmuseum.org)
A half-dozen or so theater companies call Andersonville home. The Raven Theatre is a highlight among them but also check out the pH Comedy theater and Barrel of Monkeys, which adapts student-written works.
Boundaries • The neighborhood is bounded roughly by Ainslie Avenue to the south, Victoria Street to the north, Ravenswood Avenue to the west, and Magnolia Avenue to the east.
Pilsen
The first thing that you will notice about Pilsen is the art. Giant murals decorate homes, doors, businesses and other public spaces. But be sure to start on 16th Street, where street art murals line a retaining wall for at least a mile. Dragan says they call it El Museo del Barrio (the Museum of the Neighborhood). Some of the murals are 50 years old, some were put there illegally, some are quite basic, others intricate artwork of battle scenes, historical figures and faces that tell stories. Some have an Aztec or Mayan influence. Others are political in nature and have themes of social justice.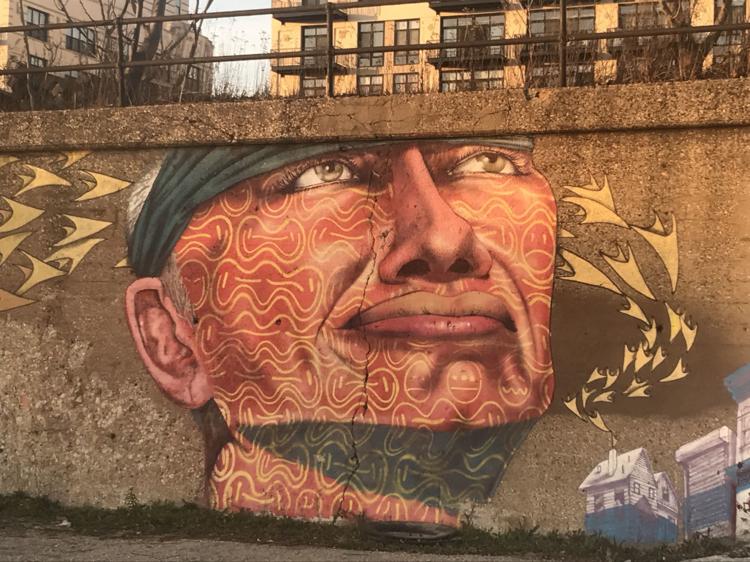 A few blocks over, find the National Museum of Mexican Art. Outside, street vendors sell trinkets and duros, a Mexican snack food of puffed wheat. Inside the free 48,000-square-foot museum, find four rooms of gorgeous works of art by artists that tell the story from ancient Mexico to present-day triumphs and struggles. On our visit, shortly after the Pixar movie "Coco" came out, a Day of the Dead exhibit was a highlight. A docent told me she's seen more kids interested in the art since the movie came out. (nationalmuseumofmexicanart.org)
Pilsen is now a mostly Mexican-American neighborhood, but it got its start as a Czech neighborhood. And because it's bounded by a railroad and a river, most of the Great Chicago Fire missed it.
"That's why some of the oldest architecture in the city can be found there," Dragan says.
The commercial district, mainly down 18th street, is full of boutiques and restaurants ranging from Mexican to Vietnamese to the Honky Tonk BBQ, but probably the most popular is Dusek's Board and Beer, a Michelin-starred restaurant in the heart of Pilsen. It's part of a building that houses the Tack Room, a brick-walled piano bar, the Punch House, a lower-level club, and Thalia Hall, a concert venue. Thalia Hall was built in 1892 as an opera house when Pilsen was primarily a Czech community. The property was modeled after the Prague opera house, and today it hosts concerts and even movie nights. It, and the church across the street, are good examples of old baroque architecture.
Dusek's didn't get that Michelin star for nothing. The food, based on a seasonal menu, is both adventurous and familiar. The mussels are cooked with smoked pimenton and served with harissa butter ($16). They have a meal called the Ordinary ($26). It's a roasted lamb, with chestnut gnocchi, turnip greens, black trumpet mushrooms and is, of course, anything but ordinary. Dusek's is known for its rotating beer menu. Even the cocktails are beer-based. (dusekschicago.com)
Boundaries • Halstead Street on the east; Ashland on the west, Cermak on the south and 16th Street to the north (there is some debate on this).
Logan Square
At the center of Logan Square is not a square, but more of an oval with the Illinois Centennial Monument in the center. Designed by Henry Bacon of Lincoln Memorial fame, it's a single 70-foot Doric column topped by an eagle. The neighborhood itself is quite large, comprising blocks of cute shops, fun restaurants, townhomes, single-family bungalows and greystone mansions along wide, park-like boulevards.
Logan Square is full of history. Frank Baum wrote "The Wizard of Oz" there (or very nearby, depending on how you draw the boundaries). Renovations are underway at the house where Walt Disney lived before he moved to Marceline, Mo. William S. Paley lived in an apartment there as a child, before he built Columbia Broadcasting System.
The streets are fairly flat and not just walkable but bikeable, with Divvy bikes you can rent on several street corners. You can hop on the 606, one of Chicago's newest parks, a rails-to-trail greenspace that connects four neighborhoods, or you could just cruise the streets. Stop in at one of its distilleries or breweries or check out the Viking, one of the best ski shops in the Midwest. There's also a cute print shop called Steel Petal Press, specializing in old-style letterpress.
Oh, and there's a circus school. Aloft offers classes inside a former church. The Logan Theatre, circa 1915, shows movies and has a vintage bar.
A variety of restaurants abound, but we heard so much about Fat Rice, we knew that's where we needed to go. The highly acclaimed restaurant whose influences are from Macao, blending Asian and Portuguese flavors, didn't disappoint.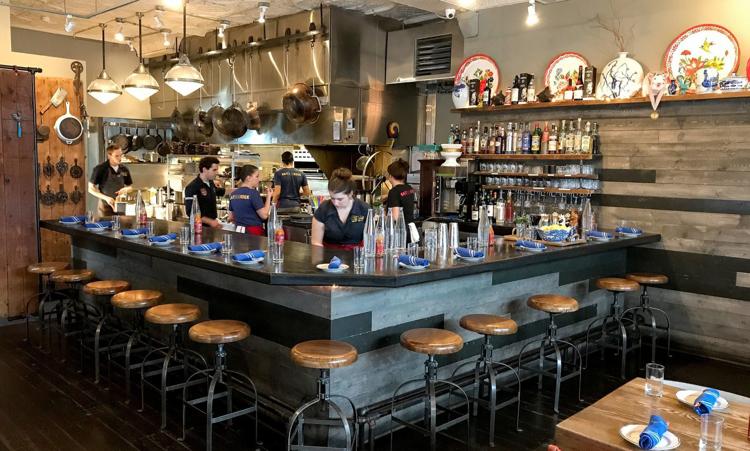 Try the arroz gordo (at $45, a dish meant to be shared). The paella-like meal features rice with curried chicken thighs, sausage, pork, prawns, clams, pickles and olives and few other surprises. We were there for brunch and everyone in my family swore the peanut butter French toast was the best French toast they've ever had.
Boundaries • The Metra/Milwaukee District North Line railroad on the west; the North Branch of the Chicago River on the east; Diversey Parkway on the north; and Bloomingdale Avenue on the south. (There is some debate here, also.)
WHERE TO STAY
When exploring Chicago neighborhoods, you can stay either in the city, soaking in all the city has to offer and staying at hotels with history and character, but with that come the prices, the traffic and the parking hassles. Another option is to stay in the near suburbs. What you sacrifice in terms of trendiness and excitement of the big city, you make up for in price and convenience, especially, for St. Louisans, if you stay on the southwest side of the city.
The Talbott
The boutique hotel was renovated and reopened early this summer. The biggest change is the new bar and restaurant area, 20 East. And both drinks and food are worth a stop even if you aren't staying here. The new décor looks modern yet evokes an old-world feel. The biggest plus here is that the rooms are large. For downtown Chicago, they are downright huge at 403 square feet for the deluxe double queen we were in. Our room had a view of only a brick wall on the building next to us, and we struggled to get the air conditioning working, but the staff was outstanding, and the hotel allows (and welcomes) pets. Rates start at $177.65; parking is extra.
Wingate by Windham Tinley Park
Part of Wyndham Hotel Group, Wingate by Wyndham hotels offer all the basics and a little more. Here, you get free breakfast, Wi-Fi, business centers, indoor pool and workout center. What we appreciated were the larger guest rooms and the microwave and mini-fridge in each room. It was right off Interstate 80, so we could get home to St. Louis or into downtown Chicago (about 30 minutes) very easily. In 2017, the brand was ranked highest in guest satisfaction in the midscale segment for the third consecutive year by J.D. Power. Rates start at $99.99. Parking is free.