When you travel to Texas, expect to get a little bit country and a little bit rock 'n' roll — as some version of that saying goes. But Texas is about a lot more than dude ranches and wide spaces dotted by big cities. I opted for a little bit city and a little bit beachy on my recent trip to the Lone Star state.
My family started in Galveston, which is seeing a bit of a resurgence not just as a weekend playground for Houstonians, but also for vacationers looking for more out of a beach vacation than just sand and ocean.
Oh, Galveston has that for sure, miles and miles of public beaches on the Gulf of Mexico side. The beaches, which recently underwent a $19.5 million expansion and renovation, are cleaned of seaweed every morning and staffed with lifeguards during the day. But don't expect the emerald waters of Florida's Gulf Coast here. The water is a murky brown, and a riptide warning greets you at nearly every entrance.
Vans pull up nearly every day with chair, umbrella and boogie board rentals. We were there midweek, so parking along the beach, on busy Seawall Boulevard, was available.
But we didn't need it because we stayed at the gorgeous San Luis Resort, Spa & Conference Center, just across Seawall from the beach. And with its snazzy pool area, cabanas, hot tub, waterfalls, slide and swim-up bar, I felt I barely needed the beach. But my kids wanted waves, so we compromised and did both.
Every room in the 250-room San Luis Resort has a spacious balcony that looks out onto the pool and ocean. I also appreciated the large tile entryway, perfect for sandy shoes, boogie boards and soccer balls (soccer on the beach is big — and quite fun). (Rooms start at $159, sanluisresort.com.)
Up and down Seawall Boulevard you'll find bikes for rent, fantastic seafood restaurants, tourist shops and the Pleasure Pier. It's kind of like Chicago's Navy Pier or even Houston's nearby Kemah Boardwalk but because it opened in 2012, it's shinier and newer. Think of it as a mini-theme park, with snacks, 15 rides, restaurants and midway games, on a pier jutting out over the Gulf of Mexico. That means when you go over the hill and around the curve before the big drop on a Log Flume-like ride, you feel like you are dangling over the water. It puts the thrill in thrill ride for sure. Another highlight: the Iron Shark steel roller coaster, a 100-foot-high coaster offering four inversions and a section cantilevered over the water. ($26.99 for an all-day ride pass, pleasurepier.com)
But don't just stay on the beach. Galveston Island has a lot to offer, more than you would find at a beach resort.
Start at the Strand, which is the historic downtown. Find tourist shops, artisan shops, restaurants and a Railroad Museum. Don't miss La King's Confectionary, an old-fashioned ice cream parlor with the largest selection of handmade chocolates I've ever seen. A few blocks off the Strand is the other side of the island, the bay area where cruise ships pull in. There, you can see the 1877 tall ship ELISSA at the Texas Seaport Museum or tour a decommissioned oil rig, in view of some others waiting their turn to head out to sea, at the Ocean Star Offshore Drilling Rig and Museum (oceanstaroec.com). It's an informative look at both history and science and just kind of cool to walk on the decks.
More in the middle of the island, you'll find two mansions open for touring. Bishop's Palace is a 1892 Victorian beautifully restored and on the National Register of Historic Places. The American Institute of Architects featured it as one of 75 buildings in "1857-1957: One Hundred Years of Architecture in America." Originally built for Col. Walter Gresham and his wife, Josephine, it was later sold to the Catholic archdiocese as a residence for Bishop Christopher E. Byrne, whom we learn on the self-guided audio tour was from Missouri. Next to his bedroom on the tour is a gorgeous chapel, complete with stained glass, painted ceilings and carved altar ($12 for audio tour; private tours available, galveston.com/bishopspalace).
Just down the street you'll find the 1895 Moody Mansion, restored to its turn-of-the-century beauty with artifacts from the Moody family, who bought the home after the devastating hurricane of 1900 and lived in it until the 1980s. Today, you can visit the home's 20 rooms, 11 fireplaces and seven bathrooms ($12, galveston.com/moodymansion).
While you are on the east end of the island, drive around to see if you can spot a few of the famous tree sculptures. When Hurricane Ike wreaked havoc in 2008, many trees were damaged. Artists turned stumps into works of art, sculptures of everything from geisha girls to dogs and dolphins.
The Moodys were apparently influential on the island. The biggest attraction on the island is called Moody Gardens. At its heart are three pyramids, which dominate the landscape even from miles away. The largest is the recently renovated blue aquarium pyramid, which, though it soars 12 stories high, still feels intimate. It contains 1.5 million gallons of tanks filled with jellyfish, sharks, sea lions, penguins and lots of fish as well as a touch tank with stingrays.
The smallest, the rose-colored Discovery pyramid, features a 4-D movie and rotating exhibits that focus on science. My favorite, though, was the clear rainforest pyramid. From the minute you step in, with its humidity and lush foliage, you are transported. It feels a bit like the Missouri Botanical Garden's Climatron, but much bigger and with animals mostly running free: sloths (though they aren't exactly running anywhere), birds, monkeys and a few animals in enclosures (komodo dragons, bats, snakes).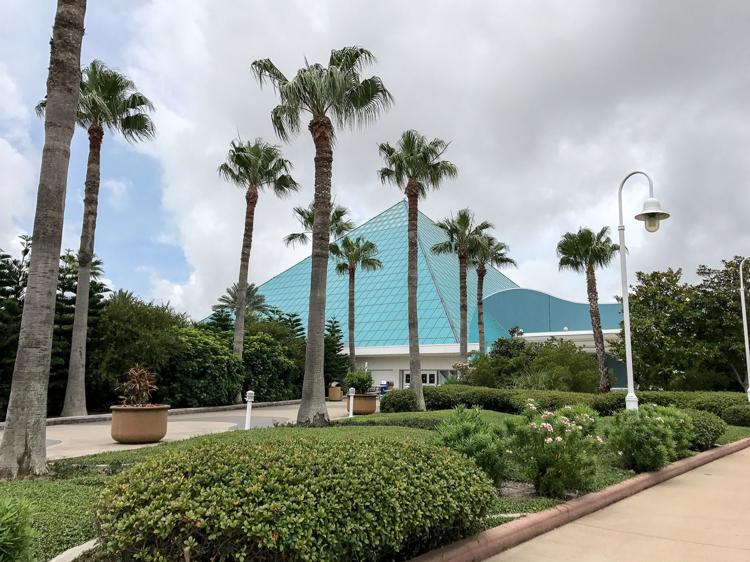 The Moody grounds also include a hotel, golf course, paddlewheel cruise boat, ropes course and zip line and Palm Beach, a white sand beach with freshwater lagoons, a lazy river and a variety of slides. (Prices vary by attraction, but a day pass for nearly everything is $69.95 at moodygardens.com.) Speaking of slides, the Schlitterbahn waterpark is right next door and is enclosed in cooler months, making a visit any time possible.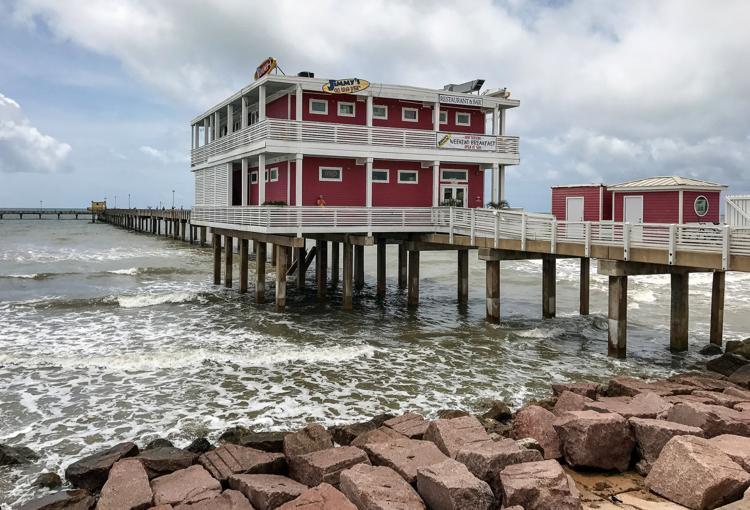 Food on Galveston runs the gamut, but stick to seafood because, well, it's super fresh. On the north part of the island you can even see oyster and shrimp boats coming in with their haul. Nick's Shrimp 'N Stuff is a local favorite, a counter-service restaurant serving up a variety of seafood. The crawfish po-boy ($9.49) is piled so high you have to nibble off a few crawfish tails before you can get your mouth around it (shrimpnstuff.com).
Nick's Kitchen & Beach Bar also specializes in seafood and makes everything from the bread to the dressings and sauces. Grab a local beer and a seat on the patio for great views of the ocean (nicksgalveston.com). But the best views are down the road on Seawall. Jimmy's on the Pier is a souvenir shop below and a breezy restaurant above, sitting, as you may guess by the name, on a pier. On a 90-degree day, breezes flowed in from three sides, and if they even have air-conditioning, they didn't need it. It's a perfect place for a fruity beverage and a plate of their special nachos: blackened snapper and shrimp topped with shredded cheddar, tomatoes, onions, refried black beans, sour cream, pickled jalapeños and drizzled with sriracha ($17, jimmysonthepier.com).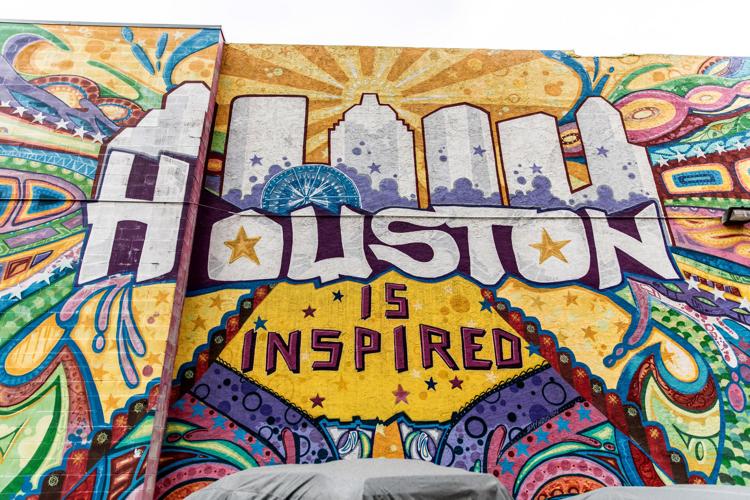 Once you've relaxed, get ready for the hustle and bustle of Houston, the fourth largest city in the United States and about an hour from Galveston. Though it certainly has a big-city feel and big-city attractions and big city traffic, there's something here that feels very cozy.
Maybe it's the cowboy hats the staff wore at the Four Seasons hotel when they greeted us. Maybe it's the "yes ma'am" and "no ma'am" everywhere you go. Maybe it's the casualness of even the most fancy restaurants.
My brother-in-law has lived in Houston for a decade. He was our personal guide to the city. He began by driving us past some of the city's most noted spaces: Buffalo Bayou Park, a 124-acre green space with a skatepark, a dog park, miles of multiuse trails, bike and boat rentals, and the Cistern, an underground drinking-water reservoir that's been turned into a display space for changing art installations. Art can be found throughout the park, from a 20-foot stainless steel canoe sculpture to Tolerance, a series of steel human figures resting on boulders. They represent the world's seven continents. We saw artwork all over the city, from inventive murals (a dog in a spacesuit pays homage to the city's space center headquarters) to Mount Rush Hour, a collection of 18-foot busts of George Washington, Abraham Lincoln, Sam Houston and Stephen Austin along the highway.
Discovery Green, in the heart of downtown, was recently named to Travel + Leisure's list of "America's Coolest City Parks." Why? There's a man-made lake you can paddleboard on, beautiful gardens and green spaces for events, smack dab in the middle of downtown high rises. Much bigger is the city' Hermann Park, where you'll find a zoo, Japanese gardens, pedal boats, a train and more.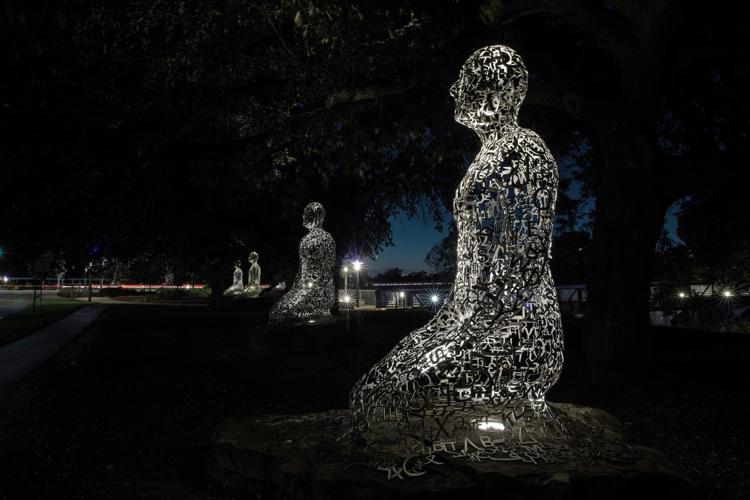 With so much to do in Houston, we decided the best (and cheapest) way to see it all was with the CityPASS. For $59 (adult; $49 kids), about half of what you would spend otherwise, you get tickets to five major Houston attractions: the Space Center Houston (a must; tickets there alone are $29.95), the Downtown Aquarium, the Houston Museum of Natural Science, the Houston Zoo or the Museum of Fine Arts; and Kemah Boardwalk or the Children's Museum of Houston. And in most places, there is a special (shorter) line for CityPASS holders. Skipping the wait at the natural history museum alone was worth it (citypass.com/houston).
Space Center Houston is the official visitor center of the Lyndon B. Johnson Space Center, NASA's center for human spaceflight. From "Houston, Tranquility Base here. The Eagle has landed" to "Houston, we have a problem," there's no denying the city's role in space exploration. You won't understand that any better until you sit in the viewing gallery for the Historic Mission Control. A tram takes you to the building where NASA monitored nine Gemini and all Apollo lunar missions. Perhaps it's because Ron Howard built an exact replica of the room for the movie "Apollo 11," but this room just oozes drama and history. No longer used (you can't tour the current one), you can still get a good look at the monitors and rotary phones and feel a sense of awe that these primitive instruments helped put a man on the moon.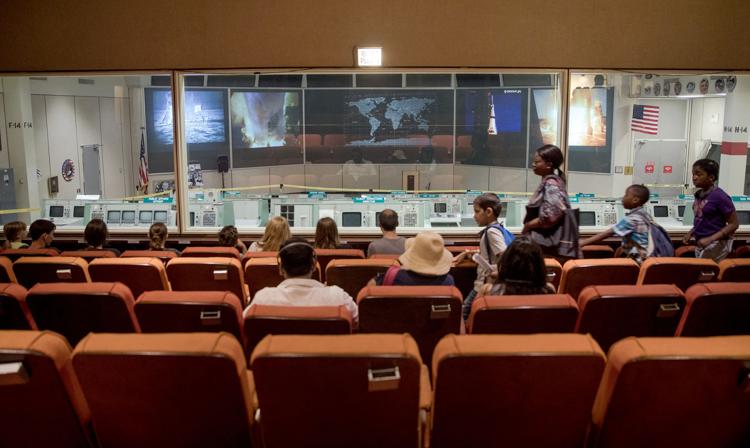 The same tram takes you to Rocket Park, where a giant barn hides a surprise inside: the Saturn V rocket, lying on its side and ready for exploration. Dozens of other exhibits, talks and shows make up the Space Center, including the newish Independence Plaza, where you can tour a replica space shuttle atop a NASA 905 shuttle carrier aircraft.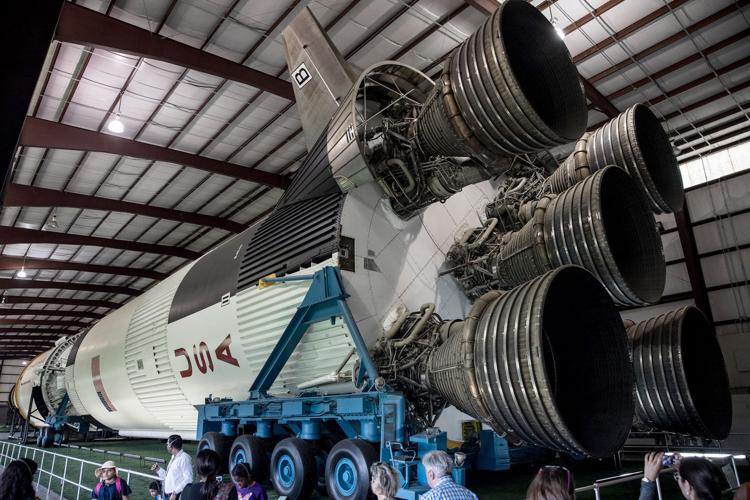 Houston's Museum District features 13 museums, everything from the zoo to a Holocaust museum to a museum for photography.
The Museum of Fine Arts Houston is one of the largest art museums in the U.S., and it is expanding, with a 14-acre, $450 million redevelopment project that will be finished in 2019. The current museum contains more than 65,000 works of art, room after room of paintings, halls of sculptures and some stunning special exhibits. We especially loved the Ron Mueck exhibit, there until Aug. 13, a collection of sculptures that "balances realism with the unreal." A lounging couple so lifelike you see their pores, leg hair, wrinkles and fat rolls, but they are twice life-size, giving them an eerie quality — although not quite so eerie as the naked man, half size, sitting, dejected on an old boat (mfah.org).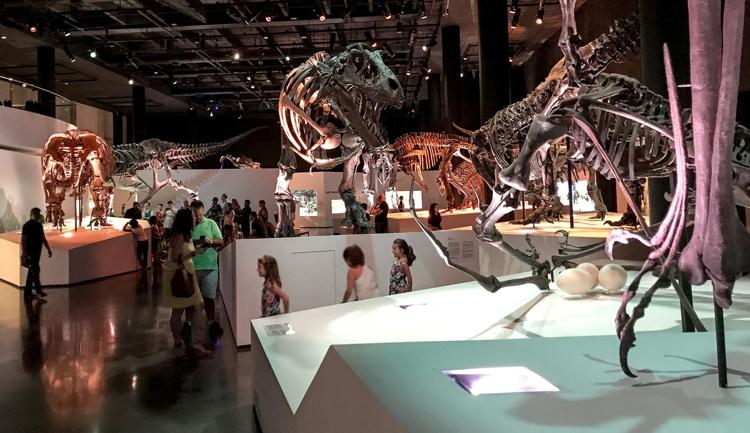 The Downtown Aquarium is the product of redeveloping two downtown Houston landmarks — Fire Station No. 1 and the Central Waterworks Building. If you want a full aquarium experience, stick with the in Moody Gardens in Galveston. This aquarium is smaller and seems dark and closed-in, but I think that's the point, like a ship in an ocean. It does feature one big highlight: white tigers. And this aquarium complex is so much more. Inside is a restaurant with fish tanks. Outside, you'll find a carousel, Ferris wheel and more rides, mixed with concessions and on the night we were there, a patio filled with about 100 people taking salsa lessons. But the highlight is the train ride, called the Shark Voyage ($5.99 extra). A C.P. Huntington train goes through the aquarium grounds and stops for a few minutes in a tunnel. That tunnel is a giant tank filled with 200,000 gallons of sea water and a variety of shark species (aquariumrestaurants.com).
If you've been to the Field Museum of Natural History in Chicago, you have a good idea of what Houston's Museum of Natural Science is like. Both have rooms of lifelike animals, exhibits on gemstones and a hall dedicated to dinosaurs and other prehistoric animals. In fact, the Morian Hall of Paleontology in Houston is stunning, with its dramatic lighting and dozens of dinosaur casts in action. The museum also has (for an extra fee), a planetarium and a butterfly house (hmns.org).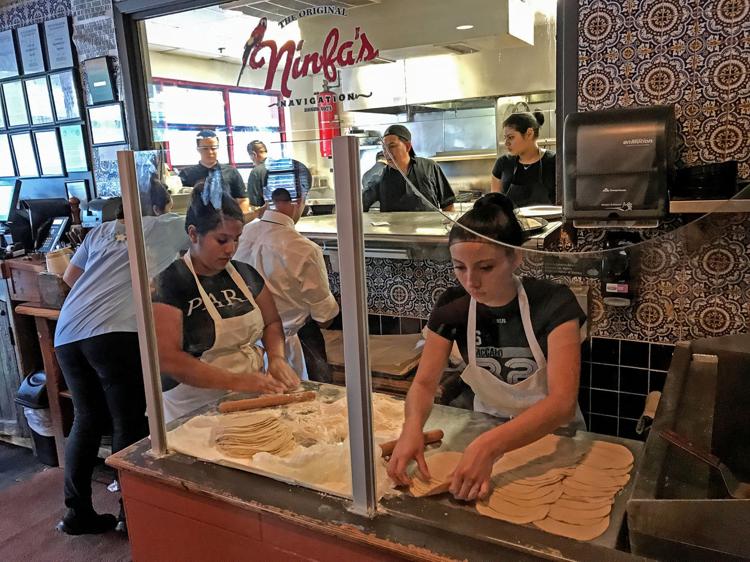 Houston has a remarkably ethnically diverse population. More than 145 different languages are spoken there, according to the Houston Chronicle. That shows up in dining. In just a handful of meals there, I got that idea quickly. We started at the rather famous Ninfa's on Navigation, where you walk in the entry to see workers making tortillas. Try them, whether in enchiladas or with the famous fajitas. This Tex-Mex restaurant, a staple in Houston dining for more than 40 years, continues to make critics' top lists of Houston restaurants, and nearly all of them cite the fajitas and the Ninfaritas (margaritas) (ninfas.com).
Another big influence in Texas cuisine is from Louisiana. Crawfish, served as traditional boils in buckets with corn and potatoes, can be found at Rajin Cajun and other locations throughout the city. It's messy but fun with kids (ragin-cajun.com).
And with so much farmland in Texas, you know the farm-to-table movement is in full force and has been for some time. Chef Ryan Hildebrand, formerly of the upscale Triniti, has opened a restaurant in the Heights neighborhood, FM Kitchen and Bar. The menu and ingredients are simple and fresh, from homemade milkshakes to a more elaborate shrimp and avocado campechana whose flavors pop in your mouth. Outside, turf grass and picnic tables offer a great place to grab a beer and play a game of table tennis (fmkitchenandbar.com).
The most fascinating dinner came from Uchi, named to the Houston Chronicle's list of top 25 restaurants for 2016. Patrons line up for its Sake Social Hour (5 to 6:30 p.m.), where select dishes are at special prices ($4-$7, roughly half off). They are served tapas-style, with immense care taken for even the smallest bites, and the staff has an uncanny ability for delivering your next dish just as you finish your first (uchihouston.com).
On our last night we ate at Peli Peli in the glorious Galleria mall, an odd choice for an upscale South African restaurant unless you consider that this mall is almost a tourist attraction in itself and is always packed. The Flavors of South Africa ($39) features six filet medallions, each with a unique sauce. The Espetada ($39) is an impressive filet hanging on a stick and surrounded by sauteed spinach, roasted red potatoes and carrot bredie (pelipeli.com).
As befits a large city, there are many options for lodging. But you can't beat staying downtown. Splurge on a nice hotel in the heart of everything. We stayed at the Four Seasons Houston, which just underwent a huge lobby renovation. The rooms were fit for a king, even one wearing a cowboy hat.
---
Getting there: We drove, roughly 12 hours from St. Louis, but most major airlines fly into Houston.