Sometimes a photograph is more than just the beautiful images, colors, lines and shapes you see in it. A travel photograph should be more. A good travel photo should evoke emotion, a sense of place and even a sense of wonder.
That's how Ming Xu of Ballwin sees it. His travel photo won first place in our annual Travel Photo Contest. We had more than 1,000 entries this year. First-, second- and third-place winners will receive a vacation to the Dominican Republic or Mexico for two from Apple Vacations.
Xu was on monthlong trip with his mother to her home of China. One April day in the village of Yangshuo, Guangxi, he and his mom were walking along and came across a fisherman on a boat.
"He seemed tired," Xu says. "We were just waiting there to enjoy the sunset and suddenly we see he's moving."
Xu had his Canon 5D Mark 3 camera ready to capture the sunset when they saw the net come out. The fisherman was going to try for one last catch.
"The best thing I like is the shape of the net and you can see it opening up, and you can't see that sort of thing in normal life; it's just pure," Xu says. "The background is unique with the mountain shape and the sunset and the color of the photo."
But what he really likes is the story he thinks it tells. "I'm assuming it's been a successful day for the fisherman and for his bird friends. I tried to express the feeling to everyone ... that he has almost finished his job and is happy he is able to provide his family something like that."
Post-Dispatch designer and one of our judges Norma Klingsick liked that it wasn't just an ordinary sunset photo. "Not only does it have beautiful colors and scenery, it also captures the moment of the fisherman's net flowing through the air as he casts it. His bird friends make it even more charming."
Second place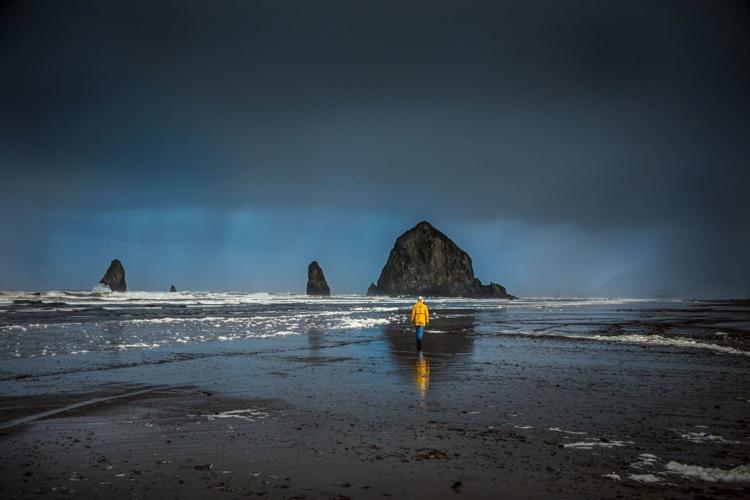 Patricia Nichele-Ott of St. Louis was visiting her daughter who lives in Portland, Ore., in January. They took a drive to the coast to see Haystack Rock, a 235-foot sea stack in Cannon Beach, Ore.
"It was a wonderful mother-daughter time," Nichele-Ott says. It was a rainy weekend, and her daughter grabbed a yellow raincoat. Nichele-Ott grabbed her Canon 5D Mark 4 and 70-200 mm lens.
"The yellow raincoat was the right bright spot of color to offset the dark sky, ground and rock," says Post-Dispatch photographer and judge Hillary Levin. "So while your eye was drawn first to the person, because there was a shot of sunlight on her, it soon went to the immenseness of the seemingly desolate scene and oncoming rain in the distance."
Nichele-Ott, the tennis coach at Nerinx Hall, says she's been into photography her whole life, since her father "taught me how to bring a picture to life in the dark room. I've been inspired by light, and I've always taken pictures."
Third place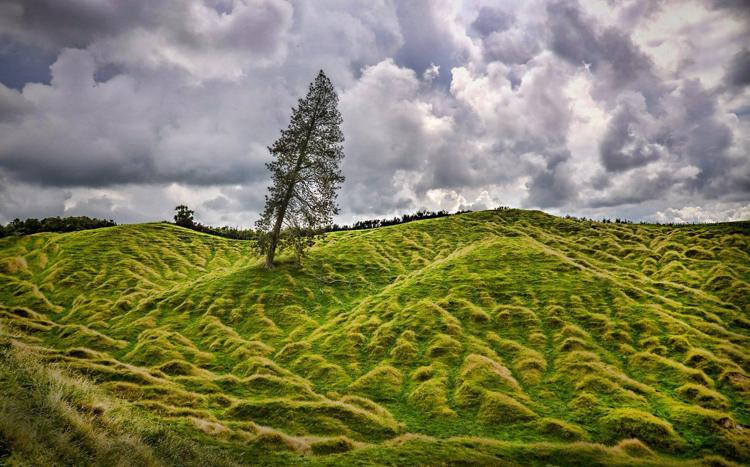 Lynne Lang of Kirkwood went to New Zealand "really on a whim," in March to visit her brother who was sailing around the world. She and her husband had just gotten nonprofit status for their new venture, a group that works to prevent bullying, and they had a break in their schedules.
They spent two weeks there, and one day on a drive from Auckland to Russell in the northern part of the country, Lang spotted this scene. "It was surreal. It looked like nothing I'd ever seen before," Lang says. She's been a member of the St. Louis Camera Club for many years and had been studying composition. "As we were driving, the hills were so stunning. My eye caught that tree in such stark contrast to the landscape, and I knew that was the one. ... That picture really captured the beauty of the essence of the landscape."
"The image was extremely well-composed with a clear point of view," says assistant photo editor and judge Jon Naso. "The rolling cloud pattern complemented the textures in the grass below with bold color that separated it from the sunset hues captured by other entrants."